Omnia ROM update live! (for real this time)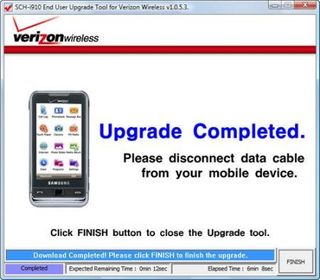 So after a bit of a false start yesterday, the ROM update that will unlock the GPS on the Verizon Samsung Omnia is finally live. Head on over and get it (opens in new tab), and let us know in the comments how it works. (And if any of you brave Windows 7 users want to try out the Vista version of the update tool and let us know how it works, that would be cool, too.)
Thanks again, cplush!
Windows Central Newsletter
Get the best of Windows Central in in your inbox, every day!
Phil is the father of two beautiful girls and is the Dad behind Modern Dad. Before that he spent seven years at the helm of Android Central. Before that he spent a decade in a newsroom of a two-time Pulitzer Prize-finalist newspaper. Before that — well, we don't talk much about those days. Subscribe to the Modern Dad newsletter!
Do you think this will enable me to use my micro SD version of CoPilot Live 7 with my Omnia? Have any Saga or HTC Touch Pro upgraders reported sucess with CoPilot Live 7?

I don't know about the Omnia, but I have been running CoPilot Live 7 with my HTC Touch Pro since December. First by using the fix over on ppcgeeks.com on getting the GPS to work. Then once the verizon fix came out it worked with that as well.

Hey Slartibartfast,
Can't get CoPilot 7 to find GPS. Did you do anything special when you updated your HTC Touch Pro?
Thanks.

You have to enable GPS in the Phone Settings first and say OK to Verizon's warning about the security risks of turning on GPS.

The server is jam-packed. Everyone on PPCGeeks is downloading at a max of 40 kB/s. I hope you have patience, kids.

I'm showing an estimated download time of about 2 hours.

I have taken the unofficial ROM already. Does anybody think it will be an issue trying to take this one? Has anyone done it successfully? Is it any different than the unofficial ROM? Thanks for helping me not brick my phone!

Successfully flashed using Win7 RC 64bit by using compatibility settings Yes, Win7 rocks.

what compatibility settings did you use, I already bricked a Saga (my backup phone) don't want to brick this one!

You have to right click the .exe file you downloaded>properties>compatibility check compatibility and choose vista sp2. this only works for windows 7 64bit not vista x64

I tried that. It would not work for me, I kept getting a message about needing to install the Windows Mobile Device center (which was installed). I finally drove to some one elses house to do the install.

Has anyone tried to use bing gps yet with this new rom

I have installed it now my main issue is to get the gps unlocked anyone know how please. thanks

Took several house to download (the connection to the server kept getting severed). Not it is telling me I don't have ActiveSync 4.5 installed (I have the Windows Mobile Device center installed).

Did the update, but still no GPS settings and Google maps can't find the signal...RATS!

Once you've completed the flash, on the phone go to start>settings>phone>services, click on GPS then click settings and set it to location on. Then you soft reset the phone(turn it off then back on) and you should get a GPS warning, check do not show this again and google maps should work perfectly!

I have done the update and also have gps unlocked yay. Now remember that it won't work in the house why? I don't know but it works outside with bing. Google seems not to get it yet. Is there something I'm missing because I have done a soft reset and you can get directions but the gps seems to take a very long time. Any suggestions. Also locate me on bing doesn't work but gps works weird huh

it is normal for GPS to not work in the house. There needs to be a clear line of sight to the satellites and your house may be obstructing to much of the signal from the satellites. Even outside there are times when sufficient tree coverages or obstruction or urban canyons may prevent GPS from working.

I know but this time I have tried it on the highway and still no gps for google maps. gps works for bing. but then locate me on bing doesn't work. I will remove and re-install just to see what happens.

I have re-installed google and bing. locate me still doesn't work on bing gives error but when using gps it works. Google on the other hand still finds me when you hit 0 to locate you within 1500meters but still no gps

Well, I bricked my omnia doing the update :), but verizon is overnighting a new one for saturday delivery. I was getting kinda down on Verizon for a while waiting for this update, but this goes a long way to smooth my ruffled feathers

the update bricked my phone as well (USB 2.0, Windows XP with all current updates, fully charged phone, etc, etc). Looks like I'm off to argue with my local store now. =(

same thing happened to me, did the update and the phone never came back on again :( on my way to get a replacement, should have them update it there haha

Updated my omnia last night, it was uneventful and very easy. Turned on GPS and it seems to be working fine for google maps though the sensitivity I get is within 1500 meters...nothing to brag about but at least its working.
Bing on the other hand is not working with the gps for some reason. Locate me does not work and when I try to "track me" with GPS, I see a point but no map.

1500 meters is by using the cell towers to determine your location. Make sure to turn gps on and give it a few minutes outside to get a fix. Then the accuracy should be much better.

Updated my Omnia successfuly with this new ROM. At first I was not able to lock any GPS satelites, as I was in San Fransisco downtown area. When I got to a more open space, my phone locked in on a satelite within seconds. I Both Google Maps and Bing are working fine and very accurate even though when I click on locate me within bing it gives me an error message. I am planning to install Garmin software and see how Omnia performs with it.

Updated Thurs evening, flashed fine on a Vista computer, trying trial version of Efficasoft GPS utilities. Needed to go outside to get it to locate satellites but it auto detected everything OK. Thinking about Bee Line GPS also. Have not tried Google Maps yet as I kept VZ Navigator

When I complained to Verizon tech support about the 64-bit Vista issue, all I got was: a) an apology; b) a suggestion to find a PC with XP or 32-bit Vista to use; and c) a suggestion to return my phone to a Verizon service center and TRY to exchange it for a new version. Ha! Just what I need... another 2-year contract with a company who you aptly described as bumbling!

So, the new tool does not work with Vista 64-bit. Why? Roughly 30% of new Dell PCs are shipping with 3+ GB of RAM and 64-bit Windows OSes, but a BRAND NEW update tool from Verizon/Samsung does not support any 64-bit OS. My home PC is Vista 64-bit and my work PC is Vista 64-bit. Thanks for nothing, Verizon, you bumbling morons!

Google maps works fine with update. VZ Naviagator still costs $9.95 per month according to Verizon. Is it supposed to be free now?

Bricked mine yesterday as well. Stopped immediately after downloading ROM to phone. Samsung Helpdesk thought McAfee was the culprit. They told me to go to Verizon store to get it re-flashed but at store. There, they said all they could try was a hard reset, which only got to the Omnia screen. Verizon is overnighting new one--hopefully comes with CF03 pre-installed.

Upgraded ROM without difficulty. GPS works. Noticed battery life drains much quicker now. Anyone else have this problem?

haven't tried the GPS yet, but it does seem like my battery is draining much faster. Thought it was my imagination. Anyone else find this happening?

Guys, make sure you back up your data first, then do a hard reset before you ActiveSync it with the USB cable! This will reduce the chances of bricking it! Update with ActiveSync 4.5 took me only 10 minutes. New features are great. GPS works well on Google Maps but takes a little tweaking: After setting GPS to Location On under Phone settings, go to Options in Google Map, GPS settings, then Manual. Set to COM 8, 4800. Takes some patience but eventually your Location will be accurately displayed.

I did not have to adjust gps settings. google maps found it automatically.Doesn't work with Bing though.

Thanks the vista sp2 compatibility workaround ran perfect on my Windows 7RC.

I upgraded to the new ROM and finally I have a fix. Google maps works best if you select the port manually. I have it set up on serial 8 with a rate of 57600. I am in the Los Angeles area. At first I would get a lock but within @ 1500 meters. After the manual adjustment I can get it to 20-30 meters but it does take a min or two to get a good lock. When its locked google mapps indicates it has 3-5 satelites. its good. I have not had any succsess with Bing as it tells me I am in the middle of the atlantic. It worked ok for 1 day and now its gone crazy. I dont think its the omnia but the Bing prog. Have tried a few 3rd party nav programs and the best so far is: Smartphone tracker its freeware if you find it. Good luck all.

I'm a rebel. Flashed it with Vista x64 and using a docking station. Take that you verizon bastids!

I recently came across your blog and have been reading along. I thought I would leave my first comment. I don't know what to say except that I have enjoyed reading. Nice blog. I will keep visiting this blog very often. Margaret http://bluetoothspeakerphone.net

I recently came across your blog and have been reading along. I thought I would leave my first comment. I don't know what to say except that I have enjoyed reading. Nice blog. I will keep visiting this blog very often. Margaret http://bluetoothspeakerphone.net

Do not use this update it will brick your phone!my phone is no longer under warrenty so I am out! verizon was more than willing to sell me a new phone now that there update killed mine. Just another way for verizon to rip you off.
Windows Central Newsletter
Thank you for signing up to Windows Central. You will receive a verification email shortly.
There was a problem. Please refresh the page and try again.