On The Run - a speedy, somewhat addictive Windows Phone game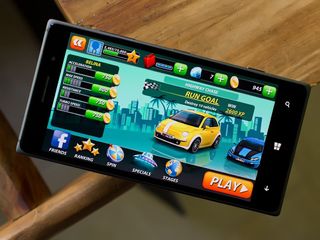 Miniclip is a mobile game developer with a handsome collection of Windows Phone games in the Store. On The Run is an endless runner game of sorts where you take the wheel of a getaway car with the cops hot on your tail. You have to weave through traffic and reach each checkpoint before the game timer runs out. With each checkpoint, you get a little more game time to see how far you can travel. To keep things interesting, there are side missions you will be working towards as well.
There are plenty of power-ups to collect, cars to upgrade and destruction to be had. On The Run is available for low-memory Windows Phones and an entertaining way to pass the time.
When you first launch On The Run, the game will send you to a brief tutorial that covers the basics of game play. In a nutshell, you have to weave your car through traffic from checkpoint to checkpoint. Should you smash into other vehicles, no problem it will only slow you down slightly. Game controls are simple with two directional arrows located in the bottom sides of the screen. These arrows control your lane changes.
Once you finish the tutorial, the game will send you to the primary menu for On The Run. Here you will find options to play the game, unlock new cars with the coins you collect, view your game ranking, view any gaming store specials and see the various stages (gaming arenas) available. There is also a bonus game available where you can use your diamonds to spin a prize wheel for bonus goodies. Along the top of the primary menu, you will find your gaming stats that include your experience level, fuel, diamond count and coin count.
Fuel is needed to play the game and is automatically replenished over time or you can refill your fuel through in-app purchase. Gems and coins are used to buy more game time, unlock vehicles and purchase power-ups.
Game play is spread out across four stages that include a desert, downtown, construction and open highway theme. There are goals to each run that you can work towards as you travel from checkpoint to checkpoint. These goals are performance in nature such as collecting a set number of coins, smashing a set number of cars or air streaming a set number of times in a run.
Air streaming is when you tuck in behind a car that will cut your air resistance and give you a boost of speed. Along with air streaming, you also have power boosts (lightning bolts) that can be collected for a boost of speed and you can use car carriers as ramps to jump over and ahead of traffic. You can also unlock unique vehicles to serve as power-ups that will help clear the road when collected during a run. You have a tank that will blow traffic out of the way, a WWI Bi-Plane that will swoop down and clear out traffic and a UFO that will abduct traffic.
Game play is fun and the controls are responsive. I did experience a slight slowdown in my car's performance during runs every so often that made it more challenging to reach the upcoming checkpoint. It didn't happen frequent enough to drive you nuts but noticeable. Speaking of the time clock, you begin game play with 25 seconds and with each checkpoint, the clock refreshes but a little short of the previous time allotment. For example, the first checkpoint only takes the clock to back to the 22-second mark.
Overall Impressions
On The Run is a fun, entertaining arcade game to have tucked away in your Windows Phone gaming library. Graphics are well drawn up, game play challenging and there is a bit of an addictive pull to the game. It has enough missions or goals to keep things from growing stale and game play is somewhat brief making the game well suited when you only have a few minutes to spare for gaming.
My only nit is that the game does lack a help section. It isn't a deal breaker, but a reference section would be nice. You can replay the tutorial but some of the finer details such as fuel consumption, what each power-up does, etc. would be nice.
Overall, On The Run is a Windows Phone game worth trying. It is a free, ad-supported game with plenty of in-app purchase opportunities.
Download On The Run for Windows Phones (Free)
George is the Reviews Editor at Windows Central, concentrating on Windows 10 PC and Mobile apps. He's been a supporter of the platform since the days of Windows CE and uses his current Windows 10 Mobile phone daily to keep up with life and enjoy a game during down time.
Miniclip apps are highly rated in the store, I am guessing that soon they will have a large collection of games with different genres for windows phone. Go WP.

I am waiting for the day they release Soccer Stars for Windows Mobile. I don't play games often but I'm highly addicted to that one!

Awesome game.
I love it 8-)

I love it, but I'd also love miniclip to make 8ball pool for windows phone!

Just a few days ago I got in contact with them about it; below is my query and their (very prompt) response: -------------------------------- Abduz, Aug 31, 14:34: Can we please have miniclip games such as 8 Ball pool on Windows 10/Windows 10 Mobile devices? I currently have to use Facebook on Windows desktop in order to play and for some reason, I cannot challenge facebook friends who are using the mobile app ------ DS, Aug 31, 14:37: Hello Abduz, Thank you for contacting Miniclip Support. There are currently no plans to make 8 Ball Pool Multiplayer for Windows devices. For any further question, please do not hesitate to contact us. Have a great day and enjoy playing our games! Best, DS Miniclip Support -------------------------------- It really boggles my mind why developers such as Miniclip, who clearly don't have anything against Windows/Phone, choose to release their less popular titles than their popular ones, such as this case. They release On the Run but don't have the intention to release 8 Ball. 8 Ball is already a success, so there is no risk whatsoever in releasing it for the platform, On the Run, on the other hand (while it may be good, haven't tried it), probably took more resources to port and probably might not succeed like the guaranteed hit that is 8 Ball. It's really odd.

Anyone remember the original game? God, I used to play that for hours.

Not much ingesting as there's nothing new in this game and also the cars are highly rated

I hope we get 8 Ball Pool soon

Unfortunately, Its not happening, read my reply above.

All these games that have been reviewed, it seems like Xbox live is forgotton again, or is it me ? When was the last Xbox live game released ? This looks pretty good but, even free, I have too many games to play and would only grab it if it was xbox
Windows Central Newsletter
Thank you for signing up to Windows Central. You will receive a verification email shortly.
There was a problem. Please refresh the page and try again.