OneLocker for Windows Phone – a simple password manager to help you keep track of things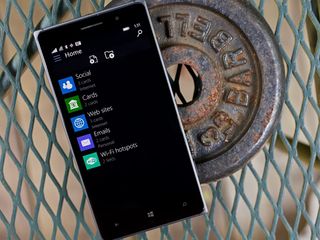 As our lives become more digital, the volume of passwords we have to remember increases as well. OneLocker is a Windows Phone app that hopes to help you manage all the passwords, PIN codes and accounts that you have to remember.
The app itself is password protected and encrypted to keep your personal information secure and there is support to backup your database to OneDrive or Dropbox. The interface isn't terribly difficult to get used to and in using OneLocker for a short period, it comes across as a handy utility app for our Windows Phone.
Your first order of business when you first launch OneLocker is to establish a password for the app itself. From there it is simply an issue of creating cards and folders for all the information you need secure.
The layout does take a little time to get used to but it's not an impossible task. The home screen will list all your cards and folders along with two icons to create a new folder or card. At the very top of the home screen is a hamburger button that will pull up a host of options and a search button to allow you to sift through all your cards and folders.
Options under the hamburger button include:
A quick view for your favorites, groups, templates and ICE cards (In Case of Emergency)
A password manager to generate new passwords and test the strength of existing passwords
Access to the app's settings which includes setting up OneDrive or Dropbox backups, exporting your database in CSV format, changing the theme, setting up synchronization options and general app preferences
Manually synchronizing your database backup
View the statistics on what you have protected in OneLocker
The hamburger menu and search button will appear throughout the app and will be joined by a windows button once you leave the home screen. The windows button serves as a home button to get you back to the home screen quickly.
Adding cards and folders is somewhat straightforward. Just fill in the blanks, choose an icon and color background then hit save. Once a card is created, you can add a host of information to the card that includes:
Text for passwords, username, notes, etc.
Generic numbers for account numbers
Phone numbers that can be dialed from within the app
Dates
Email addresses
Web addresses
Images
Checkbox tasks
Notifications (the toast kind) creation
Email addresses created will allow you open your email app to compose a message and the web addresses have the ability to open the link from within OneLocker without the need to cut/paste them to your browser.
As you add these fields to a card, the number of fields created will be listed with the card on the home screen. The information for these fields will remain hidden but OneLocker has a handy feature called ShakeToShow that will reveal this information when you shake your Windows Phone. You will have to enable this on the entry screen for each field and you can limit it only to certain fields.
Sharing data is possible through QR Codes, SMS or emails or OneNote. You can also create guest accounts to allow others to view your data as necessary.
Overall Impression
In just using OneLocker for a short period of time, it comes across as a very capable password manager. Again, the app itself is password protected and should you forget that password your only option is to wipe the database and create a new password. At first I was on the fence about this feature and would have liked to have seen an email recovery feature. However, if you do have to wipe the database there is always the option to recover things through your backup files.
OneLocker is an appealing option to consider if you are in the market for a password management app for your Windows Phone. There is a trial version available that does have a few limitations. They include:
You can create up to 5 folders and 10 cards with up to 5 fields per card
The CSV export feature is not available
You can only create one guest
The templates section and offline backup is disabled
You cannot upload or import a static backup from your cloud storage service
It sounds like a lot, but the trial version has enough meat on the bones to give you a feel for things. The full version of OneLocker is currently running $2.49. If you give OneLocker a try, let us know how it goes in the comments below.
Download OneLocker for Windows Phone (Trial / $2.49)
George is the Reviews Editor at Windows Central, concentrating on Windows 10 PC and Mobile apps. He's been a supporter of the platform since the days of Windows CE and uses his current Windows 10 Mobile phone daily to keep up with life and enjoy a game during down time.
I've been looking for a PasswordSafe client for Windows Phone so long... Hope that someday it will come or somebody will make a third app for it (as the desktop app is Open Source)

just use opensource Keepass and 7Pass for WP, works like a charm...

I will have to give them a try, thanks for the advice

Keepass is a normal Windows application. You save your usernames and passwords in a .kdbx file on OneDrive, and then use 7Pass on WP to open the file from OneDrive.

Eh, if there's no importing then I see no real benefit to swapping to this from Keepass, 1Password or any of the other better supported database formats.

One potential reason, a lot of malware is now targetting these apps to steal your credentials. So security by obscurity, and yes I know the arguments for and against that theory.

Hello, the main reason why the import from those apps is not available is that in order to do that they'd have to give me their database specifications and all the info about their encryption system. Without these info, there's no way I could do that. Also, keep in mind that those two apps are developed by big companies while I'm just a 20 years old student, so I'm trying to do my best, of course there could be some extra features missing :D
I'll keep working on the app though, and I also plan to port it to W10 as a universal app, I hope you'll decide to give it a try at some point :)

Cool down bro, those apps are above because maybe they arrived before your app and they have more fame. It will take some time for your app to catch the eyes.
I have no problem in trying your app and reviewing it.. ;)

Ahahahah sorry man, I didn't want to sound annoyed, I really wasn't :D I was just explaining why I couldn't add that feature to my app, I was in no way attacking the user who commented. And thank you in advance for giving my app a try :)

OK see, yep, a Win10 port would make a world of difference. I could NOT imagine myself creating a database on my phone. It'd be a giant nightmare.

the best password locker is paper and pencil

It is not, actually is one of the worst
Anybody with physical access to that paper will have all your accounts so easy

im pretty sure you will have it somewhere nobody has access of it

In your boxers...
(cos no 1 wants 2 go in urs innit)
Edit: I personally like to keep passwords written down. Keeping passwords online will only get taken at some point.

Microsoft might get out of One names to use while others are already using them.

In the incubator still in the nursery.

Why ask this in a thread about a 3rd party app? Why not look for a discussion of Win 10?

He just wanted to see his baby.

Waiting for it too. U can proceed with your ..... Answers.

This looks like a great app.

Thanks for the support man :)

How would this rate compared to e.g. LastPass?

Yes, was wondering myself as an avid user of both LastPass Personal for my personal devices (phone/SurfacePro) and then LastPass Enterprise for SSO for our company and our clients' companies. It's really well integrated, but like everything else these days... The Windows Phone version had some quirks that stop it from filling SOME web forms due to a known restriction/limitation in Windows Phone. Other than that, LastPass is great and the perfect tool across not only devices but entire platforms (Windows to Apple to Android to Linux) and supports pretty much every major browser out there after acquiring the XMarks group years ago.

I was attempting to try this and couldn't get the desktop client to work, making it pointless to me. The desktop client seemed to be completely orientated to those using Android, and even required a Gmail account to install, so I'm out. I need a password manager with a desktop client that will sync to mobile, and good support for custom forms.

Hello, I'm the dev of OneLocker. The desktop is developed by another dev (the one who made the android app) and it hasn't been updated for a while. I'm working on a W10 universal app to replace it :)

Sweet thank you for letting us know

I recommend a universal app called Password Hide. Simple and easy to use. http://www.windowsphone.com/s?appid=ce35ec8e-dd28-429f-9e26-0188151c902e

I tried many of those password apps, none of them are backuping up correctly to OneDrive.
I don't know why....

Give this one a try, so far none of the users had a single problem with the OneDrive backup :)

I prefer to keep passwords safe inside my head

That's probably the most secure place to keep.
So secure that someday even you might be denied from accessing it.
#IFYOUKNOWWHATIMEAN

I've been using Roboform for a couple of years and really like it, but it's always nice to have new options show up.

No thanks but I'm waiting for Dashlane. I have it on PC and just waiting on them to create Windows Phone app

Enpass is still the best out there I think

Looks worth checking out.

Ứng dụng khá hay . Giao diện thiết kế như Windows 10 nhưng lại rất mượt mà :)

Enpass is great, buy once for all, i use on my Windows tablet, phone as apps and it also has a great desktop program.

Jeeze, how hard is it to remember "Password1"?

Crap, now i have to change my password...lol

Whats a good app that also syncs passwords to onedrive?. Like if i loose my phone and i still need to get my information back.

Password padlock seems decent.

I agree about Roboform, good functionality and syncs across all devices so logins I set up on my PC are available to me straightaway on my phone.

Feels so windows 10ish, me like it

Exactly. Totally fell in love with the UI and it looks Windows 10-ready :D

great app, useful and secure. Tried it, loved it and now i recommend it.

I am really frustrated with WP team managing apps. First, there might be more than 300,000 apps...but a great number will not work. So, what is the point of having a great number and no maintenance? Second, supported apps on new OS version compromise? I don't think so. Some WP 8 are still available for download with no version update. Third, app cost??? Haven't MS come on with an idea of having password security? Could someone tell me why I should purchase this app (knowing it will not be supported later) instead of a free one that I don't really care if it gets unsupported (I can always download a current one…if there is a fast response to develop the free app)? MICROSOFT WAKE UP!!!. Great features are not the only thing humans are looking for. Microsoft and WP team needs to OWN this instead of leaving others to do their work. Can you be better than other markets like iOS? Microsoft have the potential to not be only one more market, but the best...

Hello, I'm the developer of OneLocker, I think I didn't get what you mean about "unsupported" apps.
I released this app a month ago and I have already updated it 9 times with a lot of fixes and new features (like QR codes and other stuff, you can find everything in the changelog page).
I'm still working to improve the app and I also plan to make it universal on W10, so I can assure you I have no intentions of leaving it unsupported.
As for the price, well, I'm just a student and I worked on this app for 5 months before releasing it, and it took me a lot of time to finish it.
And I'm asking for only 2.49$ for this, plus for the future work I'll do to support it. I honestly don't think the price is too high, would you work for 5 months on something to sell for less than 3 dollars? :)
Apps don't come out of thin air, remember that whenever you see one, you're seeing the result of the hard work of the devs behind it.

Knowing you're a student makes me help support the app further. By any means. I'm an exclusive WP developer (and a fellow student) as well, I tried your app and totally shocked by the beauty of UI response and functionality. Heck, the UI is enough to make me a buy!
And may I know if there will still be any restriction on number of cards one can have if purchased? I mean, I've credentials of hundreds of websites so... ;)

Thank you, I'm happy to know you like the UI :) Once you buy the app there are no restrictions whatsoever, you can have as many cards and folders as you want. My father has almost 1600 items in his database and the app works fine :D

Thanks for letting me know! I've bought it already though. Please keep supporting the app. We're glad to have developers like you around :) 1600 items is quite a lot of stuff though! :P

Storage for all my passwords, and my clients. My brain. Which for now is still Ok, once I start to lose it(some might say it's already lost).
I'll then look at password apps.

Universal App and Authenticator as well and my money is all yours!

Hello, I plan to make the app Universal for W10, I'll start working on it as soon as the final W10 SDK becomes available (I'm already studying it and working on the design though).
Of course the current database will be 100% compatible, so you'll be able to import it from OneLocker to the Universal version once it is available :) What you mean by "Authenticator"?


Nice! What I mean for authenticator is the 2 step code process that Microsoft, google, dropbox, facebook etc uses to generator a key token for 30 seconds like this one made by Microsoft, great but doesn't back up =/ https://www.windowsphone.com/en-ca/store/app/authenticator/e7994dbc-2336...

Oh, I'll take a look at it and I'll see if I can implement it in a future update or in the W10 version. As for the Microsoft account though, the app doesn't actually have full access to your account: the login is done by the OS and OneLocker only gets a one-time use access token that automatically expires every time it is used (so it can't be stolen and reused), that's why you don't even need to enter your email and password: the app automatically gets the login token from the phone. So you can be sure about your OneDrive account. I'll see if I can use add Authenticator support for the Dropbox account, thanks for the tip! :)

Np!, should be able to implement it quite easily, there's quite a few of those apps in the store that works quite well but one doesn't story passwords or no plan for universal app etc =/

Ứng dụng khá hay . Mang phong cách giao diện của Windows 10 nhưng lại rất mượt mà :)

Bought the app..... Not to use as a password manager, but to use as a safe/locker for some private phone numbers, addresses and stuff like that.
The app definitely has a fair share of bugs. But it's still usable.
Will report the bugs to the developer once I finish playing around.

Send me an email with all the feedbacks you have and I'll be happy to help and to update the app :)
I was sure these last releases were quite polished, but some bugs always manage to slip out.
And thank you for the support! :)

'Passwordz' is another simple and clean option to try (y)</p> https://www.windowsphone.com/en-us/store/app/passwordz/ae6cf31c-0461-426...
Windows Central Newsletter
Thank you for signing up to Windows Central. You will receive a verification email shortly.
There was a problem. Please refresh the page and try again.