OneNote Beta for Android now lets you quickly create notes from its icon
The OneNote Beta app for Android has picked up a pretty handy feature.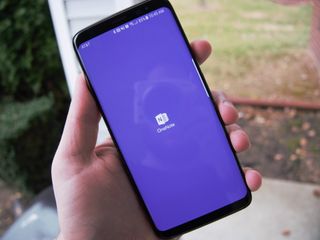 The latest update to the OneNote Beta for Android includes only a couple of changes, but one of them could come in pretty handy. Aside from general bug fixes and performance improvements, the update adds the ability to quickly create different types of notes from the OneNote icon on your home screen.
Pressing and holding the OneNote icon will now open up a jump menu that offers up several different options for creating notes. Tapping one will allow you to jump into the app to add a standard note, audio, photo or list. It's a small touch, but if you're a frequent OneNote user, it works as a way to quickly jump into exactly what you want to do within OneNote, potentially cutting down on some extra taps.
Here's a look at the official release notes:
Bug fixes and performance improvements
Press and hold the OneNote icon to quickly create different kinds of notes. (Supported for Android version 7.0 and above)
If you're already a beta tester, you can pick up the latest version of OneNote Beta from the Google Play Store now. If you'd like to become a beta tester, you can opt-in directly from OneNote's Play Store page.
See at Google play (opens in new tab)
Windows Central Newsletter
Get the best of Windows Central in in your inbox, every day!
Dan Thorp-Lancaster is the former Editor-in-Chief of Windows Central. He began working with Windows Central, Android Central, and iMore as a news writer in 2014 and is obsessed with tech of all sorts. You can follow Dan on Twitter @DthorpL and Instagram @heyitsdtl.
What about OneNote for iOS?

Presumably, you need an iPhone/iPad that supports 3D touch? I dunno, but you know, Apple. Not exactly open.

So they can get this to work, but still to count on the outlook icon? Laughable.

I don't follow, what is it you're specifically looking for? The Outlook icon already has this feature to add events/view calendar or start an email.

I think his comment is that the Outlook icon does not show the indicator when messages are received - it is a dead icon on the screen.

Seems unnecessary when you get a notification icon saying you have emails? If that's the case try using BlackBerry launcher. AFAIK it allows apps to use the BlackBerry splat thing on app icons when you have notifications.

Evie Launcher also will create icon badges with unread email count for Outlook icon and several others that don't have their own built-in badge count.

If it's unnecessary why have any icon indicators?

Works perfectly on my 8.1 device. :)

Really? You get an indicator I'm your Android 8.1? Interesting?

I do not think indicators are a native Android feature. My GS8 has them, but it doesn't seem to work for most apps including Outlook. The notification center does it better anyways.

Android? I know the articles can be confusing, but people on here are primarily Windows users. Almost certainly, unless a comment specifies Android, you'd do better to assume they mean Windows. Yep, works fine on my W8.1 and 10 devices. Better to use one of those Android launchers that tries to ape W10 with proper live tiles. Or give up on Android 'cause it really is quite disappointing when coming from Windows. Perhaps a small tablet would be better?

First off, the article specifically states Android as the OS it is talking about. Secondly articles like this (cover both Android and Microsoft) are often listed both in Windows Central and Android Central, so you can't ever just assume it is specifically catering to one camp.

You can assume to find a wise ass here from time to time.

It does? How does that feature work? I just tried it on mine and it just gives me the usual options for app info, remove, uninstall, etc. Maybe because I'm using the MS Launcher I don't get those options?

So, they do this for Android, but not for the live tile on Windows 10?

Because live tile doesn't support any action. It can only show something. It's very unfortunately, but the combination of icon (with popup menu) and widgets on android really beats live tile on windows.

Like I said, WM, and W10, have this already by the quick action menu... It's not needed.
........
As a matter of fact, it's better on Windows because you can make a note from any possible screen. Just swipe down from top, and hit note, on mobile.. And swipe from right, and do the same on W10... That's more useful than only having it only on the start screen, and flipping through a see of icons, on Android... SMDH

Win10 has the function on the Actions menu rather than the tile. Just swipe down and hit Note. Job done. You don't really need this on a tile. Why long press when you can short press and be note taking more quickly anyway?

And...... It's accessible from ANYWHERE on the device. That's why MS's **** is better on Windows.....

We have the option on W10M, and W10, by the quick action menu. AND, it's accessible from anywhere on any W10 device.. Much better.

Isn't Microsoft stupid? Soon, windows OS will be gone. Chrome openNote will be invented!

If you really think that Windows will be gone soon, I think it's safe to sat Microsoft isn't the stupid one.

He isnt stupid. He was being facetious. Windows is going to make it self more irrelevant year by year if they continued to follow thus Nutella clown down the hole.

Well, that is Ol' Nads' stated plan. 'Mobile first', the rest will surely follow. But he is only one man and there's a lot of MS for him to get round to cutting. Gotta give him a chance.

Both Apple iPhone and mac and google Android and Chromebook get rich are based on mobile. Everyone takes photos with mobile, social with mobile. Microsoft don't catch that. Even worst, Microsoft terminate mobile development. Instead Steve job started iPhone and makes Apple rich and Google started android and marketing Mobile and tablet market. Microsoft way of starting mobile market is stupidity. Cut mobile fan's OneDrive 15g to 5g, charge heavily for sdk, secure level so heavy for the phone system. Treat mobile fans like dust. So, now kill mobile. Did they know what Steve Job is doing? Google did!

The new apple commercial really hit home on this thought and brought it more to my attention. Where the kdis are communicating and the mom says what are you doing on your computer and the kid says what is a computer.... https://www.youtube.com/watch?v=sQB2NjhJHvY

So while this may work on stock launcher and maybe some others, Microsoft Launcher does not support the icon jump menus. So typical of MS.

Hey! Force Touch done via software lol

How about the ability to sync Microsoft Launcher notes with One note.

It's really nice that OneNote on Android has app shortcuts now. I hope they change that icon next.

I can see the value of an instant note or list. But I'm curious about the instant photo and audio and how that works. So when I press audio does the recording start directly? And what does photo do? Does it automatically start the camera or automatically open the photos app?
Do these shortcuts work only for the primary OneNote icon? Or also "secondary" icons. In windows 10 mobile and windows 10 I can also pin secondary tiles, for example a specific section or page. Very useful, better than having to dig through your workbooks and sections after pressing a primary icon only. Does OneNote for android have this?
Windows Central Newsletter
Thank you for signing up to Windows Central. You will receive a verification email shortly.
There was a problem. Please refresh the page and try again.