OneNote picks up photo, document and whiteboard scanning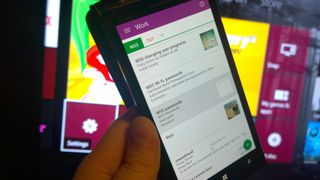 Microsoft's note-taking OneNote app for Windows 10 and Windows 10 Mobile is getting an update that adds the ability to scan photos, documents, and whiteboards.
At the moment, this new feature only appears to be available with the PC and tablet version of OneNote (hopefully it will come to Windows 10 Mobile and Windows Phone in short order).
A minor changes is the removal of the "zoom" option in settings for the Mobile app and the inclusion of 'What's new' under the About screen.
OneNote's version number went up from 17.6366.43291 to 17.6568.15371 with this new update. If you notice anything else noteworthy in this new OneNote release, please let us know in the comments.
Download OneNote for Windows 10/Windows 10 Mobile (opens in new tab)
Windows Central Newsletter
Get the best of Windows Central in in your inbox, every day!
Basically just built office lens into it with this update.

I was just thinking a free days ago how OneNote needed to integrate office lens. I'm glad Microsoft is making these improvements fit more interested functionality.

I hope they change office lens now where you can just upload something to onedrive instead of onenote first...

Yes Posted via the Windows Central App for Android

If you select PDF it uploads it to an Office Lens folder under documents in OneDrive.

Yeah, I use that too. But it also goes to onenote, somewhere ;). I just want it in OneDrive :)

Yup, it should just be a "lens" - I miss that concept from WP8, even though it didn't really work as one could have hoped. And it should just save pictures like the normal camera in the camera roll, as well as let me share to any other app through the normal sharing mechanism.

About time Posted via the Windows Central App for Android

Yes. It has saved me so much time when needing to submit forms online. Cleans it right up.

Basically gains Office Remote's features. Neat!

This has been in the wp8.1 app for very long. Are they still catching up? Lame

Office lens isn't available for PC, only mobile. This, presumably, is the alternative. Coincidentally I was just trying to download Lens on my Surface a few minutes ago.

And still no support for SharePoint, super lame.

I assume you mean the WinRT Windows 8.1 app, because it was a feature in that version for years now. It was conspicuously absent from the W10 UWP app until earlier this month (for Insiders) and yesterday for other users.

Merging functionality from the Office Lens App, a favorite of mine!

Yep! Would love to have the apps combined. I use lens almost daily.

Sweet! Love me some OneNote.

I hope this doesn't mean Office Lens is going to be killed off though...

For some reason they have not merged the Scanning features into mobile, so maybe Office Lens stays as a mobile app for this kind of thing, where tablet/pc version gets those features.

Why not. Lens ends up merging everything with Onenote anyway, so why not merging the two?

Cause someone's you just want to scan things to PDF (that's an office lens feature, right?). Wish I could do that on my surface, because I don't always need one note for everything Posted via the Windows Central App for Android

Are there any features exclusive to Windows Mobile? Posted from my Note 5

Yes but please use the forums for offtopic questions.

How is my question off topic? Posted from my Note 5

Doubt it. MS is making all their apps equal across all OS.

Live Tiles and................................... ? Ah! And the Universal apps that are different and don't receive the same features at same time, but it's good for devs :)

Exclusive feature _> share the feature with another platform! :3 so kind

Exclusive feature _> share the feature with another platform! :3 so kind

If i could add Passwords to my Notes it would be complete for me

I would need that password feature... Just like in OneDrive & Dropbox

Yes, a locking notebooks would be nice.

The same we have for Onedrive :)

Yeah per note password protection instead of per section would be a nice enhancement.

For a moment I was happy as I thought they have removed the annoying zoom feature from mobile's OneNote.

There's an option in settings to turn off touch to zoom.

They still haven't opened the draw features to the mobile version of the app, even though they're on the PC version (still talking about the store app, not desktop).

Right, I was just about to say that.. It's crazy that they haven't added that feature yet.

They best not have these features on iOS and Android.

( ͡° ͜ʖ ͡°) Posted from my Note 5

Good news, though I'd prefer this on the mobile app. Office Lens is quite slow. It's good to see updates to the OneNote app, though, considering I use it almost every day.

This makes sense as everything done with Office Lens would default to saving to One Note anyway.

Many new features and fixes for this update! Sharing a page with images or handwriting FINALLY works - it's been broken since day one. Also, there is the option to increase and decrease line thickness by pressing "+" and "-".

Great, although scanning docs and whiteboard with your PC seems awkward. Really hope this comes to mobiles soon. It would be nice to just be able to do this directly from Onenote.

The second sentence of the article ("new feature only appears to be available on PC and tablet version") directly contradicts the first ("OneNote app for Windows 10 and Windows 10 Mobile is getting an update that adds the ability to..."). Did you write it this way to be misleading on purpose?

Finally - Office Lens has been integrated to where it belongs - directly in the Onenote app.

It's now possible to resize via pinch and zoom when you're in full-screen drawing mode.

About time. I was sick of office lens not working with corporate O365 accounts!

What, journalist, You didn't know? I have been doing that for ages since 2013 using Office lens app and others. Also sync all with my desktop and tablet.

Jesus I just figured it out "Siri is skynet"

They desperately need to fix the cursor caret in onenote mobile. it's so awful.

Great addition. If only had they built it into OneNote 2016 as well. I use that instead of the built in OneNote, because it is more powerful. Now, I'll have to keep switching between these 2 apps.
Windows Central Newsletter
Thank you for signing up to Windows Central. You will receive a verification email shortly.
There was a problem. Please refresh the page and try again.