OnePlus 5T in 'Lava Red' coming to North America and Europe on Feb. 6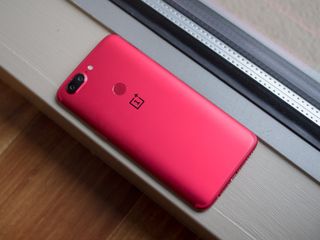 OnePlus is apparently finding success releasing limited-edition colors of its phones, because it just keeps cranking them out. The latest is the "Lava Red" OnePlus 5T, which fans will note was announced for a few markets at the end of 2017. Now, it's coming to North America and Europe.
Windows Central Senior Writer Zac Bowden also recently named the OnePlus 5T the best Android for Windows phone converts.
Starting on February 6, while supplies last, you can pick up this absolutely gorgeous Lava Red OnePlus 5T. As is often the case it's only for the top-spec 8GB of RAM and 128GB storage model, but for the same $559/£499/€559 price — no premium charge for this premium-looking color.
See at OnePlus (opens in new tab)
Image 1 of 5
The Lava Red OnePlus 5T is simply gorgeous. The color is on the bright side, which attracts attention even more so than the Sandstone White limited edition color announced just a handful of weeks ago — and beyond even the bright red OnePlus silicone case. But unlike Sandstone White, Lava Red isn't going to be marred by discoloration concerns — the finish is hard and slick like the original Midnight Black color. But just like Sandstone White, the entire front of the Lava Red color is black so you don't have to worry about distraction when you're actually using the phone.
Red is notoriously tough to capture properly on camera, particularly when there's so much of it like the full back of the OnePlus 5T, but it does indeed tend to have a deep pink to orange hue to it when it's in bright light. It doesn't quite have the rich, lusty colors of the Raspberry Rose LG V30, but this is beautiful in its own way.
OnePlus fans who have held out this long to buy a OnePlus 5T are being rewarded with these great color options, and I personally think Lava Red is the best of the bunch — provided you're interested in being the center of attention when it comes out of your pocket.
If the limited edition nature of the Lava Red OnePlus 5T wasn't enough of a motivator, OnePlus is also offering (opens in new tab) free priority shipping for those who grab one in the first two days. A sweet treat, delivered extra fast by acting early. Sales open on February 6 at 10:00 a.m. ET in North America and 10:00 a.m. CET in Europe.
See at OnePlus (opens in new tab)
Press release:
OnePlus is excited to bring the OnePlus 5T Lava Red, a color variant powerfully radiant and synonymous with the OnePlus brand.
The color, which first launched in other regions at the close of 2017, has been hotly anticipated and we now have a limited number coming to North America and Europe while supplies last.
To achieve the glowing red, the OnePlus 5T Lava Red undergoes an extensive design process - being anodised between two sandblasting techniques before adding an anti-fingerprint layer to create a pristine finish. OnePlus' attention to detail is reflected clearly in the OnePlus 5T Lava Red's matching red ceramic fingerprint sensor.
The limited edition OnePlus 5T Lava Red, only available with 8GB of RAM and 128GB of storage, will go on sale on February 6th at 10am ET / 10am GMT / 10am CET on OnePlus.net for $559 in the US, £499 in the UK, and €559 in the rest of Europe, while supplies last.  
Offers and bundles:
Order the OnePlus 5T Lava Red before February 8th to qualify for free priority shipping and receive your device within 2-3 days. Take advantage of a 15% discount when purchasing two of the same accessories, including OnePlus Bullets (V2), a selection of OnePlus Bumper Cases, a selection of OnePlus Silicone Cases and the OnePlus backpacks
Windows Central Newsletter
Get the best of Windows Central in your inbox, every day!
androidcentral articles are leaking here

The article should have been titled 'Android phone apes Nokia look' instead. They missed the link.

Not as good looking as red lumia 920 or 1520.

Correct, but at least it is a bit more colourful. Looks like they've been watching Nokia.

it looks a lot like my daughter's iPhone 7 plus except for the rear fp scanner

Does it come with free subscription to LifeLock? ha ha ha Of course not, who am I kidding!

OnePlus should make some of their limited edition colors permanent. Black and white are really boring.

Am I the only person who would like to see a phone in a green, and not the lime green of the old nokias, but a racing green, or something like that?!