OneShot for Windows Phone updated, adds new filters and nukes bugs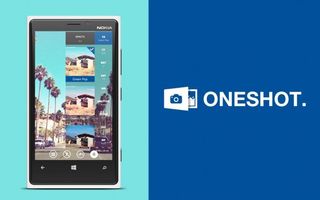 About two weeks ago we showed you guys and gals a new app for Windows Phone called OneShot. It's a photography app that lets you take photos with real-time filters and adjust camera settings on the fly with a beautiful interface. OneShot is especially unique because it was one of the (if not the) first third-party app built using Nokia's new Imaging SDK. The new update brings some features and improves performance. Let's check it out.
Head on over to the Windows Phone Store and you'll see version 1.5 ready for you to download. What's new in this latest version? Glad you asked:
3 new filters are available: Valencia, Amaro, Hudson
Aspect ratio can be changed between 16:9 and 4:3 if both are supported by the device
A 'Reset settings' button has been added to the sidebar that makes it easy to reset the current settings. This feature brings also a new 'Reset settings' favorite button to the app bar.
There's also been a handful of performance improvements and bug fixes in this latest update. Some users on the HTC 8X were having trouble with the app when it first came out, but it looks like those issues have been resolved:
Fixed bug that caused a crashing issue on HTC devices
Fixed bug when scrolling through taken images
Fixed bug that made the screen freeze after focussing
Some minor improvements and bug fixes
The update also improves performance in the viewfinder by 30%. That results in a higher frame rate when you're composing images and moving around with filters applied in real-time. Speaking of filters, the size of the preview images in the filter section have been decreased to show more them without needing to scroll as much.
When we first checked out OneShot we were thoroughly impressed with it. The latest update adds to an already solid foundation. You can get OneShot for any Windows Phone 8 device. It goes for $1.99, but you can trial the whole app with the only limitation being you can't save images.
Grab it in the Store, use the QR code below, or swipe to the right in our app.
Windows Central Newsletter
Get the best of Windows Central in in your inbox, every day!
Tried this when it was first released...wasn't impressed enough to buy it. Performance was the main reason. Maybe I'll give it one (more) shot at impressing me.

How does this app compare to ProShot? I have way too many photography apps already...haha

The only thing this app has over ProShot is the ability to apply filters in real time. If that is important to you, you'd probably want this app. Otherwise, ProShot has a ton of other features that this app doesn't. But this is just my opinion. Feel free to try out both apps since both of them have trial versions.

Who-ho! It is pouring updates!

I bought it a bit ago but it would really be nice if it saved Exif metadata.

After reading the reviews, I can't do it without a trial.

SophieLens applies filters in real time too. Pretty cool lens app.

SophieLens doesn't allow you to use the front camera, this one does. Plus the filters disappear after you choose one where this keeps them up so you can rattle through them before choosing one.

Does it support zoom yet?

Hi Joshua, zoom is one of the features that are coming in the following update :)

Bought this when it was released but didn't do much with it. Just played again & I think it's EPIC

What's up with HTC cameras and why are they always having problems on these type of apps?

SophieLens is nice but output size is only 720p is disappointing. How about OneShot, what's the output size? Trial won't allow saving so can't try that out by myself.


I've purchased the app and really like the the way it works, however if they could have a more interactive focus and brightness adjust on the screen itself rather than go and select it from the side menu would be better. Otherwise superb app

I have proshot as well, that too has a few issues, if oneshot updates and brings a few changes here and there its definitely gonna be my choice over the rest

Gave it a shot with the trial version. Keeps crashing on my 820. :(

Is there any good camera app fo WP7.x?
Windows Central Newsletter
Thank you for signing up to Windows Central. You will receive a verification email shortly.
There was a problem. Please refresh the page and try again.