Exclusive: Mythological MMO Onigiri comes to Xbox One very soon [Updated]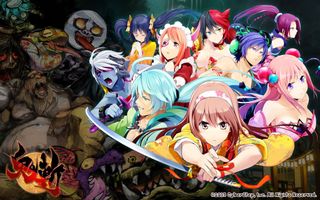 The Xbox One has two MMORPGs to its name: Elder Scrolls Online and the free to play Neverwinter. But in Japan – a territory not known for its affinity for Microsoft consoles – another free to play MMO has been out for quite some time now. That would be Onigiri (which means demon slayer), from Japanese publisher Cyberstep.
Onigiri is a uniquely Japanese game, steeped in that country's mythology and featuring anime-style character designs and story tropes. The gameplay itself has a universal appeal that MMO and action-RPG fans should catch onto pretty quickly. And it turns out English gamers will have their chance soon. Onigiri is making the trip to English markets this month.
Update 09/07/2015: Cyberstep just notified us that Microsoft has delayed Onigiri's release at the last minute over scheduling issues. They expect to clear those up and release it very soon, though we don't have a new date yet. Please sit tight and we'll report as soon as we hear of a new date!
Joining a team of demon slayers
Last week, we published a detailed preview to let gamers know exactly what to expect from the English version of Onigiri. We've been fortunate enough to have access to the game for a while now, exploring its ins and outs and even helping squash a few bugs along the way. You guys will soon be able to join us online as well because Onigiri launches in English markets very soon (date retracted due to last minute delay). And it's free!
The Onigiri experience begins by creating an account within the game. This account will permanently be tied to your Xbox Gamertag (for now), so take some care with its creation. Next you'll create your character – a heroic Oni (demon), with the option to create two additional characters as well. After a short tutorial, you'll arrive in the game's first hub city Onegashima and begin your adventure.
Many MMOs can be played either solo or with others, but few are quite as single-player friendly as Onigiri. Gamers can explicitly choose between Single-player and Multiplayer modes. Opt for solo play and you won't run into anybody else, but the game will also be a lot harder without help. AI partners will join up over the course of the game, evening the odds somewhat.
Teaming up with friends is the real way to play. Even if you don't have any friends playing, finding party members is a snap. The person who creates a party enters a recruiting phrase and selects the requirements and goals for the party. Other players then see all of that info in a "Party box" floating above the leader's head. It's a bit visually distracting (and we hope Cyberstep adds an option to hide the box), but nobody ever has to look hard for a party to join.
Taking on monsters and dungeons
Once you're in a group, you can set out into the world of ancient Japan to hunt monsters and complete quests. Teaming up to take out a horde of Kappa and other mythical beasts certainly make things easier, but a divide and conquer approach works as well. All party members in the same area earn XP from other members' kills. Item and gold drops are shared for everyone too, so the whole crew gets their fair share of the loot.
The most useful purpose for partying up is to take on dungeons together. Onigiri offers many, many dungeons, each with three difficulty levels. To handle the higher difficulty levels, you'll want a skilled group on your side. Dungeons actually scale based on the number of players, though, adding extra enemies and bosses to keep heroes on their toes. Achievements for clearing dungeons with perfect SS ranks and on Hell difficulty will keep dungeon-minded players in demand.
Speaking of dungeons, players get three free revives per dungeon. If you want to revive more than that (or without a penalty against your rank on that dungeon), you'll have to buy Soul Eggs with premium currency. Other than that, premium currency is suitable for inventory upgrades, a few buffing items, and premium clothing. You won't find many free to play games monetized as fairly as Onigiri.
To learn more about Onigiri's gameplay, read our original preview!
First Xbox One, then PlayStation 4
Cyberstep plans to launch the English Xbox One version of Onigiri very soon (date retracted due to last minute delay). Some players have managed to download the game in advance, but the actual server won't open up until release day.
Onigiri is also coming to PlayStation 4 in English markets shortly after the Xbox One version. Cyberstep will announce the PS4 release date on the Onigiri Facebook page in the weeks to come. No, the console games won't be cross-platform with each other, nor the PC version.
Are you looking forward to playing Onigiri? Leave a comment to let us know!
Paul Acevedo is the Games Editor at Windows Central. A lifelong gamer, he has written about videogames for over 15 years and reviewed over 350 games for our site. Follow him on Twitter @PaulRAcevedo. Don't hate. Appreciate!
I think I'll give it a shot. It seems interesting, I just hope it won't be full of people without Mics, or just leaving their Kinect mic on.

Can't wait, played the Japanese version till I got to a spot that I didn't know what to do due to not being able to read Japanese. Will be nice to get into it again.

Girl in the 3rd pic has too much clothes on! :P

That actually joke about that in the game! She's a fun character.

Mmm ill bet she's fun :D cant wait to play....the game.

I agree... It's like she's dressed for a blizzard.

I know right, jeez. What are the devs thinking.

Glad to see a release date for this game. I think a lot of people will have fun exploring this world.

MMO's typically haven't been for me but I may give this one a shot. I've watched some on the streams here and if there ends up being a group of people from WC that get together for this I may have to get it on it.

I'm looking forward to it. Just a shame it couldnt be released on this Holiday weekend when i would have had more time to play. Great article Paul. Thanks for the heads up on this, i appreciate your efforts to inform us of lesser known games that i otherwise would not have experienced.

Can't wait. Looks like this game will be my Phantasy Star Online fix. It's always cool to see japanese games coming to Xbox One.

Hmm! Not so into this type of games, but u will download, just in case...i give it a try during a snowing-in day

For those that aren't a big fan of MMOs, there is also a solo mode.

Yeah, that's mentioned in the article, and I wonder how well that scales to party size. Some games will do it jsut by altering enemy health when in a grouped scenario (like WoW, which gives raid bosses more health, depending on how many people are in the party). A.I. is still the thing in gaming that has the furthest to go, by far. I hope we see a game like this where the A.I. gets smarter as you add people.

i did try the jap version when you told us how to get it. did my chearacter get deleted? It was fun to run around alittle but had no idea what was going on. I ended up quitting after my first achivement. I will download this. will have to try playing it in my spare time. It does look fun.

Your character is still there on the Japanese server, but unfortunately the English and Japanese servers are separate.

Very good write-up, Paul, as always. MMOs are hard to get into, just because of how time-consuming and job-like they become, so I don't know if I'll get around to trying this one sometime or not. Honestly, the party system sounds pretty good, and something Destiny, who clearly aimed for an MMO-like experience, but struggled badly with social features (and other things), could take cues from. It's a very interesting way to handle parties, and even World of Warcraft could make use of a similar system (rather than having to use a generic dungeon/raid finder and getting stuck with whichever bums the gam throws you). PSeduo-curated party searching really sounds like a way to remove some of the headache of dealing with strangers in an MMO, depending on what it lets you manage.

Thanks man. Looking forward to seeing how you and everyone else enjoys the game once it launches.

Said it before but this game hopefully lives up to the hype would like to see it truly live up to MMORPGs especially one coming from Japan

It looks pretty fun... Unfortunately, I have an Xbox 360. But I'd love to give it a try. Θ_Θ

It sounds like fun. It will be one of the many games I try to play this fall.

Not at all interested in Japanese anime MMO's. Japanese targeted games have never moved me. Watched parts of a Shenmue replay and beyond the cut scenes it was a laughable bore. Too each their own, I guess.

I've never been into MMO's before, but I'll definitely try this game out

I'm on xbox one and i'm not able to enter a portal this game needs to be updated i played the tutorial and thats it.
Windows Central Newsletter
Thank you for signing up to Windows Central. You will receive a verification email shortly.
There was a problem. Please refresh the page and try again.