Ori and the Blind Forest confirmed for Nintendo Switch, launches September 27
The enchanting title from Moon Studios makes its way to the Nintendo Switch.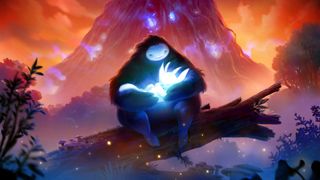 What you need to know
Ori and the Blind Forest: Definitive Edition is coming to the Nintendo Switch.
The game first released on Xbox One in 2015 before receiving an enhanced version.
The sequel, Ori and the Will of the Wisps, is scheduled to launch next year.
Ori and the Blind Forest: Definitive Edition will be published by Xbox Game Studios on the Nintendo Switch and launches on September 27.
While Ori and the Will of the Wisps is currently set to release in February 2020, its predecessor is breathing new life on a new platform. Ori and the Blind Forest: Definitive Edition is coming to the Nintendo Switch on September 27, assuming there are no delays. You can take a look at the official announcement on Twitter below.
Ori and the Blind Forest is a Metroidvania game, but to call it a simple 2D platformer would do it an injustice. The art style is beautiful and the story heartbreaking and heartwarming in equal parts. According to Thomas Mahler, Game Director at Moon Studios, the game runs at 1080p and 60 frames per second (FPS) in docked mode, while in portable mode it'll run at 720p 60 FPS. This is a great level of quality and optimization for Nintendo Switch owners to enjoy. Usually, titles are restricted to much lower resolutions and frame rates.
With that visual quality in mind, you'll need to think carefully about whether you want to play it on a Nintendo Switch Lite or take advantage of the graphics in docked mode with a normal Nintendo Switch. There's currently no pricing or preorder information, but we'll be sure to update you when that becomes publicly available.
Xbox
(opens in new tab)
Main
Xbox accessories you'll love
Every one of these quality accessories is guaranteed to enhance your Xbox experience.
PowerA Enhanced Wired Controller for Xbox One (opens in new tab) ($20 at Amazon)
PowerA's take on the Xbox One controller is an attractive pickup for budget-conscious gamers that nails all the basics.
Talon PDP Xbox media remote (opens in new tab) ($20 at Amazon)
The Talon PDP Xbox media remote is great for watching shows on your console.
Xbox One S vertical stand (opens in new tab) ($10 at Amazon)
Stand your console upright with this accessory.
Samuel Tolbert is a freelance writer covering gaming news, previews, reviews, interviews and different aspects of the gaming industry, specifically focusing on Xbox and PC gaming on Windows Central. You can find him on Twitter @SamuelTolbert.
If you haven't played Ori, it's arguably the best exclusive on the Xbox one. ok that's not saying a ton, but it's really good. I'm just still trying to understand what the benefit to Xbox gamers is in this "partnership" with Nintendo. I get that Nintendo gamers get to play two (so far) of the best xbox games on their Switches, I get that Microsoft gets money and eventually more xbox live subscribers, and more money again. What do Xbox gamers get? this is starting to feel more and more like, "hey 40 million or so xbox one owners, thanks for the money, f#ck you!" and I know I for one am getting less likely to buy the new xbox by the day...

The benefit to Microsoft is money.. This money is then invested into games that are only going to exclusive to the Xbox ecosystem. Not every Xbox game will be on another platform. For Nintendo centric type of games, it benefits Microsoft in the long run. Games do not have to be locked to a box and they shouldn't be if it benefits the publisher which is Microsoft first party games. Games like Halo, Gears and Forza will remain on the Xbox ecosystem and that is both the console and PC. Money is made on games, and that money will be turned into the investment they have made into the 16 + studios. Games are not cheep to make, so that money has to come from somewhere. to say that Microsoft is saying F#ck you to its fan base does not understand the industry and how much money and time it takes to power this industry. In the past couple of years, Microsoft had opened their wallets and invested huge amounts of money in the billions purchasing development companies, Hiring top notch developers, spending in research and development, investing in cloud services, putting money into their Xbox live and gamepass services, continuing to invest in backwards compatibility, research in controller design and manufacture, redeveloping and researching better ways to communicate, interact and play with players online. To say that What do Xbox gamers get?.. What more do you want Microsoft to give when in fact they been giving and giving and giving. Microsoft had been giving more than Sony and Nintendo. Both Nintendo and Sony do not have a Gamepass, Sony does not have backwards compatibility, Microsoft invest heavy in Xbox live, any streaming cloud service coming from any of the other two, maybe, who knows. Microsoft just invested in studios to give fans single player story based games. Microsoft is giving, does anyone notice?
Windows Central Newsletter
Get the best of Windows Central in in your inbox, every day!
Thank you for signing up to Windows Central. You will receive a verification email shortly.
There was a problem. Please refresh the page and try again.