Ori and the Will of the Wisps gets a launch date, new trailer at E3 2019
Looks like everything we all loved about the original, but bigger.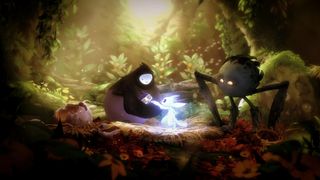 What you need to know
Ori and the Will of the Wisps is set to launch on February 11, 2020.
The release date debuted alongside a beautiful new trailer for the game.
TThe game will hit Xbox Game Pass on the same day as its release.
If you've been waiting for an actual launch date for the sequel to Ori and the Blind Forest, consider your calendars marked. Ori and the Will of the Wisps, revealed first at E3 2018 where we got a hands on, has finally gotten a release date. Alongside a killer new trailer at E3 2019, Microsoft has announced this game will be dropping February 11, 2020. And if that wait seems like a long time, don't worry; there's a whole new trailer to show you even more of this dark, wonderful world.
On top of the expected return of the big monster bird from Blind Forest, this trailer shows us lots of other baddies in this world. The giant spider, like other big monsters in this world, aim to test your ability to move fast and strike in between breaths. But your core abilities aren't alone, as it appears Ori can take energy from the world and smash it in the faces of any who try to eat it.
February is a long way away, but Microsoft is promising Ori will be available with Xbox Game Pass, playable on Xbox One and Windows 10. And if you'd prefer to buy your PC games on Steam, you'll also be able to get it there. We'll be here to update you as soon as pre-orders go live for this one!
Xbox accessories you'll love
Every one of these quality accessories is guaranteed to enhance your Xbox experience.
PowerA Enhanced Wired Controller for Xbox One (opens in new tab) ($20 at Amazon)
PowerA's take on the Xbox One controller is an attractive pickup for budget-conscious gamers that nails all the basics.
Talon PDP Xbox media remote (opens in new tab) ($20 at Amazon)
The Talon PDP Xbox media remote is great for watching shows on your console.
Xbox One S vertical stand (opens in new tab) ($10 at Amazon)
Stand your console upright with this accessory.
Russell is a tech nerd who chases the best of everything, from phones to game consoles to laptops and everything glowing or beeping. He's the Managing Editor of gaming content for Mobile Nations and can be found contributing to all of the Mobile Nations sites. Reach out on Twitter!
Did not expect a 2020 date
Windows Central Newsletter
Thank you for signing up to Windows Central. You will receive a verification email shortly.
There was a problem. Please refresh the page and try again.