Outlook for Windows 10 Mobile gets new button layout, updated design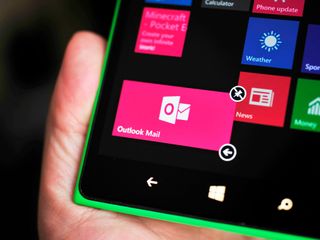 Today, Microsoft is rolling out an update for their Outlook email app for Windows 10 Mobile (Technical Preview).
Email and Calendar version 17.4119.42012 is now being pushed to phones running Windows 10 build 10080 and with it arrives a few design changes that Microsoft had recently promised.
First and foremost is the shift from buttons at the top of the screen to a quick-action ribbon at the bottom. The ribbon features access to calendar, new mail, search, sync, and select. The ribbon is iconic based but tapping the ellipsis to the right brings up their labels for easier identification.
Heading into an email the quick-action ribbon stays at the bottom, but the functions change. Instead, users now have the ease of access to move, unread/read toggle and flag by tapping the ellipsis button. There are also buttons for calendar, forward/backward, forwarding and deletion.
Diving into settings and options, users can find a refined layout with new toggles for Swipe actions, Reading (auto open), when to mark an item as read, signature and Notification selections.
We would also be remiss to mention that it does, ahem, seem faster (and more stable).
Although the first release of Outlook for Mobile was a bit rough, clearly the app is coming along with these updates. Outlook is finally starting to feel like a true replacement for the current Windows Phone 8.1 app.
Daniel Rubino is the Executive Editor of Windows Central, head reviewer, podcast co-host, and analyst. He has been covering Microsoft here since 2007, back when this site was called WMExperts (and later Windows Phone Central). His interests include Windows, Microsoft Surface, laptops, next-gen computing, and arguing with people on the internet.
Need to reinstall the tech preview now

Same here but that darn start screen bug is VERY annoying. After 5 hard resets and 3 soft resets i reverted back to 8.1. Sad as this build was actually very usable for me.

Agreed. Imo, I wouldn't do it on any device except a spare. Far too buggy. I have it on a spare and don't even bother with it. Wish they'd make it 50% more stable before anything else at this point.

Start screen bug seems to be related to apps that are installed. Reset phone and installing one app at a time and no problems with start screen loading for the past couple days. In my case I think it was 1password. Every time I install that app I run into problems with loading

I did think this too as it only happened after I started to install my apps unfortunately I have far too many to debug one at a time but I have a hunch it maybe apps that require 1GB ram. There is also another theory that it is the size of the image used as start bkgrd that causes the bug. As I said above aside from the screen bug this build is good enough to be used daily.

it hapenms on my 930 but its not unusable its like the odd 4-10 second wait mostly 4 so im still there.

Hmmm, had it on my 1020 and worked fine until I changed to show more tiles, it froze up reloading the start screen then went back to settings screen. I did soft reset and it returned to normal but it seems that the damage was done as the bug became more constant. I've reverted to 8.1 gdr2 and will wait for new build.

I just unpinned uc browser and my start screen is working flawlessly, I noticed the tile was blank except for some random words, and then I thought of what I read you guys talking about unpinning apps

Same here. Even yesterday I tried again. Still not usable in Lumia 928. Too many bugs. Miss the notifications and lots of w10 feature. Will try next build again.

I've got it running on a 928 and it seems stable. The only thing I'm having problems is adding new accounts for email.

Had the same issue removed some tiles and uninstalled a few apps as general clean up and I guess got lucky. I now use it as my main phone. Having said that the transitions are slow, Outlook is well just not very nice, the calendar is a major step back with no month view. As others have said office is buggy and I do use onedrive a lot which works but not onedrive for business. Basically lots of little things... Notice a couple more today just as an example of how they constantly creep up on you. Flipping the phone to silence no longer works or possible is deactivated and I have never found the switch and only found the quiet hours today again by accident which when you select y our breakthrough list now recognises multiple telephone choices in the contact and I have yet to establish if this means only the one you select is active if so you can only add one breaktrhough number and not a breakthrough contact as before. Like I said daily discovery but enough for me to use for my daily grind.

All you have to do is disable the start screen background image... DO NOT USE THE START SCREEN BACKGROUND IMAGE, AND BEFORE YOU LOAD THE TP COMPLETELY WIPE YOUR DEVICE, USING NO BACKUPS FROM 8.1❗❗❗❗
...........
Do those two things, and the TP will work seriously better around the whole OS,, GUARANTEED❗❗❗

Can I quote you on this rodneyej?? ;). I'll give it a shot and update you accordingly. Also, have any of you encountered an issue with the store were you cant install 1GB apps as it thinks your device doesn't have sufficient RAM? I'm using a 1020 btw...

Yes, quote me, and try it... It works.

Hey rodneyej, your guide above, can i use the show more tiles option? As i did and then had to use soft reset to get start screen back. Now if i reboot the phone, i have use soft reset to get it back. Also rodneyej, since you restored your device as new, how did you re-install 1GB req apps?

Well, I've since reverted back to 8.1... I need my device for business....
....
But, I never tried to reinstall 1gb games... I wouldn't even attempt to open an extensive game on the TP at its current polish... It's just too unstable... I'm not sure about how the show more tiles option acts.... That option has been removed for the 1520, and my Fiance is using my 920 right now...

Same here now, start screen issue became too much and also cortana was only returning bing results when I tried to launch apps through it. Re more tiles on 1520, I think that it will become a device that will have that feature as default display.

Yes, I did a factory reset and everything is really stable, except WhatApp is causing to crash the whole OS while typing a message. I deleted the Outlook app, but I cannot reinstall it again. So I think I have to reset it again ;(

You have provably figured it already, but if you turn off small tiles (by disabling show more tiles in settings/personalisation/start) then that gets rid of the start screen bug.

trying to save information by using a program called hpersnap again does not work? The biggest annoyance is if I download a machines equipment users manuel even with google it goes not work???? Explorer has always been a download and save information nightmare!!! ! A users manuel be it a juicer or meat grinder!!! DIDN'T MATTER.So whatever you have done the renaming of A government file and that i'm SURE makes it hard to find that file even with a file manager that is a split system !!! I shall go back to 8 at lest it works and so did 7 , back to 95 you could find a download ,and it did't move at all and was not a movie you had to pay for it was just a white paper.

Get raid of all pins on the start screen and you are good to go. Worked for me...

Lol.. Then there's no point..

I'm still using the preview on my 930 since day 1 it came out for my device. Yes, there are bugs, startscreen is actually very stable for me. I feel like I'm one of the few who uses this build on their daily driver :P

i am considering doing the same any thing that i should know before proceeding to the update?

It is buggy and slow and office apps are buggy too, so if you rely on office then I'd hold back from putting it on your daily driver

I have a problem where the Office apps are regularly updating and installing, and updating ... and installing (talking about the Beta Store). It sure isn't ready for prime time. I recommend staying away from MS Office altogether until they fix the Beta Store update and installation issues. However, different people have different issues depending on which device they are using, whether clean factory install is applied and such. I use it on a Lumia 920, secondary device. Snapdragon 800 devices are probably a lot snappier.

Off-topic, but in W10 Mobile, you know the feature where you off your phone and it shows you your upcoming events before it powers down? Mine says 'Goodbye' but doesn't show the events anymore.. It hasn't done this since like the third update (a while ago).. Is it my phone or everyone?

It worked for me in my recent install of 10020. Have you set up your calendars?

Are there still plans to include a live tile?

Pretty sure they are... especially with the amount of comments in Windows Feedback

I have a live tile..... sometimes. And it is not good looking

Or even get new email notifications for that matter?

Email notifications work now.. they show in the action center. You also get an option to disable banner notifications and sounds. So you can have 'ghost' notifications. I wish they were separated by account though... I don't like how they're mixed.

Re: Thaman04,
Are you reffering to WP 8.1 or W 10?

Windows 10 TP... the latest Outlook update that Daniel is talking about in this article.

Hey mate can we pin or get notifications from other folders than inbox?

But as you said, at least the app and it's notifications work now, Yay!

I hate the black bar at the top...

It is a required item, otherwise WP becomes useless because it does not always show the time. /s That was one of the major complaints of Win8, that it did not always show the time. Bringing up the charms bar to see the time was such an inconvienience that it made Win8 completely useless. People always need something to complain about when it is about MS.

It was always a swipe away. A phone is always typically in-hand and space is a premium. There was no excuse to leave it off the desktop.

That black bar can be themed to match the application theme. Its always baffled me that MS never does that in their own apps. Its been a feature available to devs since 8.0. The outlook team should just make it the blue outlook color. It makes the app look more complete.

Have you even seen the msn health and fitness app? Microsoft does it and its aweosome. We have mpre than 4 colours in this app itself..

In fact, there's just one line of code to adjust the bar to the color. I hope they make it happen, spread it in the Feedback app!

Yeah, that black bar at the top makes it look like the the old Android Jellybean. Hope then colorized it. Same with the desktop version, make the title bar same color as the toolbar, not the gray/white ones.

I didn't know that outlook can be updated using the store too, I think I will go back to Windows 10 m soon

Yeah it is a universal app now, so updates will be coming from the store from now on. Also auto updates don't work on build 10080 so you have to find it in the store and then install it to get it to update.

So u hit install in the store beta for the mail and calendar app even tho its already on the phone?

Been on 10080 after a hard reset on my L920. No way I'm going back to 8.1 despite the occasional crash and some apps that don't run. I think winmo 10 is showing a lot of promise and headed in the right direction - the new mail app as well as the richer color palette alone is enough to keep me on the tech preview - gotta love wincentral in the new colours :-) Sticking with the previews till RTM!

I hate that white background in outlook.

I agree. The dark theme and black background is one of my favorite features of WP. At least they put labels back. That's another favorite.

Yes, I really hope that dark background are available in a global sense. Like the dark them we currently have being picked up by the apps.

Guys don't go back, stay here with me

Wait for me, I'm coming :P

I just rolled back last Friday. Was running too slow on my 1020 and couldn't take the glacial pace anymore. I'll wait to get it on a handset built for it

Try a hard reset, my 920 improved dramatically after I did a hard reset

I will wait for the slow ring first

I want equal features to the new Android Outlook app...

what features do you want? can you be specific?

Um... this app is way more feature-rich than the Android version.

It looks just like it. I hope they don't combine calendar and email like Android, that just sucks.

I think they did combine them, but they act as separate apps. When they get updated, they get updated together, but they launch separately. Kind of like how Mail/Calendar/People used to.

Are there any changes to the calendar with this update?

live tile is working also transparent

It's working, but it's ugly. I hope they add the large number beside the icon like the other apps have.

How do i update the apps?

Yeah I'm not seeing them in the store nor are they listed for update though a bunch of others did update when I checked Posted via the Windows Central App for Android

Nice.. 1 down, 2 more to go from my feedback. Live tile support & dark theme is all I ask for

I'm one of the Hamburger button hater ... But after using W10 TP for sometime... I think hamburger is really useful.. Weird

I've been using an Android tablet for the past couple of months and I've found in every case that I can recall the hamburger can be activated with a swipe anywhere on the left edge. So, presuming MS adopts this behaviour, combined with the action buttons being at the bottom, I'm quite pleased with the direction Windows mobile is now going.

I not sure they will implement left swipe, because horizontal nav i.e. pivots are here to stay. Maybe in a tap-and-hold fashion!?

It's possible, its only activated from the left edge, 1 pixel wide activation area. Many Android apps I used that have both pivot and left-edge swipe gestures for hamburger, and it works fine.
They really need to implement this gesture to make the hamburger menu less pain to activate it.

I hope horizontal swipes / pivots / panoramas do stay. It is good for one handed use, either left or right handed.

When people say the piviting staying, its gone in my photo album and its gone in my outlook mail and calender. Its definatly not staying at this stage. My real question is are they gona bring it back to these apps and stuff , caus at the moment we have a hamburger menu for navigation in some things, piviting in others and a old icon based setting menu(works great but doesnt fit in design wise with win phone). All these elements to me are preventing a cohiesive looking and feeling mobile phone.

i miss the pivoting, i dont see why hamburger cant be ontop of piviting then you casn chose the way you use the phone.

Still no UNREAD view... *sobs*

There IS an unread tab! You just click down arrow beside "All" and click "Unread"

Can you now add a account with custom pop/imap ?

Where the quack are the filters??? Outlook app is 100 times inferior to 8.1 Mail App!

No, its far superior to that app

I will miss the pivot on the mail app to quickly see all unread and flagged emails

There's a filter... click All, and you can change it to Unread or Flagged.

The key word is "Quickly".

Great! I have suggested to move the controls down in my feedback to the previous mobile build. This is a lot lesst finger movement. Would be a novelty to have this on desktop too :-) , back to good old IBM 3270 terminal screen design ;-) . Now let's vote to have the Mobile's App Folders on the desktop instead of these horrible App Groups.

Each account can be pinned to start seperately, just hold down the button when you are picking which email you want

Could you elaborate. Are you saying you need to click the hamburger menu within the Outlook app, locate the account you want to pin, then hold it down for the sub-menu to open?

yes i have an exchange account and a hotmail both pinned seperately. delete any current start screen pinning , then re pin seperately

I rolled back, but honestly I could of swore I tried this and no sub-menu showed up. I might reinstall 10 just to try it.

This has only just now become available with this recent update. That's why you didn't see it before.

Aftering fumbling with Outlook app for a while, I have figured out the way to do it. Click on the Hamburger, and then tap and hold the INBOX (not the account itself) and you will be presented with the option to Pin to Start.

Thanks wbford! For lowercontrol - I didn't get the sub menu to pop up until after I lifted my finger after pressing for a couple of seconds.

can't add more then one outlook accounts

Outlook Mail is transparant now.

Looks good!!
Love the use of ellipsis
Hate to say it but, hamburger menu growing on me

Now just give me live tiles back and I will install Windows 10 Insider Builds on my phone...

You can individually pin live tiles per account in this latest update.

Would have been better if they fixed the sync issues, an email app is useless if it doesn't sync even after a month

This must be different for different people/devices. My email is completely synced with this app.

The thing that annoys me is that (at least with gmail), Read/Unread status isn't synchronized when you read the message, so if i read an email on my phone, it will still be marked as unread elsewhere until some arbitrary point in the future when my phone checks for new mail, etc.

This is a google thing. I beleve in the Gmail settings.

Subfolder notifcations? Notifications should not be at an account level but at a folder level, with each being customizable.

Did they add the ability to pin seperate mailboxes to the homescreen? I can't use it until they do and its supposed to be coming if it isnt there yet.

Awesome! I'll reinstall tonight!

This Outlook has pop3/pop3S support?
The awful Outlook basic on w8.1 not....
Absurd

does it group all the emails in one view as in the linked inbox in wp8.1? that is a must for the default email app in TP

Linked Inbox is what I am waiting for... I have one Linked Inbox for my Outlook, Gmail, and Comcast email accounts and a separate inbox for work. Until I can do that with W10 I will be sticking with 8.1.

Same here, but MS haven't shown any indication if they will bring it back or not. I seriously hope they do, cause that is a deal breaker.

im thinking of going back to 8.1 soly because of this, terrible not to include such a basic feature a feature that is to me as important as action centre is to mobile phones lol.

I wouldn't go back to W10 just because an updated outlook... all the other problems will still be there... wait another build

It's probably the best looking email app in the world

Looks so good too. Can't wait to update on my Lumia 920. Posted via the Windows Phone Central App for Android

MS seems to be making strides forward. The future of Windows never looked cooler!

it feels like a few steps backwards to me but ive only been using windows phone 8.1 for 6 months. But no piviting and a hamburger manu means controls no longer 1 handable and simple, No shared inbox, or at least one that doesnt require loads of time on outlook.com and thats if its even possible. Both these things to me as a 8.1 user feel are steps and big ones in the wrong direction. People on iphones and android will think wow love this but certainly not this 8.1 fanboy.

Well at this point it doesn't look or feel really good, but MS has promised to enable pivots and all this awesome WP8.1 stuff in future updates. It's like W10PC. They first make the big changes and later on, they refine it. I'll personally make my final conclusion after the RTM.

I wanna have Android Central app for my Lumia ;)

The way it plays videos without switching screens is way better than the Windows phone version. Posted via the Windows Central App for Android

Could you please make a short movie? I would be interested ....

Quick question: I notice a lot of the universal apps, including this one, have a white theme to them. Is there an option to have a black theme, like with what 8.1 had?

Looks great in comparison to other builds!

Can someone help me understand, Why can't MS use its own tool to port iphone outlook(Which feels very polished and fast) and release windows phone app. wouldn't that be simple and fasted way since tool will utilize 90% of existing code from iphone apps. Why do I alws feel that app ios runs and feels very smooth and polished than WP? wp 635,1520, 925 user.

The iOS app doesnt have the office engine for one. If im not mistaken it isnt a full fleged mail app either. It only does outlook mail. There is more to an app than just the UI you see. Sure they could probably port that out look app to Windows Phone but that makes little sense since they are building a universal mail app. We are months away from Mobile RTM just have some patience.

The iOS Outlook app does Outlook, Gmail, Exchange, and IMAP. Possibly even more.

Mainly cause they are, the apps still need work in windows but they are geting very good, i have 3-4 apps that beat the iphone eqivilents on my windows phone too.

Why is Microsoft killing the simplicity of email app on Win phone 8.1? This one looks horrible to me.

I have the exact same thought. I absolutely hate this new Outlook app. The more they make windows phone look and act like android, the more i think i should just buy an android phone next time.. I hate their new policy of universal apps. I do not want my phone to be a PC or my PC to be a phone. These are two very different devices used in two very different ways. I think the built-in mail app in Windows Phone 8 is the best mail app i have ever used on a phone and it is one of the key reasons for me to use a windows phone.. E-mail on a phone has to be SIMPLE, fast and easy to read. The new mail app in windows 10 mobile is none of these things sadly. I had the latest preview release in two days and i don't like the way they're taking the OS at all.. In my opinion they're doing all the wrong things :( Just like when they implemented the useless notification center/banner thing in the top (like android and iphone).

totally agree with you. i think iphone and android users will like it, unfortunatly current users will mostly feel the same way about the the changes. However unlike you i want my phone intergreated with the desktop and i believe it needs that badly as apple and their devices are already there and have been for about a year. I want to answerr phone calls and or textes on my desktop from my phone when im on my desktop and see notifications too. Unfortunatly this seems to be at the expense of the piviting simplisity and cohierent nature of 8.1 phone and i dont like that. No shared inbox? comeone ms.

Exactly. I hate it. Looks android. I love the simple email and calendar apps on WP 8.1.

All awesome but a "no-go" for me until I can pin individual mailboxes with live tile displaying new mail count. :)

Well you can pin individual mailboxes now.

Can you pin invidual Folders other than Inbox?

Not by the looks of it, at least not yet.

This app is Not beautiful as the new MSN apps for windows 10

Store Beta never installs anything for me, it just errors on "Aquiring license" no matter what app I try. Can I somehow refresh my licenses like in Windows 8.1 or?

That has been happening to me also, just uninstall the apps and reinstall them, IE is the only one that won't work for, because you can't uninstall that app

Patience. Or install from the non-beta Store

Really? All that redesigning and I still have to tap again to see the whole email? What's wrong with these people?

this app currently blows. everything about it, except the word engine, is a regression.

I`m having issues syncing my work account. It keeps showing "not synced yet" with no error message. They should allow adding and syncing IMAP accounts with self-signed SSL certificates. Too bad Acompli never had an app for Windows Phone. It would have been so much better than this.

Few things I noticed are: 1) The live tile is transparent now. 2) The hamburger menu disappears when we click to read the email on other email providers. When we click back button the app will be closed but will be still running in the background which we have to close forcefully and start from the beginning.

One of my gripes with Windows Phone 8 was that hitting the back button would fully close out of the application. The new behavior where back just suspends and traverses through navigation stack makes a lot more sense and will have a great impact on startup time. Its worth making the distinction that with the multi-tasking model on the phones, those apps aren't actually using resources, they are suspended from a CPU standpoint, and the memory that they are using is marked in such a way that other apps can still claim it if they need it.

Does anyone know how I would re-install Outlook mail / calendar app on preview? I uninstalled since it was quite slow.


revert back to 8.1 then go back to Insider Preview is the only way.

Or, you know, use the Store Beta.

I'm trying using Store Beta, but searching for Outlook Mail or even Mail doesn't find the app. Do you have a search term that works to find it?

Hmm, it used to be there because I used it to force this update. Seems to be gone now. But it was called Mail & Calendar like it is on desktop/tablet.

i had to do a restore for it. and you dont have to reinstal 8.1 to get it.

Paper plane button fuck that please Microsoft.

I see lots of comments and suggestions when I visit this site and I suppose you should be an insider your opinions first. I you type here only, these ideas and suggestions will not reach to right people who are interested. ​

The new update is really great, perhaps the coolest feature which i haven't seen mentioned yet is the dual-pane landscape view, turn your phone sideways and you can see the message list and preview pane side-by-side (may require larger phones).

You guys at WCentral got past the start screen bug??

A hard reset will fix the start screen bug. 10080 is pretty decent after a hard reset, runs really smooth on my L920, but some apps do not run and it occasionally crashes, but stable enough as daily driver for a light user

There's a lot of people who even a hard reset doesn't help, especially after reinstalling apps.

It looks like there is some problem with Lumia 930/Icon with start screen (possible scalation issue) and that cannot be sorted out by hard reset. I've tried that myself several times on my Lumia 930... Gabe even mentioned in one of his tweet that there is some issue with Start on some device with new build, will be probably sorted out on next build.

does AT&T VVM still show up as an email account in outlook? what a wierd bug that is.

Not since I updated to 10080 for me.

A little off topic but has any one else noticed all the music preview updates, no new features, all bug fixes and performance improvements. I liked the app from the beginning but in one short week they have made a kinda buggy, pretty slow app into a super smooth app. I have about 1300 songs and when you switch between artist, album, or song everything loads immediately, even faster than music on 8.1

Yep, I'm loving using Music Preview with my OneDrive and Music Pass music. The app is very understated, I'm surprised more people aren't raving about it.

People apparently delight in complaints :-(

my biges problem with the first music app was simply not anty good views of my albums. I have to pin the albums to my start menu for a view that i found awsome, the rest was fine. The new app well they have given me a better view a much beter view of 3-4 albums at one time instead of 2 lol but at the expence of everything else.

Note: when creating sperate live tiles for multiple email accounts, updates to the added tile's both email count and short message are not active. this feature only appears to be on the original pin to start tile. you can have it going along with the other live tiles but who needs that. i am sure they will fix this

Apparantly they are more and more using a whit/grey theme, but will it also provide just black?

Other apps so far have often started with the light theme and then come in with a dark theme later. From my experience, the light theme is harder to design for, so possibly they're wanting to perfect that first.

My only wish is that the Outlook Mail app would have a combined inbox. I don't want to have to continuously switch between accounts to check mail for each account. Also, on the Outlook Calendar app, I hope that week and month views return. I've already sent feedback to Windows, so I hope it happens. Other than that, they're clean apps.

How do I update please any idea

I was able to search for "Outlook Mail" in Store (beta), and then had to select "Free" to queue it to install. I don't think it came up on its own for me when checking for updates.

Does anyone know what the icon to the left of the trash can is when in multi-select mode? I tapped it and the selected emails disappeared, and I can't find them in the Deleted folder.

Must I uninstall Outlook before installing the one in the store beta

It's telling me this product is installed what do I do guys help

the icon to send email looks Android-ish... geeezz

The whole thing looks droid-ish.

The live tile is now transparent

Not sure if its fixed yet

Did they add back in the voice keyboard?

Looking good! Keep the updates coming! Maybe next is they fix the scaling issue, it looks too small still.

There are quite a few things that new to improve in win 10 mobile, but overall I think it is pretty awesome +l920

I hate, hate, hate it. It looks like the Android app and I hate that one. Bunk. Just my opinion though.

Can anyone tell me how to set the Priority/Importance (High or Low) when sending a new email?

But im still thinking if i should install this again
......

Can we pin folders other than Inbox to start screen and it gets notifications? or NO?

Download link? It's not showing up for me.

\/ search "mail and calendar" in the store(beta). The grey store

Search "mail and calendar" in the store(beta). The grey store

Live tiles and notifications are working on 1520

Ditto was about to roll back to 8.1 because of this bug, then they updated via store, love it.

I had it on my lumia 925 for about 5 days, but reverted back to 8.1 due to the reboot loop bug... For 5 days it was working pretty well, even though i also had the slow loading on the start screen... Then all of a sudden, it got stuck on a reboot loop, and had to get it back to 8. I am seriously reconsidering to take my chances and reinstall it, i really love windows 10. Any thoughts from the more technically inclined? :)

Hey guys.. Please help me.. How to fix the Start Screen thingy.. I'm enjoying this build and don't want to roll back..
Hard reset didn't work.. Something else please..

Hey guys.. Please help me.. How to fix the Start Screen thingy.. I'm enjoying this build and don't want to roll back.. Hard reset didn't work.. Something else please..

Has to do with number of apps installed, remove all non essential apps.

Stupid question but How do i update this app? searching cant find it in any store and checking for update neither. - Okay .. just a few posts before someone said "look for mail and calendar" in the beta store. well this helped

Same here on German OS - a search for "Outlook" says "No results". Any idea how to get this on the device?


Just look for "Mail and Calendar" in the Beta Store

Set "Region" to USA and then reboot the phone. After that you will find the app in the store.

I have the region set to United States and it still doesn't show up on Store Beta. Any suggestions?

Not showing here USA and all Posted via the Windows Central App for Android

The mail app is the main reason I switched back to 8.1. It doesn't handle multiple accounts nearly as well. With 8.1, I have three live tiles, one is a combined inbox for my old Gmail and new outlook addresses. The other two are different work addresses. I can see which gets new mail and jump right to the correct account. With 10, there is a single live tile (which only sometimes updates to reflect new mail). I click on it and it opens whatever account I had opened last. Then I have to switch from account to account to see which has mail. Very inconvenient. To make it worse switching doesn't even work half the time and I have to exit and try again. I really hope MS will be adding multiple live tiles and combined inbox to 10.

With this new revision, you can pin the inbox for each account. You just right click on each account and click pin to start.

Wow, that's great. I still have 10 on a non-primary phone. I'll give it a shot!

Hey WC - I just logged in to say the site redesign is really fantastic. Well done!

Does it support dark theme? Can notifications be controlled at account level? Can accounts be pinned to the home screen?

Anyone else crashing even trying to reply to a message with graphics in it?

Can you set it to not download images when opening an email?

It's not showing up in the store for me

Can someone confirm to me whether the "Main and Calendar" app is available in Store Beta today? I did update the app yesterday, but had to factory reset since then and I cannot find the app in the store anymore. My region is US.

No matter what I search in the beta store, I cannot find the app to update it. I've tried Outlook, Mail and Calendar, even just Microsoft.
I think MS pulled it.
Also, I'm in the US and my region is set to US.

I'm thinking this too, US here too Posted via the Windows Central App for Android

AHas anyone been able to open PDF attachments. Whenever I hit open a PDF attachment it opens an explorer page that does not loads. Also I tries today to download the app from beta store, but can't seem to find it.

how do i download it.it hasnt arrived in my phone

how do I get this new version on my 930? I have regional settings set to US, but I still don't find Outlook in the Beta Store, and it is NOT Beeing pusher automatically, all idears are appreciated.

have to say using windows 10 desktop fantastic but windows 10 phone well the email app for me is a step in the wrong direction, i dont like the hamburger menu, im sure android and iphone users will like it alot but not 8.1 fans, i miss not only all controls at bottome but also piviting by swiping, thats what made 8.1 different. Even with hamburger menu its still usable its just anoying for a windows 8.1 phone user, For me its the merged shared inbox, or lack of. Yes i went to outlook.com cause i was told i could merge them into 1 inbox, 1 hour later the closest i got was a option to divert my gmail to my hotmail accout, hum. I want a shared inbox not a forrard one email acounts mail to another lol. In 8.1 it was a simple task, in 10 if it exists i still havent worked it out so thats a huge fail to me. As much as i love live tiles and its defo something i feel is years ahead of the competition the very simple asspect of haveing my 6 email accounts showing all my email on the same screen in the same inbox on my phone is essential, glicking per account is untenable. Yes i have a email app now and it gives me a shared inbox but i need that stuff bakedinto windows phone 10 for cortana mostly. Its early days but outlook email and calender are something i feel is a step backwards from what i have and how i used them.

Two of three mail services (Gmail and my work mail) stopped functioning. Completely unable to access or edit email accounts. Can only wait for MS.
Windows Central Newsletter
Get the best of Windows Central in in your inbox, every day!
Thank you for signing up to Windows Central. You will receive a verification email shortly.
There was a problem. Please refresh the page and try again.