Outlook's new advanced rules let you get hyper-specific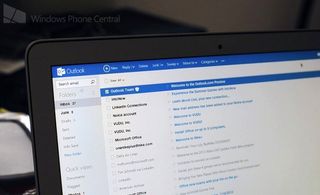 Outlook.com is an incredibly popular email service from Microsoft, taking over Hotmail back in 2012. Today, the team have announced new features to help keep your inbox clean and organized to ensure you can easily find emails without having to go through countless messages. These features will compliment functionality already in place, such as Sweep and general rules.
So what new features are we looking at?
Advanced Rules
Undo Button
In-line Reply
More Personal Messaging
Advanced Rules
These new rules provide consumers more control over how emails are sorted, filed or sorted within the inbox itself. It's possible to create multi-condition and action rules to have the system organize everything without requiring micro-management. The team boasts some unique conditions, including time constraints, email tallying, checking read/unread state of emails and checking whether or not the sender is known.
Example: If an unread email is older than 3 days and is from an added contact, mark it as important and flag it for further reading.
Pretty neat, if we do says so ourselves.
Making emailing that much easier
As well as the rules, you then have the new undo functionality to quickly reverse an action. This feature is perfect for those times when you drop a message into a wrong folder. The best part? You can hit Ctrl+Z for quicker access. When you're not correcting mistakes, it's now quicker to respond to emails with a new in-line reply feature. This new functionality will be present within a thread so you don't have to open multiple windows/tabs.
Microsoft has been listening to suggestions and complaints from users of its Outlook.com service and have opted to make several minor improvements to make messaging more personal. Starting chats with contacts is easier with a new section dedicated to messaging and it's simple to switch between services. Finally, you can browse people by filtering through which service they're using (be it Skype, Facebook, etc).
These changes are rolling out within the next few weeks, so fear not if you have yet to see them on your account.
Source: Office Blog (opens in new tab)
Further Reading:
How to completely switch from Gmail to Outlook
Windows Central Newsletter
Get the best of Windows Central in your inbox, every day!
Rich Edmonds was formerly a Senior Editor of PC hardware at Windows Central, covering everything related to PC components and NAS. He's been involved in technology for more than a decade and knows a thing or two about the magic inside a PC chassis. You can follow him on Twitter at @RichEdmonds.
Wow! This is sweet.. they're on a roll today! :D

Just a few hours ago, I was wondering why can't I set advanced rules.

Same here, its just one coincidence after another.

What's up with that messaging thingie? I don't have it

The best webmail service is simply getting better. I just wish these type of features were available on the phone too. Maybe this something that we may get when Windows phone 9 comes out.

Agreed. For instance, creating Folders, sub folders, Labels (tags), & such.

Rules should be easier to synchronize across devices

What I've found is controlling the rules from the server obviates the need for control elsewhere. 'Course your needs may be different...

Outlook is really good and is becoming better.

Agree. Just one thing nags me from the previous update; while an email message is opened, and you press refresh icon -- next to the inbox -- it closes the email message and shows you the list.. Ideally, it should keep the message opened and refresh the DOM internally (with new messages counts in left pane).. The behavior which used to be there, but recently altered / broken..

Looks like Microsoft are taking the fight to Google; it's about time. Cannot wait for the changes to hit my account, hope they're carried through to the Windows Mail app and Outlook 2013.

Awesome! I was looking for this the other week. I did it in Outlook 2013, but will switch my rules to be server side once this update rolls out to me. The issue was my phone would get the email first and give me notification, my rule in Outlook 2013 would then mark the message as read and delete it then it would disappear from the phone... so I'd always get these phantom notifications.

MS is on right track ,Just make our local WP email app more feature rich.

imo the mail app should be like outlook.com they should keep it the same, and outlook.com has way more functionality.. just increase spacing here and there and done.

Rich, it's "complement", not "compliment".

Surely Rich was just engaging in some extremely subtle anthropomorphism.

Came here to say that very thing.

I just wish we could turn off messaging in outlook. People send me a facebook message and my phone goes off, then my pc goes off, my surface goes off, my outlook.com browser goes off. I mean, how many of these notifications do i need? And on top of that the actual facebook goes off. I actually uninstalled skype desktop to stop that from going off too.

You can turn it off in Outlook.... just hover over your pic, and click sign out of messaging.

But what if you want them still but only on certain devices?

I don't think that actually will work. First, All i can really do is sign out of facebook chat. Skype/messenger you can only set as invisable. I just don't want any of it on the site because i get it all elsewhere.

...I wonder why I stay with yahoo mail when msft has such updates

I use yahoo as my junk email. Well as best as I can.

when will this be ported to the outlook app for windows 8 and when will we finally get an option to drag and drop emails as calender items (like in outlook 2003 and 2007)?

Awesome. I just started moving from Gmail and been setting up the mail sorting in my way and it's really good to see that the team is still working on improving the service. What I still do need when talking about Microsoft and email is an ability to choose an alias to send an email from Windows Phone.

Nice ! Must give the Advanced Rule a try

I really hope we get a proper Outlook Mail app for WP8.1. I noticed that Mail is baked into the OS, as is Office, meaning they are not updatable. I wonder how that will work with they release the universal version of Office later on?

Yes, mail app in Windows phone and windows 8.1 are poor. I would like native app support on these platforms instead of having to go to the web. Calendar needs updating too, unable to set events every x weeks.

I want to see more granular control of the Calendar.
When setting appointments, the ability to set recurrences for just about any time.
Such as, every other week
Calendar on Outlook.com, Windows 8.x and WP, should be on par with Office Suite Calendar.

Still don't have these setting on my account

Has this rolled out yet, Rich? How about an update?