How to: Sweeping and scheduled clean up of your Outlook.com account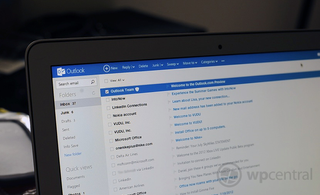 Outlook.com, the new face of webmail from Microsoft
Microsoft unveiled Outlook.com back in July, launching a new web-based email service that would be the successor to its popular Hotmail brand. The move was part of Microsoft's plan to bring products and services closer together, which leads to further integration into Windows, Windows Phone and other platforms.
We're well aware of large inboxes -- ours are particularly full of all kinds of content -- which can lead to slow start-ups of clients, make searching a pain or the potential account storage limit closely approach. What can one do to combat a full (or messy) email account? Deleting and / or archiving emails is the most effective way, and there are ways to do this automatically through the use of rules.
Set a cleaning schedule with simple rules
Outlook.com makes it easy to set up schedule clean-ups that automatically delete emails older than a set amount of days from a particular email address. If you enjoy receiving email newsletters from Amazon or another established retailer, you might want to get rid of previous editions to save cluttering up the inbox - no one needs a previous edition that shows out-of-date pricing and deals, right?
All that's required is for an email to be selected (from the sender you wish to apply said rules to) and 'sweep' be selected from the main menu. 'Schedule clean-up' can then be chosen from the drop down menu to create a new rule for that sender. Rules can also be viewed by selecting 'manage rules' to check an overview of active account settings (more on this later).
An overlay will then present itself, which enables users to configure a new rule for the desired email address. For example, you can add a new rule for example@example.com where emails older than 10 days will automatically deleted, or moved to another folder. Important messages are exclusded from clean-ups, which can be set by choosing 'Important' as a category on those particular emails.
New folders can be created while setting up a new rule and emails can then be moved to the new folder once the rule is activated. Going back to our newsletter example, one could add a folder for retailer newsletters that would free up the inbox for emails that would demand attention, while newsletters could then be viewed at an appropriate time and subsequently deleted when set criteria is met.
Once a rule or two have been set up, you can view all account rules by selecting 'manage rules' from the Sweep menu. Unfortunately, to edit a rule, one will have to remove it from the rules management page and configure a new one on the desired sender with the new options. We'd like to see it possible to be able to select 'edit' next to a clean-up rule for easy access.
You can also set up and manage rules in Outlook from the Office 365 suite (or other supported email client). With both Outlook.com and Microsoft Exchange, the company has provided consumers with the functionality to stay on top of cleaning the email account using rules for automation.
Let us know your experiences in the comments.
Windows Central Newsletter
Get the best of Windows Central in in your inbox, every day!
Rich Edmonds was formerly a Senior Editor of PC hardware at Windows Central, covering everything related to PC components and NAS. He's been involved in technology for more than a decade and knows a thing or two about the magic inside a PC chassis. You can follow him on Twitter at @RichEdmonds.
oh awesome! didnt know this was possible.

Hotmail had this before Outlook came on line.

Great stuff, thanx Mr Edmonds, i like these guides. I used rules in Live but haven't dived in to Outlook, and also found the new options (old habits) hard to find. Great tips.

HELP: I screwed up when I read of the announcement of outlook.com instead of migrating my live.com account, I created a new account at outlook.com in haste so as to reserve my name at outlook.com. So now, I have 2 different Microsoft accounts--1 at live.com and the other at outlook.com. Anyway to merge the accounts and keep all my email and SkyDrive from my live.com account and use the outlook.com ID instead?

You have 2 options:

1. Find Xbox and transfer your purchases from live one to outlook one.

2. Deactivate your outlook account and then after 270 days, when your id is available again, rename your account to outlook one.

In either case, you'll most probably require a format.

For more info, search and read articles on outlook.com on this site.

Option 3: Don't bother and wait until your WP8 device. You don't *have* to use the outlook.com account. Anyway, aren't you a bit late to the party? Outlook came out a month ago and full guides on your very situation were provided on this site a day or so later... Just search on the website and you'll find it

I really like the Outlook design, but don't like to "no, thanks" the offer to add my FB contacts every time I get into Messaging.

Yeah love these features, been using them for a while now even before the outlook.com change. Good stuff.

Yeah. I really like these sweep options. This is the biggie that has me contemplating switching over to my live.com email from Gmail for my main email use.

However Sweep rules are fail
I have extensively tried the features of Outlooks.com. All I liked was its UI. But on functionality part it still lacks a lot. I have written the whole post on it here http://bit.ly/NUM6qi in which I included many how to videos uploaded. Let me explain that why sweep rule is a fail.

First any sweep rules created wil be added to the Filter list that you can access through More Settings menu. However you cannot edit the sweep rules. When you click edit link in front of them it asks to delete the rule and create the new desired one http://bit.ly/R0e8al . Thats not good.

Next sweep rule is just another form f filter which has time clause associated with it, like move emails from a prticular sender to the partucular folder "after 10 days that mail comes". Now what if I have 60 filters already (ohhhh I do have them seriously) and now I want to add such time based clause to them? Delete them all and create sweep rules. I realized that filters provide better control over crafting filters. But if you cant edit sweep rules to details then I feel filters are better, but then you cannot time criteria to it. So what I feel finally is that such distinction between sweep rules and filter rules is not a good idea. Microsoft should make such time criterion available to filter rules. In fact thats the default in GMail. In GMail, the default time for any filter is 1 day which is quite and their is no such separate sweep rules. You can change time criteria on any filter.

There are some other things too, like if you have huge list of folders. Then it becomes difficult to drag drop the first mail in the list to last folder, since you cannot scroll down while draggin and dropping. I also found a bug in folder in expansion and collapsing arrow. When you use it multiple times its state reverses. But these are small problems. (The sweep/filter one was a majot one though)

Apart from these, the People integration, new SkyDrive, Instant actions and inbuilt slide show viewer for image attachments are just great (though I will like they will use HTML5 and JavaScript for slide show viewer instead of Silverlight)

Yeah it lacks extensions as in case of GMail, and you cannot connect to accounts other than facebook, gmail, linkedIn and twitter. While GMail allows many more account services connected. I am surprised It doesnt allow to connect to YMail. Did anyone find how to do that?

But the UI and sheer simplicity of Outlook.com makes it the best inbox.

Love Outlook.com but the only thing preveting me from switching is its problems syncing with WP7.5. Messages read and moved to a different folder on the phone still appear unread when checking them online.
Anyone else encounter this issue or have a fix?
Windows Central Newsletter
Thank you for signing up to Windows Central. You will receive a verification email shortly.
There was a problem. Please refresh the page and try again.