Pac-Man Championship Edition DX finally scores a discount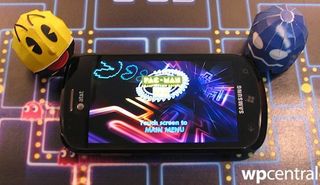 Pac-Man Championship Edition DX is that rarest of things: an exclusive Xbox Windows Phone game... Well, exclusive among the smartphone market, as it's a port of the popular XBLA game. And man, what a good one! I even included it in my Five Must-Have Xbox Games list back in May.
But one thing has long kept the wider WP market from embracing the finest Pac-Man mobile game of all time: its steep price. Despite the fact that Pac-man CE DX contains just under a third of the XBLA game's content, it has always cost only one third less - $6.99, as compared to the beefier $10 console version. In a market in which seemingly everyone (somewhat unwisely) values everything at one dollar no matter what, the $7 price tag just doesn't fly.
Today that changes because Pac-man CE DX has finally had its first price drop/sale since launching in May 2011. What's more, it's now only 99 cents!
Pac-Man Fever
Seriously, Pac-Man CE DX is a terrific game. It builds on the foundation of the original Pac-Man, adding three new mazes with selectable visual styles and background music for variety. The gameplay has evolved a bit too, with Pac-Man now able to chomp dozens of ghosts in a single chain or use bombs when things get hectic. The shift in focus from memorizing patterns (as the original game requires) to quickly detecting the best path to grab the dots makes this one much more fun than the first Pac-Man. Numerous gameplay modes add loads of replay value as well. Pac-Man CE DX belongs in the library of all avid Pac-Man fans. Check out our full review for more details.
Sale or price drop?
The big question is whether Pac-Man CE DX will stay at 99 cents. If not, then how long will it be on sale? We've reached out to Microsoft and Namco Bandai to find out. Just in case this is a one-day only sale (as the Xbox 360 is currently having each day through the end of the year), it's better to buy the game right away instead of waiting. We'll update as soon as we clarify the duration of the sale or price drop.
Get Pac-Man Championship Edition DX here on the Windows Phone Store.
Thanks to Sacra for the tip!
Countdown to 2013 Update
In case you missed our first announcement, six Xbox Windows Phone games are currently marked down to 99 cents as part of the Countdown to 2013 sale. As usual with these sales on Windows Phone, things got off to a rocky start. The prices didn't update until late in the first day of the sale. Worse, there was some confusion about whether all six games were supposed to cost 99 cents (they are) thanks to several errors on the sale's webpage (opens in new tab).
In fact, Microsoft's kitty simulator Kinectimals dropped off of said page and lingered at its regular price, prompting Doubting Thomases to speculate that it wasn't part of the sale. Luckily, that proved not to be the case. Kinectimals is now 99 cents like the other Countdown to 2013 games (through December 31st), so pocket like it's hot!
Grab Kinectimals here on the Windows Phone Store.
Windows Central Newsletter
Get the best of Windows Central in your inbox, every day!
Paul Acevedo is the Games Editor at Windows Central. A lifelong gamer, he has written about videogames for over 15 years and reviewed over 350 games for our site. Follow him on Twitter @PaulRAcevedo. Don't hate. Appreciate!
"I'd buy that for a dollar!"

I still hear that guy in my head! Loved that movie!

They are making a new one!!

Yes, but the new Robocop looks absolutely horrendous. I'm saddened by it.

Nobody does a dirty ole man voice better than the "I'll buy that for a dollar" guy.

Best game on Windows Phone except: Needs fast resume.

Yup. Bought it not knowing this. My review: Great game, but come on... How can I give more than three stars to a game that doesn't implement fast app switching, which was implemented with Mango more than 14 months ago? SERIOUSLY? It was allowed to become an Xbox live game without that COUPLE LINES of code???

Easy buy for a buck!!! 110 MB is gonna take forever for my phone to install.

Okay NOW it's worth it! I never understood why they charge so much for Pac-Man.

It's not JUST Pac-Man. It's a much larger and better game than the original. But $7 was definitely steep.

Please NAMCO, bring your games to Brazil.

I have it on live and LOVE it.. Will get this

Contre Jour
iStunt 2
Mush
Doodle Jump
GeoDefense Swarm Are also on sale for 79p incase anyone missed the previous news on sale items and didn't read it all :P Can't go wrong for 79p!

Crazy, instabuy! Not that I have wp8, but does it work on wp8?

Now that the price is reasonable, it's a buy. I probably would have paid a little more, but $1 made it a no-brainer. Hope they bring it to Windows 8/RT. Over 21K apps and counting!

Nice I'll be picking this up later!

My old Samsung Focus don't turn on any more

You mention that because of the headline pic, huh? Sorry to hear your phone died.

Couldn't resist this. Very entertaining game.

I've never playing the WP version of this game, but the xbla version is -phenominal-
This is an easy purchase based soley on that experience.

I jist bought this and contre Jour.
I would say Contre Jour is better than the IOS version (which I loved)
Begs the question, if they can do it, why aren't more ported. And where is
Tenticles!!!!

"Follow the money." As Windows Phone user base grows developers and publishers will start putting more resources towards it. This early on, every device sale counts.

All are better than the iOS versions because of achievements

Well speak of the devil eh! OMG OMG OMG! - And now I can buy this game finally somone saw sense! :)

SOLD! And, I love how the original WP Pac-man is still $5. Might as well remove it from Marketplace if it's going to stay like that.

Awesome news! Now if we could get a decrease on Castlevania Puzzle, Final Fantasy, and ilomilo I would be all set!

Cool we are almost there to free apps for the holiday. Last time I look iOS was offering a bunch of frees games.

well, that's a steep price cut, but definatelly one that I approve of. The game is good and it would probably even be worth 2.99 but 6.99 was a robbery.

For those who like easy achievements buy this now! A very quick and easy list to complete l, just got my last achievement for it!

I completed and deleted it a few hours ago while going home from work. Took like 2 hours altogether.

Thx for letting me know, bought, seems like fun :)

Wow, now I won't be able to sleep tonight. I've been waiting for this to go on sale since I got my Samsung Focus almost 2 years ago! Yeah I know, I'm cheap. Was thinking it was going to be $2.99 but .99 is a real steal! Gotta hand it to Microsoft for coming out with half a dozen of their best games for the $.99 Holliday sale. WP owners can finally get excited about great sales like iOS and Android have had for a while now.

For $0.99 I'll bite.... I kind of wanted this one for a while (Pac-ma DX) but, $7 was just nuts...

Is the XBL one on sale too for $0.99 ? I would be all over that one too...