Panorama mode now available for all Windows 10 Mobile Camera users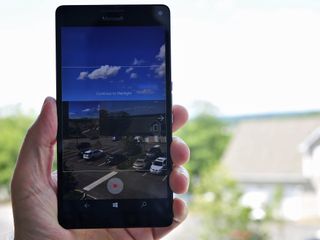 Microsoft's Camera app for Windows 10 Mobile has added the Panorama feature in an update for all users, after previously being available for just members of the Insider program.
The Panorama feature was first included for Fast ring Insiders in July, and earlier this week it was included for Release Preview ring members. As we have previously reported, the new Panorama mode will allow users of the Camera to merge several images together to create one panoramic photo if the phone is in a vertical position.
How do you like this much requested feature in the Windows 10 Mobile Camera app. Please let us know your thoughts in the comments!
Thanks to everyone for the tips!
Download Windows Camera from the Windows Store (opens in new tab)
Yay! I'm included in "everyone" lol

I'm not :( Not supported on 535 :/

And we had it on Windows 8.1 as Lumia Panorama program. So, It's very possible to have it, but they just don't want to give it to us!

I installed it today and works great.

The new one is sweep panorama, and it requires 720p video recording, if I'm right. Others say it's because of the lack of a digital compass in the 535, but I'm not sure.

Not supported 435,532,535 or upto qHd resolution phones.

Wow...nice feature from 2009-2012 on my Android phones... Good job, MSFT!

I mean if you want to be THAT dickish you could learn how to do it yourself in Lightroom. Photoshop, or another of other programs

wow, I hope your little willy just got bigger... seriously mate...

Yeah, that's pretty harsh...but you're right. It's a feature that we should have had long ago.

We had. It just came back.

Wow nice comment from 2009-2012 do you think your clever or original with this one?

He was a ****** between 2009-2012 as well.

We used to have Lumia Panorama.

Installed it today, seems to be back and working great.

No idea why are you beating this guy, because he is right. Why should I be celebrating that I got back something that Microsoft took away within its idiotic mobile phone strategy? I defended Microsoft and Windows Phone for quite a long time, but what are they doing to it, its just terrible and ridiculous.

Anytime you replace an old app with a new app you have to expect it to take some time to get back all the features the old app had.

Oh I guess we should welcome you to 2015 with the Note7. "it unlocks with my eyes"

Actually, we did have photosynth (released on wp8? I think) which did more than just a panorama.

Wow... Nice feature on every phone before Android as well. Does it matter? No, exactly.

Still Broken on L925 running 10

Why would you expect it to run fine on a 925, RS1 isn't even supported for the 925, they would've done little (if any) testing to ensure it works properly, & there's even less chance they tested for TH2 + 925.

Because it was a windows 8 feature it should have been included long ago

Your point is entirely separate to the matter I'm raising, & not one I necessarily disagree with, you're conflating 2 different issues.

I don't expect it to run fine... Just a statement since I'm running inside and they originally told me I would get 10

NP, TBH you're wasting your time, just go back to WP 8x & enjoy, you'll have less flakiness (unless you stick with TH2). It really is time to get over not being supported, or buy a new device, 925's very old now, even by "iPhone standards". Speaking as a 1020 owner* who was "pissed" when it was revealed support had been dropped, but now happily back on WP8x (& W10M with my 950XL). Cheers *1020 carried a premium over the 92x models at the time, because of its "imaging powerhouse" status

Too painful to go back to 8.1 now. I try using my wife's 640 on 8.1 and it kills me. I'm too reliant on better email management that Outlook provides (swipe actions) and in line replies for text/skype. Oh, and while on Skype... I don't want to go back to using Skype proper for my messaging...ad least 10 has gone part way back to what 7 provided in messaging integration

I have the best of both worlds (see my edited post), they each have their strengths, but yeah, if I were forced to choose, it'd be W10M (but on a fully suported device). BR.

This is rubbish. Quality of the pic is garbage. Shame what MS delivered here.

Pro-tip: it's a camera on a...wait for it...PHONE!

Get a better phone instead of whining. Works great on my 950.

Yeah throw in 300$ for panorama feature?

The quality is great on my 950

have you used a 1020 on windows 8?

It is a one trick pony unfortunately. The 950 series does camera almost as good, and everything else much better.

I cannot help but to agree.
Saving now for the unannounced Surface Phone.

Just tried it on my 930 and works a treat. No problem's here.

this is for all windows 10 phones that aren't pureview also, thought it was just 830,930,1520,950 & XL, if so then awesome

not working on my device on release ring

Not upto windows 8 standards, will they improve who knows, all we need now is burst shooting mode and we will back to windows 8 features

I'm not sure what you're looking at but this is much better than the Windows 8 version of panorama. The stitching is excellent. Also burst shooting has been available for forever. You just have to enable it in your settings.

Burst mode is already there. Camera > ... > Settings > Press and hold camera button > Photo Burst.

i noticed it this morning while taking a picture, its amazing. it reminds me of how apple advertised theirs, the only feature i envied. question why does the aritcle have the option to download it? i am missing something?

Better late than never however picture quality could be better and some manual controls are needed

And yet, the flashlight takes ages to turn on...

So as a L535 user i still cant use it at everyonee i thought it was for every phone :// (still great images for 5mp tho)

Try to install Lumia Panorama.

Just checked it out. Far better than the earlier Lumia panorama. The stitching is good.

It's smooth on the sweep. Better than the old Lumia Panorama in that regard. I'll be playing with a quite a bit. :P

Is it available for L540?? because I am on fast ring and don't have it.

Not available on 535, so not really for everyone

Try the Lumia Panorama app.

Nice to have the feature, but there is still work to be done to match the iPhone. Waiting for improvements...

This is an excellent implementation of panorama and much much better than the old Lumia version. I was surprised how smoothly it works.

just tried out the new camera feature and then took the same picture using the Lumia Panorama lense. The new feature makes it much easier to create a panorama pic but the results and quality with the old Lumia looks much larger and better

I'm quite desapointed. Ok, the UI/UX is light and simple and the stitching is quite good, as far as I have been hable to see. But, it use a video to make the panorama and there's no settings whatsoever to change white balance, exposure, etc. The result is a file of maximum 10000x1700 pixels (approximatively) for a 360° neither beautiful nor horrible. By the way, you can't do 360°x180° nor 360°x360°. I would have prefered an assistant to take standard pictures at specific orientation and the ability to chose a low resolution result for faster processing or a high resolution result with longer post treatment during the stitching phase. Bonus, it would have allowed to get the individual pictures (jpeg or dng) to make an even better stitching with an external tool like Autopano. That's what I currently do, but I would have appreciate an assistant to take the pictures at the right place with correct orientation et without having to lock manually the white balance, the exposure and the focal distance to have homogeneous pictures. I didn't count the number of times I forgot to lock something. Either I relize it before I leave the place and is able to do it again, or have to do with what I have back at home and sometimes ditch the whole thing. I've seen lots of good comments on this feature though, so I'm probably not the target for it with too advanced needs. Anyway, that's still a nice feature to have for the majority of users.

That was a mouthful. Well I like it. The more features the better. Regardless. Too many features have been taken away.

Windows Camera version 2016.816.21.0. made my image size in main camera stuck at 10mp in 640xl.. need a fix ASAP

Wow... Good points :)
I didn't understand them all honestly, but you should take them all to the Feedback Hub, to let Microsoft know how you feel... as opposed to just telling us fans, whom have no access to the code :)

After update it my lumia 830 main camera not working it says camera used by another program

Not directly, only as lens. Install the Lumia Panorama app.

This is a good alternative if it's all you have at the time of a photo opportunity. The 950XL does a good job with it.

Got it for my BLU win JR LTE

Like an offspring. But it's faster and handle with ease. Processing is so poor. Should definitely uppp itself.

Not available for Lumia 535 yet

If u r on production ring. u ll get it...

I'm on Windows 10 Mobile (10.0.14393.67) public build..still couldn't get this feature

I am also on same build(L535). I also don't get the update. Maybe L535 don't support Panorama☹

Use the Lumia Panorama app and access it through camera lenses.

No update on Lumia 532
What should we do?!
Build:14905.1000

This is for production ring...

Happy that it is integrated with the camera app. But the function in my experience, compared to the Lumia panorama lens app on my 1520 is not very good. 2 things are bad. 1. Images seem heavily processed and look grainy. 2. I can only take images in portrait orientation. Camera for panorama is awkward to hold in this orientation. Holding the phone faith two hands in landscape is a far better posture for taking stable panorama images.

If they can add both horizontal and vertical then it will be awesome..

So this update broke my camera. It won't focus in standard view, pan view, or video. The front face works fine in all available modes, but the main camera lens is out of focus regardless of whether I auto or manually attempt to focus it. Anyone else have this happen? Lumia Icon.

This happened a while back on my 950. Thought it was a hardware break, so I just dealt with it. Didn't think it was software...

You can only turn about 45 degrees before it saves

Anyone can say what is d version number of this update?

Not arrived on my Lumia 430

Output of the panorama is bad it was not like Lumia panorama

Why don't they allow for landscape pan? Wth Microsoft?

I don't like that I have to manually stitch the phot's together. The old Lumia app did that for you.

Finally it is back on my 735.

I wish it would do full 360° panoramas. On my Lumia 930 I get to about 300° and then it saves.

why do I see two buttons on the store for this app? one button says "update" while the other says "free". Can someone explain? Saw the same for messaging + skype

Update means update the app & free is cost of the app.

Look's ok on the Lumia 640 XL, (13 mp camera ) I did some testing in good light, very nice. will test later on low light and try the flash.

LUMIA 640LTE WINDOWS 10 latest update. don't have the slow motion thingy on camera app?

Only supported on high-end Lumias.
1520, 930, 950/XL.

Quality doesn't look good on my 950xl. If I zoom it it is very blurry. I would rather have high quality photos stitched together like we used to have with Lumia.

Nothing is like it use to be. I just hope future updates will not screw up the camera quality like it has done in the past.

Very very good implementation. Works quite well with 640 DS

It works well as a simple horizontal pan, but I'm disappointed it doesn't allow you to add in vertical layers to get a fuller View. Looks like I'll still need PhotoSynth after all.

Better late than never I suppose. Would've been handy on my trip.

Works great on my 950 XL. The stitching is very, very good and you can't tell I'm on a bus on less than smooth road. Good job, Windows Camera Team!

Odd, mine is pretty horrible. Did you zoom in and look at how focused it was. My 928 Lumia panorama was much better.

Yes seems somewhat blurry at max zoom levels on my 830, haven't looked at them on puter screen to get the full take on its overall performance in regards to output

View at 100% zoom on a PC, to make sure you aren't seeing noise caused by over-zooming. Will the quality be as good as a standard photo? No, since the resolution is lower. I'm going to play with it outside during the day tomorrow and see how it fairs. I expect much better panoramas with decent lighting, than the darker samples I did inside the bus and home.

But why not allowed in landscape mope? :(

No panorama on my L535 :(

Try the Lumia Panorama app.

Relatively decent on my 830 :)

Yes, we already had this in WP8 with Lumia Panorama. However, I have to say that the newest MS iteration of the system works better than it did on the Lumia.

Not available with the super affordable L640? I am currently in wp8.1 and this panorama feature could be my clincher.

Yes, available on the 640. I just tried it on my wife's 640 in a semi-dark room. Though the photo was grainy (expected, no flash used), operation was very smooth and stitching excellent

To download the w10 update.

No panorama for my Lumia 535 :(

Try the Lumia Panorama app.

Not available as a lens in Win10. Run as stand-alone app only...works fine just more tedious to get to.

Mine appear as Lens. When in camera app just click the 3 dots and then lenses.

GAH! You're right! It appears the swipe (scroll) does not work when viewing lenses in portrait!. Went to landscape and there it was...

I have 540 and i still have not that feature

Still no panorama on my 540 :(

Got it in the latest build 14905.. Lumia550

Camera was updated on PC too! Now my Surface 3 has panorama. Though it doesn't work as well as my L950. Posted via the WC App for Android (HP TouchPad)

I have no update for Windows Camera & using L535.

Crashes on 920 (hacked to install RS)

It's quality is awful. Shoots a video with a low resolution then makes a photo. My 930 has 4k video and this feature doesn't use it. Merge could be improved to not have so many artefacts

Windows Camera version 2016.816.21.0. made my image size in main camera stuck at 10mp in 640xl.. need a fix ASAP

Windows Camera version 2016.816.21.0. made my image size in main camera stuck at 10mp in 640xl.. need a fix ASAP

finally, been waiting for ages for this Posted via the Windows Central App for Android

I don't get why it is locked to the portrait mode. :'(

I have 435 dual with the latest camera update but there is no panorama mode, so the logic says that my phone is not in "everyone with latest official win 10 mobile". Yeah, finally I got it - if you want cool camera features like "automatically take a photo when detect smiling face" just like on the low-end Lenovo A369i with Android 4.2, I must buy high-end Lumia 950 and also buy the most expensive app from the Store just to have some fun with the camera. The best Windows yet... I'm tired of this crap...

Due to latest version my phone don't respond to front camera. Using lumia 1520

Pics are not clear , need update

Pics are not clear , need update

I got camera update wit panorama yesterday...

Windows phone fanboy. Disappointed to know that hardly any store sells windows phone at my place. Roamed around for couple hours to find stores that sells Windows phones but could find only stores that had last pieces on discount. I actually went out to buy a Lumia 640XL LTE today but came back empty handed.
Windows Central Newsletter
Get the best of Windows Central in in your inbox, every day!
Thank you for signing up to Windows Central. You will receive a verification email shortly.
There was a problem. Please refresh the page and try again.