Panzer Geekz offers Xbox supported plastic warfare to Windows Phone and Windows 10 gamers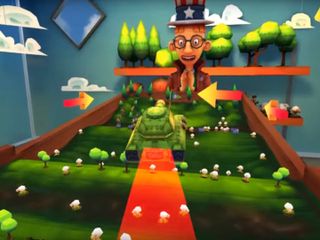 Publisher Game Troopers has released the odd-looking World War II-themed arcade game Panzer Geeks for Windows 10 and Windows Phone users. It looks like an odd mix of tabletop war and Angry Birds, as players control a World War II-style tank on a table battlefield as it goes through soldiers, sheep and more characters.
Here's a look at the features of Panzer Geekz:
RACE downhill and steer freely
TILT or TOUCH to steer and jump
HIT objects to get speed and points
CHAIN your hits to increase combo scores
JUMP over obstacles to avoid a sudden stop
AVOID holes, mines, water and other deadly hazards
FIND special hidden characters for points bonus
REACH the flag and complete the level
REPLAY the levels to improve your performance
GET JUDGED by the dressed up geekz, watching you from above
ACHIEVE high scores and be awarded star-rating
UNLOCK new levels from earned stars
PLAY 50+ levels without paying if you are a pro
The game is also Xbox enabled for achievements and more. It should be noted that while Panzer Geekz is free to download and play, you can unlock additional content via in-app purchases.
Thanks to Jonathan for the tip!
Check out Panzer Geekz in the Windows Store
Get the Windows Central Newsletter
All the latest news, reviews, and guides for Windows and Xbox diehards.