Panzer Geekz offers Xbox supported plastic warfare to Windows Phone and Windows 10 gamers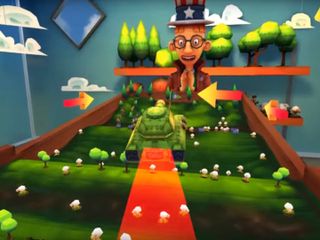 Publisher Game Troopers has released the odd-looking World War II-themed arcade game Panzer Geeks for Windows 10 and Windows Phone users. It looks like an odd mix of tabletop war and Angry Birds, as players control a World War II-style tank on a table battlefield as it goes through soldiers, sheep and more characters.
Here's a look at the features of Panzer Geekz:
RACE downhill and steer freely
TILT or TOUCH to steer and jump
HIT objects to get speed and points
CHAIN your hits to increase combo scores
JUMP over obstacles to avoid a sudden stop
AVOID holes, mines, water and other deadly hazards
FIND special hidden characters for points bonus
REACH the flag and complete the level
REPLAY the levels to improve your performance
GET JUDGED by the dressed up geekz, watching you from above
ACHIEVE high scores and be awarded star-rating
UNLOCK new levels from earned stars
PLAY 50+ levels without paying if you are a pro
The game is also Xbox enabled for achievements and more. It should be noted that while Panzer Geekz is free to download and play, you can unlock additional content via in-app purchases.
Thanks to Jonathan for the tip!
Check out Panzer Geekz in the Windows Store (opens in new tab)
Windows Central Newsletter
Get the best of Windows Central in your inbox, every day!
What happened to the "download app" link being available in the WP app? That was my favorite feature of the app. All the other URLs are always corrupt.

This game is so of my type.

I will try to play with my toes

Lol... Reminds me of a cross of worms and tanks combined... Lol.. Maybe Paul is going to stream this on twitch one day... Lol

Hey all, developer in the house :) We have totally been inspired by worms, which we have played a lot as teens. Thanks for the interest and hope you try and like our game.

Thanks for supporting our platform! And best of luck!

Worms will never get old... Hehehe...

No mention of it being Xbox enabled in this article? Why?

I saw Win10 in the title of the article, but it's not in the store.

Windows phone OS only. We have not made it ready for PC yet, though it in theory would not take that much extra work (as we have developed it on pc with keys + mouse controls). -but we were unsure about if people would like a "small mobile game" on pc?


I feel like I should get this before it's pulled.

Am I the only one here who believes that Microsoft should just buy Game Troopers?