Patch Tuesday: Surface firmware update fixes Surface Cover bug and more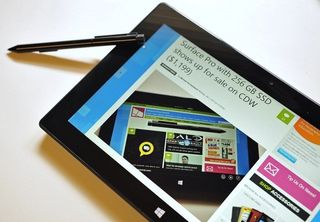 It's the second Tuesday of the month, which means it's Patch Tuesday. Today is the day that Microsoft puts out updates for Windows and firmware updates for all the Surface devices. We're looking at new updates for the Surface 2, Surface Pro and Surface Pro 2, but nothing for the original Surface.
Surface 2 – Release notes (opens in new tab)
Marvell AVASTAR Bluetooth Radio Adapter (v14.62.28058.10171)
Marvell AVASTAR 350N Wireless Network Controller (v14.62.28058.10171) resolves wireless network connectivity issues.
Today the Surface 2 is getting updates for both the Bluetooth radio adapter and the wireless network controller. You should see improvements in audio related issues when using Bluetooth. Additionally you should see issues resolved for Bluetooth mice and keyboards being unavailable when you wake the Surface 2.
Surface Pro – Release notes (opens in new tab)
Surface Pro Embedded Controller Firmware (v9.00.50) to resolve behavior where the Surface would reset when waking from sleep.
Surface Pro System Aggregator Firmware (v2.84.0150)
Surface Pro UEFI (v1.6.50) improves experience when using a Surface Cover on your Surface Pro.
The honorable Surface Pro picks up some nice updates in this latest round of Patch Tuesday. You'll notice various issues should be resolved. For example, the issue when the Surface Pro would reset after repeated Surface Cover attachment and detachment has been resolved. Another issue fixed is when the On Screen Keyboard would unexpectedly pop-up even though the Surface Cover was attached and when the Surface Cover wasn't detected after waking the Surface Pro from sleep.
Surface Pro 2 –Release notes (opens in new tab)
Surface Display Panel (v1.0.2.0) provides tuning to the Surface display calibration.
Surface Pro Embedded Controller Firmware (v24.00.50)
Surface Pro System Aggregator Firmware (v2.04.0150)
Surface Touch Cover 2 Firmware Update Device (v2.0.228.0) update improves two-finger touchpad use.
Surface Type Cover 2 Firmware Update Device (v2.0.226.0) update improves two-finger touchpad use.
The Surface Pro 2 picks up the most firmware updates this round. You get a display calibration with the latest update. In addition to fixes for when the Surface Pro 2 would not go into hibernation and when the available battery percentage was reported incorrectly. You'll also get fixes for the Surface Cover like in the Surface Pro above.
Patch Tuesday isn't all about Surface firmware fixes. There are literally millions of other non-Surface devices needing some update love. Which is also why they get super fun security updates today. You can head to TechNet to read the full Microsoft Security Bulletin Summary for February 2014 (opens in new tab). There isn't anything too sexy in there, just updates to make sure nobody exploits vulnerabilities in Internet Explorer to allow remote code execution.
Apply the updates to your Surface 2, Surface Pro or Surface Pro 2? Sound off below if any of those issues are fixed for you.
Windows Central Newsletter
Get the best of Windows Central in in your inbox, every day!
I confirm the surface telemetry driver problems with the various covers are finally fixed. or at leats it no longer shows as a bad driver or unknown device in device manager.

Shame as I still get this issue or at least something similar on my RT. It is not unusual for it to not know the keyboard is attached, it is also not unusual for it to get stuck on resume forcing a hard restart.

I get this on my surface 2, though maybe less often now..

Would this fix the flickering display on the Surface Pro 2?

Sounds like you have auto brightness enabled.

Surface pro 2 has a problem with the Intel drivers that causes the screen to flicker even when auto brightness has been disabled. It has been super annoying. It's the same issue that created awful color banding. Hopefully it really is fixed.

Yeah. Now that I have installed regular Intel drivers and calibrated the display properly and everything, I'm not installing any more Microsoft versions of the display drivers unless it is confirmed that the banding is gone and that their "enhanced contrast" or whatever they called it (showing nearly all dark grey tones as dead black) are no longer issues.

I just uninstalled the intel drivers, and updated will all of today's updates and can confirm that the bloody banding (cutoff black levels) is still there (SP2). Ridiculous. I don't wanna have intel's drivers anymore because supposedly they drain more battery...

OK, good to know, thanks! Most likely they will leave it like this forever. It may be that the Surface battery life is so poor that they need to clip things here and there to save a little power. Depressing.

Thank god! It's really a toss on what will happen when you close the cover on the SP2. Fix the damn sleep/power button next.

Looks like they fixed the skipping audio issue when watching HD video from Amazon and HBO Online on the Surface 2. Finally!

The calibration on the touchpad of the Type Cover 2 is improved, especially when dragging. Wish I could double tap to drag though. I still think the 1st Type Cover is the better option with its functional clicking motion - especially if you don't find yourself needing the backlight on the newer version.

Looks like the firmware update also gave better SkyDrive reliability. I now find the SkyDrive sync host has been added to the processes displayed near the desktop clock. Had terrible sync issues with 8.1. Hope this helps.

Does anyone here know how to assign hot keys to the surface type cover

That on screen keyboard bug happens a lot on my pro 2. I hope it fixes it in this patch, and not just the 1st Gen pro!

Yeah. Time for the updates ! :D

My Pro 2 is gonna love this! It's like a teeny, tiny little valentines day present for him! <3 you SP2!

Patches...I love patches!!!

Firmware update wasted my evening. See my "Patch Tuesday Wasted My Evening" thread in the SP2 forum
Windows Central Newsletter
Thank you for signing up to Windows Central. You will receive a verification email shortly.
There was a problem. Please refresh the page and try again.