Persona publisher's 'Soul Hackers 2' JRPG announced for Xbox, PC
A new breed of digital devils will soon be unleashed upon the Xbox platforms.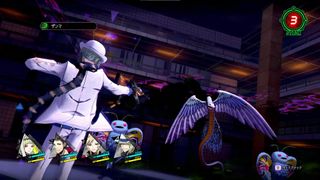 (Image credit: Atlus)
What you need to know
Atlus has recently announced Soul Hackers 2, a new JRPG that is a part of Shin Megami Tensei's Devil Summoner spin-off series.
The game is about a group of magically-gifted people called "Devil Summoners," on a quest to save the world from an apocalypse being instigated by the mysterious "Phantom Society."
Soul Hackers 2 is scheduled to be released on PlayStation and Xbox platforms, and PC on Aug. 26, 2022. The first Atlus game to be released on Xbox since 2014.
A strange new JRPG has just been announced by Atlus, the developer behind the Shin Megami Tensei series and its most popular spin-off series, Persona. This game is Soul Hackers 2, a revival of Shin Megami Tensei's Devil Summoner spin-off series.
Soul Hackers 2 is set in a colorful, digital-themed, urban fantasy world where the realms of humanity and demonkind threaten to collide. The story is about a motley crew of young adults led by the mysterious Ringo. They are the "Devil Summoners" — individuals who have the power to summon demons and harness their magic in battle. Their goal is to stop a secret organization dubbed the "Phantom Society" from summoning the "The Great One," who is prophesied to cause the apocalypse.
This game is currently set to be released on both PlayStation 4 and 5, Xbox One, Xbox Series S, Xbox Series X, and PC via Steam on Aug. 26, 2022. This is big news for Xbox fans because this is the first game Atlus has published on an Xbox platform since Persona 4 Arena Ultimax on the Xbox 360 in 2014. Could this be a sign that Atlus will begin sending some of its titles to join the best JRPGs on Xbox? Perhaps we may see Xbox ports of the currently Nintendo Switch exclusive, Shin Megami Tensei V and the critically acclaimed PlayStation-exclusive, Persona 5?
We'll keep on an eye out and let you folks know of any further developments from Atlus. As well as future updates on Soul Hackers 2, which is already looking be one of the most fascinating upcoming Xbox games.
Thanks @NierEnix for the tip!
Windows Central Newsletter
Get the best of Windows Central in in your inbox, every day!
Alexander Cope is a writer for Windows Central and iMore that has been gaming since the 16-bit era.
All Atlus rpgs are basically exactly the same, aren't they?

Hell no. They just share similar gameplay mechanics but they're all completely different beasts in terms of aesthetic and atmosphere. Megami Tensei is probably one of the most diverse RPG franchises around today since it encompasses so many different art styles, stories, characters and gameplay types

I am honestly shocked after they've skipped Xbox for nearly every game for quite some time but I will pre-order this because I am a SMT fanboi.

It's because Japanese 3rd parties are dying even in Japan, so they need Steam (for Asia neighborhoods) and Xbox (for the rest of the world) more than ever. We know our games are niche, that's why we need more markets. Japanese kids today don't know FF, DQ, robot anime or any old people IP anymore, they play Nintendo games, Minecraft, Apex and Fortnite.

Effectively, it's Market Saturation. Games should be in as many regions possible.
Windows Central Newsletter
Thank you for signing up to Windows Central. You will receive a verification email shortly.
There was a problem. Please refresh the page and try again.