Safe! Phone recovery tool for Windows 10 preview is confirmed by Microsoft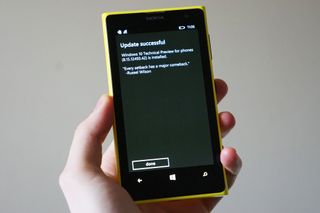 The Windows 10 preview for phones is expected to drop sometime this week for a subset of Windows Phones. Microsoft has been quiet on exact features that will (or won't) be present in the initial build, but one thing we do know is there are some quirky bugs due to it being pre-release software.
Previously, Microsoft's Gabriel Aul has hinted that a recovery tool would be available. Earlier this morning on Twitter, he confirmed that news in a response to a question about its availability.
Presumably those who agree to install the preview version of Windows 10 for phones can use some software to restore their phone fully to Windows Phone 8.1.1. Details of how that works, of course, are not known. It is not clear if a user needs a PC to do the restore, or if this is something that can be performed on the phone without an external device.
Regardless, at least for now, the risk of installing Windows 10 on your phone just dropped a little bit. If you need more information about the Windows Insider program and whether you should jump in, read our guide on what it means.
Source: Gabriel Aul; Thanks, Jan K., Bata B., and Noman Q., for the tips!
Daniel Rubino is the Executive Editor of Windows Central, head reviewer, podcast co-host, and analyst. He has been covering Microsoft here since 2007, back when this site was called WMExperts (and later Windows Phone Central). His interests include Windows, Microsoft Surface, laptops, next-gen computing, and arguing with people on the internet.
I hope this preview comes to 1320

microsoft lumia 1330 for sure !!

Me too.... Waiting for it. It's the 10th so maybe today? I hope.

Seems MS is getting things in order... We shall see..

I'm thinking Microsoft will give us some loving on the 14th

Have an HTC 8s running 8.1 with DP. Wonder if W10 preview will be available?

Best news..!!
EDIT: Won't it be the same as NSRT..? We have to download every app again just after a hard reset..?

If it can be performed on the device without connecting it to the computer and without downloading anything then I'll be the first one to install the technical preview

+those who don't own Lumia can't use NRT

Wouldn't that make the size of the OS be doubled though? That's the only downside of it being in there device that I see.

That would mean having 8.1.1 stored on your phone along with 10. Maybe on a 16gb or more phone. But definitely not in a 8gb phone. Posted via the Windows Central App for Android

I have a 32gb 1020 and I run out of space form time to time, god I wish this had an sd card life would be so much easier.. I'v eeven filled up onedrive and rop box lol.. having a pc to restore it isnt too bad in my opinion.. although to do that over somehting like usb otg would be awesome..

But what if the device is bricked, or doesn't start...? I think it would be a PC software.

Highly unlikely as an OS image alone would take alot of storage space on your handset I would think. The recovery tool has always been simple to use so I dont see anything wrong with doing that if needed.

Compressed should be 2gb our less

Well here's to hoping but I can already hear the people crying that their devices went from 8GB to 2GB usable once the new os is installed. (Like the Surface 32GB storage issues everyone cryed out).

I don't see why.... We should still have our settings, and configuration, backed up to OneDrive.

Restoring backup isn't working properly for me :-\

My BackUp stops at 98% everytime..Dunno why..

I had that issue, too. Once I deleted Live Lock Screen it went away.

LLS.... One of the most anticipated features, and one of the biggest disappointments....
.........
Nevertheless, I'm sure they halted further development because they decided to do something with it in WP10... So, it should come back better than ever.

Doubtful on the w10 bit...

I dig the Live Lock Screen! I don't use OneDrive for anything, so no problems here!

Same here. Had to delete Live Lockscreen Beta, then delete the previous backup and then backup worked again.

Mine works perfectly... At least it dix the last time... Amazing that it restores my start screen configuration, pinned websites, and all❗❗❗

We do have one of the best restore features in a phone, as far as I can tell.

Yeah, I think I can unbiasedly agree.

I have found that if you go to "manage backups" then delete then back to the backup screen then hit "back up now" it works.

Tried everything you folks are telling..But to no avail....

Repeat the backup until it completes task, maybe? Sometimes I get these errors "couldn't backup". By the third time sometimes I get this working.

Give it a time. It happens with me too. But after sometime its get done

Remove live lock screen and if still happening, remove start screen wallpaper

Nor for me. I have a Lumia Icon and I get an error message every time I try to restore.

Are you guys doing a fresh backup a day, or a few hours, before you reset, or update, your devices?.... It doesn't work if you back it up right before a reset... It takes time for your device to recognize it.

My phone will not update. It gets to 97% completion, and then an error message. Not at all happy with the Icon at this point, and certainly not with Verizon and their (lack of) support.

Last reset was done on 8th Jan..And it ain't backing up again (no PFD)..My SD has got corrupted..!!

I wonder if deferent devices handle the backup differently... What phone is it❓❓❓

Hummmmm.... IDK. Could it be a regional issue❓ My OneDrive is technically a different running service than yours.. Totally different servers, I would think... You in the US❓

Region and everything else is set to US..Nice Wi-Fi..In India but I think the server is of Singapore and/or Malaysia..!!

Oddly, the downgrade / upgrade really needs to be made using a different Microsoft account, and the restore needs to be made using your regular MS account to avoid the start screen not restoring. When a downgrade / upgrade is performed in some instances using your primary MS account the entire way through, the process overwrites your backup with a new backup that includes a barebones start screen. Once the upgrade completes using another account, do a factory reset and then enter your regular MS account and choose the backup you want to restore.

Once the backup gets messed up, it seems that backups need to be deleted and then start with new backups or this problem or other problems can continue. Backups appear to append existing backups rather than replacing the older ones.

It is also sometimes necessary to wait until the next day to use the backup once one is made. All of this is screwy and needs to be addressed by Microsoft.

Seems logical... Don't do that again though... no logic round these here parts...haint allowed.

try deleting the old backup files in cloud. and then backup. delete the app backup content in cloud drive.
This worked for me.

Still takes about an hour to get back to normal..
------------------------------------
I miss you Rod..

Try deleting your previous backups, it works for me.

And, always backup your device a day before...

What is with Microsoft and long delays? Up to a day for backups, an hour for IE tab syncs, 30 days for a WP device to actually delete from your Microsoft account to add another if you reach the limit of 5, etc. I really hope these things are fixed in Windows 10. They don't even warn or tell people about these delays so that people can expect or plan for them in advance. People are left to think that there is a problem that needs to be fixed and then waste countless hours trying to fix or solve the problem.

I miss NIST....
(something related to Rod it was)

Lol. Have you ever restored from a Windows Phone backup? You get your start screen layout, app list, and some system settings back, but you lose all of your app data and game saves. Because of this, I really want to know if this is a true rollback, like Windows 10 on PC, which keeps your user data even after you downgrade. I have a feeling though this will just be a tool to reset the device to stock. Tried to get a response from Gabe about this on Twitter but no response. Oh well. I don't plan on immediately updating my daily-use phone anyway.

Under settings it says that you should be able to restore app data, but I don't think it works... The only way to be sure to keep app data is to install your apps, and data, on the SD card.

Doesn't those get deleted after a hard reset..It says the apps are from some another device and asks to delete em..!!

Damnit❗❗❗ I forgot about that.. MS needs to do something about that. That's so damn annoying❗

App data only works after a developer chooses to sort of 'opt-in' and update their app for 8.1. Which means that the majority of app data isn't backed up, making backups a bit of a joke. When it takes hours of work to bring your device back to how it was in the first place, how can it be considered a backup of any kind? And let's not get into the massive disincentive that gives for users to upgrade to a new device... Also, I'm not 100% sure, but I believe that even if you have the apps installed on the SD card, your data gets deleted and the apps have to reinstall. But anyway, that's all veering a little off topic when the question is Windows 10's recovery. I really hope that they have a plan in mind to be able to keep user data while rolling back, whether it requires a local (PC-based) backup, or whatever they need to do. I won't immediately update my main phone anyway, but it'd be nice to know they're thinking about this stuff.

First we got NSRT Then OneDrive Now OneDrive as a backbone and maybe a third tool? The full Windows recovery featured?

Omg. If u have the time to cry then U also have the time to just reinstall 8.1 then your apps. Done.

Asking is not crying ass..

Cry? Didn't get it. Microsoft fan here. Happy about the news. If the restore option comes already, will be cool, don't you think? Have you read what I just wrote? More options, more resources = better! Ok, maybe it sounded complaining... not the intention, sorry.


I have an HTC One M8, so NSRT doesn't apply. If they really do mean every phone that can run W10 preview, and the One really is one of those phones, then this would be awesome!!!


Just give us the preview now!

Not that ready. My 1520 is fairly new.

Isn't she a gorgeous phone? My sweet lass is red, what color did ye get?

I have the green, the my wife is sporting the red one.

Nice. I just love the display.

I got me a white one. I love my 1520.

I think the black is ok too. Hell, it's the best WP there is, especially if size, which I don't mind, is removed from the equation.

I got a 1520 last week for the sole purpose of putting Windows 10 on it, that big screen is crying out for a more fully featured OS. Can't wait til Friday.

I hope it involves a computer so I can get a full backup (with game data/etc) should I need to restore at some point

even with pc you would still loose everything except for those apps that can backup their data to onedrive

Yeah, losing your data sucks...ballsak. *)

Xbox Live integrated games never lose their data as progress is synced on our Xbox acc via cloud.

That is a lie. Not all Xbox games work like that.

Wish that were true. I've lost all progress on Xbox live games after hard resets, the only thing you keep is your achievements.

glad i have a lumia, so i can always restore with the pc software

I hope the 630 is in the initial subset of phones.

well, if the 520 will get it early on, my guess would be that the 630/635 will also get it early on

Oh wow....... Now I kinda want to try it. I was going to hold out, but since the M8 is definitely supported....hmmm........

that's a nice phone. don't risk it in such an early build.

I like risk will put it on my daily 930

Maybe just use this tool to update to 8.1.1 if your carrier didn't allow it... Unless its built into Windows 10 like on PCs.

if the carrier didn't allow it the developer preview is your only hope, no way to get the firmware update if it depends on a carrier that won't release it

I didn't say firmware. Just OS. Still ridiculous a company can regulate my camera firmware/drivers because of a cellular chip. If I had a cell dongle for my laptop I'd still be on Windows ME.

This is exactly what I needed to take the plunge... As long as I can revert, then I'm goooooooooooood❗❗❗❗❗❗❗

Hoping 520 is in the first batch.
Btw Daniel office 2016 preview is closed now I think you should update that news

1st batch has all the big phones.. 512mb rams will be in 2-3rd batch

I think mine is, but I'm still scared.... What if the backup tool needs a backup tool❓ lol❗

This is good news, however i'll still hold off till build or an updated release, quite a few bugs listed for my m8.

My body is ready. bring it.

my 730 s reaady too... well give it msft... we wanna try win10 for phones

This really is a big thing, great news for all of us with non-Lumia devices.

What's up with the picture for the article❓ Is that Daniels hand??? Does he have the preview? He's definitely hiding something, and I bet he spent his whole vacation in bed playing with his phone.... Lol❗❗❗

Windows 10 for phone preview will be release sometime today Feb. 10.

This week.. Mostly Friday

Is that a guess or a fact?

Guess, as it's not been reported by WC.

Unless, of course, you have the flagship Lumia Icon. You'll still be stuck on the now ancient WP 8.0/Black. Thanks a lot Verizon.

You can update Icon to Windows 10

I wouldnt mind to have a local backup functionality anyways. Why do I have to hope for all the stuff to have cloud save etc in when I could easily backup my system and just reinstall this backup from a local file without loosing anything

You win some and you lose some.

I don't get update windows 10.what's the matter of this

Grew feature! It makes little difference to me though, since my Icon doesn't work right on 8.1+ anyways. Still waiting for firmware. Thanks Verizon.

Will be available only for 1520,930,830 in the initial subset and that too only in the US!
Just a guess, its our Microsoft,no..
As usual.. We'll be waiting.. Waiting...waiting!

My s3 is waiting for lollipop

Well HTC One of mine, you'll be updated soon.

I'm ready, but I'm gonna wait at least one week to install it on my 1520.

So the preview of developer application is no more use?

Why don't provide a list about existing trial bugs found, then we make our choice get into W10 by ourselves

Maybe the existing bugs will be destroyed before the release. Then we will have to find more and give feedback

This is great news and really voids the argument about installing on your main device (my one and only windows phone)

Don't trust your life on backups


Good thing my life is not my phone and if your smart you will have a real backup.

I've seen restores gone wrong on downgrades before.

Only left is the shouting. My Lumia 1520 awaits thee.

Will 512mb ram phones get preview on Feb or after?

I personally wish ki we get it today itself . ... :)

No we wont.. Frst the 2gb rams will get, then 1 gb ram phones and at last 512mb.. Or 512mb will get together with 1gb ram phones..

My 1520 ask me everyday when is it coming Posted via the WPC App for Android!

My body and 930 aren't ready..... But my mam's 530 is :D I bought her it, so it's a risk I'm willing to take :P

Hope there are no bugs in the tool... :P

I have a feeling that windows 10 will be more like a windows 8.1.1.01 jot major changes other than what was barely shown Jan. 21 :(

I hope the recovery doesn't erase my data .....

I would imagine it would allow you to use a savedbback up to restore data.

My L925 is desperately waiting for it. :P

This restore could be that one on Windows 10 (and Windows 8.1).

Ooooh, I saw the title and thought "Safe!" was the name of the recovery app. That's a nice name, I'd actually like it if the official recovery app was named "Safe!"

That's good news. I Hope Lumia 920 will be one of the phones that get first the preview

That would be great. I was worried about putting it on my 1020 and wanted to start with my 920. It certainly has the RAM and processor requirements and a pretty significant number of users. Those users will also ALL be ready for the new Win10 devices, when they are released. Yeah, I think 920 users are a great bunch to test with.

Lumia software recovery tool is always ready to save the day.

Except for those people who don't have Lumia phones.

Awesome. I'm up for it now...

The 920 better be included with the first subset of phones, since it is/was a flagship

That phone hasn't even yet received the Denim update...

That's a carrier thing. My 1020 hasn't received Denim either, so I'm not sure why you think that's indicative of not getting Win10.

Does anyone know if there is a way to manage your backups - say I want to backup and restore my start screen layout before I go all in on #TileArt reconfiguration of my start screen? I like the way i have it set up now, and would love to be able to back it up, then move all my tiles around, with a different background, different folders, etc. It would be beneficial to be able to restore a start screen layout. Is this possible?

My backup included all the settings and when I set up a new phone, the screen was set up as per previous phone. Just to be sure below is a link explaining how Backup works. http://www.windowsphone.com/en-gb/how-to/wp8/settings-and-personalizatio...

Excellent news for those willing to "take the plunge"

hope 620 is in the first or at least second w10 tier. now that my 535 arrived i cant wait to test that preview on the old phone.

I don't see anyone else hoping for the 925 to be included...except me...haha

Now can safely install it on main phone !!!

Got the access to a build....updating to Win 10 now!!!

What a fake news. Adorable..!!

awesome news, my 1020 is ready and waiting... even tho there might not have been a way back I was still going forward... btw anyone can tell me if the Lumia 930 works fully with T-Mobile or AT&T? I'm waiting to see what Microsoft releases this year... just wanna know just in case

Kapan lumia 520 bisa upgread to windows 10 ,,

For Lumia, the Lumia System Recovery Tool is good? Or use this?

Please lumia 520 when upgread to Windows 10 ;(

Well, I'm still installing it. (if its released for the 520)

That's a good news to hear !!

Hope the preview congress to 520 as fast as possible

Yeh! I want the recovery tool as an app for my Lumia (730)....

i hope windows 10 previews available for lumia 525..... .............................................................................................

The anticipation alone is driving me insane...

I think it is possible to rollback from the phone itself (Win10) as long as it is still running. But when you encounter a problem and the phone got frozen or bricked, then you will need a PC to recover it. I just hope so recovery is thru the phone itself so it is more convenient for average users.

Amazing news. I will install it. Lumia 925 is ready for action.

Why need an extra recovery tool? Wouldn't the Lumia software recovery tool do the job?

I saw the pic and thought it was released :(

Dont talk to much guys!! If you want take it,just take it!! Dont talk about lose data or whatever,they already tell us all the risk,this is not MS fault!! Be smart!! And respect what they do to make your phone more futuristic.. Thks MS,i will fully take the risk for my sweet 1520 to try wp10 ( thks joe for the nice presentation with our lovely 1520 )

But but. The usb port of my 1020 is not working as intended for data. I can still charge but not on data transfers >.< dont have spare to send it to nokia care center.

I still definitely think I will wait a while after lots of bugs are squashed and hopefully new features introduced before installing Windows 10

Lawl, "the risk for installing w10 on your phone" asif that accidently happened :p but we get the point ;)

All of you!! READ THIS ARTICLE!!! (http://www.nokiapoweruser.com/windows-10-for-phones-lumia-denim-not-a-re...)
If you want know about the real news and another news from wp10,BETTER READ THAT SITE!!! i love this site,but sometime here is not really update!!! Take it for feedback wc!!!

I really dnt get it!! i brought my lumia 720 for 18,000 INR... that just comes with 512 mb of ram.. and now this lumia 735 is just 14,500 INR that comes with more and more features!! (including switchable backdoor).. :/ .. and all these apps are not even optimized for the 512 mb devices these days :/ ... guess we should wait for another 3 years or something to get a better phone at reasonable prize.. and feautres..

Welcome to the jungle dude.. This is business bro!! Everything change every second!!

You get what you pay.. 730 lacks some features which 720 has.. Dats y it is cheap and they want to enter into the market with high performance phones which are cheap so that customers get attracted.. You should've gone for 1gb ram WP.. Thank microsoft for still providing updates to 512mbs and not like the Androids leaving 512mbs to Ginger and ICS. :/

If backup, can I go back to 8.1?

Windows 10 for smartphone could be on 11/02/15 ie 1+1+2+1+5 =10 cuz Windows 10 was released on 21/01/15. P.S. : I was editing my previous post, which accidently got deleted. It was a small error made from my side, I unconsciously did not add the 1 from 15.

Have 8.1 DP on HTC 8s, wonder if Windows 10 preview will install?

Hardly, it lacks internal storage.

Now,lot of 520 user push MS to give them the w10 for phone update,later,after they installing,believe me,they will say " why I'm not get this menu,why I'm not get this option,why i can't use this,that,like my friend 1520" ridiculous...

Would it be logical for me, a 512MB Windows Phone user (L625), to be more alarmed than those rocking 1MB devices when it comes to Windows 10 update? Would the matter of RAM significantly affect the prevalence of bugs that the new OS will bring along? Do pardon me if this is a silly question. I haven't quite wrapped my head around this stuff.

Windows 10 is just a UI shell and some libraries for the converged API.

Wonder if it would be made available for the 830 tho. Good thing is that is had a sdcard slot for updates. Not sure if i can install tge full preview windows 10 there.

As long as we get to keep our so data with this rollback, I'll be updating to W10.. Hoping for data backup somewhere in the future

Backup..... http://www.windowsphone.com/en-gb/how-to/wp8/settings-and-personalization/back-up-my-stuff

I meant app data specifically. Game progress, app settings, etc

i hope it for L 730 Dual Sim

mmm then i might get it after i read a few positive reviews here

To me it seems this type of program should be rolled into windows phone app to give it a more useful position

Was the touch screen problem with L535 fixed?

I hope this comes to the Windows Phone 8x by HTC phone :D

is the Windows Insider program an app like the Preview for developers? If not how would I go about getting Windows 10 on my phone? (When it comes out)

Well Monday has come and gone, I guess Friday maybe?

End point is this is not final software so the risk is ours to take plan and simple. If everybody is worried about the risk than wait till summer or fall when Official comes out. I am installing it on my 930 why because in a few months some really high end phones will be coming out. I love WP but everytime I look up MS is updating the services on other platforms and we are always playing the waiting game. So I will take the risk and see if I really should wait for that new WP and continue or should I make the jump to another platform.

Any update when Denim comes to Lumia 925 Ph?

Hopefully we can save videos from emails as well! ;)

I'm trying it on my back up 1020...won't do it on my daily 920 though

Found out something bizarre the setup for xb1 is called oobe according to xbr

Windows 10 phone keyboard mouse

Even if they had no recovery options I was putting the update on my phone....I just want the update lol. I am confidant that Microsoft will send updates on a regular to fix whatever issues are found.

Feb 11 and still no preview available for phones and this is why Microsoft is lagging behind mobile os. They said early feb, and they not even reveling the dates .. Too bad

Hey alguien tiene informacion de este error?? "error unable to find a bootable option. press any key to shut down" Nadie responde. Hey anyone has information on this error??
"Error Unable to find a bootable option. press any key to shut down"
Nobody answers:

wait to download any phone previews.. they are completely not stabe

Can Any one help Me
i Updated my 1520 with the slow build
but i cant use my device because the screen is half working !
the screen is hidden and i cant enter my password so i can do somthing about it this is my only device left i had problem with 920 and never worked andd stock in upgrade mode ! can any one please help me but with out formting !
Windows Central Newsletter
Get the best of Windows Central in in your inbox, every day!
Thank you for signing up to Windows Central. You will receive a verification email shortly.
There was a problem. Please refresh the page and try again.