Windows 10 Preview for phones might include a rollback feature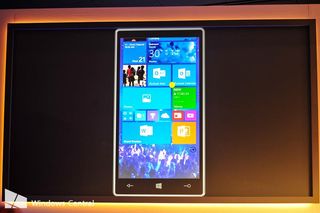 Though the Windows 10 preview for phones hasn't even landed yet, Microsoft's Gabriel Aul has been very busy answering questions about it on Twitter. In the latest bit of news, Aul hints that users might be able to rollback to previous OS versions or builds if they encounter a problem.
Here's what Aul had to say on the matter:
It's far from a confirmation, but the very fact that the ability to rollback is important to Microsoft is good news, as there are bound to be some nasty bugs — especially in the first preview build. We'll surely know more when the preview is released, but if you're thinking about installing the preview yourself and even the idea of a rollback makes you nervous, be sure to check here for some tips and things to consider before diving in.
Thanks to Germano for the tip!
Source: Gabriel Aul (Twitter); Via: Talking Lumia
Dan Thorp-Lancaster is the Editor in Chief for Windows Central. He began working with Windows Central as a news writer in 2014 and is obsessed with tech of all sorts. You can follow Dan on Twitter @DthorpL and Instagram @heyitsdtl. Got a hot tip? Send it to daniel.thorp-lancaster@futurenet.com.
Going back to an older, more stable OS.

Bottom line: If you're a Lumia, you'll be okay, since you can always flash back to factory in a pinch. If you're not, you are well and truly at the mercy of the Windows 10 gods.

Windows 10 gods - Love it!! to be fair they should make a ''Software Recovery Tool'' for all windows phones.. guess it will never heppen.. [fellow Samsung Ativ S and HTC 8X user]

It would put your phone back to the OS version it was on before you took the Windows 10 preview update. I *REALLY* hope the rollback includes restoring all your app data to how it was before the update, too. Losing all my game progress is probably the #1 thing that would keep me from participating in the preview program. I could deal with it being rolled back, but totally gone just sucks.

I know right, it's all about the game progress. It's really the only thing that's going to hold me back.

That's the reason I install games which are cross platform, Like Asphalt 8, both on phone and PC. No fear of losing game data.

+ Age of Empire: Castel Siege

Rollback will definitely lose all your game data, it is similar to factory reset of your phone. But why you care about your game data, you will definitely lose them when you install the Windows 10 preview anyway.

It depends how it's implemented. If they make it like System Restore on s PC (which I'm hoping for) then all user data would remain intact.

Haha lets three time huray for guy that use phone primarily for gaming...your life problems are so tough...I feel for you bro...

I have several Windows Phones for testing.
You are not supposed to put W10 TP on your everyday phone.
I understand that you are eager to try it out,
but I have contacted my friends here in Finland
that they make sure that the game scores are WIPED OUT!
Why?
To keep non-technical people out of the test process.
Use it when it's final...happy waiting 'til August! :-)

Getting Preceding builds with updates , if the present updated version has got some bugs ..... To be mentioned , if a feature has got some problems in processing speed or any other .... That feature will be removed , so that it can be sent back in next version in much stable state

like how iOS has "downgrade" terminology, Windows OS has "rollback"

Roll back means sell price at WalMart

It's the term they use at Wal-Mart for 'Sale'.

Actually its for when they get it at a cheaper price, they roll the retail price back to pass on the savings. It's not a sale, clearance is the sale...

It means you can restore your phone to the previous version (WP 8.1)

"rollback" is the little bit of backwash that ends up back in the bottle or can after taking a gulp. C:

Rollbacks are WalMart sales

@Chris Sandiford:
His what?!

"Roll back" means cleaning with a tissue ROLL on your BACK. Lol.

Rollback is where Wal-Mart lowers prices.

"if you hit an issue"... Sounds like ability to rollback during a fudged update instead of bricking the phone, not rollback after update complete

Yeah. Why not allow an image of the phone to be saved on OneDrive.

Preview for computers needs this too

Didn't they add it with one of the updates? My brother always gets a dual boot menu when starting Windows 10 with Windows Rollback as the second option.

It does but it rolls back to your previous Windows version prior to 10 that is.

it does yo. there's an option to boot into the tech preview or use the rollback program

It does...but it doesn't work.

It does work (for me at least), I've done it 3 times already, before I solved my wi-fi issues.

My Lenovo with and AMD APU won't install the driver's so I can't adjust my resolution, I rolled back the times from the preview, 1st time Win auto updated back, 2nd time I manually updated to try a suggested fix for the graphics issue - no luck... Third roll back attempt and Win 10 says it can't as files needed for the roll back are missing... Just feedback I guess if they can implement this feature in the mobile version...

Why don't you go to the Lenovo support site & download the graphics driver?

To get my AMD GPU working I downloaded the latest catalyst, disconnected from the internet, uninstalled the graphics driver from device manager (right click > uninstall) along with driver, then immediately installed catalyst. Not sure if that will work with an APU, but it was the only way to get correct GPU drivers on the system.

Nope doesn't work for me apparently... MS and AMD ate working on the updated driver's by it sends a long way off (@GabeAul tweeted on this) , and when I said "manually" updated as in I tried all options - uninstalling, reinstalled without internet, used the AMD autodetect - which interestingly read the PC as Win 8.1, but upon trying to install said the OS is not recognized... It's fine though, for now, I game mostly on my console, in the end I believe MS can't speak definitively on the roll back features as something may always get chalked up - if there isn't, there should be done kinda full simple imaging tool to back up my phone in that state - OS+files on, OS+files off (and I'm not talking about files and settings back up and recovery tools tools - but more of a combination both)...again I may be off here...

works fine if you upgrade from the previous OS, but if you do a format+install or fresh install then there is nothing to roll back to.

You just have to understand that you never install a tech preview as your main OS when you can do a virtual session. Impossible in phones, easy on computers.

Phone emulator on PC is the best option...

It has it but i don't know why i hav it, cause I installed it on a different drive which was empty (there isn't a OS to roll back to).

It's nice to know that they are thinking about the user...... If this ends up being true, I'm going to use my 1520!

Just make sure to wait a couple days so others can test the waters and ensure the rollback feature works reliably. ;)

Who cares just push it out already

You'll care when the preview renders your phone a barely functional brick.

I've given up on that question,... Literally!

Taking breath, oh Windows 10 for phones .... Rollback, way every time Windows central make pressure don't talk about it until it will arrive

EVERYTIME I SEE AN ARTICLE WITH ' WINDOWS 10 FOR PHONES ' my heart skips a beat literally -.-

Haha, you and everyone else on this site. How desperate we all are.

Yeah especially when they use the windows insider screenshot.

Yeah.. Mine too. Eager to update.

You mean your selfish heart?

@davidtayo:
My "achy breaky heart".

Mine too, either Win10 for phone or Lumia Denim

I think we can expect a lot of bugs, especially on older hardware, so this is definitely handy

Is there any newer hardware? :)

Yes, old hardware is Snapdragon S4 chips, new (or current) hardware is Snapdragon x00 chips.

Good idea... I think many people dont have secondary phone to test previews. As we have only one phone roll back feature is very helpful...

Well, if you're the adventurous type (which I am) and the roll back feature doesn't work, there's always the Microsoft Lumia Software Recovery Tool which has been updated recently from version 5.0 to version 5.0.5. The recovery tool may not be the same as roll back but it's better than nothing. http://www.microsoft.com/en-my/mobile/support/software-recovery/

But the recovery tool need to download gb's of data to do the work.. More over i will loose everything on my phone... Soo rollback is a way better

True, but even with the rollback there are still risks. I won't be installing the preview on my primary phone even if they promise it can be rolled back.

Stop being negative. Rodneyeye (or is it Rodneyking?) has a Windows Central monopoly on being negative.

might might might. The threads today are unsure, its better to not to publish if not sure.

Usually this is true with things such as rumors and the like. However, the fact that Microsoft considers a rollback feature important is very telling. Plus the fact that this comes directly from Gabriel Aul, who is heavily involved with the preview program at Microsoft, lends a bit of weight to the statement as well.

Rollback does not work, upgraded from Windows 7 to win10 build 9841 then build 9926. On rolls back to 9841 NOT Windows 7! Thank you MS! Reasons to downgrade, can't update; can't have touch office..

Broke out my 920 to use for the preview. Can't afford to use my 1520. Did the W10 on my Surface Pro and so far, so good good over there.

Did I write this in my sleep? I'm doing exactly the same. I've been running W10 on my SP2 since Day 1. Latest update makes it run cooler and is better battery optimised. Also updated the Intel and Wacom drivers. Now it's usable. I'm thinking of installing it on my 1520 since it will give a better user experience. I'll keep my trusty old 920 charged just in case I need to switch to it in a hurry. I also have a very old HTC HD2. Maybe I'll try flashing W10 on that too.

Multiple personality disorder!!! fkiehner and Major Plonquer are one and the same person except they have different personalities :P The good thing though is that Microsoft was able to make both of them Windows fans ;-)

Would be nice to have Denim before windows 10 comes out....... Doubtful.

This is also what I'm hoping. But I have the DP 8.1.1, and still Black (on my Icon), so even with the technical preview, I'm sure there wont be a problem updating the firmware to Denim.

Denim is firmware -some features device specific - update though, and more carrier based than this preview...so, yea... But I second this request

Bugs or not I can't wait to test it out.

That's great! If my phone have crashing, I can rollback to WP8.1

Still hoping denim tomorrow rumor pans out.

If there is a rollback feature, I'm all in with my M8!

Title got me excited again.

Enough already. We know there will be bugs, hint..preview. So stop teasing and release it already. And the Windows 10 PC preview does have a rollback option. I see each time I reboot my com as an optional feature.
...
Again, enough with the talking and leaked photos. Just release it.

Denim tomorrow? That rumor slipped by me...... For what phones?

Denim is already available. You can order stretched denim or colored denim any time at amazon apparels :-P

A full backup when you Connect to oc would be useful. That way you don't lose apps that are no longer published if things go bad.

I wonder if the existing apps will work or not?

When are M$ 1st party apps going to support transparent live tiles?

App$e or Goog$e... See what I did there? M$ is 1999

Let him enjoy trolling, he cant enjoy android or IOS devices without trolling.

Actually App£e and Goog£e

Haha, I was going to go for Appl€ and Googl€ :)

Now that's some creativity :-) But why degrade ourselves to trolling when we are far above the trolls ;-)

Wow. This is why I dig this phone and Microsoft.

Can't he just say when it will actually be released? And whatever happened to that previous news that windows phone would be able to do something ground breaking?

few words frm Microsoft ppl are always converted to news frm windowscentral ppl...

It's an important issue so why not!

If you are a real WP (and Windows) user, then you care that news.

There's alway the Microsoft Lumia Software Recovery Tool in case anything goes wrong. And by the way, the tool has been updated to version 5.0.5 from 5.0 so that's good.

Yeah it is a nice feature but it shows that there would be many bugs in the preview

What do you expect? It wouldn't be called a preview if it has minimal or no bugs.

Yeah, its not a full release dude its a preview for testing and for developers

If there are no bugs/very less bugs, it will be either a "customer preview" or a stable release. Won't be "technical preview" :-)

The build is designed for us to locate bugs, so yeah that would be the whole point.. You're confusing this with the developer preview program. That one is a relatively stable build that is very close to being the final build. Developers can use it to test how their apps work on the latest version of Windows. But even such a preview build it would actually be nice if there is a rollback feature.

That's good, there needs to be a way to rollback. Now I'll definitely see W10 before I'm 30.

Does that mean it's going to have a whole lot of bugs? :-/

Of course there are gonna be bugs, this is a preview OS. The thing is we (the willing) know there will be bugs and know we may have to rollback or flash. Thanks to Microsoft for making it just a bit easier for us to do so.

Why would you expect it not to have bugs? It's not a full release

If you didn't understand what rollback was and or you are impatient DON'T DO IT!

Come on release it already..

By the way, some people are afraid the roll back feature might not work. I'm sure it will. But if it doesn't, there's the Microsoft Lumia Software Recovery Tool to fall back on: http://www.microsoft.com/en-my/mobile/support/software-recovery/

That's only for the 95% of Windows Phone(Lumia) users. For the rest, rollback is a good option :-)

Once we upgrade our phones to W10, are we sure that the apps and games already installed doesn't get hit!? Idk, I read somewhere, some apps may not work/support on W10.

They obviously may not work, as they aren't optimised for W10. Most apps should work but some features could be broken. Remember that some apps (eg MPATool) still don't even work on WP 8.1...

It's possible some apps wont work or at least not work as well as they used to. That is why the developer preview build exists. That is a more stable build for devs to test their apps on the latest version of Windows. This builds preceeds that build. However do note that the developer preview build worked for most apps on 8.1. Only a handful of apps had isssues with the new software. It's far more likely to run into serious problems with the OS itself than the apps on this upcming preview build.

Lol what would be horrible is a bug in the roll back system

In that case my M8 might be getting a workout.

So... Roll back is What they have done with Xbox Music?

No... Screwed is the right word instead of Roll back. But it is to be expected as it is a drastic change from the previous version(which was also like by many and thus it makes the decision a very hard one). But to me, Music is a lot better now.

I just wanna ask, if it will be windows 10, does it mean the store content will be the same from my windows 10 pc

That's what they're aiming for with W10. Not every single phone app will be available for PC and visa versa, but they are hoping there will be a lot more crossover, as both will be capable of running the same apps with little-to-no developer customisation.

Eventually it should be the same store, although I'm not sure if the beta of this store will be included in the preview. The desktop preview included both the old and the new (beta) store. However whether the store on the phone will actually list the apps for desktop/tablets is another question. Even if they are technically able to run on your phone, the developer may not wish for you to do so as the experience isnt optimized for it. Developers still have a lot of questions concerning this. Microsoft will reveal more during their BUILD conference. So I wouldnt expect the february preview to list any Windows 10 apps (besides Microsoft's universal apps).

when Lumia 620 gets the win 10 ?

Good idea. Rolled back my laptop because of issues, definitely a nice option to have.

The photos app doesn't have images on the tile. Please tell me that's for demonstration only.

Stop promising the update, and help to release it.. Let us test and decide what to do at that moment..., sure a feedback will exist..

Who is promising anything? they can't "help" release anything dude

What about bug in the 'rollback feature'?..hahahaha.

Hurry up and get here already! I wanna play with Windows 10 on ma phone!

I think they are currently testing it at the moment. Especially when Dan is actually using it for the holidays. Just like when 8.1 came out ;). They were testing it for a week before the official announcement.

This should definitely be something that should be included in the preview build, especially for those who are using their day to day phone they take with them. I would want to be able to roll back to a previous OS if the preview build is too buggy for my phone to handle. Now personally I shouldn't have any problems because I have a 1520, which is what they used to demonstrate WP10, but that doesn't mean I wont have any issues. This mainly applies to lower end phones with not so great hardware.

Microsoft is the best hands down! They are really trying to get things right and I respect them for that.

May be if this features's there, ill install it

You guys seem to like the tip alot ;)

That's sounds great. Revert from preview for dev was a easy one with nokia rec tool. Let'e see What's this time ? same steps or something different.

A good feature to have. Now all they have to do is make Windows 10 as awesome as it should be instead of an uglier version of 8.1.

Beauty lies in the eyes of the beholder :-)

Wow! I was expecting this.

How I wish it can be released by the end of March.

mmm what if he means there will be system restore points, its the same OS after all /s

You can have rollback already with latest Lumia Software Recovery Tool ver 5.0.5.

I think that the windows 10 preview (the 1st one) will be only for lumias.


wow, the rollback sounds pretty cool

Great! I hope never need to use it ... That said, I'm still waiting a couple of days, maybe more before I jump in the 10 wagon.

Hope it won't delete our data.

"ability to rollback if you hit an issue is very important to us" How could we rollback if that is a setting in the phone, if we bricked the phone? May be he is telling us there will be a app/software installed in Windows 7/8/8.1 that will help us rollback our phone? Just like Nokia suite help us but for Windows 10 for Phones in general? That will be really great!!! Such an app/software can really help us upgrade to new firmwares too :-)

Forget the roll back function I plan to keep the update. I know if there are any bugs Microsoft will jump on them rite away smothered is nothing to fear. Windows Phone 10 please come out today :-)

Cut the crap & release the update!!

Hope it will keep our sms informations when switchibg from 8.1 to 10

Finally Microsoft got consumers attention.. ;)

omg, MS is being awesome since last half of the year!¨finally i have the feeling that they want to explore and inovate... i lost that feeling some time ago for a while :)

When is it actually available???

I want my transperant Live Tiles, no whole Background. I hope You Can choose as you Want!!

That's great. I hope this is a feature that makes it to production and not just part of the beta. This would go a long way in getting carriers to release updates faster if they knew they could just have customers rollback if something got missed and showed up after the update was released.

Simple solution: Dual boot. Requires more storage off the phone since you have 2 OS but if you run into trouble you just reboot as old OS...

The rollback software when i am downloading it getting lots of errors
It saying could not connect server
but
net is working fine
what should i do?
Windows Central Newsletter
Get the best of Windows Central in in your inbox, every day!
Thank you for signing up to Windows Central. You will receive a verification email shortly.
There was a problem. Please refresh the page and try again.