Phones4u to hold Windows Phone events in select stores across the UK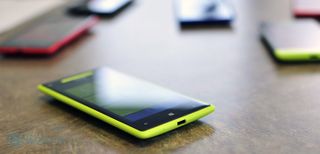 UK retailer Phones4u has announced (via press release distributed today) that the company will be holding several Windows Phone 8 events in selected stores across the UK. The launch events, partnering with Microsoft, will take place in three key Phones4u stores this week - Market Street, Manchester; Merry Hill Shopping Centre, Brimingham; and Metro Centre, Gateshead.
The events will celebrate the release of Windows Phone 8 hardware that's available from the retailer, offering invaluable hands-on experience with the new devices while experts from Microsoft, Nokia and HTC will be at the locations to answer any questions consumers may have about the platform. It's good to see not only Nokia working with Microsoft in the UK, but also HTC which is a refreshing improvement on its TITAN and Radar launch.
An array of refreshments will be on offer during each of the events with a prize draw carried out at each store offering customers the chance to win prizes that include Xbox consoles and new Windows Phones. If that wasn't much of an incentive, customers will be given goody bags to take home, filled with Windows Phone merchandise and treats.
So when are the events being held? Times for November 22nd:
3pm – 6pm Manchester: 72 Market Street, Manchester, M1 1PN
6pm – 9pm Birmingham: Unit L27-L28 Merry Hill Centre, Brierley Hill, West Midlands, DY5 1QX
6pm – 9pm Gateshead: Unit 4, Russell Way, 85 Metro Centre, Gateshead, NE11 9YZ
Phones4u currently stocks the EE exclusive Lumia 920, in multiple colours, as well as the Lumia 820, HTC 8X and HTC 8S. Phones4u reveals that it has been chosen as retail partner on its stand at this year's Gadget Show Live event taking place at the end of November. The stand will showcase Windows Phones and to illustrate what the platform offers consumers.
Scott Hooton, Chief Commercial Officer at Phones 4u added to the announcements:
Leila Martine, Director of Windows Phone, followed up with:
We'll attempt to journey to one of the Phones4u stores to see what all the fuss is about. Will you be heading along?
Windows Central Newsletter
Get the best of Windows Central in in your inbox, every day!
Rich Edmonds was formerly a Senior Editor of PC hardware at Windows Central, covering everything related to PC components and NAS. He's been involved in technology for more than a decade and knows a thing or two about the magic inside a PC chassis. You can follow him on Twitter at @RichEdmonds.
None in London, that's odd.

Finally some Geordie love :-) well done MSFT!!

I'm in Mcr tomorrow, might have to go harass Nokia and P4U about the 920. Want it on Vodafone.

I'll be heading to the MetroCentre store to see what it's all about.

I'll be at the MetroCentre P4U after work, I wonder if they have any deals on new WPs...

I've never heard of "Brimingham" before, is it like Birmingham?

*sighs* I've just come back from the Metrocentre event and it was abominable....wasn't ready at 6 so we went away and came back.....and they're still getting ready so i has a little play with the 920 on display (wow! but i'm an 800 user so i was half-ready for the OS) and after no 'event' approach went away again.......came back a third time, tinkered with the 920 again and finally got approached by a sales guy who, when asked how their event was going said 'i don't know anything about it, i just got dropped in the middle of it!'.....we talked about the 920 for about a minute and he said i needed to get one on EE 'or Orange' (which i'll look in to) but when i said i was waiting until after xmas to see how the post-exclusive deals shake out was told 'well there's some refreshments over there' and was abandoned.
I might not be the target demographic (45yo male) but i love a good phone......and i hate a poor service! Prize draw? erm no
Goody bags? erm no
Knowledgable support? erm no (in my case anyway) Nokia would be better off doing a pop-up store because then they can make their stuff look good instead of P4U making it look atrocious. SO disappointed, came away feeling silly for attending....wtg Nokia :@

sry on reflection it wasn't really Nokia's fault because it was a WP event......the same applies, just substitute 'WP' for 'Nokia' and you're about there ;)

sry on reflection it wasn't really Nokia's fault because it was a WP event......the same applies, just substitute 'WP' for 'Nokia' and you're about there ;)

Ha! Wrighty! I was there! The metro centre was a complete shambles. NOTHING was happening. More workers than customers, just mingling amongst themselves. They didn't have any of the phones I would want to BUY. And as for prizes? Nothing. Just a farce. Wasted my time.

I went to the Metrocentre event and I have to agree with the above, was absolutely awful, I went back 3 times and was never approached, really was a waste of time and effort, could have been a lot better if ran slightly differently:
Should have had 2 greeters on the 2 entrances telling people what was happening and where to go etc (they had one at 6.30 for 15 minutes and then that was soon abandoned...)
Should have had can's of coke or the like instead of large bottles, as well as someone serving the 'refreshments' as otherwise you just feel like you are stealing...
Should have had say 5 or 6 knowledgable people at the desks at the back with each person having all of the windows phones and accessories available (I really wanted to have a play with the Nokia charging plate but didn't get the chance), you could then spend say 5 minutes having a play and then leave with your goody bag that was non-existent.
Also no sign of any prize draw, should have been there when you left or when you spoke to your knowledgeable person at a desk.

thanks chaps (or chapesses of course), i might go back tomorrow and ask for the manager so i can collect the goody bag and the free draw prize they forgot to offer tonight.....should be fun haha (i'm very large and very gruff....lets see how that goes :D ). I work in Blaydon but collected my daughter from Durham and drove back up for that.....loyalty huh? ;) (to quote Johnny Rotten)
'ever get the feeling you've been cheated?'

I might call and do the same. I saw the "event" on Wednesday evening and thought it hopefully would be worth the 3 hours out of my day (long story). It wasn't! Oh, and how pathetic was it when those Windows-shirted females were taking photos of each other... You just know they're going to splash it online to say it was great. Erm...spoiler alert: it was a complete waste of time for the rest of us! Ranting over, for now =P

I can only agree with the rest of you. I too was at the MetroCentre "event" and there was very little happening. I chatted with Miss HTC and she was friendly and helpful, and Mr Nokia was only interested in telling us about how Olly Murs bought a Lumia 920.
I did actually buy an HTC 8X there, although I planned to buy one anyway, I thought they might have some deals on... or something. How wrong was I!

well i went back, spoke to the duty manager (Michael) who took the complaint on the chin without losing his cool, so fair play for that. No swag or prizes to be had (lol) but apologies and thanks for the feedback.....i mentioned that plenty of us had had the same problem so he said that would be relayed back and when he said he hoped that this wouldnt make us see P4U in a negative light i had to concur that it would as it was their show.....ah well. I'll stay Vodafone sim-only with my trusty Lumia 800 for a few months and let the supply issues and exclusivity deals shake out then upgrade or switch when i can, and we'll ride the 7.8 miniwave on the way haha.
Surf's up!!
wrighty
Windows Central Newsletter
Thank you for signing up to Windows Central. You will receive a verification email shortly.
There was a problem. Please refresh the page and try again.