Photos of Microsoft's canceled 'Lumia 960' flagship leak
By Zac Bowden last updated
Photos of what appears to be the canceled Lumia "Northstar" Windows phone have leaked, revealing what could have been for Microsoft's successor to the Lumia 950.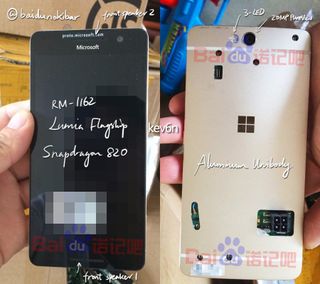 As we all know, Microsoft decided to retrench its mobile efforts at some point during the last two years. Because of this, several of Microsoft's planned phones were canceled internally, including the Lumia 750 and Lumia 850. Today, photos of what appears to be the successor to the Lumia 950 have leaked, revealing what Microsoft may have had planned for a "Lumia 960".
Windows Central understands that the codename for this device is Northstar, and was used internally as an engineering prototype for building Windows 10 Mobile. It features a metal design, and looks similar to a 950 on the front, with a few small differences such as front facing speakers. The leaked photos and info say the prototype included a Snapdragon 820 and a QHD screen.
While not officially referred to as the Lumia 960, it's not hard to imagine this is the kind of name Microsoft would have went with had they not decided to retrench their mobile efforts and cancel its Lumia line of devices. Now, we understand Microsoft is working on yet another new device, that'll likely be released under the Surface branding instead of Lumia.
We'll have more to share regarding the future of Windows phone soon, but in the meantime, what are your thoughts on the canceled Lumia 960? Let us know below.
Zac Bowden is a Senior Editor at Windows Central. Bringing you exclusive coverage into the world of Windows 10 on PCs, tablets, phones, and more. Also an avid collector of rare Microsoft prototype devices! Keep in touch on Twitter: @zacbowden.
Very HTC in it's look, not bad.

And front facing speakers which HTC just threw away for some secret reason. J can't think of one person that complained about the BoomSound speakers.

Agreed, they were amazing.

Phone looks great and I would have bought one. Front speakers are the best, the rear speaker is the only thing I don't like about the 950.

Exactly what I thought.. HTC....
.....
But, the best part was "Now, we understand Microsoft is working on yet another new device, that'll likely be released under the Surface branding instead of Lumia."""
Sounds like WC knows something, and has something to touch on soon.
"We'll have more to share regarding the future of Windows phone soon"..............
Just another hiatus, as I've mentioned before.. Windows on pocketable devices will never die. It's been MS's dream for over 20 years, and version, after version, has always came forward.. I don't understand why anyone would think it would die now. What's so significant about this (of several) hiatus?.. No, WP is ever evolving. There's not ever gonna be just one version (unless W10 will be the last).. Nevertheless, I never had any doubt that there wouldn't be more pocketable phone like devices running something "Windows" in the future.. Why would I?.... This time the wait is just longer. But, something is in the works. Don't really mind if someone disagrees with my opinion as long as they understand that I will still retain my opinion..... But, I will say this.. The haters that spew idiotic nonsense about WM/WP/WinMo being dead sure are quiet.

I'd rather see a leak on what may be coming up next than something that's now an after thought. :) If WC knows something then they should speculate on that. Give me some hope there's something right around the corner. Hopefully "soon" doesn't mean August. :)

Waiting is certainly a virtue one must have if they are a Windows Mobile fan. Because we are continually waiting for something. Lol!

It would be nice if the wait was worth it, more than not😭😭😭

oh! just judging by the fact so many of us get excited by any news or non-news, we are truly thebest there is when it comes to waiting. For now though, I am planing to 'wait it out'

I am afraid 'soon' actually means later than august for sure. I hope (though not very hopeful to be honest) that at least the 'leaks' start flowing in by this year. I am currently waiting for HTC U11 to arrive in India and move away from windows phones for the foreceable future. I will return if, and only if, windows 10 S (an assumption that this is version that will run on surface phone) becomes popular and thereby windows store has some of the major apps currently missing from windows ecosystem

Maybe they are going to confirm the rumors about Microsoft creating a new OS and new hardware devices being tested internally which are a separate branch of Windows Mobile. If that's the case, then I'm intrigued.

Hopefully we get something.. And, today.

Without Android app support, I'm afraid that these will be DOA. MS needs to create their own Android app store, and have Android running within W10. The MS mobile ecosystem is just not there yet, too many apps missing. I just switched back to Android from W10M (Lumia 950 - >Galaxy S8) and having whatever app I want at my disposal would be tough to give up. Not to mention that Samsung decently supports W10, and their Sidesync app lets you wireless mirror your phone on your pc (surface), and the touch screen works, which is something that even MS hasn't accomplished on the same OS.

Was curious if it did work or not, have not really tried touch while in Continuum. If remoting to a machine with touch screen it does work, but if using dock to connect to a monitor I don't think it would even if external monitor would be touch (not sure about this last one though)

I mirrored my 950XL on my laptop via continuum, and on it the touch screen works - your information makes me think that it works due to my laptop/OS supporting touch and not the display itself. Interesting, I did not know that. I just assumed it would work everywhere. Thanks for that

I think they've leaked more phones than they have produced.

You would say the word "leak".🙄🙄🙄

Shame they didn't focus on a premium high quality niche, far better than no presence at all.

no way they could sell these without nokia on them..

gorg but horrible mobile OS wouldn't allow it do numbers. Mad ting, sad ting 😢

Horrible Mobile OS ??? ROTFL

horrible market availbility too, my old Lumia 625 broke, and there is no windows mobile device around on market, so I'm getting j1 Ace now :'(

Still alot brand new L650 on ebay and amazon At least in Europe.

Yea....cuz no-one wants them!!! I looked on ebay nearly all of them are these 'gently used' auctions that look like they couldn't return them so they are selling them....lol

Incorrect. HTC has a kickass windows phone out. Ams still in production as it was just released months ago.

What phone are you talking about?

He was in a comma for the past two years, and just woke up?🤔🤔🤔🤔

The U series from HTC runs Android

same thing happened, but I thought using a second hand for 1-2 years bcause didnt want to spend much. Found a Lumia 930 luckily and that too the special edition( the one with golden rim)

Why is that one the special edition?

win10m indeed is horrible. And let me stress on "HORRIBLE". w8m and 8.1m were stable, i could do anything anytime and would be dead sure it wont hang. L1520 never crashed on me on 8.1, did on 10, my 950xl crashes constantly after constant refreshes, 550, 640xl and 650 all have the same fate.
So to sum it up, win10m SUCKS.

I use 8.1 currently and it ain't perfect, man. I have to reboot occasionally due to software defects.

Indeed, Windows 10 Mobile at its release felt beta, or release preview at best. However, in the intervening period, I'd say it would be intellectually dishonest to continue w/ the harsh critique, as they've pretty well squashed the bugs. I have a couple of Windows 10 Mobile devices. My primary phone (my daily driver if you will) only gets release builds; and those are solid. I have no troubles w/ them on my Lumia 950XL. It's smooth... good battery life... and I rarely reboot the device. My other two W10 mobile phones running release previews will run into trouble, requiring reboots or hard resets. But, that sort of thing is to be expected if you participate in the insider preview program, especially the fast ring, as I do with these other two devices. So, not sure if you are an insider, running betas and release candidates; or if you are jamming Windows 10 Mobile down on low end devices, and running into problems w/ insufficient memory or CPU through put. But for me, Windows 10 Mobile, running on hardware designed for this OS, runs consistently well.

950xl is on production, and so is 640xl, 550 and 650! All and literally ALL have problems! the only phone on insider is 1520 which has its registry edited pretend to be 950xl to get newer insider builds so im not counting its shortcomings. But 4 of my other lumias in production including the 950xl shouldnt behave this bad

In my experience, the original release of Windows 10 for mobile was a step down from Windows 8.1, but by the Anniversary Update it was better in most ways (still not as good in a few). With the Creators Update, I think Windows 10 on phone is far better than 8.1. Note on some older devices, in order to get to the Creators Update and the current updates, I believe you have to put them in the Insiders Program at least temporarily. This was the case for my Lumia Icon.

If the phone randomly crashes when the battery is below 50% I would change the battery. Mine went from 5 to 10 crashes a day to 0 after I replaced the battery a couple of weeks ago and without resetting the phone. Crashes never occurred while charging it and this is why I decided to replace the battery. Otherwise i would suggest hard reset. First attempt with a restore from your backup but if the issues remains do it without restoring the backup. Mine is rock solid stable

You are spot on - the battery is the cause of many probs with the 950 line...just change it. Great device.

I dunno where you are coming from but I m on Slow Insider ring and I have never had any problem with my Lumia 735 and 830. I did brick my Lumia 735 once coz I tried fast ring. Never again.

Idol 4s has a lot of problems too

I couldn't agree more. And Win 10 on my Lumia 735 and 830 looks drop dead gorgeous with my favourite green accent colour

must be your smartphone...my 950xl works incredibly well...

As a 950xl owner, all you say is true, disappointing after so long with these known issues. W8.1 never missed a beat for me

i agree. WIN10 sucks as a whole. It's the same story on the Surface too. You don't know next time when I turn it on, the display will come on or no. #SMH

Thats not my experience at all. I have a Surface Pro 4, An i3 all in one PC and a new I7 7th gen based PC all running W10, two have the pro version and they are rock solid. I would suspect a hardware or a driver issue if your surface keeps switching on with a blank screen.

Your experience, my 950 is rock solid, even on Fast Ring

I don't even see what it matters when we know a new pocketable Windows is coming.. Full W10.

Oh yes, in the olden days things were so much better, we didn't have death and the big bad internet...

Don't have such problem on my 950xl, runs smoothly since I bought it last summer. Sometime Edge takes a lot of battery, but that's about it.

Agreed. Was trying to share some flower pics with my wife so she could help select. Between problems with pics taken not showing up in photos to share, and sharing from photos not working more than half the time, I had to reboot the phone 3 times in half an hour just to share the necessary photos. That doesn't include the time it crashed on its own. That isn't usability, it's frustration. This is on fast ring, but these problems have been present for at least 6 months and I have reported them many times. So yeah, w10m sucks. Badly. WP7, 8, and 8.1 were all dramatically better quality. It seems like Microsoft's greatest skill these days is making something worse with each iteration.

We have both 950 and xl as daily driver, I can say it is the most unstable O/S MS ever put on market. And I am old enough to use them all.

Until switching carriers I had two 950s, an unlocked 950, and a 950XL. Every time one of them acted up in the past 9 months it turned out to be a hardware fault. Seems Microsoft used crappy batteries because most of the time that was the problem. All were on Fast Ring and all were more consistent and stable in performance than my four new S8+. My iPhone 6 is stable but is horribly slow even after removing apps. As for the worst of Microsoft I would have to say that went to Windows Mobile 5.0.

don't complain about stability if you're on fast ring, by definition you are a beta tester, if not alpha tester on fast ring. I stay on release and have no stability issue, 950xl.

Are you laughing becuase it's true? W10M is wretchedly bad.

Whtevr you say it is beautifully working on Lumia 640 build on 15215....no issues.evrything running fine.

Wait, what? I've got a Lumia 640, also on 15215 and it's been awful for about a year. Usually works great after a reboot, but then with a few hours use (browsing, or using apps), downhill fast. Almost no app can be used reliably. Edge pages reload constantly, making web browsing a constant issue. Tabs often can't be closed (black tiles), and frequently lose all tab history. Browser History doesn't work, and often only works after a Hard Reset or OS Update, before corrupting itself again shortly thereafter (ongoing since W10M launch). Camera often crashes upon open or after taking a photo (hit and miss whether photo is saved). Other apps that worked a few hours earlier won't open (until after a reboot). Have recently been finding my Wifi often is disconnected and "can't connect right now", even though my router is up and running, no other device has an issue, and there is no IP address conflict or any other obvious reason why it suddenly stopped working (have to reboot phone). For months now, haven't been able to submit any event Capture in Feedback Hub when any issue is present because "something went wrong". Often can't use any Share option (they become unresponsive). Occasionally can't even get Start Screen to come up (after closing all other open apps) - it just gets stuck on "Resuming..." or "Loading...". Have to hold PWR and VOL- for 8 secs to reboot. My Lumia 640 has a 64GB SD card installed with the defaults for app storage location and file/media storage locations set to SD card. Plenty of room left on it. Have 6.31GB/7.28GB internal ("This Device") free. Out of curiosity, how much internal do you have used/free?

If you think that's true, you haven't used a different OS. Nothing is "beautifully working" on W10M.

Yea its pretty ****. No amount of smug denial is going to change that. :)

The OS is not the problem, is the poor third party app support which is orders of magnitude less than Android or iOS why I would have passed on this beautiful phone

Exactly. Especially after the Creators Update,,, the phone is fine.. The app selection is ZERO. That's the problem.

I think I'm happier with Anniversary than Creators. Creators standby is really awesome though and phone is pretty snappy however, power hungry when in use... Also having bluetooth issues where I need to tun off bluetooh and back on again to clear up.

I think we all can agree they're both better than V1.. 😂😂😂

hoo boy, I lived though that! One of the first in Canada to have it... wanted to show it off at a company xmas party and by that time, I really had nothing to say. :) I'm glad I did go through it though, in hindsight, it's honestly been fun going through the windows 10 journey with Microsoft and has been a pretty interesting ride seeing how they are building it. I guess I'm lucky that nothing ever prevented me from doing work while going through it.

Because the Facebook app is pretty much junk, I use it via Edge. Starting with Creators update, using a React-based website slows the phone to a crawl, locking the UI, making the phone hot until the battery is drained until it's down to 30%.

ZERO? Exaggerate much????

Of course it's an exaggeration 🙄🙄🙄🙄

Actually, I don't know about that. It's not too much of an exaggeration. Setting aside games for a moment, is there a single third party app that's up to par on Windows 10? I mean that...is there even one? I haven't found it.

no, to me app isn't a problem, OS is not stable enough

So I see a trend with Win10 Mobile here - inconsistent experience. Some say excellent, others say horrible. Mine was definitely the latter. 8.1 experience was more consistent for supported hardware, which by the way, spread across many more devices.

Yep, when I used it on my 1020 it was fast, fluid and awesome, some 1020 users said otherwise and caused MS to cancel it being upgraded. Then on my first 950xl it was ....OK. By that time I was using android and iphone again and the app situation killed any chance of me using a windows mobile device as my daily driver. I do have another 950xl coming for 3d builder useage in my custom shop. The only use it will do. I will never (unless app situation reverses) use a windows mobile device as my daily driver.

That "horrible mobile OS" suits me just fine and I prefer it over the others

What planet are you on? No, I'm serious...planet X, Nibiru? One of Pluto's moons? BEST ******* OS!!!!! What are you even doing here if you think that? Troll much?

@Azeez Abubankre: It is not so much a horrible OS as a poorly supported one. Poor marketing and Developers not wanting to support it. That is my opinion after using iOS, Android and Windows Mobile. I find the Windows Mobile, on the equivelent hardware spec, to be more responsive than even iOS, much more stable than Android (Talking, Google/Nexus Android, not tweaked) and in my opinion much prettier. The issue with Windows Mobile always will come down to three things. Late to the market in its current form. Apple and Android had already gained significant traction. Poor Marketing by Microsoft. The killer though is really Microsofts lack of stamina. MS were late to the market. They had a beautiful product, but because two other OS's were already gaining significant numbers they had big catchups to do. If they had kept the same App platform, like Android has done mostly, so Apps from WP7 worked on W10M, then they might of had a winner as Developers would not have been burnt with apps are not compatible. Lots of if's. Can we hope MS will learn and let Windows 10 have a few years to establish, or make W10 on Arm compatible with the current mobile app store? Only time will tell

Wow ! That would have been very hard to resist. I have always loved the HTC design language...

bro how come my pic is on ur profile? lol

What a pity... They could have released it to satisfy their fans, by the time a Surface ultramobile pc is ready ☹

From a business standpoint that would've been a horrible decision... From my standpoint that would've been great.

I was thinking the same thing, it's sad they didn't do one more iteration of the Lumia line while we wait for the"Surface phone".

They should have continued the partnership with HP and have them release this prototype as a consumer version of the Elite X3. Since the Idol 4S remained an exclusive and never released in Europe as well, this could have kept the interest of windows on mobile alive

A lot of info and rumors regarding Windows on Mobile lately. Where there's smoke there's fire? Looked like a worthy successor the Lumia 950/XL.

Lets hope its not beacause the mobile department have no need to hold things secret as it is closing for good.

I hope they don't I hate iOS and Android, and yes I've used all 3 mobile OS. iOS is too closed off and Android isn't intuitive or user friendly out of the box. When I tell an Android user this they right away tell me that it worked for them after they installed a list of addons. They just prove my point. To change notification settings you don't go into the phone's settings because it only has an all or nothing toggle. I have to wait for an app to display a notification, long press, tap the icon that appears, and then I can change that one app's notification settings. I stumbled across that after exhausting all other options. I also hate that if I have an Android issue I can't ask another Android user for help unless they have the same phone. Every manufacturer customizes Android so much that finding any support is next to impossible unless you have the "it" phone for that year. Windows mobile isn't perfect, but it works best for me. I'm not a person that needs the current trendy app, and the Windows Store has all the apps that I want to use. I have no interest in buying a Windows phone from anyone other than Microsoft because third party support has been spotty at best. Not that Microsoft is doing much better these days.

That's because Windows Mobile hardware, and software, are still in development... And, for a reason.... To be released.

Looks like a very meh phone for what many see, at best, as a very meh OS. No surprise this was cancelled, and definitely glad this isn't our 'Surface Phone'.

a few years back in time the 950 was meant to be the platform savior and yet, it didnt save anything. The same hype is around the Surface phone, and it will end the same way

I thought it was meant to be a stop gap phone. It was a phone to throw out there between the end of WP8.1 and the retrench, or something like that.

lol, yeah, it didn't stop any gap anyway

Wow, you surely can look in to the future - impressive.......

He's got a point though, it's absolutely impossible for the "Surface Phone" to live up to the hype people are creating around it. It's just going to be a phone, not the second coming of Jesus.

The 950 line wasn't meant to save their mobile division. They consistently said the 950 line was for their diehard fans that wanted a new flagship device. They did little to no marketing for it, and most people never knew it existed. As crappy as that is, Microsoft did exactly what they said they would with the 950.

950/XL were never intended to be saviors. They were some of the last phones that Nokia developed and had in the pipeline. Microsoft was less than enthusiastic about them (tbh, so were the fans), and if anything, did not want to release them for any reason other than to make some hardware for the diehards, and continue to beta test their half-baked OS. With that, they could have these fans work on finding bugs by going on "insider rings". It was evident that the aforementioned beta test went miserably, even with the new hardware. Microsoft already predicted that would be the case (having available data from 930, 1520, and the like), and shut down production, as internally expected. Having seen some of these prototypes, good riddance. Nokia lost the design language, and it's previously premium hardware vision. Having seen Win10 mobile until recently - also good riddance. Let's hope Microsoft has something good for us this year.

MS should go Nexus and let others build their flagships

So basically continue the current Surface strategy into Mobile?

Eww, no they shouldn't. The Surafce brand and the excitement around it would never have been a thing if MS had shipped it off to someone else.

I'm sure MS agrees with you, and would also like to add thier own Surface Phone into the mix.

Does it really matter anymore to see "What Could Have Been"...Lets move on sheesh!

Zac likes crushing dreams in a morning

You're right. It actually doesn't. Just more unrealized potential from Microsoft. So glad I got out after the cancellation of the McLaren. It's simple for me: IF Microsoft delivers on its promises of some ultra mobile device Surface Phone, I'm in. Until then I'll continue to watch from the sidelines. Android has been a rewarding ride with the most choice in hardware and customization.

I have to say with the failure of the Lumia 950 which was supposed to be for fans, they should have released this. They could have released it as a developer phone or even a windows insider phone in limited quantities.

It wouldn't have changed a thing. W10m isn't as good of an OS as it could be. They can't even get the apps cohesive.

That's what they did for 950/XL. No one knew about them other than the fans, who were specifically looking. Clearly didn't go too well, especially in the first few months - OS was a disaster compared to 8.1. Better just have fans be put to work for free with "insider rings" to reveal bugs using these devices. The result though - even 950/XL have very mixed reviews, so Microsoft limited it's follow-on update to include even fewer older devices. The feedback clearly wasn't great. My prediction - overwhelmingly negative feedback resulted in Microsoft to hold back even for "fans". A complete restart/refresh is hopefully on the way!

Surface prototypes are never leaked, because they do their own prototypes in house, at that building in WA. Who knows what Panos and co are testing these days. According to Dan, Panos uses an Elite x3, so he believes in WM. Hp will continue making regular phones, but MS need a hero device for their mobile. I guess within a year, once WoA, CShell, R3 etc are all ready. Zac is dropping a hint: "Now, we understand Microsoft is working on yet another new device, that'll likely be released under the Surface branding instead of Lumia."

The W10ARM will only be fully functional on SD835+ (even though PS was demoed on an 820) announcement kept me from getting an Elite X3. I like my 950 and it can hold out.

Oh man is that a curve back design would have been very sweet to hold

but annoying in a wireless charger :-)

With a metal body this phone probably would have omitted that feature anyway

Which would have been a shame. Wireless charging as turned out to be one of those things that eliminates needless hassle at work.

good point, that would have been a shame to leave out the wireless charging

The 920 had a curved back and never had an issue with wireless charging. I have to more aware of how I place my 950XL on the charging pad than I ever did with the 920.

Wonder if this was going to have pen support like the 950 series was meant to... Can't say the design is that great at all, but it was/is just a prototype.

Whatever the next phone they launch, it'll definitely have pen support! No doubt. That's part of the "Surface" brand.

That would be a killer feature. I wonder what stylus support they'd use. Would be super cool to use my N-Trig Surface stylus!!!

That has a beautiful design made of metal instead of cheap plastic, however I may sound weird but lack of apps would have made me purchase an Android instead. Or have this phone but use Android instead of Windows Mobile

It definitely looks nice but it would have been a failure if it launched with a Mobile OS

and we wonder why Windows Mobile has failed... .Maybe if Microsft would of released new models, people might of gotten a little excited about them. Not a bad looking phone but, as others said, very HTC looking..

I have no respect for so called "flagships" that lack Qi wireless charging. No matter from whom they come or what OS - living or dead - they run. Oh and by the way...full body aluminium phones look horrible. And yes, I'm saying this perfectly aware of what's available on the market.

What would be better? Only other thing I would want would be another full-body plastic like the Lumia 920. That thing was a tank!

Glass, ceramic, wood...anything is better and more premium than an aluminium back.

In the opinion of the majority of users, as shown by the premium market shift to glass instead of aluminium backs. Or will you now try to deny that?

I second you. All these iPhone copies look like sh*t.

Well, I may be the only one who doesn't like this kind of metal back curve back phone. I don't even like Edge screen in Samsung Galaxy. May be I'm weird, but that's just me. Hmmm....

Nope, you're not the only one. Samsungs design sux

They should've released this phone in market instead of leaving years of gap between their next phone. At least people will remember that Windows has a mobile version too.. Now forgot about the OS and Microsoft should start from the beginning.

And maybe, that's exactly what they want.

I would buy this. Pen on locked screen, stereo front speakers, nice build and maybe 6GB ram. It would be perfect for me minus lack of wireless charging, but it would have been fine. As I said, I would buy it for almost any price.

I hope they won't use Aluminium, maybe Vapour Mg because I don't like to hold a cold device. It would also be sad to see the camera visually melting into the back, except they come up with bold colours like Nokia's Lumias had.

I agree with everything you said except for the camera part. I'm over the overly pronounced camera areas on Windows phones from Microsoft/Nokia. I'm glad the device with 3D Touch never came out because that camera circle on the back was horrendous. It's reasonable on the 950XL, but if the LEDs could be outside the ring on the smaller 950, then why not do the same with the 950XL? The 1020 needed the large circle for that camera/flash, but I hope the camera circles are minimized or go away in future phones. That being said, I don't like the look of the camera on this prototype device. It seems like it needs some kind of finish between it and the case cutout, but it is just a prototype.

Right, the camera needs some accentuation. I like how it's done one the L950. And McLaren camera bump was too bulky!

Agreed, maybe a slimmed down version of the 950's metal camera border would've been nice. Oh well

Is not 960. It may be 850.

If it had a SD820, it would've superseded the 950.

The RM-1162 was on GFXbench running the 820 SoC.

Ima li šta da nisu obustavili, ćaća ih jebo nevaspitani?

hahahah pa bio bi bačen novac, bolje što su odustali. Ljudi su nezadovoljni Lumia-ma i to je to.

mozete do mile volje da udarate minuse, imao sam lumie 3 god, ja sam bio zadovoljan ali ljudi kojima sam preporucio nikako nisu bili :(

Ma ne bi rođak, svaki telefon su lijepo prodali. Nedavno je njemačka policija kupila 900 komada. W10M najviše uništavaju ovolikom rupom u proizvodnji (2016 - 0 komada, 2017 - 0 komada). Jedino su HP i Acer malo ublažili sramotu.

So sad to see iPhones and android phones dominating, sad. Come on Microsoft, get it going.

They tried to get it going 4 times already...and each time ended in failure. Do you know what the meaning of insane is? doing the same thing over and over expecting a different result.

Thanks Mr. Dictionary...that's why they are changing tact.

Again! Wow...reboot number 5....then after that comes 6...7, and so on while their "loyal fans" will just keep wasting money on devices that you have to keep throwing out everytime they decide "retrench".

I haven't thrown out a single device. The majority still work. Many people get a new phone every year or two anyway. I sure do. It is more convenient to stay in one ecosystem, Android or iOS, as the majority of apps move forward. I'm still using some 8-8.1 apps on my 950/XL. There is still the issue of new apps d'jour, using features of the OS not available in older versions in any OS. If the new apps aren't taking advantage of new OS features, what's the point of the new OS? The biggest issue is the developer support for a constantly moving target, and the catch 22 of no apps, no users, no market share, no developer interest. As a 'loyal fan', I don't feel like my money has been wasted. I have an excellent device with an OS I like better than the alternatives, and it does actually do what I want it to do. YMMV

"We'll have more to share regarding the future of Windows phone soon" So Daniel and Zac DO know what's going on!!! Spill the beans! Is it good (We're getting a new phone/s) or bad (those recent articles about switching weren't for nothing).

I was going to post the exact same thing. "SOON"? Do Tell, Do Tell!!!

Read/Listen Brad Sams morning podcast from a day or two ago...he pretty much says what's going on. Its nothing you can't already figure out...W10M is dead in its current incarnation. Will be yet another mobile reset with Surface phone on SD835 running W10 S with a new small screen UI they're currently working on.

Thanks for the info. If that's true, then the idea of the full Windows OS on a phone could finially becoming a real thing. Until then I'll keep rocking my 950XL until it dies.

Yes def. listen to it, Brad actually said nothing of the sort, similar, but not exactly what he's saying.

Looks like nice device. Whatever they come to market with next, I just hope their is a smaller variant (about 5 inch screen) for those who don't like large phones.

Ok, so now RUMORED CANCELED phone is the news.
It is incredibly boring to read Windows/Microsoft blogs last year(s). Rumors and rumors and more canceled rumors :(

No need to speculate on the model number. Leads to confusion especially if there are other more-modern leaks. Nice we have RM-1162 go off of. I would have bought this phone!

Zac, wake up "would have went". I am sorry but couldn't resist !

Now THAT looks like a flagship! It's a shame W10m is in such a bad place because that would have been awesome.

Does it look like a flagship because of the metal back? Other than that it's very similar to the 950 line with the curved back inspiration from the 920. I don't get the desire for metal and glass shells when most people toss it into a case shortly after buying the device. The 920 had a plastic shell and it was a tank. I watched a video where a guy swung a 2x4 and hit the 920 like it was a baseball. The phone survived. Throwing it at point blank range onto a cement column finally destroyed it.

Yes it looks like a flagship because of the metal. But I totally get what you're saying though. I have an S7, all glass... and has to be hidden in a case... I do think the Lumia 950 looked like a flagship even with plastic. But metal and glass has a certain class that plastic doesn't have. But yeah the specs should be what counts.

Meh, once W10ARM was announced as only supported on 835+, an 820 would be DOA. This is why I haven't gone to the Elite X3 from my 950.

X3 is awesome, but I understand staying with the 950 because it's also a great device.

Just not enough benefit to cost over the 950, but yeah, it is an awesome device.

This is evidence that Satya nutela dosnt want to invest in mobile phones. Its his fault for failed of windows mobile!

It couldn't possibly be Balmer's fault for deciding to devote millions to failing Xbox consoles instead of investing in the mobile market. Nadella has been great for Microsoft. Their stock is higher than it was even at their previous peak in the late 90s. If the growth trend continues Microsoft stock could double its value by the end of this year or beginning of 2018 from what it was 4 years ago when Nadella took over. Their cloud services, O365, and Surface line have all been doing well. Sure their devotion to phones isn't great, but it never was even when Balmer was in charge. All we can do is hope that the Surface team can put out a solid device that can compete in the current market. It doesn't have to be the best thing out there right away. It just has to show that Microsoft is finally devoting resources to phones. I'm guessing we will get 1 phone a year in a small and large screen version. No need to try to hit the low end of the market like Nokia was trying to do. Do what the Surface Pro did and show the market what can be done and let their partners address the other market tiers.

Really? Wow, you are so sage-like.

I like the look of it. I Wold have jumped on this right away. Love W10M!

Lack of removable battery would be a downgrade from the 950. MS canceling these phones though completely killed Windows mobile. When Ms killed Mclaren it nuked the momentum that the Lumia 920 gave them and now nuking the 960 totally killed WM10. MS's lack of effort and support caused devs and OEM's to not even bother. If MS isn't going to support it's own mobile Platform why should anyone else? This points back to Satya for canning projects at the last minute without a back up plan. Satya also canned the Surface Mini days before it's reveal a few years ago.

Also if this thing had no QI charging that would have sucked, I have not had to plug my phone since 2012

Meanwhile...non-Qi phones can charge to 50% in 15 mins.

Qi charging - soooooo overrated.

Does anyone knows what is this device from video ? https://www.youtube.com/watch?v=FzEXoWJZypk

Nobody cares never hit the market

They should have pushed it to production imo. It would not have hurt is all I am saying...

Meh, exterior!? so oldish. So whats this phone can do to make people happy?

Microsoft Boardroom: Strategist 1: "Ok Guys, we need to do something crazy!" Strategist 2: "Let's design and create some flagships!" Murmur in the room. Strategist 1: "Good idea...but even Apple is doing the same and so is ScamSung." Intern: "Then why don't we...Create flagships AND NOT release them!" Silence in the room. LOUD APPLAUSE.

Then intern got promoted to CEO

Yeah, signs of Surface Phone....i cn see. On my lumia 640, windows 10 never freezes...build 15215...fast ring.

Why can't MS sell this prototype back to Nokia and let them build it for a small royalty?

Because Nokia wouldn't design something so ugly. Nor put its brand in it...or anything Windows Phone related anymore.

The new Nokia Smartphones arent'n good looking at all.

I own a 950 xl and guess what battery replacements are Not available in Australia. After nearly 2 yrs use it's unusable. Microsoft says that's the intended use by date. I'm really p****d that after spending nearly $1100 AUD, that I have to buy a new device. Fortunately I been able to revert back to my old little HTC A620e which is still running strong after all these years, without of course most of the apps it use to run, because MICROSOFT don't care about users of Windows 8.1. Were as Apple still support all the apps for folk that still use a iPhone 4s which can't be updated further from iOS 9.3.5.
What I'm really saying is that Microsoft abandons its real supporters. JC

You can order third party batteries online and have them shipped to you... If not reply to me and I'll ship you one after payment via PayPal, I'll buy it have it shipped to me in the USA then ship to you, i love my 950 would hate to see one go to waste.
-Derek

There are ways of getting a battery. Have you looked? Crazy to give up on the 950 xl. Great device.
https://www.repairmate.com.au/best-repair/microsoft-lumia-950xl/battery-...
https://batteryspecialists.com.au/stryka-battery-to-suit-microsoft-lumia...

eBay shows loads of 1520 batteries for under US$20. You ought to be able to get a battery direct from China, which is actually closer for you.

Running absolutely fine on lumia 640.... Build 15215.... inaider since July, 2015

It looks nice, although I'm not a fan of all the holes and exposed parts on the back :P :P

Jeezz so many plans were kicked

That is a great looking phone!!

Nice phone, but I'm more curious about the 'we'll have more to share regarding the future of Windows phone soon' comment. :)

Don't put up your hopes to high...

They can't go lower. :) So come what may. :)

If it is windows 10 s, then it should have the ability to upgrade to pro, or else cannot install Chrome.

The aluminum body looks good.

I just wanted an updated 1020 but settled for a 950. Oh well.

Let's hope they won't release this exact device under Surface line. It's really ugly.

P R O T O T Y P E .......

Always nice to have a weekly reminder that MS doesn't really care to keep us on the platform at this time. Just another "why do I put up with this?" reminder. Would be nice if MS had any interest in modern consumer hardware for mobile.

Add it to the list of let downs.

I prefer the design of my 950 XL with Mozo cover. Especially around the camera lens

950xl is super premium with Mozo. I try to explain to people that think metal/glass are 'premium' when the Alcatel, as an example, is so slippery and MUST have a case - therefore taking away from any 'premium' looks!!!!!!!!!!!!!! On the other hand the HP can be used with or without and still looks awesome. Love the 950Xl and so does my wife. She has been so happy with it.

Microsoft always much talk about his launching phone, but indeed, Microsoft gets totally fail in manufacturing phones because there are infinite faults in Lumia series which can't be solved in this centuary 😊

Ummm, my 930 is doing pretty well...

looks like usb port on the back. Weird

Fans definitely want another first party device but good thing it didn't release. Wouldve been a shame, again, to Lumia build quality and design

I just decided to leave the platform of Microsoft, and I advise to every one to come on Android platform because many peoples are in great loss including me by using Microsoft Phone 📱,
Can Microsoft assure us that his incoming device will be more advance than the existing devices ??
Do Microsoft take the responsibility of our loss?
Microsoft must concentrate on his surface and laptops

Go Away. MS is awesome. Why would I leave when my everyday phone - HP Elite is so Frigggggggin awesome??? Why? Does all that I need and so much more. Just a great device.

The "Northstar" name is interesting, considering the fact that it's still used for WM10 development internally. Looks like this is being used as a reference design, meaning the eventual "small pocketable cellular PC" (*cough* Surface phone *cough*) will likely bear some resemblance to this, seeing as how it's driving WM10 design.

I don't think it will at all - that's the point of changing the form factor from candy bar. This is what they left in the old world think, it's the reason for the delay - change of tact. Thank god!!!!

It's a working model. Have you seen cars such as the Land Rover models in disguise during the early stages - they look ******, but when they emerge...think about it Boo

Lumia 960 = iPhone 6ish, although it isn't far from a Surface class device, if they're using this internally, i wouldn't be surprised to see elements of this in their following devices 😜

The only thing that got my attention in the article is this sentence: "We'll have more to share regarding the future of Windows phone soon"

Okay guys, what do you know???? Come on, let us in you bastards ;) This thing looks okay, but it wouldn't have done much as far as change things for MS. The route they're going now is the best way. Some people can't see it because they are short sighted and refuse to look at the bigger picture. MS is right to stick to their guns. My HP Elite X3, 950xl, Alcatel are perfect in the mean time. Why would anyone want to leave Windows phone now? Why would anyone not be happy with one of the phones from MS or the OEM's right now? Even if they live in an area where they can't get them directly, the world is too connected now that such things matter that much. Trust MS. Nadella, despite what people think, knows what he's doing - has a plan and is doing VERY well. Any legacy problems shouldn't be blamed on him. It would be like blaming Obama for the US economy before and as he came into office - what a **** fight that was.

Always supporting the Microsoft team since 95, I dont see a reason to stop now. Will be waiting for it 😎

I don't know about the Full Specifications but as a Design and Materials looks Great.
I wish to see it in the Market soon in a Good Price.

Would prefer to have the back removable, but either way, it's very sad that these never got the greenlight.

I would buy this. I don't want tot change brands or OS. I want new Windows phone. That is all i have to say.

This is exactly what I need. :) Metal body Windows Phone with Microsoft logo, 5.5 - 6.0 inch QHD display. Metal body is only thing which I miss on flagship phone.

I bet that was going to be the best Camera at DXO MARK.

Looks pretty sleek, but not a fan of the camera placement, that's my only gripe from first glance. There are reasons why Nokia always placed it away from the edge - to prevent people from accidentally placing their fingers over the lense and to provide two handed + multifinger stability when holding the phone in landscape whilst recording - just two examples.

Felt the same when I saw it. Another change I would have appreciated is the Nokia style of camera design, continuing from the back into the glass. The metal rim feels android-ish, if I can call it that. Nokia designs were beautiful. May be we cab get the rumoured "Nokia 9" in a windows mobile variant - unless MS plans to change the OS in a bug way (64bit, windows on ARM or something similar)

Are people ready to admit that the biggest mistake Microsoft made was throwing away the nokia brand? Second biggest - Being stingy and not buying up popular apps or keeping anything exclusive on Windows Phone.

This pisses me off. I hate that there are no windows phones that i can readily purchase and then we hear about great designs like this.

I like it 👍 it seems pretty nice and cool 😎

Hopfully Microsoft is having this device's info leaked to see if there is interest's in a new microsoft made Windows smart phone. I use a Windows verizon 928 smartphone an oldie. I so want a new Windows smart phone on Verizon's net work. there are none on it as far as I know. I hope Microsoft makes one and stays in the game but it seems Microsoft's next move in mobile device's will be a 2 screen Surface "Mini" Tablet using an ARMS CPU and Windows 10 on ARMS software and have LTE. I will buy one if it comes out becaust it may be the closest thing to a new Windows smart phone Microsoft will make for some time to come

i dont know why MS is refusing to upgrade the nokia 1520 with killer chipset and all this latest gadgets. come to think of it why did they refuse to rollout the lumia 940xl code named mclaren?

You take the headphone jack off and I am done.
Windows Central Newsletter
Get the best of Windows Central in in your inbox, every day!
Thank you for signing up to Windows Central. You will receive a verification email shortly.
There was a problem. Please refresh the page and try again.