Have Windows 8.1? Pin the Windows Phone Central Live Tile to your Start screen!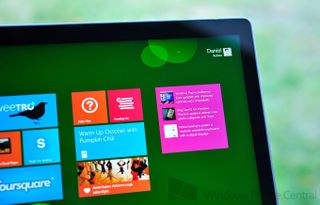 If you're like us, you've spent a good chunk of the day updating your PCs, tablets and Ultrabooks to the brand spanking new (and spectacular) Windows 8.1 OS. If you did, pat yourself on the back because we have a small, but cool, bonus for you troopers: The Windows Phone Central Live Tile.
Sure, it's not our official RT app, which is still in the works (you can bug Jay about it), but as runner up you can use the new Internet Explorer 11 "pin to start" feature, which will give you four Tile sizes: small, medium, large or wide. The tile is also Live, pulling directly from our site—think of it as another cool way to keep up to date on your favorite Windows Phone and Microsoft news.
The Tile will update every 30 minutes, giving you a peek at what's new on the site!
Instructions
Make sure IE11 is set as the default browser—at least to pin, you can always switch it later. To choose your default browser, just type in "default programs" on the Start screen and launch the settings.
Launch IE11 in Metro mode (not desktop) and head to www.wpcentral.com
Tap the Star icon (for favorites)
Hit the Pin button
Rename the Tile or just keep 'WPCentral'
Choose Tile size (you can always change it later)
And that's it!
The tile should refresh with our direct news feed and depending on the size you chose, it will have a slightly different layout. Oh, and if you're a fan of our other sites on Mobile Nations, including Android Central, iMore or CrackBerry, those too will be getting this feature soon!
Enjoy, from the Windows Phone Central team!
*If you've already been using the Live Tile, you should unpin and re-pin today as we switched from a slow RSS feed to a direct feed to our site
1. Hit the Favorites/Star button, then Pin icon
2. Select Title and Tile size
3. Move Tile to desired location, it should update with site feed every 30 mins
4. You can always resize the Tile later
Daniel Rubino is the Executive Editor of Windows Central, head reviewer, podcast co-host, and analyst. He has been covering Microsoft here since 2007, back when this site was called WMExperts (and later Windows Phone Central). His interests include Windows, Microsoft Surface, laptops, next-gen computing, and arguing with people on the internet.
Very cool feature of W8.1 and IE11.

This time WP Central gets to yell "First"!

+8.1 Very appropriate that WPCentral gets the feature first

I was about to say yeah an app!! But this will come in handy for me.

Same here but still this is pretty sweet and didn't know of this feature and I've been running the rtm for over a month now lol

There is an app look up windows phone central. It is limiting as its RSS.

Actually WPC has commented recently about an app.. They said that they are still trying to figure out the design of the app.. I guessing that with the amount of time they are spending developing the app it's gonna be really good..

Great way to show the customization that 8.1 offers

I did that exact thing and a big smile came to my face. You guys are on it!

Loving this. Hope you guys all like it too!

I had it only my start screen for a little bit but decided to take it off unfortunately...it has just to much pink...

Yes, the pink is unfortunate, but until we get the official AP for W8, I'm very happy with it!

Same here. Wish it was magenta.

I just did this on 3 device's, my Surface and my two Notebooks !! Love it :)

does anyone know if on surface rt 8.1 can you snap more than the two apps side by side??? i cant figure it out...

On Surface RT you can't. You'd need a Surface 2 because a 1080p display is required to snap more than 2 apps at once.

Cool that'll be enough until we get an app

Maybe by the time Windows 9 is released we'll get the WPCentral App. ;o)

Wait so this pin acts like an RSS feed for new news on the website? !!!!!!

Can this be done on any website or is there special code that needs to be done on the website?

How does it show the new articles?

<3 You Microsoft!!!


My guess is "special code" because in the article it says that this feature is coming soon to the other Mobile Nations websites. If it didn't require special code they wouldn't have to do anything for the other sites.

For developers http://www.buildmypinnedsite.com

Jay, I hope you're just not sitting around playing GTA5 man. Let's make that Win8 app happen bro!

Yeah! Any updates on that app btw? Is there a forum thread or something?

I was just looking for this yesterday in the forums, but couldn't find anything. A place for status updates on the app would be greatly appreciated!

I posted in the forums about it a very long time ago. I probably lost that thread, lol. Can't find it. I remember when Windows Phone 8 was released, Jay said he was working on updating the app to WP8, and that W8 would follow it, maybe a few months after the WP8 version. But it's been awhile, and I really hope it comes out soon!

I promise I'm not just sitting around playing GTA5 (although I have done a bit of that). I just moved into my first owned property and it's been a legal nightmare that's completely consumed my life until recently. Now I just need to sort out a few more things then I'll be back to making the Win 8.1 app :) In the meantime there will be a minor design refresh coming to the WP8 app soon

Jay had nothing to do with this ;) It was our amazing tech team, specifically Tom K.

We still want to thank Jay.

So this works whether you pin the full site address (www.wpcentral.com) or the mobile address (m.wpcentral.com). However, the pinned tile for the mobile site is limited to small or medium. Is there any way to get the extra large tile to work with the mobile site as well? I prefer to use the mobile site on my Surface, it seems to work better and fills the screen.

Cheers for the heads up Daniel, I shall be pinning immediately!!!

the 30 minutes limitations for live tiles also exists in windows 8?!

No, this is a Website integration feature of Windows 8.1, it's basicly just a RSS feed, it's not a real live tile.

So are you saying this is better than live tiles, in terms of update frequency?

"By default, the RSS feed of your website will be pinged once a day to check for updates. If that isn't frequent enough for your site, you may set it to update every 30 minutes, 60 minutes, six hours or 12 hours. Microsoft only allows updates up to every 30 minutes for now and not more frequently"

So yeah

So cool! I am totally surprised by 8.1 ... I thought it would be good, but not this good! :P

aaand that's nice, great job I love your app.

Very cool indeed! Jay where's the app man! :)

Where can I get the GDR8.1 update for my Windows 7.8?

you wil get Windows Phone Blue soon...

Can you explain how you did this so that other sites can do it also?

Microsoft has a post about this on one of their blog sites.

Check this out: http://blog.laptopmag.com/how-to-create-a-windows-8-1-live-tile-for-your-website?utm_source=feedburner&utm_medium=feed&utm_campaign=Feed%3A+laptopmag+%28LAPTOP+Magazine+-+The+Pulse+of+Mobile+Technology%29



Does the wide tile work on the Surface RT? I pinned it in wide but it isn't updating like the one on my laptop.

Yeah, my surface rt tile isnt updating either :/

Same, still not updating on my Surface RT.

Nice. Love 8.1 so far! Thanks for the tip!

This is really awsome guys!

and if you're a fan of our other sites on Mobile Nations,

no

including Android Central,

god no

iMore or

nope

CrackBerry,

uhh..

those too will be getting this feature soon!

please dont.

You're the winner of the lamest comment today! Congrats!

Honestly, ive visited the other sites. WP fans are more active on mobile nation. i think we deserve to be recognized for being this tight of a community. All love tho, wasn't trying to diss you Danny.

Hahahahahahahaha!!!!
Excellent!

Actually, this was funny.

It was what I was thinking when I read it

Haha-I'm luvin' it, I am :)

WOW! So cool!!!
Windows 8.1 and IE11 are GREAT!!!
Haters open your eyes!

Very cool feature! Hope the engadet site allows this as their windows app sucks

done and its sheer brilliance of w8.1 and MS...

Any ETA on the other sites, pinning the WPCentral one created a gap that needs to be filled. haha

ooo thats a great feature! Windows 8.1 Rocks :D!

Still downloadin that whopping 3 GB of update

Going to do this when I get home. You guys deserve a large live tile on my start screen. Thanks for the tip and keep up the good work!

So with this feature in W8.1, what do we need the app for? Or any app that provides news/site updates?

It might just be me, but after I changed my default browser to another one, the tile just doesn't update.

Yup, I noticed that too...bummer!

Lucky for me I never change my default browser. :P

Well I updated mine, now I have just keep getting errors saying that I can't sign in, its lots of a ability to connect to the internet. Other then that, oh its great !

A cool new feature I didn't know about. Thanks!

I noticed thus already but only in small size on the 8.1 preview

Needs Firefox love.
And I'm currently bashing me head, with all these folders in the WRONG places!

Great work guys. I can't wait to get this for the other mobile nations sites as well. It looks just like an apps live tile and I'll finally be able to stay on top of the other sites. Thanks.

Done! Thank you for the breather till the real thing comes along.

That's awesome! As soon as I finish doing my updates I'm setting that up :D

I have now pinned WPcentral to my start screen, only time will tell if it stays there.

There is an app in the store that targets your RSS feed.. Just saying..

Very cool. My first pink tile. Lol.

Nice feature! I'm guessing it can be done too with the Metro version of Nightly Firefox 64 bit build?

Wow, thanks.
I didn't know this feature exist in Windows 8.1.
I'll start playing around with this, maybe with my pulse.me webpage.

Thats pretty cool. I didn't know about this feature.

This has been working on my preview version of RT 8.1 for a few weeks now. Very cool and the only site I know to do this. Innovative

No offence, but can we do away with the pink?

If you used fiddler you could :D

any ways for people who want to do this on their own site fear not its as easy as pie.
http://www.buildmypinnedsite.com/en

Awesome!!! It would be nice if this feature gets ported to upcoming WP8.1. The current pinning feature on WP sucks, only showing a brief thumbnail of the website (actually, I don't know if this screenshot on the tile updates too because my eyes aren't good enough to zoom and look for updates. LOL) I've been using IE as my primary browser since W8 came out so this is a thumbs up from me. Great job MS!

This is AWESOME. Very very cool functionality.
I'd love to do this for my company website... could someone message me with the steps/a guide for giving a website Live Tile functionality?

Wait a sec... how do I start IE in Metro mode? When I click on "Internet Explorer" it automatically launches the desktop mode.

Go in to internet explorer settings and there's an option in there somewhere, not at mu pc at the mo

Thanks.. thats pretty cool... live tile?

Excited :P...yes live tile working :)

What a breeze. Installation went as expected. Good work MS. This afternoon im going to play with my new baby. I think that its going to be an adventure, challenge. Unlike OSX and IOS, its for people that lacks the ability to have fun. Everything must be there, given to them on a golden plate. Ha ha haa

hrmm.. the pinned WPC tile does not show anything for me other than the logo :(

Same here, I even made it the biggest tile possible cos I was happy for this kinda thing, now all I have a big ass pink logo on my start screen lol.

haha same.. but i kind of like the pink now lol

Same here. Not updating. Anyone with a usefull suggestion?

Yeah it's not working for me either. Un-pinned and re-pinned, even restarted and doesn't seem to work.

i'm now waiting for a new post on WPC and maybe it will kick in then

well i bit the bullet and rather than do an upgrade i did a clean install from Windows 8.1 ISO and i've got the tile updating, skydrive works again and its even integrated back into the file explorer navigation pane like it should have been in the first place

"you've spent a good chunk of the day updating your PCs" - yeah, I'll spend all weekend now to recover my PC from this garbage update. I have a feeling that somewhere in MS team they have Apple guy who makes sure that every update is just a nightmare and people will think to switch to Mac

Yeah but what really happened?? because the update went flawless with me.


It damaged me SSD, for some strange reasons repartitioned it into two partitions and marked one as RAW file system. I was upgrading from Windows 8 via Store download. Everything was installed (apparently) and after several reboots it stuck in some settings, then 40 min later rebooted and died. Hardly was able to recover data from that RAW partition.

Well, the poor fanboi didn't ruin it for everbody, cause it worked like butter for my two computers.

Why some imbeciles always write word fanboY incorrectly?

because when your talking aboit Apple, its spelled 'fanboi'

Sadly, I've already been on that side, and on the BB side, bit WP7 took care of that for me, and i haven't looked back.

me too it doesnt update ???


That's the cool thing with Windows 8, if there is no 'app for that, just pin it!' I use pinning lots of times to make up for the lack of apps.

Why isnt it possible to do that with the desktop version?! -.-
It lets you pin sites to start, but they dont get a live tile. I set the dektop version to default....

Ok so its not possible on Desktop ???
having 2 big death wpcentral tiles waiting for signs of live.


Is there a trick to get the live tile to actualy update? I did this and just have a giant Pink logo - no updates. Is there something stupid I am donig wrong or a setting some where I should be checking?
I am on 8.1 for Surface RT

I am wondering the same thing. I followed the directions and have a giant pink box with no updates. Surface Pro, 8.1

Live tile is not updating.

Why don't you just make an app for Windows 8/8.1 your always banging on about the lack of apps to that platform and Windows Phone 8, so instead of doing things the cost free way Make an App!!

Daniel, is this your way of saying you're too lazy to make a proper Windows 8 app? :-p

This has been pinned for a day now, and it has yet to update...

I did a factory reset and reinstalled W8.1 due to myriad issues on my Surface Pro (mostly to do with IE11)... Live tiles weren't working before the reset and STILL aren't working after. I'm just going to wait for some (hopefully quick) bug fixing updates.

(Its as reliable as a WP8 Live Tile, hah. Darn things have never worked for me).

Not updating on either of my two systems. Surface RT 8.1 and a Win 8.1 Pro in Hyper-V.

Took a couple of days, but the live tile started flipping eventually...

Echo others - great feature but i have a big pink box with logo for hours without any news or updates :(

I don't even get a logo... just a pink square with the title I gave it in the corner. Odd. Sounds like a good feature, if it worked for me. 8)
(EDIT: deleted, cleared IE's cache, and re-pinned... at least have the logo now, and if I right-click the tile, I have the option to "turn live tile off", which I didn't have before. Maybe it'll take some time for the stories to show up...?)

So whats happening here ?


Can't wait for Surface Pro 2!! With W 8.1 it will be epic.

Yep, the live tile feature for WPC is clearly not quite operational yet. Perhaps tomorrow? I am looking forward to it.

When I first pinned the WPCentral site to my start screen yesterday, the live tile worked. But today, like so many others have posted, it's not updating. Tried unpinning and repinning several times and tried different tile sizes to no avail. All I get is a pink tile with the WPCentral logo. What gives? Any comment from the editors about this? Is there a fix? Weird that it worked yesterday, but is not working today.

Tried a few times, it definitely isn't working for me either.

Pinned it yesterday, hasn't updated since. Have tried unpinning and repinning today, hasn't worked either. Other web sites with the live tile feature work. Strange.

Care to list some sites that have live tiles?

Yes, can you please list the sites.

Sadly I can't get this to work. Did exactly all the steps, but I just have one big pink WP icon with no news in it... re-pinned it, but no luck. No news is appearing and 3 hours have passed :(
Oh well... guess I'll just have to wait for the official app then.

It's not working for me either. Just for the heck of it I went to ESPN.com and tried it there and as soon as I went back to my start screen the latest headlines showed up, so it appears to be a WPCentral issue.

Wow! What an awesome pink dead tile! Does this represent the future of Windows based OS'es?

not working but ESPN.com works fine as ProfessorTripp said.

I hope other tech blog sites follow suit specially Engadget as their Windows 8 app sucks really bad.... keep it up WPCentral but hurry and please release your app soon :)

Ok did that, thiss is probably better then your actual app for w8.1 Maybe it;s time to make it just as good as your phone app? ;-)

Looks cool, but mine isnt showing any info in a Large tile? ive had it on now for days, still nothing showing.

Mine stopped updating after 8.1 GA, was working on 8.1 RTM. I'm sure it will be up again soon enough.

I've done everything you've said but it still doesn't work =/ it's just one very big tile!

still nothing happening for me, either.. while other sites update just fine :( nevertheless, you're tile (photo) looks best!

I guess the 'Live Tile'is too shy: everything around it is flipping gtoo much.

The tile is not live and not updating as shown, any comments?????

well...they did mention in an update of the article that they switched from a slow RSS feed to a direct feed to the site so that must be the problem...something went wrong ....i am sure they will fix it eventually
the slow RSS worked for me but now it is dead :P

Not sure why, but my live tile is not live, maybe because no new articles are live?

sounds like a very cool feature, unfortunately i tried pinning the tile to the desktop, but there is no live feed...

it happened to me too, no longer live tile showing

I have also tried a couple of times, but no go (:

mine has just started working! :) long may it continue

O M G !!!!!! its working :)

Yes it must of corrected the problem today.. If anyone who misses the the bing search app that was in windows 8 you can now pin the website which give live tile functionality.

Nice thanks for that tip. Didn't think I would miss that tile as much as I do.

BTW my WPCentral tile is working again too. Woohoo

I have 8.1 and for some reason my tile is not live :( ... Any ideas?

Thats a pretty neat feature in Windows 8.1

I honestly prefer this to a native app for sites like this and Engdaget. Been using this live tile for a few days now, nice and quick access.
Windows Central Newsletter
Get the best of Windows Central in in your inbox, every day!
Thank you for signing up to Windows Central. You will receive a verification email shortly.
There was a problem. Please refresh the page and try again.