Pinball FX2 launching today for Windows 10, cross-buy with Xbox One version coming later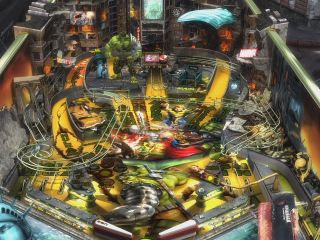 Developer Zen Studios has announced that the Windows 10 version of their popular Pinball FX2 game will launch later today in the Windows Store. The new version was previously announced in March at the 2015 Game Developer Conference.
Zen Studios says:
In March, Zen Studios said that Pinball FX2 on Windows 10 would support cross-buy with the Xbox One version of the game, allowing people to unlock the game's DLC tables on the console so they can be played on the Windows 10 version. However, it looks like this support is still in the works:
Download Pinball FX2 for Windows 10 from the Windows Store (Free) (opens in new tab)
Source: Zen Studios
Windows Central Newsletter
Get the best of Windows Central in your inbox, every day!
Whoo-HOO! Pinball, baby!!! =D

Want it in windows phone 8.1

But what about the windows 8 version and the tables that I bought?

I'm wondering that too. So I'm downloading it now. We'll know soon!

Well, apparently I'm expected to pay for my tables again? What's up with that?

Over on the Zen Studios blog they write in the comments "Anyone with issues with Win8/Win10 tables should email support@zenstudios.com :) " I'll definitely do that later today and hope to upgrade smoothly to the new app. Would be especially excited to see this as a universal app that I can play on my phone when win10 is out.

Anyone notice suddenly its missing in xb1 version

You're linking to the Windows 8 version and not the Windows 10 version. Here's the correct link.

So not for Windows Phone?

Not available here in Brazil, and not in Windows Mobile neither...

Hopefully a universal app version follows..

I gotta do this on my XB1, I bought a few tables on my old Xbox360

Crashes and crashes and crashes...

News ,weather,health and even lumia help+tips

where are my tables i had on windows 8... GRRR

Great so even though I own every table on the rt version I would need to rebuy it for w10 that's the problem But at least they see the issue and would like to fix it from here forward

Man, the game looks messed up..

If u wanna your tables restored email support at zen studios.

Cool. I have tables on the xbox one. Glad I don't have to pay again!

Still bummed the 360 tables never synced over to Win 8/RT - not going to buy additional tables and now we have a situation where I can play my own tables on the 360, play tables with ads on my RT and then buy tables again on Win 10. Just sync the lot!