GDC 2015: A look at Pinball FX2 on Windows 10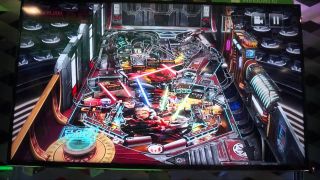 Pinball FX2 is one of our favorite games on Xbox One and Windows 8. Last week at GDC 2015, Microsoft announced that it would be coming to Windows 10 devices. So we went to a show floor to play it for ourselves on Microsoft's new operating system.
Pinball FX2 is developed by Zen Studios and has seen a wide release on multiple consoles. The game features tables from some of your favorite franchises such as Star Wars, Marvel, Plants vs. Zombies, and more. The game is free-to-play but allows you to pay to unlock more tables.
The guys from Zen Studios just recently released a new pack of tables (Iron and Steel Pack) for the game that aren't based on of big franchises. Instead, they looked to some of their other IPs for inspiration on the new tables. The Iron table is based on Wild West Rampage while the Steel table is based on of CastleStorm.
Pinball FX2 for Windows 10 will be preloaded onto Windows 10 devices just like it is on Windows 8 machines. As for when it will launch? Well that solely depends on when Windows 10 is RTM.
Windows Central Newsletter
Get the best of Windows Central in in your inbox, every day!
Well, I want it for the phone...universal...I bought enough tables.

Any word on if this will come to the Technical Preview/Consumer Previews prior to the Windows 10 launch?

Don't think so. I think they're saving all the games for launch. But who knows what they really have planned.

It looks like it's already been updated with the above features on Windows 10 preview, but the only features I can see that's different is the ability to play all the tables free with ads and crossbuy with Xbox One which sucks for me because I bought all the tables on 360. Otherwise, it's the same game it was since Windows 8.

Pinball FX2 has crossbuy between XBox 360 and XBox One, so you can bring all your purchased tables with you to XBox One. That said, you should have full cross-buy between XBox and Windows (if not already, then soon).

Alright, I figured something out. I was able to re-buy Pinball FX2 and the tables I already owned from the Xbox website without needing an Xbox One (It reported those tables as $0). The Windows 10 version of the app doesn't appear to see your collection yet but it won't let you buy tables from it either. Anyway, hope that helps anyone else that's confused.

So will it launch on mobile too?

Define mobile :D You have phone and tablets... Unless I missed it, I didn't see/hear any mention of it being a universal app which would lead to it being installed on the phone.

I believe it is a universal app actually... But that still leaves it up to the devs to decide which devices to support.

They will be, pc laptop tablet & phone will all be able to cross platform, with xbox one on multiplayer live without having to subscribe to gold. You can even stockpile Xbox one games without having a Xbox one. Things are changing quick.

it is always nice to play a good pinball game like this. and it will receive a nice boost if I play whenever I want but with the same content without paying extra fees. this sounds great and I can't wait for this to come to windows 10.

seems i'll have to buy my dad a w10 tablet once its out. he'll definitely like it. he's still on xp...

He can upgrade to Windows 10 for free!

I thought only Windows 7 and 8 users can upgrade for free?

Yea I got my info mixed up. Sowwy :/

A stupid question Does it mean windows 10 phones too ?

We will find out soon enough..

So what's the difference between this and the current 8.1 version, besides cross-buy ?

When you say Windows 10 devices does that include phones? I've been waiting for mobile Pinball FX2 since they showed it off a few years ago.

Please refer to my comment below

No, refer to my reply to his comment... Not that that will awnswer your question, because WC is really the one who needs to awnswer this... From anyone else it's just speculation.

Will it be preloaded on WP10 devices❓
..........
It's just that if it's not then I can see this "on W10 devices" thing getting frustrating... I still would like a separate breakdown of availability until we are sure this W10 thing is gonna play out as we assume it will.

It is up to developers. There's no confusion whatsoever. If they don't specifically say Windows 10 Phones we can assume otherwise. Besides they haven't even publicly announced that games can be played on W10 and W10 phones. We just have the inside scoop

No, MS has publicly announced this.. They did starting at Build 2014, then again at the W10 event, and just last week at GDC... Those are official announcement's....
........
And, I'm talking about WC coverage, and how they mention what's available on W10 devices... That is not clear in this article, and from time to time hasn't been clear.. The developer only determines what is compatible... I'm talking about the way WC relays information to us, until everything sets in.. You use the word assume in your explanation... That is exactly what the guy above, and I, are tired of doing... Lol. If WC doesn't yet know exactly what devices certain apps will be available on then we would appreciate it if they would also relay that information..

Microsoft said that it's up to Developers. There's no way to get around that. Everything that has been announced so far is strictly windows 10 PC. I've heard no announcements regarding games for Windows 10 phone.

You're on a different topic.. You don't understand what we're getting at.. Nevermind.

I do but the bold statement is that all announced titles are only for Windows 10 PC nothing has been announced for Windows 10 phone. They can potentially come to Windows 10 phone but that's all up to the developer. We will find out more in the future. Hopefully.

Ooooooohhhhhhhh.... I see what you're saying... Yeah, you're right on that....
........
But, certain articles lately can be misleading... Nevertheless, you're right.. No reason to be confused here.

Looks same as in Windows 8

What I want is this in my phone, I really hope it will also be available for windows 10 phones and with a ability to sync with your PC version.

If it is available on phone then it will have that ability. Any game that is on multiple platforms allows you to carry your save data around from device to device.

If it syncs tables that I purchase across devices I will by some.

2015 and we are still amazed with pinball?!
Windows Central Newsletter
Thank you for signing up to Windows Central. You will receive a verification email shortly.
There was a problem. Please refresh the page and try again.