Play over 50 upcoming ID@Xbox games and Halo 5 at Microsoft's headquarters on Aug. 27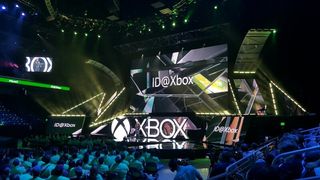 Microsoft is opening its Redmond, Washington headquarters up to the public, and specifically to Xbox One fans, on Thursday, August 27. That's when it will hold its Pre-PAX Prime Open House, where it allow gamers to go hands on with over 50 Xbox One games from the indie-based ID@Xbox program. There will also be the chance to play some of Halo 5: Guardians as well.
Here's what Xbox One fans can expect when they show up, according to Microsoft's Larry "Major Nelson" Hryb:
The event is happening the day before the huge, but sold out, PAX Prime gaming convention in nearby Seattle. However, Microsoft's event is free to attend for anyone, even if you don't have a PAX Prime ticket.
The event will happen from 5-9 p.m. local time at the Microsoft campus in Building 92, located at 15010 NE 36th Street in Redmond, Washington. Parking will be available for free on the campus for people who are driving directly to the event, and Microsoft will also be providing complementary buses that will shuttle between the campus and the Washington State Convention Center in downtown Seattle starting at 4:30 p.m.
Here's the full list of ID@Xbox games that will be playable at the open house:
Afro Samurai 2: Revenge of Kuma Vol. One – Redacted Studios
Anarcute – Anarteam
Aritana and The Harpy's Feather– Duaik Entretenimento
ARK: Survival Evolved – Studio Wildcard
Below – Capybara
Beyond Eyes – Tiger & Squid/Team17
ClusterPuck 99 – PHL Collective
Cuphead – StudioMDHR Entertainment Inc.
Dungeon League – Achebit/Surprise Attack Games
FAT CITY– Heavy Iron Studios
Full Mojo Rampage – Over the Top Games/Nicalis
Gate of Memories – Anima Project/Badland Indie
Guns, Gore, and Cannoli – Crazy Monkey Studios
Gunsport – Necrosoft Games/Iron Galaxy Studios
Happy Dungeons – Toylogic Inc.
Hue – Fiddlesticks/Curve Digital
Ironcast – Dreadbit/Ripstone
Ittle Dew 2 – Ludosity
Knight Squad – Chainsawesome Games
Layers of Fear – Bloober Team
Lovers in a Dangerous Spacetime – Asteroid Base Inc.
Mekazoo – The Good Mood Creators
Mimic Arena – Tiny Horse Games
Never Alone – Upper One Games/E-Line Media
Party Hard – Pinokl Games/tinyBuild Games
Phantasmal – Eyemobi
Pinball FX2 – Zen Studios
Pit People – The Behemoth
Pixel Galaxy – Serenity Forge
Riptide GP Renegade – Vector Unit Inc
Rivals of Aether – Dan Fornace
Slain! – Wolf Brew Games/Digerati Distribution
SpeedRunners – DoubleDutch Games/tinyBuild Games
Starpoint Gemini 2– Little Green Men Games
Super Dungeon Bros – React Games/Wired Productions
Swordy – Frogshark
The Banner Saga – Stoic/Versus Evil
The Flame in the Flood – The Molasses Flood
The Hole Story – Girls Make Games/LearnDistrict
The Little Acre – Pewter Games Studios
Through the Woods – Antagonist
Tumblestone – The Quantum Astrophysicists Guild
Videoball – Action Button Entertainment/Iron Galaxy Studios
Warhammer: Vermintide – Fatshark
We Happy Few – Compulsion Games
Zarvot – SnowHydra Games
Source: Major Nelson
Get the Windows Central Newsletter
All the latest news, reviews, and guides for Windows and Xbox diehards.