Plex adds TV DVR support for people who own HDHomeRun tuner devices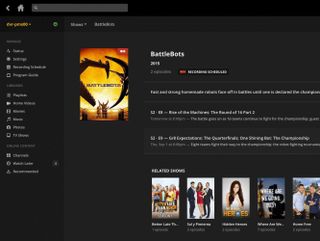 Plex has announced a new feature for its media sharing app service that adds over-the-air and cable TV DVR features. The new support is used in conjunction with SiliconDust's HDHomeRun digital tuner devices.
Plex's press release offers a quick look at its features, which are currently in beta:
Play from Any Device: A true media hub, Plex allows you to play any recorded content on virtually any device, consolidating and organizing your DVR recordings with all your other media (music, photos, and videos). Recordings may be watched on dozens of platforms, while media can be viewed, organized, and played from a consistent, clean interface no matter which device you're on.
Rich, Easy-to-Navigate Interface: Plex makes information on your TV shows, movies, or sports look beautiful by automatically adding movie posters, plot summaries, cover art, and descriptions. The Plex experience also includes enhanced extras for recorded TV content, including show descriptions, episode synopses, and season information. Plex organizes everything you record, making it easy to find what you want to watch.
Discover More of What You Love: Plex DVR provides a rich a program guide for all your favorite channels, including ABC, NBC, CBS, FOX, CW, PBS, CBC, BBC, ITV, Telemundo, Univision, and many more. The programming guide also highlights content for you, like "News," "Sports," "Premieres," and "Upcoming Favorites." Plex even recommends upcoming broadcast TV based on your viewing habits and content you already have in your Plex libraries.
Easy, Intuitive Setup: Unlike the typically complex and fragmented software that cord cutters need today, Plex replaces the bland electronic program guide, and eliminates the need for DVR recording software, automatically identifying and integrating with tuners and antennas.
The new DVR feature is available for customers with a paid Plex Pass subscription, which costs $4.99 per month, $39.99 per year, or $149.99 for a lifetime subscription. Plex currently has a Windows 10 app, and is in closed beta testing for a Windows 10 Mobile version. The company plans to add DVR support for more digital tuners from other companies in the future. You can purchase SliconDust's lineup of TV routers at Amazon, which include two that support over-the-air antennas and one with cable TV support.
Get the Windows Central Newsletter
All the latest news, reviews, and guides for Windows and Xbox diehards.