Plex adds TV DVR support for people who own HDHomeRun tuner devices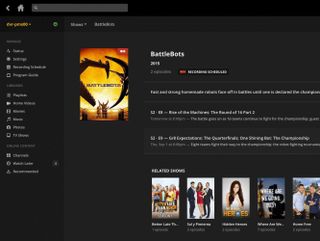 Plex has announced a new feature for its media sharing app service that adds over-the-air and cable TV DVR features. The new support is used in conjunction with SiliconDust's HDHomeRun digital tuner devices.
Plex's press release offers a quick look at its features, which are currently in beta:
Play from Any Device: A true media hub, Plex allows you to play any recorded content on virtually any device, consolidating and organizing your DVR recordings with all your other media (music, photos, and videos). Recordings may be watched on dozens of platforms, while media can be viewed, organized, and played from a consistent, clean interface no matter which device you're on.
Rich, Easy-to-Navigate Interface: Plex makes information on your TV shows, movies, or sports look beautiful by automatically adding movie posters, plot summaries, cover art, and descriptions. The Plex experience also includes enhanced extras for recorded TV content, including show descriptions, episode synopses, and season information. Plex organizes everything you record, making it easy to find what you want to watch.
Discover More of What You Love: Plex DVR provides a rich a program guide for all your favorite channels, including ABC, NBC, CBS, FOX, CW, PBS, CBC, BBC, ITV, Telemundo, Univision, and many more. The programming guide also highlights content for you, like "News," "Sports," "Premieres," and "Upcoming Favorites." Plex even recommends upcoming broadcast TV based on your viewing habits and content you already have in your Plex libraries.
Easy, Intuitive Setup: Unlike the typically complex and fragmented software that cord cutters need today, Plex replaces the bland electronic program guide, and eliminates the need for DVR recording software, automatically identifying and integrating with tuners and antennas.
The new DVR feature is available for customers with a paid Plex Pass subscription, which costs $4.99 per month, $39.99 per year, or $149.99 for a lifetime subscription. Plex currently has a Windows 10 app, and is in closed beta testing for a Windows 10 Mobile version. The company plans to add DVR support for more digital tuners from other companies in the future. You can purchase SliconDust's lineup of TV routers at Amazon, which include two that support over-the-air antennas and one with cable TV support.
See at Amazon (opens in new tab)
Download Plex from the Windows Store (opens in new tab)
Windows Central Newsletter
Get the best of Windows Central in in your inbox, every day!
Very interesting. If they make the DVR work with Ceton InfiniTV tuners, it may finally be the Windows Media Center replacement we diehard WMC lovers have been waiting for...

This! A million forty-eight thousand five hundred and seventy six times this!

Iask them the same question on twitter and they claim they have nothing to report.

Silicon Dust's HDHomeRun DVR service relies on their current models of their tuners (Extend, Connect, and Prime), and it doesn't work with any other tuners (even their older models). It sounds like this Plex DVR is based on the HDHomeRun DVR API's. Ceton is either going to have to come up with their own DVR solution or work with Plex separately to implement something like this for their tuners.

Thank god, I love plex, have been excited to be using my hd home run prime more now that they have been working on a windows 10 app, this makes it a 100 times better!

And they just stopped supporting my NAS with new builds.....So either I have to load it on PC or buy a new NAS.....yay

I'll pass. I'm not paying per month or lifetime for OTA DVR.

Does this work with regular coax cable, no digital cable box?

If your cable provider supports ClearQAM (unencrypted digital cable), the HDHR tuners would work for you without additional equipment rentals. In my area, Cox just switched to all digital cable signals, and in the process began encrypting local channels. For me, this means that a CableCard rental is required to decrypt all channels, but it is only $2.99 per month for the equipment rental.

Currently I have the coax plugged directly into the tv. I beleive the signal is digital but only the local channels are HD. Would a ClearQAM plug directly into the HDHR tuner?

Any digital channel that your TV can receive straight from the wall is going to be unencrypted. ClearQAM is a term describing that unencrypted signal. Click the link for more information about ClearQAM. The HDHomeRun tuners would be able to receive and record any digital signal that your TV currently receives connected directly to the wall as you described.

The HDRHomerun works with just the coax for clear QAM channels. For the other channels (premium channels) you need to get an mcard from your cable company.

This is amazing!!!!! I have been waiting for this for so long.

Plex accomplishes what Microsoft could not. This is great to hear after the garbage of putting the DVR on hold for the Xbox One.

Hopefully they can bring this to Hauppauge tuners and the XBox One!

The Silicon Dust HDHomeRun plugin works great on Kodi as well. They also have a UWP app so that I can watch TV directly on my computer or phone. Silicon Dust directly offers DVR subscription service. I have it installed on my NAS and can schedule recordings from Kodi or from my phone or PC app.

Hmm, per the press release, this is only for non-DRM content. So not a replacement for Windows Media Center yet. :( From the Plex press release linked on this article:

For those who are not ready to completely cut their cable, Plex also supports non-DRM CableCARD channels on the HDHomeRun PRIME network attached digital tuner.

I saw "TV DVR Support" and got excited for a minute. But no... :( When will OTA DVR come! This is the whole reason I bought the Xbox!

Seriously disappointed in Ceton's lack of doing anything after being first to market. SiliconDust appears committed to continuing to give consumers something that works after WMC died. No idea what Ceton's doing. Wishing I had gone with SiliconDust instead of Ceton more every day.

I love Plex, but they really need to work on getting their local media to work better. My NAS blows it away and that's with a super old version of Twonky. Problem is, my Tivo doesn't see my NAS so I am using this for now.
Windows Central Newsletter
Thank you for signing up to Windows Central. You will receive a verification email shortly.
There was a problem. Please refresh the page and try again.