Subscribe to Pocket, Evernote, Wunderlist, and LastPass for just $60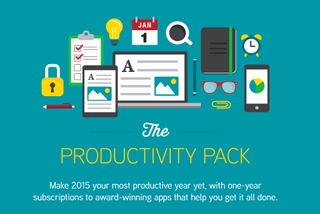 There are a number of popular productivity subscriptions many take advantage of, but for a limited time only, you'll be able to gain access to a bunch for just $60. Evernote, LastPass, Pocket, Wunderlist and the New York Times have teamed up to launch the Productivity Pack, a promotional bundle that includes subscriptions to each service at a discounted price.
The bundle itself will see you save 68% on the combined total of $185 for the one-year subscriptions. Apps are available for iOS, Android and Windows Phone, so this offer is well worth looking into if you use a service or two. Included as a free bonus is an eight-week digital subscription to The New York Times, opening up access to the main website and available smartphone apps.
This offer ends on February 13, 2015. For more information on and to purchase The Productivity Pack, head to the site linked below and take advantage of this limited time price.
Source: The Productivity Pack
Windows Central Newsletter
Get the best of Windows Central in in your inbox, every day!
Rich Edmonds was formerly a Senior Editor of PC hardware at Windows Central, covering everything related to PC components and NAS. He's been involved in technology for more than a decade and knows a thing or two about the magic inside a PC chassis. You can follow him on Twitter at @RichEdmonds.
OneNote is free and better than evernote

Well Evernote is substantially better on other platforms ...

Kind of irrelevant for us though, don't you think....
We all use Windows Phones, and presumably Windows PC's. So why use the inferior Evernote given our device choices?

Inferior is subjective. Maybe someone had different preferences than you do. Besides, Evernote is one title in this bundle. One could not use Evernote and still find value.

Pocket isn't even available at all....
So that's two parts of the offering that are not relevant to most of us :).

I use Pouch and LaterMark on Windows Phone. And actually both are universal apps, so I use them on Windows 8.1 also. However, I dont have a Pocket subscription, nor do I plan on paying for one. I kinda prefer the way Microsoft Reading List works, and i don't use offline reading which is the big selling point of most Pocket clients.

Poki is great client for pocket. And i use Evernote than OneNote.

I use both. I find Evernote I just simpler for simple notes and web clips. I use OneNote for stuff like class notes or more complex notes.

What's the advantages of using Evernote as simple notes compared to OneNote? As I'm using OneNote for both class and simple notes.

I think it's just because I got used to Evernote's web clipper and simpler organization. I just want a list of my short lists, or web clips and bookmarks sometimes, divided by categories/notebooks. OneNote has notebooks, sections, dividers... No doubt that OneNote is more feature filled though. I just starated using Evernote first and haven't had a reason to switch to OneNote for those things (even though I use all MS products/services).

The best app in this pack is wunderlist. But all nice features already come in the free version. So no thanks.

The only app i ever paid for was Swiftkey when i was on Android. This seems kinda pricey. No thanks. Im cheap.

Just don't write "reviews" begging for free versions. Please.

When I was on android, I bought one app as well, Swype. That tells you something about their stock keyboard.

Well, app download reminds me that I am getting London update of subway surfers again yet the last updated shows 4 dec.Weird ???

So obviously my seem faster comments are duplicates .... Oh well great article.. Seems like a blistering fast deal :-) Posted via the Windows Central App for Android

That is a lot compared to £4.99 subscription for fluid project and time management from eclipse manager: Windows Store: https://www.windowscentral.com/e?link=https2F%2Fclick.linksynergy.co... Windows Phone: http://bit.ly/1AT1YVB

You lost me at New York Times.

Completely useless pack. I woudl buy Forza Horizon 2 for that price.

It's not useless, for some people video games are not at the top of their priority list.

Then their priorities are wrong.

Wait, there's a Pocket app for Windows Phone? All I can find (and have used for a while) is Squirrel.

Guess they hoped we wouldn't notice... :). Personally use Reading List for my bookmarking needs, no desire to use 3rd party apps for services that don't support WP.

"Windows Reading List" right? That's what I found in the store.

Poki is incredible and a Windows 8.1 Poki coming soon! But I also use Reading List. Namely if I wanna share a link to another device. Pocket (Poki) is more for things I wanna archive.

Pouch and LaterMark are good.

Those are all good apps but OWL READER is the best. The only downside is that it's only for WP.

$60 is still a lot. Anyways, my needs are already covered. Only thing I need from the list is LastPass, and I already have premium subscription till 2019 (if I remember correctly). Plus I can still get extra 2 years for referring :D

Great package for professionals.

I don't trust evernote or wunderlist with my data. I barely like pocket but it's too useful for me to drop totally.

Why would any one wasn't this when office 365 personal is $70 a year, you can do office on Apple and soon Droid as well. Plus it gives you unlimited cloud storage and one note (full desktop version) kicks Evermotes but

I came to say the same thing.

60 bucks for premium? Not bad if you use those services. I roc LastPass and Wunderlist. Not yet sure if I want to spend 60 for just those. Check that. I am sure I don't want to. Are they offering a-la carte?

Paranoid about security, so no thanks on LastPass. OneNote/Cortana are far better than EverNote and Wunderlist - especially the way they integrate with other Office apps to max productivity. The awesome thing about Reading List is the seamless integration with Windows 8.1 desktop. As for the NYT? The only thing of any value is the crossword puzzle. $60? I think I'll buy a couple of Treasure Tags instead.

I agree with your summary. MS is imperfect as far as security goes, but I trust them far more than these others!

I use OneNote. I've tried Wunderlist, and it's well designed. I like it alot but the last thing I need is another task/todo list. I wish Wunderlist good luck going against the likes of Trello.

What is Trello compared to Wunderlist? What I found in the store was Mytrello. Is that what you are talking about?


Trello is essentially a to-do list web app. Popular with people doing Agile and Scrum. See http://www.trello.com. Trello has an official Windows 8 app, but doesn't have a WP app. Treyo! is the unofficial app on Windows Phone. I use it because people at work are in love with it. I think it sucks however.

Check out onenote's integration with outlook, real-time collaboration for meeting notes, and sharing notebooks... One tool. Extreme versatility. Co-workers will be blown away.

Ahh ok. The website images look pretty good but no WP app yet? I wonder and hope they are working on one. I wasn't that aware of this but I'm going in to take a closer look.

Windows Central Newsletter
Thank you for signing up to Windows Central. You will receive a verification email shortly.
There was a problem. Please refresh the page and try again.