Podcatcher Review - Catch your podcasts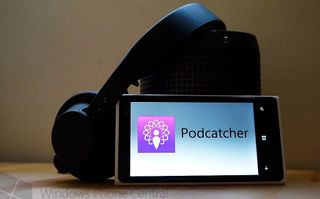 Windows Phone has a little problem for those of us outside the USA, it will not allow subscribing and downloading podcasts from the handset. Like any problem it has spawned a solution, when it comes to podcasts 'many' solutions. One of the latest to tackle this issue is Podcatcher, it has been on the market for only a short while but since its release it has been the subject of many rapid fire updates.
As of yesterday the app had been bumped to version 2.0 and with it comes a long list of changes and improvements. We thought it was time we took a closer look at this podcasting newcomer to see how it stacks up. Could this be your ultimate podcasting solution? Read on..
If you are a fan of podcasts then you'll need to find an app that will help sate your thirst for new episodes. Podcatcher is designed from the ground up to allow quick discovery of popular podcasts and the painless ability to subscribe and download quickly. Also, like any good podcast app it will remember where you left off in a podcast so that you don't have to worry about finding your place again.
Setup
After you have downloaded the app to your phone from the Windows Phone Store you'll be presented with a rather blank Subscriptions page. You are invited to add some which you do by pressing the little + button at the bottom of the screen. The first page you are presented with is a listing of 'popular' podcasts.
Subsciptions, adding a popular podcast, searching for one..
If you see nothing that takes your fancy from that small selection then you can ignore these, swipe over to the right and you'll be presented with a search box. You can search for the name of the podcast if you know it or just use a keyword if you're simply browsing. Once you find what you are looking for hit the subscribe button and it will be added to your subscriptions list, filling that empty void.
If you are having problems searching out a podcast you can manually add the RSS feed into the app and it will grab the subscription that way. If you happen to use the gPodder service you can enter in your credentials to grab all you subscriptions in one go.
Subscriptions
Once you have your podcast subscriptions setup you will now have the option to view the content description of each episode and of course the choice to download at your will or simply stream it. For each subscription there is a settings button at the bottom of the screen, if you hit that you can choose to auto-update your podcasts. When it is on, new episodes for the given subscription will be downloaded to your device. Neat and simple.
Subscriptions list, episodes available, download and series settings
We would like to see the discoverability of new podcasts improved, for someone that is completely new to podcasts the selection of popular shows could be better. Instead of greeting the first time user with a blank screen it might be better to suggest a curated list of podcasts based on interest or offer a little guidance on how to best go about searching for content.
Settings
Within the settings of the app you can also choose to enable 'automatically continue playback', normal behaviour would be Podcatcher asking you each time if you want to continue where you left off. If you enable this function it will just do it without prompting you, taking to where you need to be. You also have the option to delete any listened-to podcasts saving a little bit of time. Another option available is the choice of trying to download the podcast using your cellular data plan, although the restriction is hard set to nothing more than 20MB by the Windows Phone operating system. We'd really like to see Microsoft allow us more control over how we use our data plan but that is no fault of the app.
What is here works well and there is a certain pleasure to just how simple and straightforward it is. We wouldn't be doing our job if we didn't point out that we'd like to see a section built in to show how much space the podcasts are taking up on the device with an option to clear it all.
In use
Downloading episodes is a breeze and the ability to see the progress visually is a welcome addition as is the dedicated list of the downloaded content. When it comes to playback the app supports background audio so even if you move away from the app it will continue playing. Believe it or not there are still apps out there that don't get this right. When you use the skip controls within the app they kick you along in 30 second chunks, you also have a nice big slider to move through the podcast by dragging it to where you want.
The app moves with purpose and feels light on its feet, navigation, playback and usage are all dealt with swiftly. We would really like to see more emphasis put on providing users with help and tips but for anyone that is familiar with a podcast app they shouldn't have any problems.
Features Specific to the 2.0 Update
Import your subscriptions from gPodder.net.
Subscribe to podcasts that require authentication.
Replace player pivot view with play history view for current and recent episodes.
Replace one action button in episodes with two separate buttons for play/stream and download.
Add a view to the subscriptions that shows downloaded episodes.
Fix: do not lose download queue after restart.
Other UI improvements
Bug fixes including crash on WP8
Summing up
Podcatcher is coming along very nicely; we have decided to review it now in light of how much attention it has been getting from the developer. What we see here is a solid podcast app that does exactly what it says on the tin without any graphical nonsense or ugly UI elements polluting the experience. While it is a solid app it feels geared towards those that know about podcasts and we'd like to see more emphasis put on initial podcast discovery.
A short tutorial or walkthrough at first launch would improve the experience immensely especially for a newcomer. There are also some additional tweaks and settings we'd like to see such as the ability to see how much space these podcasts are consuming on the phone and an easy way to wipe them all at one or via checkboxes. We'd also like to see the ability to pin subscriptions to the start screen for easy access as well as future updates to use Windows Phone 8's unique new abilities. Double-wide now playing tile?
These are all of course wants and wishes but for the moment the app does what it says and it does it very well indeed. There are many apps in the Windows Phone Store that even though popular still fail to get these basics right. Now the app has a solid foundation on which to build we look forward to seeing how it progresses. If you are in the market for a solid performer you should certainly give Podcatcher a spin, you might just like it.
The app costs US $1.49 and you'll have the chance to try it out for free, the trial allows only two subscriptions to be added. Donwload from the Windows Phone Store here. You can also grab the app using the QR code below.
I quite like this app although I had a glimpse of the next Bringcast update and it's no contest. I think the like of WP8 features is due to the developer owning a WP7 device so testing would be a headache. He might still be working on those though.

Is the back-end for this app not well optimized? Can't complete a basic search.

It appears if the gpodder.net search backend (that Podcatcher uses) is having some issues at the moment.
https://gpodder.net/search/

This app is much better than the Apps PODCASTS and PODCASTS PRO that I used until today.

I had serious issues with the interface on Podcasts Pro and NO reply from support as a paying customer. I am living with the built-in podcast feature of WP7.

This is a great Podcast app which I bought some time ago.

It is really god and only misses a couple of things: Live Tile support would be great. The Podcatcher tile should flip around to show the current podcast in the play queue. Background downloads. It would be ideal if the podcasts were updated during the night when the phone is charging. Download of large podcasts over cellular data. Here Wpcentral wrote: " Another option available is the choice of trying to download the podcast using your cellular data plan, although the restriction is hard set to nothing more than 20MB by the Windows Phone operating system. We'd really like to see Microsoft allow us more control over how we use our data plan but that is no fault of the app."

This is simply not true as the podcast app Bringcast can download larger than 20MB shows over the cellular network. So its doable and I would like to se this implemented in Podcatcher.

Except for these issues this is a really great app that I use every day!

Bringcast probably implements the download themselves using HTTP requests. But then they leave out a lot too, like respecting low battery levels and downloads not working in the background.
I am thinking of adding this more straight forward approach that doesn't work in the background, but allows to do downloads over cellular network.
And you can always stream the episode over cellular network.

Not only can't I subscribe to podcasts from the phone, I can't sync my podcasts to the phone from Zune either, even though they update just fine. So I learned to live without them on the go. Still, it's nice to see we get third party options to help us out.

I wish the developer would bundle these updates. It's updated every other day yet bugs and niggles still persist. The updates were an absolute pain as up until 2.0 I had to re-add all my subscription URLS. 2.0 only puuls album art for less than half of my feeds and I can't see the play and strea buttons when using a light theme because the developer has made these icons white.
I've bought almost every podcast app for WP and wpodder is still the best to date. I know bringcast is bringing a huge update to the table but I can't give it any credit yet as it isn't here.

Issue for the white background is fixed in the update coming next week.

Just a quick update: next update will improve on the feed logo handling too. If you have a particular feed in mind at the moment that Podcatcher doens't handle well wrt. the logo, please let me know and I ensure it will work (apart from Gif images, which Windows Phone doesn't support).

I have been trying this app out and some feedback on the recent update.
If you are using a light background the symbols inside the box for play and download don't show up until you touch, kicking off that feature. Switching to a dark ground they work fine
On the above I could not see a way within the app to stop playback (play button should go to a pause, or maybe it did and my light background didn't update) and pause/stop/resume downloads. Again if there are controls for this it doesn't show up on light background.


I apologize for the issue with light background. This is fixed in the update coming next week. Icon should be visible in the black background though.

I prefer slapdash, syncs via the internet across all of your devices. So I have it on my media center, my Surface and my phone so I can bounce back and forth and it'll keep track of my position and everything. But options are always great and so is competition. Makes apps better for us all.

One of the biggest gaps for me in podcast support on the platform is the lack of variable speed playback. Years of owning an iPhone and then an iPod Touch conditioned me to listening to almost all podcasts at 1.5x-2x playback speed, so listening to podcasts on my Lumia 920 just sounds so slow, no matter what app I use.

From what I understand the platform doesn't provide a variable playback API. But is it at all feasible for an individual app to hack something together to enable it, especially now that WP8 supports native development?

Great app. I have used this for the past month and been impressed with the overall app and the speed of updates. I did hvae an issue where the app would not remember where I was in the podcast after closing so next time it would start at the start again, but this seems to be fixed in the 2.0 release from what I can tell so far. Autodownload feature works really well also - as some other podcast apps struggle with this feature.
Agree that the discoverability needs some work to show genres and top podcasts per genre.
Best WP8 podcast app that I have used and approaching the quality level of Downcast on iOS that I used to use

Love this app, and love that the dev is so responsive and motivated to put out a good product. I love that I can subscribe to premium podcasts with it, and of course he put Skeptics Guide to the Universe on the screenshots for the app :)

I tried adding a podcast feed that requires authentication. After entering username and password, the app crashes. It does this consistently.
UPDATE: Got an immediate reply to the email I sent to the developer. Apparently this is a known bug and the fix will be in an update that should be out next week.

I apologize for this, this was an embarrasing bug in the 2.0 release. I am updating the app to version 2.1 the upcoming week and this issue should be fixed then!

I really appreciate this, thanks! :)

Tried to subscribe to my favourite podcast - the skeptics guide to the universe. The search results gave loads of results, all the same with no idea where the podcast link is to - bur anyway all of them gave an error. Tried something simple like subscribing to a Microsoft podcast. Downloaded an episode over WiFi and then got the error 'WP8 cannot play from this location' restarted app then saw that the episode was paused with no option to play/un-pause. Complete fail

I had the 'WP8 cannot play from this location" error too. Restarted the app and tried a second time, and it instantly crashed. Restarted the app and tried a third time, and this time it works.
So.. horribly flaky.. but it seems that it CAN work. i.e. no worse than any other podcast option I've found. Seriously, every time I want to listen to a podcast, I wish I'd stick with Windows Phone 7.

Windows Central Newsletter
Thank you for signing up to Windows Central. You will receive a verification email shortly.
There was a problem. Please refresh the page and try again.