PoGo-UWP beta update for Windows 10 Mobile fixes floating PokeStops and more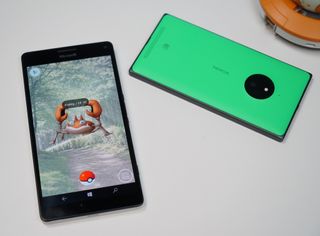 The third-party Pokemon Go app PoGo-UWP for Windows 10 Mobile has updated its beta to version 1.0.8 1.0.12. It fixes a number of bugs, including one that was causing PokeStops to float over the map.
PoGo Changelog (last 2 updates)
Fixed crash when tapping on Pokeball menu
Fixed crash when loading the map
Added back the progress ring to notify that we're still waiting for GPS signal, avoiding people being shown in Central Africa
Fix floating PokeStops over maps
Added app version on both login screen and game page
Did huge refactoring on view models, trying to fix Poke'stop while moving issue and making maintenance easier
Fixed Pokemon escape bug
Changed background for catching Pokemon
Along with the fix for the PokeStops, the new beta version of PoGo-UWP fixes an issue where players were still getting XP and candy if a Pokemon escapes from their ball. Also, the new version adds a background to the Pokemon catching screen. The app version number is now available on app version on both the game's login screen and game page and finally, the developer did a "huge refactoring on view models".
If you have already downloaded and installed a previous version of PoGo-UWP and want to update to 1.0.8, you will need to uninstall the app from your phone by long-pressing and selecting uninstall from the app list. Then, download the latest files from the link below, and follow the steps in our How To article to install the new version. (You also try to just redeploy the new appx file and overwrite the existing one. You do not need to reinstall the dependencies if you go this route).
Good to see they are working actively on this app. It is always nice to see that developers make uwp apps :)

This is an open source 3rd party app. It's not done by Niantic.

They was not a reference to niantic :) I meant the great devs that made this.

it's actually been updated to 1.0.12 right now :) will you update please? https://github.com/ST-Apps/PoGo-UWP/releases

No need to update this posting. The link will send you to the latest version. I'm sure they will do another post on the 1.0.12 update once they've tried it out.

this deserves another article!

Dang, on the other section of the page it still shows 1.0.8.0-beta (at least when I last access that page in time of writing this comment):
https://github.com/ST-Apps/PoGo-UWP/blob/master/README.md EDIT: It seems the 1.0.8.0 release is the buggy release, after all, and the 1.0.12.0 is the stable one.

Wow they are really putting alot of effort into this app. Great news for people that are/have been looking forward to playing pokémon go on w10m.

But today ive heard a news tha pokemon go is stopping all the 3 rd party apps.

I heard this too. And it's stopped working for me though I had originally put that down to a bug in the software.

I thought this only concerned helping apps, things like pokévision? Certainly hope so for who wants to play this on w10m. I guess time will tell.

It'll be all apps. I believe they did the same thing with Ingress.

It's more complicated than that. They are reverse engineering the official app, so it's not just something you can shut off. They can slow it down, but unlikely stop it altogether.

My understanding is PoGo is created by deconstructing the official app so it can be ported to Windows. I don't believe they're going to fall into the same issue as PokeVision or the other map websites. The trouble they'll eventually encounter is Niantic sending them a cease and desist or contacting Github and asking them to delete the content and block the originator. Hopefully they hire the developer instead.


They can also ban users of this illegal app.

They will. They did the exact same thing with Ingress.

I'm sure they will, but it's another revenue stream they didn't initially have, and it was done for free. Zero overhead and moey revenue sounds like a huge win for Niantic.

What revenue and what zero overhead this illegal app using their resources and properties bring?

Revenue from the in app purchases, and zero overhead because Niantic didn't make it. They get money while not having spent money to make the Windows version. I learned in another discussion that Niantic used a multiplatform engine to make the game, and they chose not to publish to Windows. According to this person, the only work Niantic would need to do is make sure their proprietary statistics component works on the platform. If this is true, then there really is little to no overhead for the company. Windows mobile is a small percentage of the market, but it would still be more revenue coming in.

Yes, I hope they will just hire the guy. At least as a contractor. The guy already did most of the heavy lifting. Bring him in and let him build an official version. This dev obviously has the coding chops.

I've wondered why none of the talented Win devs don't offer a consultancy Islandwood porting service to companies who clearly can't be bothered to do it. They take a small cut of the revenue for their services. Might be a future in that for someone.

The official app is made with a multiplatform engine. Niantic chose NOT to add 'Windows Store' as a target. The only thing they need to code for the platform is their tiny proprietary statistics component. They need no extra devs, but a green light from Pokémon Company and a bit of common sense.

If what you say is true, and I hope it is, then lets spam their social media accounts asking them to check the box to add Windows Store as a target.
Side note: since BlueStacks runs on Windows tablets and computers, we can play Pokemon Go on those devices. How you get around the GPS issue is up to you.

Does it work with 512 ram?

No clue. Give it a shot and let Windows Central know what you found out.

Read the github wiki page FAQ, it works in the 512mb ram emulator so it probably works with real devices too. https://github.com/ST-Apps/PoGo-UWP/wiki

And now version 1.0.12 is released. The frequency of these updates is crazy but much appreciated. Hopefully the Google signin comes soon.

I'm sure they can implement using Windows Maps instead of Google Maps.

1.0.8 does nothing but crash on startup, had to roll back to 1.0.7

Same crashes here. Instead of rolling back waited a few hours. Did a clean install with 1.0.12

Interesting that this app didn't get cut off by Niantic's move over the weekend to try and block third-party apps....

Lumia 1020 - OS-build 14393.5 !!! Now playing with v1.0.12 which seems much more stable. You want to see the disbelief in the eyes of Android and iPhone gamers. Old Nokia! Anniversary Update!! Pokémon Go!!!

I doubt there is much disbelief. There's already too much disinterest.

HenkW is from Europe. Where people actually know what Nokia was.

Does it work well on your devices?

I cant wait for this app to be available for download via the store

cant login in this app it says PTC login is probably down, please retry later. Any soln for it???

im having the same problem

waiting for gmail login...I am on 14th level. I played it on an android phone which i had for few days.

I get this error when I try to install in my Lumia 640 LTE Failure reason: Failed to start deployment. Failure text: Package failed updates, dependency or conflict validation. (0x80073cf3) Maybe the phone is not good enought to use the app? I downloaded the last version that was upload today.

Are you trying to install on an SD card? If you are then you will need to change it to install on the phone itself as it won't install to an SD card.

I have the same error on my L950

I had around 30 pokeballs then suddenly had zero :'(

Anyone else getting an error message during the install process?

Anyone else not getting an onscreen map after installing the latest beta? It initially worked but didn't the next time I opened the app. I also tried an uninstall and reinstall.

There was a login-bug today but it works just dandy now.

Just tried it but still no street mapping. Everything else shows up though.

It was working great today, then all pokestops, Pokémon, and everything disappeared....... Reinstalled, rolled back. Nothing......

Eu concigo logar aparece o mapa, só que quando abro o inventario aonde você ve os pokemons e itens, nao aparece nada!!

it has suddenly stopped working so i am assuming work is being done in the background. hopefully it is back up soon
Windows Central Newsletter
Thank you for signing up to Windows Central. You will receive a verification email shortly.
There was a problem. Please refresh the page and try again.