Pokémon Go developer reveals why it banned apps like PoGo-UWP from accessing its servers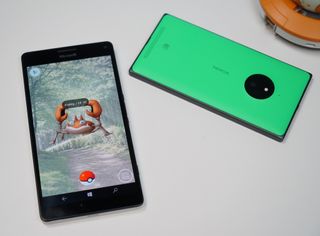 Pokémon Go developer Niantic Labs has offered an explanation on why it has decided to ban third-party apps and services from accessing its servers, such as the Windows 10 Mobile app PoGo-UWP.
Many developers have tried to access that data ever since the popular augmented reality game launched in July. Some of those apps were made for cheating in Pokémon Go. In the case of PoGo-UWP, it was an attempt to make a version of the game that worked with Windows 10 Mobile, which accessed a third-party API that was connecting to Niantic's servers.
The PoGo-UWP app became unusable earlier this week after Niantic banned these third-parties from its servers. In a blog post, Niantic says those efforts actually delayed the launch of the game in Central and South America due to too much server resources being used by these outside apps and services. It even showed a chart that revealed just how high server resource usage was before and after the ban on third-party access:
Niantic added that there are also attempts to flat out hack its servers. It also doesn't expect to see this kind of activity to end. However, it's very interested to learn that this kind of unwanted access could result in real delays in Pokémon Go's expansion to other markets. However, it also means that apps like PoGo-UWP will not be allowed anymore.
Was hoping it was because an app for windows is under construction but... Failed :P

So did they learn there was a big demand from Win10 users, and will do something official?

I don't think so. Niantic blocked third party apps and services who are using their servers, so its highly unlikely that PoGO will come back.

Well, if they developed for UWP as well...

... I'd give their game a chance :D

Why would they make UWP? Only 10-15% of itself small installed base of Windows phones would be covered. No point making WP8.1 app either as those users are jumping ship fast. In summary no point making any app for Windows phones. That's what fragmentation and 'focusing' and 'retrenchment' gets you. 0.3% does not come alone.

What about Windows tablets?

How many Windows tablets have LTE and a GPS? And how many people use those devices?

Well, it could just use the tethered phone's LTE & GPS, plus I'm sure many would think it would be cool to play on a bigger screen...

I don't know and probably neither do you. Could be a little, could be a lot. Either way, it adds to the number of people that might play. Also, when at home, some people may want to play on their PC and only catch the Pokemon that are near their house.

Actually, I play on a campus with a iPad mini wifi. I dont need a GPS, or any cellular connection as our campus has outdoor wifi and aGPS works.

Most tablets have GPS. Internet access via WiFi or phone is easy and commonplace. I can't see the problem. The number of UWP devices out there is huge. I have to assume that these companies just WANT to undermine Microsoft for some reason.

I doubt undermining MS was the reason for not bringing the app to W10. Even Facebook needed one year to decide to bring its apps to W10, apps that are sure to be used by the majority of the Windows users. Niantic is the same, if they were to bring the app to Windows, users on WP8 or 8.1 would get a W10M phone/device to play the game. As for the fragmentation, the Android is fragmented as well, with lots of versions in use. The OEMs are even more ruthless than MS when it comes to upgrading the OS to the latest version

Pretty sure that no MS Surface device has GPS....and almost every other Intel based Windows tablet is in the same boat.

Surface 3 has a 3G version...

Why? Because, making Pokémon Go UWP could be used on tablets, too. The Windows 10 market is much larger than Windows Mobile on phones, alone.

It's still nowhere near the Android and iOS tablet market. Besides, as it has been explained over and over again, this is a MOBILE-only game. It's not even designed to be played on Android and iOS tablets. It plays there as a second thought. They would not waste money on purposefuly develop a UWP just because half a dozen people want to go around carrying a massive 2 in 1 tablet to play the game.

Yea right!!! they had to block the access becasue these half a dozen was overloading their servers.

Can't you read? They did NOT specifically blocked the WP version. They blocked ALL the third party apps.

Considering I didn't know it was for phones only, I stand corrected. However, if they decided to make it for Android or iPhone tablets, windows tablets would still be a potential market to tap into. I can assure that people who own iPads and Android tablets, I can guarantee that people will play.

I'm pretty sure Niantic has the statistics on how many people are playing the game on iPads and Android tablets. And if the numbers were astronomical enough, they'd consider covering Windows tablets too (that is, IF at least99% of Windows tablets had LTE capabilities). However, the game isn't designed for tablets.

So, what statistics would they use, if it hasn't been designed for tablets of any OS choice? Did they do a poll to see if people would play on their tablets? Not likely. But, now that they have followers of game, I think they would follow over to tablets, too. Just sayin'.

So, what statistics would they use, if it hasn't been designed for tablets of any OS choice? Did they do a poll to see if people would play on their tablets? Not likely. But, now that they have followers of game, I think they would follow over to tablets, too. Just sayin'.

Plays fine on my iPad Air, and its not scaling up a phone version. Pretty much proves that they HAVE made tablet specific versions.

You are so incorrect, I can't even...

I'd like to see a person walking around with their laptop playing Pokemon Go.

Lol not laptops, in the traditional meaning. But, I can see people using an iPad, Android or Windows tablet two-in-ones that allow for detachable keyboards. Anything with a 12inch or less is fair game. But, let me paint a picture for you real quick. Imagine a person sitting at a table, at you local Starbucks. Now, imagine that they are using this two-in-one to do work of whatever sort and all of a sudden, a notification banner opens up to tell them that a Pokémon is near by or even in the store itself, waiting to be captured. I understand that it's hard to imagine, but that's only because it hasn't been made available for tablet devices. If you could sync the game between devices, I don't see how this would be such a bad idea. Like I said, if it was available, people would use it.

Windows tablets (with v.few exceptions) do not have GPS modules... That includes all of Microsoft's Surface line.

Ok, I hadn't considered that. Good point.

The Surface 3 LTE uses a Broadcom GNSS 47531 geolocation sensor. "The 47531 tri-band tuner receives GPS (including QZSS and SBAS), GLONASS and BeiDou simultaneously without having to reconfigure and hop between bands. It allows for position calculations based on measurements from any of 88 satellites." Just stop posting, you're just making youself look stupid.

1 (low selling) variant with GPS...in the ENTIRE Surface line... Not much of a market.

Sure but it's still millions of potential customers... So.. Posted via the Windows Central App for Android.. But waiting for the HP Elite so I can get rid of this junkie Galaxy S5...

Your signature is so cool :)

Thank goodness the chart above showed there was no demand for an app that would work on Windows Phone. /s If anything, it proved that there is demand for it and that they are another developer giving up a level of income that great majority of app developers out there can only dream of. The money left on the table from big dev shops who continue to ignore Microsoft platforms is more than most small dev shops will bring in over multiple years on iOS or Android.

Perhaps the majority of third party apps were Android? The vast majority?

I'm guessing that most of those data calls were from countless third party Pokemon mapping apps and sites, not PoGo UWP specifically.

Yep, 3rd party bots and scanners from iOS, Android, Windows UWP/Win32, and even websites.

And that increase in the server traffic isn't enough for you to prove that how many users were using third party clients like pogo...that does mean a lots of users... Grow up

That illegal uwp app had likely tens of users. Trafic is from other illegal apps & bots, polling services with high frequency.

And from which secret files, you got these numbers.

Common sense. There are just a couple of million W10M devices in the wild and not many of those users would install illegal no-good app that is not even in the store. Although that app was heavily promoted here with instructions how to get it so perhaps a few hundred.

Common sense... As this is so popular, why lovers will not install it on there windows phones... Why any android or ios user will use a third party client when he or she has an official version... So that increase in server traffic mostly applies to non android and ios users.

Even if all the couple of million W10M users had go trough trouble of installing this illegal app it would not have moved the needle much. Unless app is poorly done which is a possibility. Illegal aps are not UWP only issue as there is money to be made in crime. Still these cheat services & bots are likely the main culprit.

Not released globally the app is regionalally distributed

Becuase it wasn't as simple as installing an app from the store?

The Android/iOS bot/scanning scene for Pokémon Go is huge because there are a lot of people out there who are willing to cheat and/or use unofficial apps to scan for Pokémon in their areas. Also, the graph shows the amount of server calls and not unique devices. That means that a couple of thousand devices could technically be responsible for the amount of server calls if they are sending a lot more requests than the official apps.

vhyr ​ LOL. Common Sense. From WC biggest troll. Party for 2 with DJCBS? Must be themed 'the lost common sense' :D

It's called logic and common sense. How many people do you think realisically side-loaded the app? Not many...

You saw a lot more chatter on the web discussing mapping and monitoring apps than third party clients. Want to be notified when a lure goes up, even when you're out of range? Want to know when a particularly interesting pokemon spawns somewhere nearby? Those kinds of apps ping the servers over and over. They're also mentioned all over the place on the web. On the other hand, the only place I've even heard of 3rd party apps is right here on WindowsCentral. Very few people have a reason to be interested in them.

Don't spoil his fun with facts

Using their properties without permission, infringing their and Pokemon Company IP's. That's not legal in most jurisdictions. Pokemon Company is already considering suing some of these folks under Computer Fraud and Abuse Act.

Yes, it was. It violated intelectual property from at least 2 other companies, Niantic and Nintendo. If you know nothing about law, abstain from making comments on legal matters will you?

Ah, but then you also would have to abstain from making comments on legal matters DJCBS. Considering you know nothing about law either

My law degree begs to differ. Word of advice: abstain from making assumptions about people you don't know.

So I'm supposed to accept that you have a law degree because you state so in a comment? I don't think so. And nice advice. I suggest you follow your own advice before requiring others to do so.

Vhyr what you have said totally makes sense. Not sure why you got downvotes.

I don't mind. I'm using WP8.1 app. Not visible.

Vhyr, you should strive to get down votes. means your making sense! If you get my drift! To the topic. I called it as soon as I read about the app being used. Niantic does not want 3rd party hack jobs of apps using their intellecual property, They sugarcoated it but thats the long and short of it.

See, I am making sense already. and one of the fanboys are angry at LOGIC!

Using common sense is "dangerous" around here. The more WP sinks, the more deranged and detached from reality its fans become. If I were in the field of phychology, I'm pretty sure I could make an entire academic paper out of this.

Good idea, something for me to do in my spare time! write a paper on how windows fans are deranged! ha ha! LOVE IT!

lol believe me, there's more than enough material here on Windows Central to make the foundation of a psychology thesis on "psychological reactions to the death of technology by its hardcore users: a case study". There. Anyone who's into psychology, feel free to take the title and the subject. lol

Let me guess: You also have a PhD in psychology.

Im struggling to understand why you are on a windows/MS fan site calling windows fans deranged... You've either proved yourself to be a troll or you are just plain stupid. If you don't like MS or their fans, you should get a life, stop being so sad and just go away, back to a site that you are an actual fan of.

The smaller the WP market share, the greater the number of downvotes.

Says the guy who's been constantly commenting on articles about a supposedly dead platform. Common sense dictates you wouldn't waste all of that time on a dead platform.

And the day Windows Central becomes Windows Phone Central again, I'll stop. Until then, I will continue to comment on whatever the hell I please. And you see, when you're at the hospital and your loved one dies, your reaction is to not want to leave the bedside of the corpse. However, the doctor will be there to explain you that your loved one is dead and you need to let go. Well, consider me the doctor for WP fanboys. I'm a humanist, I can't help it. I also really deslike deluded fanboys ;P

Then you must really hate yourself as your a deluded fanboy of nokia which is on its death bed. :P Even licensing their worthless name to foxconn didn't help

Whoa! Suddenly I think I understand you DJCBS. You liked Nokia a lot. You were on the site when it was Windows Phone Central and reporting on Nokia devices. When Microsoft bought them out you were let down considerably and upset about it. Then they changed their name to Windows Central and since you most likely own a Windows device you feel that the site is still relevant enough to keep reading articles. However, you are very upset at Microsoft for killing Nokia so every chance you get you rip into WP fanboys because you feel they are somehow responsible for it. Or at the very least allowing Microsoft to get away with killing Nokia. Since that is unacceptable to you for kiling it you proceed to try and sway as many people as possible from using Microsoft's devices/mobile software. Does that sound at least somewhat right?

Hit the nail on the head there I think!! :D

So, you're choosing to spend your precious time on articles about a dead platform. In your analogy, you continue to visit the corpse, just to remind them that they're dead? Interesting that you are calling others deranged.

Saying no one should develop for the platform does not make sense.

Because millions use them?

Even if there were only 500K users, and you charged $2 to each user, that's still $1M!! Who doesn't want $1M????

They spend resources dealing with issues caused by third party apps. Resources could be used to port the app. Problem solved, not just a band aid.
Get it?

Win users have much too spent in game items

Did you even see the graph the own Niantic showed??? Some people don't read the articles. but the graphs are easier to see at!

@vhyr , Have you even thought about only these "10-15%" causing them server issues ?!!!? That means a LOT of users did play this on W10M.....
Niantic is just another Windows hating developer.. Just like Snapchat and GOOGLE ! -_-

The ones causing server issues are third party websites, and probably to a lesser extend Android / iOS apps. Not the couple of hundred of W10 fans.

Why don't they explain why we don't have this game?? Don't they know about islandwood project???

Because they don't want to dedicate their time and effort just for 1% of the market share.

If they make it a UWP app, then make that millions who have tablets/bands etc...

Oh that! .... Yes, I was wrong.

And you actually think that people will play this game on their laptops and tablets :p

Tablets, maybe. There are a lot of people who walk around with a tablet when outside. I see it nearly every time I go to town. Laptops, of course not, but Fizzy never mentioned laptops. He did mention band which I don't think would work, but a UWP would be beneficial for tablets+Mobile :p

How many people would realistically do that? How many tablets are there that inegrate GPS and LTE? How many people would be willing to drain both their phone and tablet batteries by tethering? There aren't going to be enough users to make it worth the effort.

What a lot of my friends with Android tablets and iPads do is they tether the tablet to their phone's hotspot and then it works perfectly at that point. Plus the bigger screen is a lot nicer to play with. There's no reason people couldn't do the same with a Windows tablet.

can you tell us how many users will be worth it? i bet you cant

Most Windows tablets have GPS and internet either through built in modem, WiFi services or linking to phone. TomW, you must have a really poor tablet if it can't do this basic stuff.

People with tablets are probably gonna just play X or Y. As for pc users, they are probably hardcore gamers, and don't have time for it. No matter how popular this game is, it's just not everyone's cup of tea. Posted via the Windows Central App for Android

I wouldn't put it past them If they're willing to walk around aimlessly looking for imaginary creatures.

8" tablet with GPS and cellular is manageable ;)

Millions of laptops and tablets that aren't suited to a game that relies on a constant data connection and GPS. Numbers are great only when the devices are suitable.

How many of those Windows tablets, have both GPS and an LTE connection? I'd guess a very tiny percentage. Most 'Windows tablets' are ultrabook convertibles that are Wifi only. You're essentially asking Niantic to create an app, and dedicate support resources, for a platform, *on mobile* that has under 1% worldwide users.

You'd guess wrong then, JohnnyT. Most Windows tablets have GPS, and internet access over internal modem, WiFi or phone link. This is normal, you must have a very low end tablet if it can't do this basic stuff.

You mean Microsoft Band? That thing doesn't even run Windows!

That could be said of every Android and iOS device out there.

Can anybody really use Islandwood?

Islandwood? Take a look at FB app-port. It's from iOS.

Fb didn't use islandwood they used something else to port their app

It is not a port. The feature gap between both apps is staggering as well as the interface.

It is a port, but they used their own porting tool instead of the real one.

Ah. That explains why it's so awful compared to the old version.

Off topic, but what do you see awful with it compared to the old version?

I don't know, maybe the higher crash rate?
And as for messenger, it crashes way too many times for simply trying to send a pic.

The fb app has weight issues, particularly after updates, but crashes weren't a problem (well, up until few days ago) - Messenger actually works really well for me - way better than the 8.1 app did

Candy Crush also is a port

They didn't explain it because this post of theirs had nothing to do with the Windows app specifically. Based on the challenges they describe, I doubt Windows is on their mind at all right now. They've got bigger fish to fry.

Even Microsoft doesn't use Project Islandwood to port their own apps.

Every single MS's iOS apps.

And MS Android App as well Posted via the Windows Central App for Android

Android apps are not convertible through Islandwood. Just iOS's apps are.

Microsoft isn't interested in a dead platform. lol

They don't even need IslandWood. Pogo-UWP is opensource, they could just take that code, add their encryption to the API and release that. They could have a sandbox'd API server that's not live for developers to access and the community would manage a decent UWP client for them to pull compile and publish on the Windows Store. Free development.

1 - They didn't ban the WP app exclusively. They banned the tons of other apps on Android and iOS that were also illegally working. The WP shut down was just another one. 2 - They don't need to explain why they won't make a WP app. Anyone with two living braincells and the ability to function critically can understand why.

The game is written in Unity - no need to port, just slightly modify. The real problem is usage of Google Maps.

Google maps is not an issue. It's just another set of APIs.

The game is actually made with Unity 3D, which is capable of building to UWP, meaning they wouldn't even have to bother with other porting tools. Unless they're using a slightly older version that was before UWP support was added Posted via the Windows Central App for Android

Your #1 source for Windows-related news...

Since this directly effects a Windows Phone app, mentioned in the article, I'd say this makes your comment look a little silly. Of all the articles too..

And the pogo-app the article is about..?

The petition seems it's not working or doesn't have enough support, right now it's 104,532 supporters leaving 45,468 more to reach 150K. I'm on android it's not a problem for me but I really wish the Windows 10 Mobile kicks well in the market someday

I really hope it comes to Windows Mobile and thank you for not being a jerk. There have been too many of those cropping up of late every time we ask for an app to be ported.

why would I be jerk? (I'm not saying you accused me of being a jerk)

There are some people who take us asking for ports to our platform of choice as a personal affront. Sometimes they are people who used to use Windows Mobile and are bitter for one reason or another and refuse to move on with their lives. Other times they are people on other platforms who make rude comments about us using a "real" phone or some other such nonesense and generally just come here to troll. Your kindness in this situation is appreciated.

Yes. Us Windows phone users rely on the kindness of strangers in a distinctly Streetcar manner. If we were sane we wouldn't put ourselves through this. :)~

Guess that makes us gluttons for punishment. ;-) Ah well, I like what I like and I'm not too proud to ask for help.

I'm thinking of making a sign: 'Windows phone user - Will work for apps...'.

maybe Redstone 2&3 will be mobile-focused. A month ago this got leaked: http://www.gsmarena.com/microsoft_allegedly_upgrading_the_windows_10_mob... Don't know how WC didn't say anything about this. I can't remember where I read it but RS2 is mobile based which makes sense since if it's released in Q1 2017 and in Feb there is the MWC2017 as well (surface phone announcement) and in summer RS3 (Build 2017?) surface phone release.

Yep, I don't know how many times I have been specifically targeted by those types of people. I've gotten ripped up through comments for making a choice of buying a Windows 10 Mobile product. It's as if I'm not allowed to own what I want to own and like what I want to like. I don't tell them that their choices are wrong and I even state quite plainly and upfront, buy what you want to buy. I have no problem with what product somebody chooses. It's rare to find somebody who is actually polite and kind. I really do appreciate the post by Miklos. Sometimes there's still glimmers of hope that most of humanity is kind.

Do petitions really ever work?

They work as well as the Kickstarter form the Nuans phone: they show that there aren't enough users to make it worth while.

1 million signatures on a petition is different than having $500,000 pledged on a kickstarter.

They made the Kickstarter based on a poll/petition saying the Kickstarter would be popular. It was quite wrong. NuAns only received a fraction of the required backers. Petitions or polls are easy to answer online but it is a much different story when the time to pay comes. Posted via the Windows Central App for Android

1 million signatures in a world with 7.4 billion people are worth squat. $500,000 is more likely to do anything than mere online signatures.

There's more people than that in the world; only a fraction has internet access; not all of which care or can afford something better, so on. You can't compare the 1 million signatures to EVERYONE in the world

Petitions used to work when we were told The West was all about Freedom and Democracy. Turns out that about 5 mins after the Berlin wall came down this meant Globalisation and Capitalism. Not quite what we were sold, really. When democracy is ignored, all you have left is subversion and ultimately violence. I'll throttle a Pokymon for you if you'd like?

Can you tell us the link? I wanna sign that petition, too.

that means more people playing on wp than android and ios?

Yes. Windows Phone Master Race!

Bad belle people... kwasia

I get it, it's all about their infrastructure and ability/agility to scale. First and foremost they went with popular services for their servers (either in house or AWS) and simply have no experience to be effective out the gates. So they focus on the 2 most popular platforms for profit, simplicity and security (as in peace of mind, "the sure thing"). Sure doing things this way is the 'safe bet' and then when they feel secure enough with their money, then they add on and upgrade their game business with extra development features. This is getting too long, but it wasn't the smart way to do it...nothing personal, just typical. =/

All of that writing for you to say "waah waahh wahh"

'All of that writing' AndrewM? You think that a lot? Blimey, it looked pretty concise to me. You'd better not pick up a novel, or even a newspaper for that matter. You'd be well out of your depth.

They have been rolling out popular service globally and in a few weeks its already available in more countries than Cortana. Yet lotsa countries to go. When rollout is done then perhaps they can think whether allocating development, testing, maintenance, support etc. resources to our favorite 0.1% platform makes sense.

You never get scale without showing potential users the shoes they react ate on the platform, do it really bills down in this case to developers who are biased or don't feel 1 million plus users are enough for their effort which I think is ridiculous no matter what the overall market share is. If its a million or more, I think it deserves an app. When the iPhone and android first came out there weren't a million users or apps; it gradually increase over time. The sad part in all of this is that developers are so one sided and using excuses; even
When their gravy train slows down, they'll be looking for other avenues to generate revenue but it'll be to late by then as all other competing platforms will be gone. You can only make a game so many times before it gets stale.

My kids are all on WP and couldn't care less about not having this game. They're outside playing right now, running around chasing each other without getting hit by cars, walking off cliffs, or drowning in the ocean...

HEH! We just got back from a FAMILY vacation, swimming, boating, entire family is on WinPho 10, and not a PEEP was said about this game.. SOOO happy I have the kids I have!! Baseball, Softball and oh, look TREES!

Actually what they said is right. Apart from that If you are really into gaming then play a game on a PC or a xbox. And playing on a mobile will only give you neck pain.

What's wrong with spending time with the family and getting them into sports? The obesity rates is not getting any better.

And a game that encourages movement and socializing is bad how?

Its not... but it also is nothing CLOSE to sports, etc... its better then Candy Crush though.. :)

I never said it was bad. My reply was directed at Warren's reply. "Get over youself..."

@TomW: You need a GAME to encourage you to move and socialise? Sounds pretty bad to me.

Just hold back a bit of food. They will slim down.
Arbeit macht frie.

@Warren Your angry is showing...sheesh!

he might be fat.....thats why

Don't hate them because they're teaching their children about the outdoors and the value of family. Electronics are great, but they are dumbing us down with spell checker, audio books, etc. This is bring said by someone who makes his living administering computers!

ummmm what's wrong with audio books?

+1 Posted via the Windows Central App for Android (LG V10 or Nexus 5x)

People who play this game aren't sitting on a couch alone, dude. Warren Dance is right. Get over yourself.

EVILLAMA I shall commend you for rasing good kids! Like myself, my kids use technology but as a side line not as a 24/7 thing. My oldest is starting university next month and my youngest is 9, has autism and loves doing things besides ipading it all the time.

Why do you guys force tech on yo' family???

Yeah exactly I don't understand when companies do things like this, they don't want to make apps for Windows phone, yet when someone else does, it's a problem and they make sure it's stopped, I understand putting a stop to people cheating and hacking, but again if they only made an app for this platform which obviously wants it hence the pogo app that was created, then they wouldn't have this problem, I think it's a matter of being spiteful, they don't want you to have it so you can't have it!!!! And here I am being such a big fan Mario and Nintendo!!!!! I mean I don't actually have any desire to play the game, but this kind of neglect is exactly the reason people don't buy windows phone, I mean we just got an official Starbucks App, which I'm grateful for but it doesn't negate the need for all those other apps not on the platform, I think trading standards should get involved with these most popular apps, because isn't is being a monopoly only offering apps to two OS when there are three, so windows can't be as competitive as the others!!!! I'm hoping these developers see the light, but then I've been saying this for a while now...

Because its their property and their servers. They're offering the game to 99% of the mobile market, and monopoly laws don't have a thing to do with what platforms a third party chooses to offer their services on.

A real phone? Really? That's not a kind comment.

Looks like her changed his comment....

I did edit the comment to address the foolishness behind your monopoly theory

however, it is true! the real phone comment....not the monopoly comment!

Either you can't read or your limited to the amount of information that you absorb before replying to a comment....

What did I miss? How do monopoly laws apply to where a third party (not Google or Apple) releases their product. How is Pokemon Go such a necessity that you are harmed by not having it? What are the barriers that keep you from switching platforms? That is what defines a monopoly.


Keep going guys. I'll get the popcorn.

Windows and office is Microsoft's property, but the DOJ them for not showing other browsers and a competing productivity suite on it! Ironic by today's standards.

They didn't give a crap about the Windows UWP app. They didn't block it at all for that specific app, it was purely done for bot tools and sites like pokevision etc. Windows Mobile has a ridiculously insiginificant market share for their servers to be affected by those users, it was the millions on Pokevision constantly requesting spawn updates and the cheating idiots using botting tools who were the target of this. Unfortunately the UWP app got caught in the cross fire but they aren't Snapchat, not maliciously targetting Windows Mobile.

Wait, wait, wait: are you seriously saying that Niantic has a monopoly and should be subject to Federal Law? Step away from whatever you're smoking.

If you have no desire for this game, why complain? Fastest way to get in game is to get android phone which can run it. There's a good chance it can run a lot of other apps not available for Windows handsets and has better hardware for the price... (that's what I did ;) ) Niantic (or any other software or service provider) is in no way oblidged to create software for Windows or to let third parties use their services I don't see similar conversation about Windown mobile apps not present for android or iOS. If Windows developers are not "forced" to develop for android and iOS, then how can developers for other platforms be "forced" to develop for Windows? I'm sure, that if there were developers and market share for Windows, they would make the game for Windows. Maybe one of them is missing... Starting development with e.g. Xamarin could make cross platform development easier and cheaper?

Nintendo had nothing to do with this decision (Nintendo has very little to do with the game at all) Niantic closed down the API because of websites and Android / iOS apps which were costing them time, money and resources PoGo had nothing to do with this decision except that it used the same API as the culprits in #2, the user base of the app is too small to even see on that graph

The popularity of the game will drop just like that server resource usage graph shortly. And the whole studio is a one hit wonder :D Ladies and gentleman, here is the newest Rovio... :P :D

Uhh, Rovio has many games, and made a ton of money...., angry birds 2 is actually very good as a new game.


Actually, I think it might be popular for a while.

Actually, the number of players is already dropping fast.

Like most fads, it will fade, but there will probably be a rather large active user base for the next 2-4 years

this entire comment shows how little you know. Considering pokemon has been INSANELY POPULAR before the game....as well as ROVIO making BILLIONS on their apps, licencing for merch. and even a movie. I would love to own the next ROVIO! R. DS. THINK BEFORE TYPEY!

Rovio made million on WP to. They reached the million plus download mark on WP, especially when the game was at its peak.

And now they've jumped ship. Which means WP wasn't making them money.

They'll jump ship from everywhere shortly, my favorite troll pal ;)

Rovio is still beating the same dead horse and is struggling... You can't milk the same cow forever. Btw yes, Pokémon is popular, but nearly not as popular as this games starter userbase was.

you were probavly not even born when pokemon became popular. and, i am sure rovio is doing much better tan you give them credit for.

I was born in 1994, and it was aired on all channels when I was a kid. But nothing lasts forever ;)

ha ha......too funny You were 1 when it took off. Again...NOT really a one hit wonder, or flash in the pan if you ask me. 20 plus on the same franchise and still killing it in revenues. You have NO idea what your talking about.

I never said Pokémon is a one hit wonder. But Niantic is :D And the more you try to prove I'm wrong, the more awkward you look :D

He is the one making sense, and you're not.

Oh and here's another member of the troll crew :D

And there we go. Whenever you feel cornered because of your ignorance on a subject, you start with the name-calling. Here's a hint: the "troll crew" as you call it, has been on Windows Central for quite a long time (not 7 months like you). It saw the rise and downfall of WP. And it has a fairly better understanding of things than you.

Nope, nope :D I'm feeling happy today :D So I complimented you :D

Exactly DJCBS. The "troll Crew" has seen what is happening with Microsoft since before Nutella took the reigns. And We also see what he is doing to castrate the entire consumer side of it. Essentically making it all about business and the reason why I jumped ship. I had enough of the crap they are doing and how they are ruining the platform. Since you, random DS, are a newbie here, and to life in general, lets just say that with age comes wisdom. You are to young to understand that concept. I understand. However, there is alot of wisdom and knowledge here. I have been working on and with computers since the days of DOS and even before with commodore 64 and 128s. I see what goes on...and I call out bullshit when I see it...and this place/microsoft is really really sinky these days!

Perfectly reasonable and well explained rationale, which they didn't need to provide. I appreciate that Niantic took the time to explain their perspective AND back it up with data. They even gave a small nod to enthusiasts by indicating that this isn't anything "personal", it's just a matter of resources. I wish more companies took this approach.

Not resasoble at all. If there are so few WP users then how in the world could it overwhelm their servers? Sounds like a deliberate attempt to slow down adoption of WP. If this lame explanation (lie really) wasn't good enough then they through in the usual hacking attempt of their servers (lie #2) as another reason.

I know this article focused on Windows specifically, but that wasn't Niantic's focus for their blog post. Windows was not the only platform to have third party apps accessing Niantic's servers. Most likely, there was very little traffic coming from the Windows third party app(s?) as opposed to other sources.

OMG FACE PALM. BECAUSE ITS ******* STEALING!

Well they could at least make an exception for PoGo ? it's not like they will ever build one themselves i know it would be harder to make exception for an tho.

They can't without giving PoGo access to their encryption technique which would lose the security of that encryption method and result in botting tools coming back.

Why not just offer to buy PoGo and expand into the (U)WP market? The groundwork has essentially already been laid.

Because it's essentially blackmailing another company, to force cooperation. You won't get anywhere by illegally profiting off of somebody else's intellectual property, then blackmailing the original party into working together.

I think they should hire the developer instead then. I don't quite remember, but another company hired a third party developer earlier this year. Posted via the Windows Central App for Android

How is it blackmail? If they decided to purchase it that's their choice. It's not even for sale but if Niantic made an offer, how was it blackmail? Dropbox or someone hired Rudy after he had made a client of his own. Does that mean he blackmailed them? I see it as the dev filled a gap and the company said...hey, this person already did the hard stuff, let's own what they did and verify its sound and bring them in to continue the work.

If it was worth their time, they would do it themselves. Why bother creating an app for a platform that Microsoft might kill in a year. Remember Windows Mobile 6, WP7 and WP8? Microsoft doesn't have a great track record support their platforms. All that risk just to access .3% of the market? Posted via the Windows Central App for Android

And when it takes just a litlle time? The app is basically there. And the number of active users is of course way bigger. Anyway, let's bother about more <3% market share. That's a good way to look at it /s.

No, it is not way bigger. There are very few W10M users. It hasn't been available for that long and sales have been terrible. Posted via the Windows Central App for Android

The term is UWP, not W10M. FYI.

UWP is irrelevent. This is a mobile app, not a desktop app. They will be concerned with Mobile users, not desktop users.

.... but that's the point. Make a UWP and you hit all of the platforms all at once. How is that not a good thing for Niantic?

If that is what they are worried about then they would just make an x86 app and hit even more Windows devices. The problem with that is the same, mobile is the only platform relevent to this app. Desktop Windows has no bearing on this decision. This is all on Microsoft. Until they create a mobile platform with users, developers will also ignore it the same way they ignored BBOS, WebOS, Symbian, etc.

At the same time though why would Niantic not want to hit desktop Windows devices? There is a large number of users of tablet devices that would use it that I think would make it worth it. Also, what do you propose Microsoft should do to "create a mobile platform with users"? It seems that is kind of a tall order for a landscape that is entirely Android or iOS. There's nothing wrong with any of these other OS - W10M, BBOS, WebOS, Symbian, etc. They all can run the exact same software. The only reason Android and iOS are developed for is because they have a larger user base. And because they have more apps more people go to them. And the opposite is true for the other mobile OS, smaller user base not as many apps which keeps the user base small. I really doubt it is because the OS is superior. Or is that what you are hinting at?

Microsoft is failing to get bigger user base for mobile. They are not trying much to lure in OEMs. If you look at Samsung Galaxy phones and phones from other OEMs, and see how much custom software they put in Android OS, you'll see why many OEMs don't want use the restricted Windows 10 mobile. Every W10M device looks the same.

"At the same time though why would Niantic not want to hit desktop Windows devices?" Because there likely just aren't enough users. I'm sure Niantic has the stats of how many actual tablet users they have amongst their huge crowd of Android and iOS users, and yet, so far, we have not seen a version which is optimized for tablets (instead of just straigth up scaling like currently). Not to mention most W10 owners already own a device which can run it as is. They might still make a W10M port, but they have bigger markets to target first.

Great. So they ignore the data that said Windows users want this app.
Hidden in that data is each device that accessed it from PoGo-UWP. I attempted to use it last night but this had already been done. But they now have info as to how many Windows users went to lengths just to get it and that's not even many considering it had to be side loaded. But it's still proof.
Also, great, so new features are being worked on before bringing platforms to parity. How can a single dev make a cobbled together client so quickly yet this former Google/Nintendo backed company can't be bothered to port it and adjust several lines of code?

Because the Google/Nintendo backed company is doing the real work with the game, while the single dev is mooching off their efforts.

I believe it was open source, so it would have been multiple devs with the main (creator) dev, but yeah, valid point

That's also a good point. I forgot that it was open source.

I don't know on your countries, but in my I haven't seen any Windows Tablet, everybody buy iOS/Android based tablets. Considering that Windows 10 Mobile only has 12% of the Windows phones, and only those who have access to news pages like this are aware of the existence of PoGo-UWP, I think that is a very small percentage of users demanding Pokemon Go. My question is, WHY the F-word do you want to be considered by developers if Microsoft have their Mobile Platform on retrenchment and/or focusing on enterprise market? I think developing apps/games for Windows 10 Mobile right now is kind of non sense. Just thinking. DEAL WITH IT!

On not having pokemon go on the platform, there is only one company to blame; it's the company luring users into another round of WinMobile by promising Android apps, and then don't delivering.

I believe this game will actually come to windows 10, but it will be too F**ling late. I'm a big windows phone fan. I've been using it since Windows phone 8. And I will never go back to android or ios. I'm using windows 10 mobile now. And the ways things are going seem great. It's MS problem for messing around with the OS so much and poor marketing issue.

My Cup of give a poop is empty.

So you've been getting your daily fill of fiber. That's great!

"...hampering our ability to bring Pokémon GO to new markets..." Really?!?? How about considering Windows users as a new market? The millions of Windows users would be a financial gain. I don't understand how these potential millions of users are considered less than important. I understand many things about the business. I realize Windows users may need to wait a little longer as you want to reach the greatest number of people in the shortest amount of time. So, Android and iOS apps will be created simultaneously and released first. What I don't understand is why you would then stop production and consider that status quo. I especially wonder why you would actively go out of the way to block thrd party apps that would simply turn more business toward you with little to no effort on your part. Look at some of the largest companies like Facebook, Twitter, LinkedIn, etc. There is not a platform they wouldn't support. That is why they are billion dollar industries today. They leave no potential dollar unturned.

What millions of mobile Windows users? Windows makes up less than one percent of the mobile market, they're better served by dedicating resources to Android and iOS, then releasing it to new countries, rather than developing for the few hundred Windows users that would download the game. Niantic isn't stopping production just with the inital release on iOS and Android. They're scaling the servers up, releasing the game in new coutrnies, and they'll eventually begin adding new features and Pokemon to the games. Working on a Windows version would take resources away from that, and it isn't worth the effort for so few users.

Do you know the difference between actual number of users and estimated market share?

No he doesn't and nor do any of the other people who constantly throw out the market share argument. The idea that even that small percent amounts to well into the 10s of millions if not more escapes them. But it's still not worth it to argue with them since they are determined to find fault with Windows Mobile users for asking for any apps even though it doesn't hurt them personally.

The install base of W10M is tiny. Maybe a few million. The market share argument is sound. When Android sells more phones in a day than W10M has sold ever, the market share is the obvious answer. Posted via the Windows Central App for Android

You have a surface inclination of business concepts. If you spoke universal truth, there would be exactly zero Win10m apps. There are more than a few million users and Android does not sell more in a day that Windows ever. Regardless, millions is still a growth opportunity for most apps. You might want to add discoverability to your Forum MBA. An app can stand out in the Windows Store, resulting is tech press coverage and a cluster of new users when they might not get discovered in the Play store. Users beget users. My iDroid friends will usually try things that I use. I am involved with a film festival and always in a few film/video productions and I push solutions like GroupMe, that we can all use. One Windows user, like me, can result in hundreds of users from all platforms. Do you even know the budget to create an app? Have you figured out what number of users must be gained before developers enjoy positive ROI? Have you factored in static and variable costs of running an app on various platforms? Have you factored in the PR effect of having tech press coverage in places like Windows Central? I mean, you hate Windows and you're here...constantly. Can you participate in a conversation that doesn't begin/end with last quarter, estimated market share, sales data? Business and market concepts have more depth than that.

So at .99 up to 4.99 and a million plus users wouldn't be profitable to a developers? Especially with the easy porting tools! Wow, sounds like a crock of sh*t to me!

Opportunity costs. Those resources would be better spent improving the experience for the 99% of the market. Especially when you don't know how long Microsoft will support the platform. Very risky with very little return. Posted via the Windows Central App for Android

Actually, the opportunity cost here is not developing for Windows. How many users are they missing out on, directly and with applicable multiplier effect? Have you analyzed how resource use in improving the experience affects revenue in this case? Do you know what the cost/benefit would be for developing for Windows? I'm guessing not since we only get "market share" on repeat as if its utterance is the answer. What data are you using to support your guess as to what mix of resource use is optimal? If you're going to throw out terms we learned in basic microeconomics, please back it up. I know it makes your guesses sound more legit, but it's not a solid argument to just throw out terms. Then again, those with confirmation bias ignore any argument that challenges what they want/need to be true.

Actually, the opportunity cost here is not developing for Windows. How many users are they missing out on, directly and with applicable multiplier effect? Have you analyzed how resource use in improving the experience affects revenue in this case? Do you know what the cost/benefit would be for developing for Windows? I'm guessing not since we only get "market share" on repeat as if its utterance is the answer. What data are you using to support your guess as to what mix of resource use is optimal? If you're going to throw out terms we learned in basic microeconomics, please back it up. I know it makes your guesses sound more legit, but it's not a solid argument to just throw out terms. Then again, those with confirmation bias ignore any argument that challenges what they want/need to be true.

You don't think all these companies are not making these calculations? So many have decided to not support Windows apps and it is pretty obvious why. Sales are horrendous for thier mobile devices and making an app for desktop doesn't make that much sense when a webpage or legacy app gives you access to more devices and more power if needed. In this case it is obvious. The app become way more popular than they ever could have imagined. The servers were going down due to the amount of traffic. It certainly would have cost them quite a bit if they were putting resources on creating a Windows app instead of fixing the servers. You can say whatever you want. but market share is the answer. Windows Mobile does not have enough users to be relevant. You are not losing anything by focusing support on iOS and Android. Windows phones were 0.3% of the market last quarter. ZERO POINT THREE. It is only a matter of time before Microsoft kills it. They are still selling the same basic garbage they were peddling with WP7. It didn't work then and it isn't going to work now. If you want Microsoft to fail, keep cheerleading them into oblivion. Us true fans will continue to be critical and hold Microsoft to a higher standard.

I don't think you have made any of these calculations and I really don't think some of these companies have made those calculations. I studied companies in college that make short-sighted decisions based entirely on faulty metrics, like previous quarter sales data. The interesting thing is that Forum MBA types act like this is new data. We've been expecting this since the cancellation of devices and the planned launches of OEM and Surface(?) devices now and in the coming. We were told that to compete being the same thing wouldn't happen. They are attempting to change the market, so no...Microsoft will not be cancelling. Regardless of last quarter ESTIMATED sales market share, there are still many millions of Windows mobile/phone users. I'm not going to retype all of the other things I mentioned above, but they apply in response to them. Where you ask if the companies that do not develop for Windows have made the calculations, I ask if the companies that DO develop for Windows have made the calcuations. The banks that retreated are coming back as they see something in the strategy. My bank (USAA) never left, so their calculations came up pro-Windows. I use top notch services like Uber (who is killing Lyft, so let's assume they make better use of calculations). I'm not going to get into comparing who has and who hasn't developed, but to assume that those who don't are necessarily making the proper calculation isn't sound logic. I'm not sure how you can be a "fan" when you are basically saying that only dumb companies would develop for Windows and that it Windows on mobile will be going away. Why would you be a fan of something insignificant and obsolete??? I'm not sure your brand of critique helps much. That brand only uses hyperbole to exaggerate the negative and can't recognize the positive. I tend to be bit more balanced in my approach. I'm a harsh critic of things like Microsoft using the "beg the prettier girl to prom" strategy by favoring iDroid over their own OS. I don't think a full pullback and cancellation of devices when the new wave isn't ready is a smart move. Being a critic doesn't mean being 100% negative all the time. There is no virtue in being a contrarian for contrary sake.

Of course I have only made a quick look at the calculations and it is obviously a tough sell for Windows. There is no way you don't understand that. Until Microsoft makes a compelling mobile platform, get used to software that is unavailable or outdated like the USAA app. That thing looks like it was designed for Android Froyo.

exactly.....and Your beloved microsoft is not helping matters when it comes to getting more apps on the platform either. Every day they are announcing layoffs, cuts and cancellations on the platform what do you expect, the devs to come running to WP? REALLY?

Do you know how many users are already covered because they use iOS and Android?

No. Do you? You only seem capable of copy/pasting the lowest estimated quarterly sales market share number you can find. Regardless, your exaggerations about the "hundreds" of players is so off, but you're not here to be accurate or have real dialog. You are on some strange mission to bash this OS and insult anyone who disagrees with you. Where are your "market share rules all decisions" comments on the app announcement stories? Your blanket "insignificant" OS bashing doesn't apply, so you vanish? I also suppose that developers shouldn't worry about expanding to other countries since they can lock up a nice majority of users by just including several of the largest? I know, that conversation doesn't matter because you don't get to say "market share".

dalydose, I am thoroughly enjoying this series of posts. Thank you for speaking the truth. I wanted to jump in but kept reading and you pretty much covered it.

Less than 1% is not accurate, but I am sure you are being sarcastic. I agree the marketshare is low in term of percentage, but do you really know how many Windows devices were sold last year or quarter. The number is in fact in the millions, especially is you include countries (new markets) where Windows device have a much greater market share (a respectabel one) than the US. That is a lot of potentially lost revenue.

Yes, Windows Phone (and Windows Mobile) have a low percentage of the market (just over 3% according to Gartner) - however we're talking in abstract terms because the number in the sample is massive. If you look at the total number of smartphones on the planet (estimated at over 2 billion), 3% of the market still equals over 62 million Windows phones. An audience of 62 million potential app users hardly seems like something to be ignored. Businesses exist to make money. A well run business will not ignore potential profit in an untapped market unless the barrier to enter that market is too high. Given that Microsoft has made it convenient to port iOS code using their bridge, I wonder what the ROI would be for them. Pokemon Go is generating over $10M per day in revenue. If it costs them $500K in development to port the iOS version to Windows, and the resulting market penetration generated just $10K per day in additional revenue (1/10 of 1%), the ROI would be 50 days. And I highly doubt it would cost $500K in additional develement to port. I would even argue Microsoft would help with the port as the PR would be lucrative (as they did with King and Candy Crush - which are just ports of iOS).

Wow, someone who doesn't just say "it's a business", but actually has some depth of knowledge and logic to back it up!

This. Companies are shortsighted too it seems. I have no idea why they complain about resources and then completely redesign logos, hire new CEOs, advertise like crazy to a saturated market, and then redesign their app, only to say, oh, it's too costly to develop for Windows or Blackberry. It's BS. It costs them more to do all the stuff I just mentioned and advertisement does nothing but cost money when you are actually getting users from word of mouth instead. 500,000 is likely far too high a number with the saved time using app bridges. It might MAYBE cost that much if starting from scratch, but why would they?

Lets assume that this 62 million of Windows phones is correct. Estimated 10-15% are W10M devices, that would be 6-9 million and WP8.1 devices that make the rest are soon history. Very few new W10M devices are sold and future of the platforms is in question. Franchises like Pokemon are for long-term, targeting this couple of million market with considerable expenses only to be forced to disappoint the fans later on just does not make sense, even if MS comes with big bag of money to get the game going for a year or so. Microsoft has no such issues though, just recently they announced that Skype for great majority of Windows phones users is no more come October but some companies take customer service seriously as its the key for success.

Okay - let's assume you're correct. According to DMR (dated Aug 3), there are ~20M active PGO users per day. It's generating them $10M per day, so we can average that out to $.50 per day being spent by every user. Let's use your conservative number of 6M Windows 10-Mobile devices that would be capable of running PGO. Given DMR's value that 5.92% of Android users use PGO daily, we can infer that there would be 355,200 daily W10-M users. At the average of $.50 per user, that would bring in $177K per day added revenue from W10-M. Per year would be an additional $65M. So even with the small number of W10-M users, the company is still walking away from millions of dollars. Even if that number was cut in half (177K daily users, and $89K in daily revenue), it would still give them over $32M in additional revenue for the year. I can't imagine the development costs would be that great to port their iOS code to W10-M.

Bit late here so can't quite get your numbers :) 6% of all Android users while just 1% of all smartphone users? Well in any case its a market of a small country, population 6M, country which is likely to vanish in near future yet requires its own app due choice of platform not used anywhere else. Not necessary top priority for developer when low hanging fruits are available in other locations.

Ah - my statistics can't argue with Windows 10-M "which is likely to vanish in near future". All I'd ask is what evidence is supporting that supposition? If you're referring to the decline in Windows 10-M sales, Apple has also had a decline in iPhone sales. Do you infer then that the iPhone is likely to vanish in the near future? Windows 10-M may in fact vanish, but there is no concrete evidence to support it. It's just one possible outcome. Microsoft may continue its dominance in corporate and W10-M finds a growth place there. We're just starting to see Windows 10 spread to XBOX, linking one more piece of the puzzle - universal apps. I admit I'm optimistic with where Microsoft is taking Windows 10, and hope that the platform succeeds. The market needs competition, and a strong 3rd place helps everyone.

Vhyr you got taken to class and schooled, then you go poof!! Classic
!!!

With current trend sales will hit the floor quite soon. Unit market share was ~ 0.3% Q2 and been halving every quarter since new 'strategy'. When sales are nonexistent and there was no solid base to begin with then you need to be more than optimistic to see platform having a future. About your numbers, how much is 6% of all Android users?

exactly next quarter it will be .1. their retrenchment stratagy is working wonderfully. And actually by all accounts its working exactly as planned. Since Nutella and his lemmings want Mobile gone anyways. retrenchment is 100% working satisfactory!

There is over 1 billion Android devices, some say closer to 2 billion. How is 6% of that (+whatever daily iOS users) only 20M? That said, there certainly seems to be some incentive for Niantic to make and maintain a W10M app after they have expanded to all the planned markets. vhyr does have a point too though, the perception (and likely the reality) of the future of the W10M platform is not appealing.

Having actually read the blog post, almost certainly Windows and its viability, or the feasability of bringing Pokémon to it, did not even enter the minds of Niantic in their decision. In our context at Windows Central it's notable because blocking all of the other, much more popular, hacky-grindy-cheaty programs also cut off puny PoGo-UWP which some dedicated Windows users enjoyed for a time. If anything, yes, those third-party apps were hampering their "ability to bring Pokémon GO to new markets," one of those markets might soon be Windows--who knows? :)

Stop crying people. You know exactly what you got yourself into when you bought a Windows Phone.

If you you don't use WP, you don't have the right to comment.

Is he wrong? Posted via the Windows Central App for Android

...and it does not matter if the comment was right or wrong ;)

I guess its like voting Bleached. iF you dont vote you can't *****! ha ha. I have a windows phone that I cannot give away so I DO HAVE A RIGHT TO COMMENT. and my comment was backed up by actions I dropped MS like a bad habit. They do NOT get any money what so ever out of me now! not a penny. It goes to other places that acutally care about their products.

OK ass hat you should take it a step further... REALLY show us how much you HATE all things MS/Windows and LEAVE a site entitled WINDOWS CENTRAL... that will REALLY show us... you go boi!

@Steve Adams I'll gladly take that windows phone off your hands if you really wanna get rid of it.

While I have no doubt 3rd party access was less efficient and an extra load on their resources, I am also leery of graphs that don't specify if their vertical axis is 0 based, or cropped to enhance the trend. There are both valid reasons to do so, as well as misleading reasons to do so. It's a bad practice (not disclosing the scale) that has become commonplace, and needs to be considered. Posted via the Windows Central App for Android

Screws this dude and his company because if they simply make an app, they wouldn't have this problem. They know there's demand for it on WP yet they choose to ignore this,"opportunity". I hope their servers very hacked and crash!

Waaaahhhhhh, thats not very snoopy like! or Joe cool....

Who really cares. its a freakin game!

What happened to it is going to be so easy for these developers to port their apps????

People stopped bying Windows Phones.

As long as they don't stop buying Windows Phone, then we are good.

As long as the Android trolls are here, Windows on phone is doing very well.

The developer has to be willing.

If it's as easy as they claim, they'd be willing to do it, even for the free couple million window phone users.

A couple million Android phones are sold each day! Supporting Windows 10 Mobile would literally be a waste of resources. Why would they choose to make a Windows Mobile app instead of a Tizen, BBOS or Symbian app? Tizen will likely be around longer than W10M. Posted via the Windows Central App for Android

It wouldn't take resources if it is as easy as Microsoft claims. And they don't sell millions every day.

No necessarily. They would have to do more than just port the app and call it a day, they would also have to support it and send out updates. If they aren't willing to provide continuous support then it doesn't matter how easy the game is to port.

The absolute numbers don't matter, the proportions do. If they have to spend 2% of their time maintaining the new version, but that only offers them access to an additional 0.7% of the pool (W10M's share), it's not worth it. In other words, it's not worth it.

I love graphs without labels on the y axis. Maybe traffic fell from 100 traffic units to 99 traffic units. Now, if the ordinate intercepts the abscissa at zero, and the scale is linear, that's something else.

He he he .... You are the man bro

This server load is all because of the cheaters using the bots

SERIOUSLY doubt that added load was from WP users... Agree this is from 3rd party bots hitting the servers...

It's really sad we can't get developers to make apps for w10 smh

We do. Just some only care about money.

What other platform is using a third party version of this game?

Android side loaded with mods

True, I saw this coming too.

Bring it to Windows 10 Period

It is time to hack them. Hack them good so they learn the lesson.

Actually, I think this would happen regardless of a 3rd party windows app.

So mature. Lets hack them because they want to protect their intellectual property they OWN. ASS HAT>

@SA Why have you grabbed my term, ok its not MINE but I KNOW I was using it well before you.. now I know Android and iOS people have a hard time coming up with something original but do try... or are you trying to still find the best turtleneck to match your iPhone... :)

I have been using ASS HAT for decades...not exactly a new term or anything....I think Nutella has enough black shirts and jeans for all of you....and there is nothing original in windows that for sure. how about fucktard...that a new term for you...i think it is!

Oh yeah, you're really going to teach them a lesson.

It's time to stop playing their game, so they really learn the lesson. Oh wait, they did it themselves ;) It's time to stop consumer use of Windows mobile, so MS learns the lesson. Oh wait, they are also doing it themselves :D

I have an awesome simple solution to all this....buuy a foooking iphone or android device instead of yesterdays hack windows phone and play the fooking game..... She cut off my FOOKING SKIN! ha ha....

instead just use bluestacks... any game will get bored after 1 or 2 months. No need to purchase new phones... I am sorry did they blocked the game for Bluestacks too ?

Most posts I've read are really from Android cry babies. Post like these, wait a little and they start to po(o)p up. Some even have a signature. ha ha.....

android "crybabies" can play the game at least...most of the crying I see here is butthurt windows mobile fans..

Well. With Windows 10 having 93% market share and about to launch full windows 10 on Phones via x86 they will have to bring it to Windows 10 or lose alot of audience as ARM OS phones lose market share over the next few years. Just like Surface and hybrid tablets are taking over iPad and android tablets market share. Because MS killed off Windows RT. The same as Windows Mobile will die for full windows 10.

There will not be x86 Windows phones. You should try keeping up with the news.

unfortunately the x86 from Intel for phones was canceled. I think ARM is here to stay. They could still make a UWP and it would attrack many more to play their game, but ARM is not going away and x86 is not taking over.

If Microsoft did not want winmo to fail, they could save it. A little agressiveness in the market place can do wonders, however....NUTELLA wants it to die.

Screw this dude and his company because if they simply make an app, they wouldn't have this problem. They know there's demand for it on WP yet they choose to ignore this,"opportunity". I hope their servers get hacked and crash!

waaaahhhh crybaby. Screw microsoft for making such a ****** phone experience that no one cares about. that should be what your screaming. Because...at the end of the day, that is what the TRUTH is.

The phone experience in windows 10 is as smooth as a babies bottom; the tooth patch had always been apps which developers make and are biased towards. If they bring the apps, users will come. The number one complaint about windows phone is not the OS, it's lack of apps and Microsoft has provided developers with tools to make porting apps easy, so it's straight boss now!

Yep windows 10 mobile is straight boss alright. since announcing UWP and all this porting app nonsense, they have gained so much market share and new users. MS is KILLING MOBILE "LIKE A BOSS".....open your eyes OMG55 and take off the windows blinds. You may actually see what I am saying.

Honest question here. If you hate microsoft and everyone who uses their phones so much, why do you stay here? Aren't there articles available for iPhone that you could be posting on to help others?

I don't hate anyone who uses windows phones. I don't even hate nutella, I hate what he has done to the entire windows consnumer product base. I get a kick out of the users who are staying here saying windows mobile is increasing that all these apps are coming, all thse great things are coming....but guess what, they are NOT. It is planned that way from MS. They want nothing to do with mobile. Their whole mobile first windows first mantra was for apple and andorid phone users...not having a MS mobile platform. If that is NOT true, then MS has a downright piss poor way of trying to get some market share with it. I am a realist. I am not looking through rose colored windows panes anymore. I was on the other side of the fence just a month or two ago....but i started getting fed up with all the constant bullshit from MS and Nutella. They are solely enterprise driven and could care less about the consumer. I see that now, and most everyone here who is NOT using ms for enterprise should as well. The consumer means nothing to MS.....NOTHING.

Although the story on this site references PoGo-UWP for obvious reasons, I think it's worthwhile to note that the blog post it came from does not. The story is that there were so many accesses from non-sanctioned vectors that Niantic had to rein it in so that they could focus on quality and availability for everyone. This was not an action to target Windows--availability on our favorite platform is another debate--but it certainly won't happen if their developers continue having to struggle through all the third-party game apps, finders, and who-knows-what that were crawling around in their service.

Leave it to windows users to make it all about them!

Did I miss something? Windows users made their infrastructure to fail? Well... for a SO with "so few users" it's quite a deal

It wasn't just WP users. Android had several 3rd party apps using the same API. It was a combination from everyone including WP.

PokeVision site (which used the exposed API) alone likely had more users than all of W10M user base. So no, W10 users did jack **** to their infrastructure.

lol that chart is a joke. Without knowing the increments of the Y axis, the presented information is useless.

They could have changed the api to not allow hammering...

They posted a graph, but failed to mention the Y-axis scale. Would've been nice to know numbers.

hahaha yeah totally. The graph looks dramatic, but that's exactly what I was thinking. Without any kind of numerical reference, that graph is meaningless.

"The nVidia school of graph making"

I've been using Nox ON my surface. With fake gps, I don't even need to be wasting gas going places anymore.i don't even need an android phone. PC Gaming wins again!!

That's the bullshittiest answer.

I can't believe there is so much talk about a game. It's a really sad time for humanity. Sheepism runs deep...and for such a stupid game.

I have an android phone and tablet yet I don't want to install this game, Its your damn opinion if you like to intall it or not, by the way, I'm switching to WP, any ideas not included 950 or 950xl? Posted via the Windows Central App for Android

The graph actually does not tell much. There is no indication of what is shown on the vertical axis. If the scale is single units, ie they zoomed way in, of even the bottom of the graph does not have to be zero.
It's not their first app why not encrypt to begin with so they must have wanted to create an additional buzz by developers to try and use the api.

I do find it funny that most only make IOS and Android apps but I am hoping this starts to change with more windows 10 tablets being sold as well as the Xbox one able to play windows 10 apps. I am hoping that with the small amount of interest in pogo that the developers can see there is a market for the game on wp. Ok their are only a few million customers on WM10 but it's still a few extra million people playing the game.

Ok, are you going to run around town with your xbox one trying to catch 'mon's?

Well I mean maybe if they actually got servers that are better than some **** I could put together in my backyard in 5 mins there wouldn't be an issue. But I guess that's asking for too much. Posted via the Windows Central App for Symbian

the explanation is very logical and understandable. Why would they want to loose direct revenue and at the same time spend time and money to make sure that expereince is good around the world and on top of it face ire of their users who would complain of not getting the desired level of speed and performance as they would expect?

Please give up Pokémon go in wp.

Does anyone commenting on this blog even know what UWP means??? It means that an app developed for UWP will automatically be written for Windows 10 Mobile! What percentage of market Windows 10 Phone has is completely irrelevent! The issue is that Niantic refuses to make their app available on WINDOWS, period! Niantic is blocking anyone with a WINDOWS O/S!
Windows Central Newsletter
Get the best of Windows Central in in your inbox, every day!
Thank you for signing up to Windows Central. You will receive a verification email shortly.
There was a problem. Please refresh the page and try again.