Pokémon Go developer reveals why it banned apps like PoGo-UWP from accessing its servers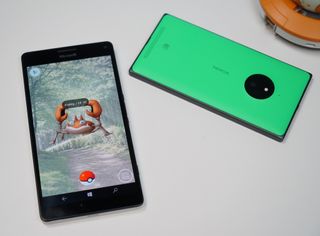 Pokémon Go developer Niantic Labs has offered an explanation on why it has decided to ban third-party apps and services from accessing its servers, such as the Windows 10 Mobile app PoGo-UWP.
Many developers have tried to access that data ever since the popular augmented reality game launched in July. Some of those apps were made for cheating in Pokémon Go. In the case of PoGo-UWP, it was an attempt to make a version of the game that worked with Windows 10 Mobile, which accessed a third-party API that was connecting to Niantic's servers.
The PoGo-UWP app became unusable earlier this week after Niantic banned these third-parties from its servers. In a blog post, Niantic says those efforts actually delayed the launch of the game in Central and South America due to too much server resources being used by these outside apps and services. It even showed a chart that revealed just how high server resource usage was before and after the ban on third-party access:
Niantic added that there are also attempts to flat out hack its servers. It also doesn't expect to see this kind of activity to end. However, it's very interested to learn that this kind of unwanted access could result in real delays in Pokémon Go's expansion to other markets. However, it also means that apps like PoGo-UWP will not be allowed anymore.
Get the Windows Central Newsletter
All the latest news, reviews, and guides for Windows and Xbox diehards.