Pokémon Go app PoGo-UWP adds Pokedex, line inventory and more with latest update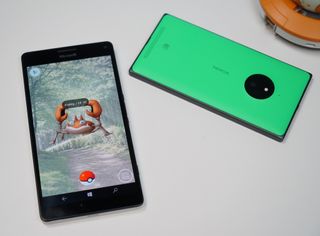 The third-party Pokémon Go app PoGo-UWP for Windows 10 Mobile has released a major new update. It brings the app up to version 1.0.29 with a number of new features, such as the addition of the Pokedex and item inventory.
Here's what's new and improved with the latest PoGo-UWP version:
Added item inventory
Added Pokedex
Added battery saver mode
Added level up notification
Added hatching notification
Added new translations
Improved update system, now we can remotely disable the app if some game-breaking change happens
Improved network Handling
Improved UI
Improved app messages to make them more useful
Fixed catching bugs
Fixed bug in proto files that caused wrong values to be sent to server
Fixed resume to map page after suspension
Fixed a lot of other minor things
Finally, another big change is users can now just copy the Appx files to their phone and direct install through File Explorer. No need to use developer portal and secondary files! This improvement should make it a lot easier for regular users to use and enjoy.
Keep in mind that this app is not approved by Pokémon Go developer Niantic Labs. Using PoGo-UWP could result in having your Pokémon Go account being banned permanently.
How to get the 'excellent' bonus?

I wonder the same thing, and I'm playing the official game on my backup phone...

I play the real thing. None of my friends play this version because they don't have Windows phone.

Pay attention to the circle around the pokemon. 1) Nice, Good, and Excellent bonuses happen when you throw the ball into the circle. Nice happens when it is big. Good happens when it is in the middle. Excellent happens when it is very small. 2) The color of the circle tells you how difficult catching the pokemon will be. Green>Yellow>Orange>Red in easiest to hardest. 3) The size of the circle also tells you your chances of the pokemon staying in a ball once caught. Smallest seems to be the highest chance of staying. Some of the pokemon are pretty far away, which also makes it harder to catch. In general, I try not to use a normal pokeball on anything over yellow unless it is very weak or common. Also, if it is very weak, since I'm not great at getting excellent, I aim for nice or good since I can consistently get those. Happy hunting.

Nope, gotta catch 'em all!

Yyay i love this app more than life

You obviously haven't played the official app then

I like this app for graphics but the full gameplay would be nice

Can we catch pokemon in lure now?

Until Niantic approve this app, I'd say I'm better off not installing. Don't get me wrong, I'm glad the devs are giving it their all, but I'd rather not risk my account getting banned (apparently using anything other than the officially released Niantic clients WILL get you permanently banned without appeal from the get go, as will playing on an Android emulator from what I can gather, and I'd rather not run the risk), since I have friends that want me to play with them. I am looking for solutions though. Possibly using either an iPod Touch connected to my Lumia 950, or using the previously talked about SecureBoot leak to get Android on my Lumia 950 to get access to it (though I'd rather dual boot, but that won't be possible at first, which is a shame as I love WP and would use it as my primary boot, but there's a couple of apps I'd like to get hold of that aren't available on WP in any capacity that won't get me banned from said service)

I played on Bluestacks. Used location spoofing. Got a 4 hour temp ban. I don't think they ban you for using an emu. And Also this app makes it think that you're on an iPhone.

They do ban for messing with the GPS in any way.

Yes that's why I got banned

Yes that's why I got banned

If you're an Amazon Prime member, you can get a fairly decent-specced Android phone for about $60 - connect to your Lumia's WiFi hotspot, and you can play that way. That's what I did, and I haven't had any issues. Two phones get kinda annoying after a while, though, so I might test out the PoGo app with a burner account and see how it goes.

yeah, it's the 2 phones thing for me too. Swapping SIMs is the most annoying part for me (I only get 30GB when tethering, but unlimited if not tethering, it's also the reason I'm not overly keen on the iPod Touch solution for Periscope), since I'd need to swap SIMs over to make the most of my data. Also hence the reason I'd like a dual-boot option for my Lumia! Rebooting the phone isn't too bad since I do this often anyway (to free up any resources that have got locked out, I probably don't have to do it on WP but I do anyway, so meh). I don't have Amazon Prime though. A year or 2 ago they changed the prices and implemented a sharp increase of like 60% (from £49 to £79, yearly, all to add Amazon Instant Video which is useless to me), so I bailed.

You don't need a sim to play pokemon, i use tether on my lumia 950 with my old moto g 4g on wifi

Limited tethering data, unlimited data when not tethering. Yes my carrier does block tethering if you hit the limit. No I won't switch from Three because they're the only carrier offering unlimited 4G without throttling (that I know of, Giffgaff offer unlimited data but it gets throttled hard after like 6GB). That's why I'd rather not have to worry about carrying a second device. Don't want to be having to frequently swap SIMs, and I do plan to do a lot of Periscope too, which does hammer the data. So I would likely start hitting limits fast.

Use the InteropTools to remove tethering limits (assuming it's part of the registry values)

Nah, it's done at the carrier level (It's an unlocked CV, so no carrier branding, Three never stocked the phone so I bought outright), by data packet sniffing or something like that. So InteropTools unfortunately wouldn't work. Good suggestion though, will have to bear that software in mind!

You said 30 gbs. THATS A LOT!!! You will reach less then maybe 5% of the 30 gb of data using Pokémon GO. A phone doesn't use that much. Only if you are using your data a lot with many thing will you use a lot. Many people only have 2.5 gb or less available to them.

You said 30 gbs. THATS A LOT!!! You will reach less then maybe 5% of the 30 gb of data using Pokémon GO. A phone doesn't use that much. Only if you are using your data a lot with many thing will you use a lot. Many people only have 2.5 gb or less available to them.

I'll be doing Periscope a lot too. That's gonna drive up data usage hard, That's where the tethering becomes an issue... :(

O2 doesn't throttle either and there's no limit on tethering just fyi.

O2 also doesn't offer unlimited data. Which is why I'm on Three.

That's true but they have 20 gb and 30 gb plans which is sufficient for most even with tethering but yes if you use more Three is the way to go for sure.

i've been using PoGo on my W10 phone since it was released (except when they blocked the API) and have suffered no bans, the servers think your running on an iphone and as long as your not GPS spoofing and hopping all over the globe / county there is little risk of a ban.

Buy a cheap Android or iPhone at your local used electronics shop. A Samsung Galaxy s5 can be had for about fifty bucks, and it will run Pokemon go... It's a piece of junk, but it will work, or at least mine works. Posted via the Windows Central App for Android.. But waiting for the HP Elite so I can get rid of this junkie Galaxy S5...

Where can I get an S5 for $50??

I beg to differ. The S5 is still a perfectly good phone. It's a bit laggy, but still has great specs and performance.

What you could do is make another Pokémon trainer account just to see how good this app is and if your account gets blocked after a while. That way the risk is lower

Who cares if you get banned, it's a mobile game which you will stop playing. Lol

got a coleague banned for using this app, Niantic states that 3rd party apps... bla bla bla a shame...

You only get banned if you try to travel via teleport,use nox its better

Can't install app it says failed to start deployment. Package was not install (0x80073cf1)

Change app installation location to phone not SD

I just installed and apparently you don't need to add any dependencies for this version?

No just download and install the appxbundlle

I tried. Pressed install but nothing happened. On the internal memory.

Make sure you're on developer mode and give it some time to install there is no any indicator for installation process

Same here.
Same error on my L930

Is this game available only after windows 10 upgrade.....?

Name itself says all PoGo-UWP

People still playing this? I just read it was loosing players by the thousands

Sure, it lost 20%, but when you're the most downloaded game in history, what's left over is still a huge amount. But thankfully the hype has died down.

I was thinking the same. Not seeing anyone near me

So now its a great timing for Niantic to make a Windows app for this game. It will refresh it I guess with new players

Great work they are doing!
Sad that my account was banned last monday night. ;(

Sorry to hear that. That is the big fear I have for using PoGo.
Of course, huge props to the developers for working hard.

Was your account banned for using this unofficial version of the game, or some other reason?

I dont know. I used the same account in an iPhone, an iPad, my Windows Phone and two times in Bluestacks (just to receive the itens we got when level up), loged in one device each time. In six days that my account was created I was logged out and since then not be able to login again.

There was a recent Pokemon Go update that started requesting device IDs - accounts using the app without a valid ID are getting flagged and banned. The current PoGo app spoofs an iPhone, but there was an unsafe version that got out before the team noticed anything... Could have been that, or they might have noticed the lack of iPhone or Android ID from Bluestacks.

Splendid, good going guys !!!

This app is a fine replacement for a real Pokémon Go app. It's not the real thing but at least we have something close. Now if they can get animations working. That would be crazy. But i think that's asking too much.

Some sort of 3D support is actually being worked on at the moment. Cant give any promises though.

that's great news, knowing that they're really trying. Gotta love the WP Dev Community. BlackBerry had nothing close to this.

Indeed, one guy as been working on exporting and texturing all the models in the game :)

I've been following the project on GitHub, and it looks like they've got AR and animations both in the works. It's just taking a while to implement, since it's such a big job...

I like it POGO #POKEMONGO

Is this game available in India?

Why this question? It is available in India.

"Why this question?" Cuz what other question could possibly be asked? What I want to know and no one has answered is when Mars will be able to download this? Matt Damon wants to play and he's stranded there....

ITS IN THE ARTICLE. Jesus christ

Yeah was expecting that update but... I think I got banned a few days ago :(

If it was easier to install I'd try it, but frankly I don't care for these sort of sideloading methods. And I'm not that crazy about Pokemon Go, in fact, I think it's garbage.

It is very easy to install, just download and wait, you will get a notification it has downloaded, click on it and it will take you to downloads, press and it will ask if you want to install, there is no progress bit it will just appear at top of your app lost

You can download the file arm.apxbundle to your PC, launch your browser, go to the IP from your phone like before and just add the 1 file to install (no more dependencies). You can download the arm.apxbundle file to your PC, copy and paste it to you phone. Go into File Explorer on your phone and install it from there. I was not able to download directly from the github site from my phone. Maybe others do not have this problem.

Need to update installation instructions.

I agree.. With this new way of getting the game, the installation instruction video needs to be updated as well.

Wow! This update is really bringing the game closer to the real app!! Great work by ST-Apps!

Does anyone know if the items in the menu are usable, and how to use them? Thanks. Great update guys, big improvement!

Items can view.. But use is not working

Way to go devs!! I'm glad there are devs out there committed to helping WP grow. Hopefully Niantic pays attention and make an official app.

Honestly I don't want an official app anymore because. This app is made by the community so it can be whatever the players want. Like I love the new Microsoft band support, do you think Niantic would have added that?

I'd really like to see how this turns out. Personally the app pisses me off, I've almost been hit more than once because people like to drive and play it. But the idea of an "open source" (don't really know how else to describe it) solution to popular apps intrigues me. I seriously hope the devs finish this before Pokemon Go losses all it's steam. I would love to see Niantic use this as a solution to deploying on windows. If nothing else, everyone that's working on it gets some good credit and experience for future projects.

And also this version of pokemon go is illegal. The app is dangerous people hack etc

Niantic doesn't need to use this to deploy to Windows. Unity offers everything (but the Google Maps API, but Windows has a similar Bing Maps that works just the same) they need to publish the exact same game to Windows. They just don't want to.

There's a lot more than just clicking a button to release an app like this on another platform. There is still maintenance that has to be done, as well as initial tweaks that need to be made even after unity recompiles it. People don't seem to understand that the payoff is always projected to be worth the investment. In a world where apps are build and maintained by the public, that equation changes drastically.

Of course there's some fine-tuning to be done, but it's not like building apps for different platforms (being a developer, I know how much time is wasted by having to make it all over again) but Unity has done all the dirty job for them. A game developed there can be compiled to many platforms with the exact codebase (something like UWP or Xamarin Forms, though xamarin still requires platform specific code). Except for the absent google maps API that could be easily swapped by Bing maps (Microsoft itself has shown how easy it is) if Google wasn't so bitchy about it (niantic is a google subsidiary). They won't release because google simply refuses to allow other product to be used on a market they refuse to enter.

Niantic WAS a Google subsidiary; they're pretty much independent now

True, but Google is still one of its major shareholders, so their opinions still affect their choices and products. Also, it's good to remember that Niantic heads used to be google employees so they'll most likely favor their services

I got banned a few days ago...

I've only attempted to sideload 2 apps ever, this one included, and it fails. And Im on fast ring insider and setup for developer mode. Anyone have any ideas?

You sure? It doesn't have an UI for that, you just have to sit and wait for it to appear in your app list

Make sure you also install dependencies and your choosing the ARM release

I eventually got it installed last night. I didn't realize you had to wait around awhile

Anyone know when/if an official app will be availeble?