Poki, Ally Bank and more are your app highlights for the week!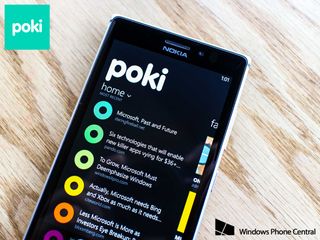 This past week was relatively quiet for the Windows Phone Store. Not too many high profile apps or games joined. There were a few, mostly related to the 2014 Winter Olympics in Sochi, but other than that it was fairly slow. Nonetheless we'll pause and look back at this week and highlight any noteworthy new apps, app updates, and games. It's time for another weekly app highlights.
New
Poki – Welcome Poki to Windows phone. It's a phenomenal Pocket client for Windows Phone that is worth trying, even if you're not a Pocket user yet. The app is that good. It's a beautiful experience for Pocket, the service that allows you to save articles from the web for later reading. Grab Poki in the Windows Phone Store. (Trial/$1.99)
Ally Bank – Another bank app joins Windows Phone! If you're an Ally Bank customer you need to grab the new app for Windows Phone. It just came out this week and offers you the basics of mobile banking. You can deposit checks, transfer money between Ally and non-Ally accounts, and find nearby ATMs. That's in addition to the typical things of checking balances and more. Grab the Ally Bank app in the Windows Phone Store. (Free)
Ravelle –Need a new app to spice up your photos? No, this isn't another app with a billion filter options. Instead it's Ravelle, a new app for Windows Phone that lets you put text over you photos. You've got plenty of fonts to choose from. Grab it in the Windows Phone Store. (Free)
NBC Sports Live Extra –Into watching sports live on your Surface or Windows Phone? Then you're going to want NBC's new Sports Live Extra. It's available on both Windows Phone and Windows 8. You get free access to the Olympics right now, but you'll also be able to keep watching sports like the Premier League or NHL by being a cable, satellite or telco customer in the United States. Get it in the Windows Phone Store or Windows Store. (Free)
Printicular – Have you ever wanted to make your Instagram pictures a little more real? Then you're going to want to get Printicular for Windows Phone. It's an app that lets you print your Instagram pictures. You can pick up prints at nearby Walgreens. Get printing in the Windows Phone Store or Windows Store. (Free)
Updated
LastPass –Our favorite password management platform just picked up an update for its Windows Phone app. LastPass now supports multifactor authentication options and has support for the latest enterprise policies. Go update LastPass in the Windows Phone Store. (Free)
Instagram (beta) – The official Instagram app on Windows Phone picked up a small update this week. At first we couldn't tell that anything had changed, but after a few days the community picked up on it. Instagram now supports notifications on the Lock screen. Nice. Go update in the Windows Phone Store. (Free)
6snap – Rocking Rudy Huyn's Snapchat Client? Then you'll want to update 6snap. Earlier this week the app went to version 2.7 where it improved group functionality. That's not all though. 6snap now allows you to adjust the brush sizes when doodling on snaps. Impress your friends and get the app in the Windows Phone Store. (Free/In-app purchases)
Foundbite –Foundbite is an exclusive app for Windows Phone. It's a mash-up of photos and sound and it's awesome. The latest update packs in localization for Italian, redesigned Live tiles and tons of bug fixes. Grab the newest version of Foundbite in the Windows Phone Store. (Free)
Games
Hot Rod Racers –Racing games are ridiculously fun. Here's a new one that's potentially worth checking out from Miniclip. Hot Rod Racers for Windows Phone works on 512 MB devices and is a fun way to kill time. Grab it in the Windows Phone Store. (Free)
Rayman Fiesta Run –If you're in India you're going to love this bit of news. Rayman Fiesta Run is currently available in the Windows Phone Store, but it's only showing up in one region – India. The game is an insane amount of fun and does work on 512 MB devices. No clue when it'll show up in other regions, but let us know if you're able to download it. Get it in the Windows Phone Store. (About $1.99)
Have any other fun games or apps from the week? List them below!
Get the Windows Central Newsletter
All the latest news, reviews, and guides for Windows and Xbox diehards.