Popular and portable NFC-enabled Bluetooth Speakers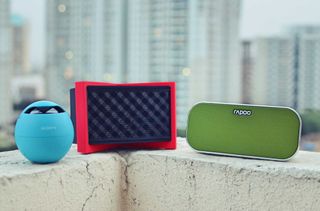 When I bought my first desktop in college, I had a fancy 2.1 speaker system along with. I was the cool guy around, and lugged around those to college parties and family get togethers.
I haven't used those in a couple of years now though. There are some fine Bluetooth speakers in the market and while they can't obviously replace a high quality speaker setup with a subwoofer or something, the portability and connectivity options are a great advantage. The latest range of Bluetooth speakers are also NFC-enabled that allow pairing your smartphone with just a tap.
We are familiar with Nokia's JBL Power-up NFC speakers but let's have a look at three popular NFC-enabled Bluetooth speakers that I've been using extensively at home for a while and carry on my travels as well.
TYLT TUNZ
TYLT TUNZ is arguably one of the best options available, although a tad expensive. The speaker features a stylish front grill with four rubber buttons – Volume, Play/Pause, and Call/Answer – that do not click like regular buttons but essentially respond to taps. There's also a built-in noise cancelling microphone allowing you to take calls without picking up your phone.
The TUNZ contain two 3 Watt speakers with a passive radiator that produce a fuller sound, and an impressive bass quality for its compact size. The accompanying silicon band (available in three colors) looks great like a stand and also solves the problem of vibration that most portable speakers suffer from when placed on flat surfaces.
The speaker packs in a 2800 mAh battery that lasts for few days with intermittent usage. At full volume, it would last an entire evening which is good enough. There's also an interesting addition – a universal USB charging port with 1A output allowing you to charge your phone or similar devices while playing music.
The TYLT TUNZ speaker is available over at Amazon.com (opens in new tab) for just over $95 US.
Rapoo A500
The A500 is a nicely designed and light-weight portable speaker from the popular Shenzhen-based accessories brand. Constructed from bio-fiber materials, the speaker is available in a choice of colors – pink, blue, orange, green, white, black, and golden.
The build quality of the speaker is pretty good and it offers decent sound quality. While the high and low notes are good enough, the speaker misses on rich bass as is often the case.
The speaker requires only three hours for charging, and delivers up to 10 hours of play back on one charge. Like other portable speakers, the A500 also includes a microphone for taking calls but the voice on the other end is distorted, and the call quality is average.
The Rapoo A500 is running in the neighborhood of $75-90 US and is available through various International sites such as EasyBuy out of Indonesia. You can also find them on Ebay (opens in new tab).
Sony Wireless Speaker SRS-BTV5
The Sony SRS-BTV5 scores the maximum points for portability due to its unique design. Shaped like a ball, the speaker has a top vent for the audio and a flat base. A covered slot along the side packs in the AUX input and microUSB port.
The speaker is available in several bright colors like blue, pink, white, and black. The build quality is solid, and the speaker feels very good in the hand although a little on the heavier size for its size.
The compact speaker isn't very loud and you'll miss any bass or high treble but the audio quality is quite clean. The sound from the speaker is not sufficient not fill a room, but it's not a disappointment.
The SRS-BTV5 also doubles as a loudspeaker when taking calls and surprisingly the audio quality of the speaker as well as through the microphone is pretty good, although again, not the loudest.
The Sony SRS-BTV5 is running in the neighborhood of $50-60 US, comes in a variety of colors and you can find them through Sony direct or Amazon.com (opens in new tab).
These NFC-enabled Bluetooth speakers are good value-for-money, and come with a carrying pouch in the box which makes them easy to pack it in your bag. While each of the three offer a unique design, all of them are quite functional and look good sitting on your desk. Since the speakers can also be used for taking a calls, they are a handy device to do a casual conference call between a few people sitting around.
Which is your favorite portable speaker? Is NFC a feature you prefer or is Bluetooth and audio-in jack all the connectivity options you need? Tell us in the comments!
I like these articles. It is like a reminder of the cool stuff we can get to make extensions of our smart phones and enhance our lives. Too bad I'm dirt poor right now.

Don't be sad bro.. U should always thank God that your richer than 90% people of world as you eat three times a day, sleep ina good home, and have access to internet :)

Yeah, I agree. I've often thought about an nfc Bluetooth speaker but I'm greedy so I want it to wirelessly change my 920, but I'm also cheep, so I can't afford what I want. *1st world problems*

The WP Central store has a $99 speaker with wireless charging. Haven't a clue if it's good but that's pretty cheap at least.

Ooh, thanks I'll take a look

http://store.wpcentral.com/zens-bluetooth-speaker-and-qi-wireless-charge...

What about the Logitech UE series. Consistently rated some of the best

I have the Logitech UE mini boom speaker and for $50 it is amazing, and the battery life is incredible. I would recommend it over a lot of the $100 speakers.

Are there any water proof ones? Or at the very least, splash proof ?

The TDK A33 I have is supposedly "weather proof" whatever they mean by that... Haven't confirmed it myself :)

I bought a shower one for $17 with my prime membership... I probably use it more than I'd use these lol

try the Creative Sound Blaster Axx 200 it maybe expensive, but it's the best bluetooth NFC speaker you'll ever buy

I bought the Creative Muvo 20. It's pretty darn big and the sound quality is very good.

I intend on going all out and getting the sonos end of this summer. Looking FWD to using this phonos app

People will get the wrong message

I have a TDK A33 Bluetooth speaker which I love. Good sound, great bass and decent battery. I don't understand what the benefit of NFC is here, can anyone explain?

I got that speaker for my sister and I agree, it sounds great. I guess the point of NFC is to connect faster, but it's certainly not necessary in any way.

Doesn't that require that the phone is touching the speaker? I don't have any issue with Bluetooth connectivity at least, but maybe NFC is more convenient.

It still uses bluetooth... it's just to pair the device quicker than the whole normal bluetooth entering passcode process... definitely not necessary, but it makes it easier for those who dont know what they're doing.

It certainly makes it a lot easier to test a device in a store with hundreds or thousands of Bluetooth devices.

Oh man! Those poor guys who run the store xD

true, once connected for the first time your phone remembers anyway, so as soon as you turn the speaker on and your blutooth it will connect automatically! good gimick though. I have the Nokia play up and I'm happy enough with that! decent for holidays etc!

Not a requirement, but its nice if you have it. When you first connect, just tap the thing with your phone and you are connected without figeting with pairing and entering codes, etc.

What's the battery drain when using one of these with your phone? Pretty reasonable?

My battery life using my Lumia 1520 with a Samsung Bluetooth speaker and with my car bt is really decent, I think maybe 5% per hour.

JBL playup from Nokia for the win!!! ;)

Agreed! Fantastic speaker.

Yes, that thing is awesome! If you just could pair it with one of its kind to get stereo sound, like the Play360 could ... why did they remove that? :'(

The beats audio option is better than the three options listed in the article? The beats product price is higher but the audio quality is really better?

Creative d100 beat bang for your buck -no NFC though

Love my JAM Bluetooth speaker...$39...sound is awesome!

I want to buy a Lumia icon and use it on another network will I at least get 3G and is it a big difference between 3G and 4G I want this phone so bad please give me some advice please

Wait for the 930 it's the international version of the icon

I can appreciate articles like this but please proof read before you post... Too many articles are posted here and on Android central that don't seem to have been read over by a different set of eyes. Again, I appreciate the work you guys put in and just wanted to offer some constructive criticism. Posted via the WPC App for Android!

I have the Sony SRS-BTX300. After going to bestbuy and listening to all of them, this was the best bang for buck for me. It sounded better than both the jambox and the logitech UE speakers. The best sounding speakers that I found was the bose soundlink, although i'm not sure it has the NFC pairing option.

Yup, the Bose Soundlink Mini is simply amazing... No NFC though.

I am enjoying my Sharkk Boombox. Decent sound, good price and it has NFC that works great along with.

I have the Nokia Play 360 (just one unit, so no Stereo sound for me), but I have to say I am slightly disappointed. The sound quality (coming from Sony 7506 headphones) are acceptable at best. The biggest downfall of the the speaker is that it is not very laud. I am not expecting a sound quality that rivals my Sony 7506 headphones, but for nerly $100 I do expect my speakers to fill a room with 5-6 house guests having a dinner party. In its current iteration, one Nokia 360 lacks this ability and therefore I would advise against it.

Any wireless speakers that use BT 4.0?

I don't think it's necessary

I use my Jawbone Mini Jambox...

What about TDK's stuff? I think all of their stuff is incredible.

what about the jambox, nokia 360 and md-12. I own two nokia 360. I have had them for over a year. They are the best portable bluetooth speaker for me to date. Reasons, actual 360 degree sound experience, good base, clear mid- to high frequency audio. Over 21 hours of continuous audio, two 360's kan be wirelessly daisychained for 360 left and right channel audio, pairing and calibration occurs autiomatically. Battery is replacable, coupling can occur with your smartphone via nfc, it includes a neprene cover to keep it dustfree. It's light to carry in a small package. Ideal!

Damn, promo or just really loves the 360.

Is the bass really good? I almost always hear that the 360 only has average sound quality. That's why I got me a PlayUp ... but they removed the ability to pair them for stereo ... that's so sad! WHY NOKIA? WHY?

It's not available in every market, but the Loewe Speaker 2Go has superb sound (with subwoofer) and a stylish solid brushed aluminum (or black) case and has NFC and a handsfree feature. List price of 299 euros, but often discounted.

These speakers are great. Especially when working in garden. Or BBQing. I have JBL Flip. It lacks NFC, but so does my phone. It's awesome.

I use a Sony MBR10-RBT headphone and a Logitech Bluetooth Speaker every day. I love to have no wires at all. Charging and listen to music in combination with NFC and display it via miracast could be the future for car entertainment and other systems. If you want to improve the sound quality for your future bluetooth devices, please vote at uservoice: apt-x-support and equalizer for bluetooth connections. It is one of the things I still want for Windows Phone :)

Can you provide a link, please? :P (to UserVoice)

Here are the Links to the Uservoice suggestions: APT-X @ Uservoice Bluetooth EQ @ Uservoice Thank you for pushing the vote!

Try Ebay http://www.ebay.com/itm/281353532392?ssPageName=STRK:MEWNX:IT&_trksid=p3...

Not NFC, but the ECOXGEAR ECOXBT is great if you want a waterproof Bluetooth speaker. Loud enough to hear clearly over the shower, excellent battery life, rugged casing and if you put it in water it floats speaker-side up.

I got Nokias own JBL PlayUp. It's also quite good imo. Though I miss the option the Play360 had which would enable it to pair itself with some of its kind to provide stereo sound. :/
I hope they will make a speaker in the future that has this feature again! I think its great.

I've got a Damson Audio Twist. It's not a speaker in the traditional sense, but it turns anything that you put it on into a speaker (windows, tables, whatever) which can make it quite loud and with an the tonal qualities change with whatever material you put it on :)

Forget everything get skullcandy 2xl ringer.. Its amazing in design sound and lighting effects.. I got it from amazon.in at ₹1000 roughly 18$

Creative SoundBlaster Roar. Good sound quality and reasonably price.

Jabra Solemate Mini, ftw !

I am puzzled that this generation of bluetooth and now NFC portable speakers have only one advantage over 1990s vintage portable speakers - - size/weight. Their costs are comparable to the earlier speakers like the excellent Sony sets with powered amplifiers, but their sound is weak and tinny by comparison. I guess this is progress. I personally don't find it acceptable to pay $100 or so for something that doesn't sound much better than the on board speakers in the mobile device I am connecting to it.

Jambox is pretty good, the bass is great when you are close, but once you are 15-20 feet away the bass seems to disappear.

Anyone have any experience with this one, sold here on WP Central's store? It's got BT, NFC, AND Qi wireless charging (and a 4500 mAh battery): http://store.wpcentral.com/zens-bluetooth-speaker-and-qi-wireless-charge... I couldn't find much about it elsewhere online, but the specs seem great...
Windows Central Newsletter
Get the best of Windows Central in in your inbox, every day!
Thank you for signing up to Windows Central. You will receive a verification email shortly.
There was a problem. Please refresh the page and try again.