Popular and portable NFC-enabled Bluetooth Speakers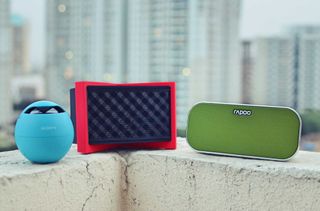 When I bought my first desktop in college, I had a fancy 2.1 speaker system along with. I was the cool guy around, and lugged around those to college parties and family get togethers.
I haven't used those in a couple of years now though. There are some fine Bluetooth speakers in the market and while they can't obviously replace a high quality speaker setup with a subwoofer or something, the portability and connectivity options are a great advantage. The latest range of Bluetooth speakers are also NFC-enabled that allow pairing your smartphone with just a tap.
We are familiar with Nokia's JBL Power-up NFC speakers but let's have a look at three popular NFC-enabled Bluetooth speakers that I've been using extensively at home for a while and carry on my travels as well.
TYLT TUNZ
TYLT TUNZ is arguably one of the best options available, although a tad expensive. The speaker features a stylish front grill with four rubber buttons – Volume, Play/Pause, and Call/Answer – that do not click like regular buttons but essentially respond to taps. There's also a built-in noise cancelling microphone allowing you to take calls without picking up your phone.
The TUNZ contain two 3 Watt speakers with a passive radiator that produce a fuller sound, and an impressive bass quality for its compact size. The accompanying silicon band (available in three colors) looks great like a stand and also solves the problem of vibration that most portable speakers suffer from when placed on flat surfaces.
The speaker packs in a 2800 mAh battery that lasts for few days with intermittent usage. At full volume, it would last an entire evening which is good enough. There's also an interesting addition – a universal USB charging port with 1A output allowing you to charge your phone or similar devices while playing music.
The TYLT TUNZ speaker is available over at Amazon.com for just over $95 US.
Rapoo A500
The A500 is a nicely designed and light-weight portable speaker from the popular Shenzhen-based accessories brand. Constructed from bio-fiber materials, the speaker is available in a choice of colors – pink, blue, orange, green, white, black, and golden.
The build quality of the speaker is pretty good and it offers decent sound quality. While the high and low notes are good enough, the speaker misses on rich bass as is often the case.
The speaker requires only three hours for charging, and delivers up to 10 hours of play back on one charge. Like other portable speakers, the A500 also includes a microphone for taking calls but the voice on the other end is distorted, and the call quality is average.
The Rapoo A500 is running in the neighborhood of $75-90 US and is available through various International sites such as EasyBuy out of Indonesia. You can also find them on Ebay.
Sony Wireless Speaker SRS-BTV5
The Sony SRS-BTV5 scores the maximum points for portability due to its unique design. Shaped like a ball, the speaker has a top vent for the audio and a flat base. A covered slot along the side packs in the AUX input and microUSB port.
The speaker is available in several bright colors like blue, pink, white, and black. The build quality is solid, and the speaker feels very good in the hand although a little on the heavier size for its size.
The compact speaker isn't very loud and you'll miss any bass or high treble but the audio quality is quite clean. The sound from the speaker is not sufficient not fill a room, but it's not a disappointment.
The SRS-BTV5 also doubles as a loudspeaker when taking calls and surprisingly the audio quality of the speaker as well as through the microphone is pretty good, although again, not the loudest.
The Sony SRS-BTV5 is running in the neighborhood of $50-60 US, comes in a variety of colors and you can find them through Sony direct or Amazon.com.
These NFC-enabled Bluetooth speakers are good value-for-money, and come with a carrying pouch in the box which makes them easy to pack it in your bag. While each of the three offer a unique design, all of them are quite functional and look good sitting on your desk. Since the speakers can also be used for taking a calls, they are a handy device to do a casual conference call between a few people sitting around.
Which is your favorite portable speaker? Is NFC a feature you prefer or is Bluetooth and audio-in jack all the connectivity options you need? Tell us in the comments!
Get the Windows Central Newsletter
All the latest news, reviews, and guides for Windows and Xbox diehards.