Popup tips to start showing on Windows 10 ahead of July 29 launch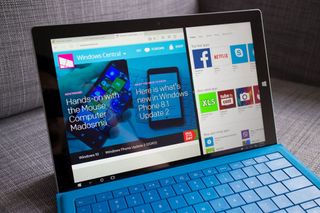 If you're a Windows Insider running the Windows 10 preview on your desktop, you're likely to start seeing popup tips today. Microsoft's Joe Belfiore took to Twitter today to announce that Windows Insiders will indeed start encountering tips starting today.
From Belfiore:
And there you have it. We're getting very close to the July 29th launch for Windows 10, and it looks like Microsoft is starting to include some added polish for users who are new to the OS.
Dan Thorp-Lancaster is the Editor in Chief for Windows Central. He began working with Windows Central as a news writer in 2014 and is obsessed with tech of all sorts. You can follow Dan on Twitter @DthorpL and Instagram @heyitsdtl. Got a hot tip? Send it to daniel.thorp-lancaster@futurenet.com.
I hope the Taskbar Tidbits get these tutorials too

Soft landings tips are good, since there are many people still that have no idea they will be getting a free upgrade to W10.

And some that are mad they are getting notified. But probably fewer of them.

Well, to be honest, I'm already annoyed that the icon keeps unhiding itself after I've dragged it many times already into that popout-menu by the clock, but then again, the thought of getting W10 upgrade for free on both my laptop and SP3 negates the feelings.

wow @GG002, your life is really pathetic if something as little a having a systray icon is annoying you.

Not really. If blinking Christmas lights can make some people uncomfortable (true story), surely a repetitive notification can annoy some others.

Eh? Where is the start screen sync for multiple devices? It was there in 8.1 & a wonderful feature. It provided a unified start screen experience on whichever device you picked up.

I'm sure it's on the way. Have you voted for it on UserVoice?

USerVoice isn't for problem, as far I know.

Use the feedback app. That's what it's there for.

Already done. Upvoted also

Control panel should be eliminated and leave the new settings design. Look better and more modern just like the phone settings for windows mobile 10 builds

Of course it will, but it doesn't need to be fully transitioned by launch.

There's no reason not to keep control panel around for legacy support (and familiarity); but they do need to add a few more features to the new Settings app so that it can act as a full replacement.

Yes I totally agree. It's time to move foward with Windows 10. I realize that they are trying to keep things fimilar for people that are moving from 7 but it is important for the universal apps to all be the same.

They're not trying to keep things familiar. They just haven't finished moving all the feures over yet. Like themes for example. It's only a matter of time.

This. They're still adding the last few touches, but I'm fairly sure their goal is to have 99%+ of the OS on the new UI by launch day. The irony here is that Windows 10 actually does a much better job with letting you have full control over your PC via a Modern UI than Windows RT did upon launch.

I actually agree with you on that.

Only the Mobil or everything

So is windows 10 stable now ?

More so than any other prior OS on RTM day.

That isn't a very high barrier to clear...

Does anyone know roughly when the RTM will be ready? A week, 10 days?
I remember for Windows 8, the consumer preview was out a good month before it hit the shelves, right?

The 29th. That I believe is for everyone, insiders and Win7/8.1 upgrades.

Yes I've seen this mentioned by Gabe on Twitter. Everybody gets the public build on 29th rather than insiders getting it earlier. What we have now is very close to what will be released on the 29th I believe

The pop-up tips are currently slightly annoying. I got the same tip popping up while using a particular program, and it popped up every time I got a dialog box in the app, a total of maybe 5 or 6 times!

What app? Still haven't seen any of these tips.

If I choose to upgrade, will it upgrade the same day? Or can I stall it for however long I want?

You have a year so I think you'll be ok. Not sure how hard it is to hold it back but I can't see a forced upgrade would be popular.

As being stuck on 10130, I doubt those recommendations will show up on my device before 7/29

Why not use the ISO file to upgrade when stuck?

I need advice on how to apply the next update in less than 22 hours. Seriously, this takes an incredibly long time to download, prepare, check, configure... Add to that the fact that I no more than completed the update on 10158 than 10159 was ready to go. Seriously, I left it working at 5:00 am yesterday as I headed to work. Ran into drivers it had to install, so by the time I went to bed at 11:00 pm, it was just finishing up on 10158, and I applied the 10159. At 6:00 am I left the house with that all done, and my tablet still chugging away at 10158.

good thing you mentioned tablet.. it takes more or less time to extract and install depending on the advice, unless you have a powerful one.. what's the processor and how much ram do you have?

22 hours is very surprising. The download itself has been very quick for me on every insider build. It has taken about an hour or more to install on my Surface Pro 3 each time though

Added polish? But I don't know the language.

Just off topic, could anyone here tell me if W10 or in general any OS for that matter, have default apps? Say, I click an instagram/twitter link on IE, would it be able to open it with the specifc apps rather than with IE itself?
TIA!
Windows Central Newsletter
Get the best of Windows Central in in your inbox, every day!
Thank you for signing up to Windows Central. You will receive a verification email shortly.
There was a problem. Please refresh the page and try again.