The Portege Z20t from Toshiba takes aim at the Surface Pro 3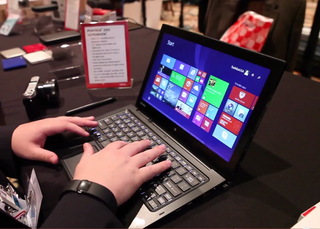 Fanless. Light. Long battery life. These are all the things that laptop, Ultrabook and tablet users can look forward to in 2015. Much of this is due to Intel's new Core M and fifth generation Core i series of chips.
The Toshiba Portégé Z20t brings a tablet into a laptop form with the familiar 2-in-1 form factors that are becoming more commonplace these days. The device lets users operate the Portégé as a standalone tablet, full laptop, or a full-power tablet with the display rotated around and even features a pen.
The specs on the Portégé are not too shabby, either.
Toshiba Portégé Z20t
12.5-inch Full HD (1920 x 1080), 350 NIT, IPS display with 10-finger capacitive touch support or digitzer touch screen
Processor: Intel Core M processor
Graphics: Intel HD Graphics 5300
Storage: Up to 256 GB SSD
Memory: Up to 8 GB LPDDR3 1600MHz onboard
11ac Wi-Fi and Bluetooth 4.0 connectivity
Gigabit Ethernet and two USB 3.0 ports
8 hours battery life (tablet); 16 hours combined with the keyboard
Full HD front-facing webcam with 5 MP rear facing camera
Optional Wacom digitizer with 2,048 points of sensitivity
Security: Toshiba EasyGuard, Trusted Platform Module, Intel® Active Management Technology
OS: Windows 8.1 Pro
Laptop – from 3.5 lbs (1.59 kg)
Tablet only – from 1.76 lbs (799 g)
The Toshiba Portégé Z20t is aimed at enterprise, businesses, educational institutions, and hospitals. The flexibility of the display, the long battery life, and the security features all ensure that institutions buying this in bulk will get a versatile device for varying conditions.
Because it uses a Core M, the Portégé Z20t is super fast but it does not need a fan to cool it down either, making it a sleek, durable device. The full Gigabit Ethernet port is a rarity these days and will certainly make those in business happy, and the two USB 3.0 ports makes sure that file transfers will be zippy.
Pricing for the Portégé Z20t should start at $1400, depending on configuration, and it will be available later this month in various markets.
Windows Central Newsletter
Get the best of Windows Central in in your inbox, every day!
Daniel Rubino is the Editor-in-chief of Windows Central, head reviewer, podcast co-host, and analyst. He has been covering Microsoft since 2007 when this site was called WMExperts (and later Windows Phone Central). His interests include Windows, laptops, next-gen computing, and for some reason, watches. Before all this tech stuff, he worked on a Ph.D. in linguistics, watched people sleep (for medical purposes!), and ran the projectors at movie theaters because it was fun.
Not gonna buy one :/
I prefer my SP3 in terms of portability. This has decent specs though.

I think the SP3's screen aspect ratio is better. But it's good to see Toshiba rising to the challenge. I've owned two Portege's in the past and they were both excellent.

If the starting price point is $1400 then I'm not sure if it'll manage to sway potential SP3 buyers.

but it's for enterprises and hospitals etc. it has some kind of security stuff and other features that make it more appealing than SP3, + better battery life and fanless. it's not meant for you.

Just wanted to note for other readers: SP3 also has the trusted platform module and with BitLocker support in 8.1 Pro, it also has good security options out of the box for most.
I had to Bing the Intel active management thing. That definitely is targeted towards enterprise customers, and is part of the out of band management features supported by the vPro flavor of Core CPUs.

But Toshiba will be able to deliver enterprise support on these devices. Same day replacement or repair for example. And spare parts for the coming 5 years or so. Worldwide support, etc. I am not sure if MS can deliver that on the SP3.

Can I be the first "fanlessboi"?

It appears that I have no fans. Does that make me a fanless boy?

That's true. I overlooked the security aspect of it.

Expensive snf heavier than SP3

The keyboard is heavier because it doubles battery life.

These kind of devices are exactly why Microsoft made the Surface. It looks like their plan has finally worked.

Exactly. Microsoft has made its OEMs realize the potential of this form factor. But I still want to purchase an SP3 though :)

Exactly, the Surface wad supposed to spark innovation in design.

Yeah form factor comes nowhere near sp3. These guys clearly went engineering first and then asked design to make it fit into a box rather than the other way round like sp3 was designed

I'd agree.... but you can see where things are headed. It won't be long until we see tablet modules that are even lighter, with keyboard docks that can also be lighter and thinner. The Asus/Acer Chi line introduced at CES this week executes on this formula quite nicely. (Sorry I always get Asus and Acer mixed up)

Hi Daniel - something related to your Band in the pic - don't you find the screen gets tiny scratches when your where it rotated that way? Tks

You'll find that the bezel gets scratched but not the display itself

How true - you know I've just noticed that!!!

Ethernet still rules wifi. For a really stable connection you need these. To bad ultrabooks lack it as does the sp3

you can get a USB 3.0 to Ethernet dongle... or use the SP3 Docking Station. Having it built in is nice, but I'll take the crazy good portability of the SP3 as a worthy trade-off.

Yup you could, but its another thing to take with you. And what about the speed of the usb? Anyway sp3 might be easier to take with you around tje house, as a student its portability aint important to me.

As a student portability isn't important?

Nah colleges last for 2 hours minimum so laptop will do fine and you carry it in your backpack anyway. I agree lightness is important, price is much more important since budget's aren't high in general. The sp3 is a great machine though and as a small note taking took it is great, but 12inch is small when doing allot of work.

USB 3 is faster than your internet connection in all but the most extreme of connections.

Than it is a good solution if the dongle come's with the device as a gift from the company haha. Thinner is better and lighter but wifi reach is not always great in buildings therefore i use fibreglass cables and connection.

What are the speeds on USB 3?

You can easily reach 5Gbps on a USB-to-ethernet adapter... speed is not a factor at all.

@NM_N You are contradicting yourself - worrying about "another thing to take with you" but then saying "portabitily isn't important" so why worry about having an adapter in those incredibly rare times that WiFi isn't stable and ethernet is actually needed. It sounds like your WiFi router is the issue here, as WiFi is rock-solid everywhere I go. If you're messing around with fibre optic (not fibreglass, lol) then just get a little WiFi router to sit on the end of that connection. Then you'll have strong WiFi without having to sit at a fixed location.

No i meant multiple devices or tools to make it happen. In a laptop or tablet form factor, though i don't have a docking station I'm guessing it won't fit in my bag? A simple setup piece for Ethernet is do able though. Haha meant that not the fibreglass although in my native language its called that. Also 3 floors up from the router give's me a bad signal. But could be the router, however my gf has the same at her house so that's my reasoning. How stable is the usb btw? I like cable's because i play mmorpg's and the cable give's me a more stable connection

But i agree with your points i just dislike ports taken off just to make the product look good. I game on my pc mostly which has the port any way. (ps my screen has some trouble responding to my input. Nl920)

So we should include all the ports, like 4 USB, full HDMI, VGA, Ethernet, on our surface pro devices and have them look like crap? You can buy one of dozens of adapters that give you gigabit Ethernet. You're already carrying an Ethernet cable with you anyway. Don't you have pockets in your backpack? Besides, most places, especially universities don't have accessible Ethernet anyway. At a lot of universities plugging into the network is a security violation anyway. 98% of people who want a surface don't want a big ugly Ethernet port making their tablet thicker.

This is a nice device, but it doesn't trump the SP3. - SP3 has a higher res screen.
- SP3 + keyboard cover is significantly lighter then this combo.
- SP3 can come with 512GB SSD
- SP3 Core i5/7 chips have been shown to have better performance then Core M
- SP3 kickstand is awesome (and available) even in tablet-only mode Granted, this Toshiba has some nice benefits: - full size Ethernet and VGA ports cleverly wedged into back leg posts of keyboard dock
- excellent to legendary battery life (tablet or combo respectively)
- great traditional laptop feel when docked (assuming top-heavy effect of tablet module is sufficently addressed)
- more ports (USB, etc)
- bigger track pad.
- tablet module is same weight as SP3 tablet. All in all, I'd say the Surface has been a success. This and other options revealed at CES have shown that OEM's are upping their game.

While I actually agree with your sentiment, I'd point out that the reason for that heavier tablet is the extended battery life and port options.

All this fanless stuff... If they get half as hot as my 1520 gets when I look at it slightly wrong, then no thank you. Not that I can afford one but I don't see how that relates to the topic at hand.

The Core M is ment to reduce energy demand. The Haswell (i# Core) is a 15 watt chip. The Broadwell (Core M) is a 4.5 watt chip. The perfromance is similar but at 1/3 the wattage. Intel does restrict the overclocking to protect the heat signiature that will damage the processor. By elliminating the fan you reduce thickness, weight and power demand. I don't think there are significant heat issues. I did notice a warm spot on the back of a Core M laptop while shopping at bestbuy in early December. Don't think heat will be an issue.

Mate, performance isn't similar, that's why you still have Broadwell Core chips.

Try playing Ages of Empire on it - mine get really hot in one place - I restrict myself to 5 minutes per play. LOL

Great looking machine with a great keyboard dock. Seems good for office use def. Need a tablet you got it but your mostly going to use it with the keyboard. So this is a laptop first, tablet second. SP3 is a tablet first and laptop second. Personally, I wish it was 4/3 ratio instead of 16/9 for the tablet use but its alright.

Well, 90% of the time I use my surface, the keyboard is attached.

Glad to see that 2 in-1 are getting more common these days.., Surface have done its purpose well. Though bit sad now because mine is VAIO is a dead line

I like Toshiba wants to invest more in Windows then droid shit.

So it begins. The OEMs armed with the broadwell can now sell appealing tablets, convertablies and laptops that will expand the WinTel ecosystem. What are your thoughts about Windows 10 unifying the tablet, laptop, WP operating systems?

Not much, people still need to make the apps and they won't be 100% same for all platforms at once. Also people don't use apps a lot on PC/desktop.
So I see no reason for windows 10 to be an instant game changer, maybe with time and good marketing and wiling developers.

Fanless and Light Long battery life These are a few of my favorite things...

I would like to see a comparison of this, the hp that is very similar, the surface pro 3 head to head.

Way too expensive even when I compare to my surface pro first gen. I think I would rather look for a discounted surface pro three in 6-12 months or wait for surface 4.

Starting price with pen is$1800

Intel graphics 5300? ...could have installed GeForce GTX 780 Ti))

This thing is straight garbage compared to the surface pro 3

Hmm takes aim at sp3? Was that based on price point Daniel?

Why do they use HD 5​300/5500? These 2 seems worse than HD 4000 (according to passmark)

What would really have been revolutionary for the 2-in-1 space would be if they had the Core-M chip in the tablet part, but then put a Broadwell Core i5/i7 chip (with fan for cooling) in the Keyboard section so that when docked with the keyboard, the device would switch to the more high performance CPU (maybe stick a discrete GPU in the keyboard section too). This would then truly bridge the divide between thin & light tablet and high performance ultrabook, giving you the best of both worlds. 2 CPU's would probably make it expensive, but it would be one hell of a machine.

Still an unworthy SP3 competitor

Looks like it's lapable lol unlike sp3. Sp4 should not come out till next cpu skylake's released.

How long before Apple (hiss Boo) produce a 2 in 1. Took them long enough to make a resonable sized phone!

This is a nice tablet/laptop combo device but I would still pick the Surface Pro 3 over this if I were in the market for one based on price and design. Like the design of the Surface Pro 3 more.
Windows Central Newsletter
Thank you for signing up to Windows Central. You will receive a verification email shortly.
There was a problem. Please refresh the page and try again.