Toshiba announces the Portege Z20t to take on Microsoft's Surface Pro 3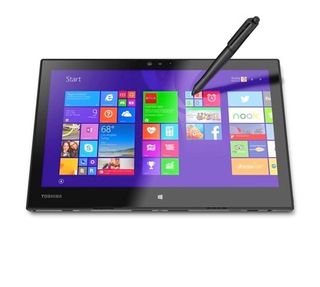 Toshiba today announced the new Portege Z20t tablet at CES 2015. This new product is a versatile 2-in-1 detachable Windows tablet with high-precision pen input. It's also fairly powerful, packing a 12.5-inch HD IPS display, Intel Core M processor and a staggering 17 hour battery life – not bad for a tablet that costs $1,399.
The PC manufacturer is also gunning for Microsoft's Surface Pro 3. In fact, the Portege Z20t weighs in at just 1.6 pounds and is only 0.35-inch thick. There's also the pen, a Wacom digitizer with 2,048 points of sensitivity for advanced levels of handwriting recognition.
Toshiba has conveniently stored an "emergency pen" into a dedicated slot on the tablet, just in case you misplace the main one. It's little things like this that really sparks interest in this tablet, not to mention the LED-backlit keyboard and options for 128GB or 256GB and up to 8GB of RAM. To round everything out, the Portege Z20t features 802.11ac Wi-Fi and Bluetooth 4.0.
Interested in picking up the Portege Z20t? If so, you'll have to wait until later this month when it's eventually released for $1,399 on various partner websites, as well as ToshibaDirect. See the press release below for more details.
TOSHIBA UNVEILS PREMIUM 2-IN-1 DETACHABLE PC WITH PEN INPUT
New Detachable Portégé Z20t Powered by Intel Core M Processor with Unprecedented Performance and Up to a 17.4-Hours of Battery Life Rating
LAS VEGAS, CES 2015, LVCC Central Hall Booth #11028—Jan. 6, 2015—Toshiba's Business Solutions Division (BSD), a division of Toshiba America Information Systems, Inc., today announced the Portégé® Z20t, a versatile premium 2-in-1 detachable PC with high-precision pen input designed for a wide range of uses. An Ultrabook and tablet in one, the device features a 12.5-inch Full HD IPS detachable display1, a sleek thin-and-light design and a reversible keyboard dock that offers users the flexibility to use it in any situation, enabling new productivity possibilities. Powered by Intel's® Core™ M processor and pen technologies by Wacom®, the Portégé Z20t delivers the performance users need plus up to a 17.4-hour battery life rating2.
"The Portégé Z20t is slim and lightweight, yet extremely durable and powerful with amazing battery life. With its multiple modes and high-precision pen input, the device is instantly adaptable to any scenario whether it is insurance adjusters filing claims, educators and students in the classroom, pharmaceutical sales reps on the road or meetings in the office," said Carl Pinto, vice president of marketing, Toshiba America Information Systems, Inc., Business Solutions Division. "We have engineered this premium device to be the ultimate mobile companion, while still satisfying the security and management requirements critical to IT departments."
Designed for Portability and Flexibility
With a 12.5-inch display, the Portégé Z20t, provides the perfect balance between mobility and performance. Built with an extremely light, yet durable magnesium alloy, the tablet weighs only 1.6 pounds3 and when combined with the keyboard dock, just 3.3 pounds. The keyboard dock features a simple hinge mechanism that allows the tablet to be detached with one hand. The attachment mechanism is also reversible, enabling a presentation mode for showing content to a group of people.
The Portégé Z20t's Full HD IPS display delivers vibrant, clear detail with wide viewing angles. The 2-in-1's touch screen is ideal for business and education use, offering 10-point multi-touch support for both Windows 8.1 and Windows 7 Professional, and anti-fingerprint and anti-glare coatings that help reduce reflections, allowing for work under office lights or even outside. The device also features a Wacom digitizer with 2,048 points of sensitivity that enables amazing handwriting recognition and feels just like writing with a pen on paper using Toshiba's Digitizer Pen with Eraser. A secondary, emergency pen is stored conveniently in a dedicated slot on the tablet for anytime access.
Functionality and productivity are further enhanced by the inclusion of a spill-resistant LED backlit keyboard for working in dimly lit environments and an improved key design for comfortable typing. Additionally, the integrated Accupoint with its own dedicated buttons provides an alternative to the large clickpad for increased accuracy.
Impressive Performance in Every Mode
The Portégé Z20t is powered by Intel Core M processors, which offer the ideal combination of battery life and business-class performance in a single device. With the inclusion of these processors and Toshiba's engineering, the Portégé Z20t is housed in a fanless chassis with a premium, black magnesium alloy finish that operates silently with up to a 9.1-hour battery life rating as a tablet and an unprecedented 17.4-hour battery life rating with the keyboard dock.
The device features the new M.2 SSD interface and can be configured with a with a 128GB or 256GB solid state drive4 and up to 8GB of on-board LPDDR3 memory5 for easily multitasking. To ensure a comprehensive tablet experience, the device features a full array of sensors, including ambient light, gyroscope and an e-compass. The device also includes powerful wireless capabilities, including 802.11ac Wi-Fi® and Bluetooth® v4.0.
Security and Durability Enterprises Require
The Portégé Z20t offers a number of advanced features designed to keep a business' critical data safe, including Toshiba's EasyGuard suite. A Kensington lock port is included, which can secure the keyboard to desks and ensures the tablet cannot be detached when docked. Trusted Platform Module (TPM) safeguards the data on local storage, while Intel® Active Management Technology (AMT) allows IT departments to monitor, maintain, repair, update and upgrade machines remotely. Designed, engineered, manufactured and tested in-house at Toshiba, each model has also passed several rigorous tests to meet Toshiba's quality standards, including the HALT (Highly Accelerated Lifestyle Test), which simulates accelerated use conditions to improve product reliability.
The Portégé Z20t is easy to manage within corporate IT environments with advanced manageability options, including Microsoft System Center Configuration Manager (SCCM), Windows Management Instrumentation (WMI), Toshiba Cloud Client Manager (TCCM) and Toshiba Smart Client Manager 2.0 (TSCM).
Connectivity for All Scenarios
The Portégé Z20t provides extensive options to connect to all the peripherals a business user might need in a "dongle free environment." In tablet mode, a Micro HDMI® port, Micro USB port and microSD™ slot are included for connecting to additional displays and fast data transfers. With the keyboard attached, users can make the most of additional connectivity without additional adapters, including full-size RGB, HDMI®, Gigabit Ethernet and two USB 3.0 port6.
Pricing and Availability
The Portégé Z20t will be available for purchase through Corporate Direct, Reseller Partners, business-focused e-tailers, such as CDW, PC Connection and Zones, as well as from ToshibaDirect.com in January 2015, starting at $1,399.00 MSRP7.
The Portégé WT20, sold without the digitizer and keyboard base will be available in February2015 starting at $899.00 MSRP.
Image Gallery: www.toshibapresscenter.com
Connect with Toshiba Business Solutions Division on LinkedIn at https://www.linkedin.com/company/toshiba, on Twitter at twitter.com/ToshibaSolves, on Facebook at www.facebook.com/ToshibaUSA and on YouTube at youtube.com/ToshibaUS.
Windows Central Newsletter
Get the best of Windows Central in in your inbox, every day!
Rich Edmonds was formerly a Senior Editor of PC hardware at Windows Central, covering everything related to PC components and NAS. He's been involved in technology for more than a decade and knows a thing or two about the magic inside a PC chassis. You can follow him on Twitter at @RichEdmonds.
Absolutely interested in a follow up article comparing this with surface pro 3 in detail!

They double announced! :-P

Na... too late. Microsoft Surface Pro 4 is on the way.

Is M processor capable to run games like Dota 2?

Well it surely is capable of running LoL

An Intel M processor would be a worse candidate for gaming than the i series which is found in the SP3. And the SP3 is barely cabable for some (most?) games.

It always blows my mind that people look at devices like these for the intent of gaming.

Still, Atom driven tablets are capable of playing x86 games from Valve's, like Portal2, in my book. So M and i3/5 shouldn't have a problem, provided you lower details and resolution of course. Portal2 on Venue11: http://youtu.be/Cxo63VSH3dc

Now this is finally something that can compete with the SP3 on the high end. Build quality looks really nice, Wacon, and real keyboard for those that don't like the Type Cover. Very intriguing indeed.

Don't get me wrong, it is a very attractive device and packed alot of features in it, but that price is a little too up there. Hopefully the actual price will be much lower than that MSRP so that it can actually compete with the SP3.

Absolutely. At $1399, it's hard to choose an underpowered Core M processor over an i7.

They missed a trick with no kickstand and no optional slim keyboard, 3+ pounds will get heavy quickly. The SP3's USP is being a lightweight tablet/laptop combo, at 3.3 pounds not really a SP3 competitor to me.

agreed, This product looks DOA to me. I have the XPS12 convertable (which is great by the way, and I would suggest it to anyone) and it came with an i7 4200u, 8GB of ram, and a 256GB SSD for less money than this. The coreM chips are great for what they are, but they are extremely low power and gutless parts nowhere near the territory of even the i3 version of the SP3 or my XPS12. Plus, while I appreciate having a real clamshell keyboard dock (something that would have won me to the SP3 if it were available), 3+ pounds in that size is extremely heavy. The XPS12 is about that size and weight and it is difficult to use for any amount of time as a true 'tablet' (thankfully you can adjust the base so that you rarely need to support it's weight). The idea of having a gutless heavy expensive laptop as a 'competitor' against the SP3 just because it has the coveted Wacom pen that the SP3 opted out of is a ridiculous comparison. Besides, there will be a SP4 with the new Intel chips coming down the line soon which is going to be even better and lighter than the current SP... plus it may even be fanless on some models which would be slick.

Just to clarify, that 3lbs is with the keyboard attached; and that keyboard must have an integrated battery to hit 17 hours of claimed run time. Without keyboard, the tablet is 1.6 lbs and gets 9 hours claimed usage.

as much as i love SP3 , competition from the other manufacturers are quite good, SP4 gonna mop the floor

I just know that if Microsoft just unveiled it's new Core i processors, that M processor is still at a lower category (between Core i and Atom) ... Obviously the great thing is the battery duration and that is fanless ...

Intel makes the processors not Microsoft.

Love the storable pen. Even if it is considered a backup. Fanless chassis as well. This really has it all (other than for hardcore gaming, I suppose).

How's the core M compare to an i5?

Even to and older gen i5, but recent i5 is quicker

It doesn't. CoreM is essentially a replacement for the Atom name as Atom is now being reserved for things like phones and mini-tablets. This is going to have something similar to the performance of a Celeron going up against the SP3 which (at that price) is including Core i5 parts. On the plus side it has a Wacom brand pen system, is fanless, and has a real keyboard dock... but 16:9 is a horrible aspect ratio for a tablet, and every other spec of this machine is well below everything else in the price range.

No kick stand, no interest.

Toshiba Porteges have been awesome for years. I'd be all over this if I was in the market for a new laptop.

Uhm what does a "full-sized RGB" (port?) do? I doubt there is such a thing, unless it's a marketing jargon for a legacy petty such as VGA?

Well, technically speaking the VGA port outputs the video signal as a set of RGBHV components, so they're not that much wrong, but yeah, i've noticed too this recent tendency to use 'VGA' and 'RGB' as synonyms - no idea why...

Terrible name too. What gives w these names lately?

The description sounds yummy yummy. Is there a rumor of a Surface 4 release date floating around?

Plenty of rumours... I've heard January, March, Q2, Q3, and October among other speculations - plenty to choose from :)

For people who want a full laptop for typing and doing more serious work, and are not a gamer, but would like the convenience of detaching the screen for casual browsing or ebook reading, something like this would be ideal. I'm seriously considering something similar to this in the future. Waiting on one that docks to the full keyboard like this does and has a 1TB or larger drive built into the keyboard part, with additional battery power in the keyboard to extend battery life even further. Would prefer a minimum of i5, but would rather have the i7. Perhaps in 5 years it will be the i7 going into these devices while the i12 will go into the desktops.

This would be the perfect machine for me (assuming the CPU/GPU performance is satisfactory) if only it featured a desktop docking station/ port replicator for high resolution digital video output and multiple USBs, the way the Surface Pro dock does. It's a pity they've overlooked this feature :(

I have the older Z10T and a desktop dock with HDMI, USB ports and audio out came out a couple of months after the initial release. It wasn't quite up to scratch when compared to the Surface docks, but neither was the Tablet itself, or the removable keyboard. It looks like all of the gripes I had with the Z10T have been addressed here and I would be surprised if the desktop dock wasn't announced very soon (or if the existing Z10T dock wasn't cross compatable). If Telstra (my Australian service provider) offer this on contract with 4G as a follow up to the Z10T I will give it a serious look.

The main advantages over the SP4 appear to be Wacom, the keyboard functionality, and the battery life. SP4 killer? Not likely unless the aforementioned advantages are deal breakers. A more apt comparison may be Mac Air (Toshiba) versus Mac Pro (Surface) aside obvious PC/Mac hardware differences.

It's 16:9. useless as a tablet. so there is no point to have one

Please look up the words "useless", "pointless" and "hyperbole" before commenting amy further.

Useless: "without useful qualities; of no practical good" Seems to fit. Pointless: "blunt" Not sure why that's relevant. Hyperbole: "an extravagant statement not meant to be taken literally" What you should treat such statements as after you get off your high horse.

OK. I'm going to try to explain what I wanted to say. Before that I would like you to know that english is not my mother language. like many people commenting here. so consider this before leave such reply. 16:9 display ratio is not convenient for a tablet. look at standalone tablets in the market. ipad and nexus have 4:3 ratio. surface pro 3 has 3:2. I don't count 7" tablets but even they have 16:10 ratio. 16:9 is just way too narrow. not good for pdfs, ebooks or anything else to read. I can't see any purpose of having a 16:9 tablet. Since it does nothing for me as a tablet why would I buy this. I would go for a decent notebook and pay less. Is that clear now?

This is my dream laptop. I have sp3, fast but battery is not up to my standard 10hrs. I play no game, only web browsing and visual studio

I will be looking at this machine. Specifically, the option stated at the end, tablet w/o keyboard and digitizer for $899 msrp. I want a tablet but none of this 2gb stuff. 8gb minimum. I can sport a Bluetooth keyboard when I really need one.

Look OK but as it comes from Toshiba there is no certainty it will still be supported in a couple of years time. Like many other manufacturers Toshiba are quick to dump products and stop updates for them after a very short time. They did this with my 'smart' TV which is now 'dumb' because they refuse to update the open source software on it. Complaints fall on deaf ears so will always avoid Toshiba products no matter how good they appear to be.

Looks nice, but one can get a tricked out Dell XPS 12 at this price. Posted via Windows Phone Central App

Quite funny how they used portege instead of protege, as the first has no meaning at all, even in french. Anyway, regardless of the name, I think this device is a welcome addition to the windows tablets, but perhaps too pricey for what it is...

Not been impressed with the build quality of the last three Toshiba laptops in the family. I'm dubious this will match the SP3 in that regard, and at that price it has to!

Almost every new convertible is now being mentioned as Surface Pro 3 competitor. However the aspect ratio and magnetic keyboard with built-in kickstand is still very different. And certainly base price...

Looks good, depending on how much crapware and borderline malware they bundle.
Windows Central Newsletter
Thank you for signing up to Windows Central. You will receive a verification email shortly.
There was a problem. Please refresh the page and try again.