Pre-order the HTC Touch Diamond from Best Buy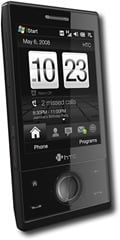 Speaking of pre-orders (opens in new tab), you can now drop $699.99 on Best Buy for your very own unlocked HTC Touch Diamond. [via (opens in new tab)]
And it looks like you shouldn't have to wait too long for delivery. A quick click on the "Estimate arrival time" link gives an estimated date of Sept. 29 - Oct. 4.
More good news: U.S. 3G bands are confirmed, with 850/900/1800/1900 MHz supported. Sorry, T-Mobile customers. That 1700 MHz band is turning out to be a real pain, isn't it?
This should be an interesting exercise. The GSM Touch ($499) and Touch Dual ($549) also are available unlocked at Best Buy, but there's definitely a psychological difference between $550 and $700. Does "unlocked" status mean that much (or anything?) to most U.S. smartphone consumers?
And with that other keyboardless GSM phone on AT&T (opens in new tab), and Sprint reportedly launching the Diamond next week (opens in new tab) at $300 or less, just what kind of demand will Best Buy ultimately see? And will AT&T bother picking it up? (Our guess is no. Probably not enough room in that stable for two keyboardless phones of that caliber.)
Anyhoo, if the GSM Diamond's your thing, head on over to Best Buy's Web site (opens in new tab) and throw down your cash.
Windows Central Newsletter
Get the best of Windows Central in your inbox, every day!