Touch Diamond coming to Sprint this month?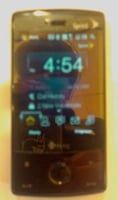 The HTC Touch Diamond is coming to Sprint. We know this. We've just been waiting to find out when.
But those of you/us who have been patiently waiting to get your hands on an honest-to-goodness U.S. version may not have to wait much longer.
A Bloomberg article (via Engadget Mobile) notes in its final sentence that HTC "will begin selling the handset through Sprint Nextel Corp. in August."
Why, that's this month! Engadget Mobile also has reports that both Best Buy and Radio Shack are getting the Diamond in this month -- Best Buy on the 17th and Radio Shack on Sept. 2nd.
Other questions remain. Will it have the multi-faced "Diamond" back? We'll see. Pricing? Remember that Canada's Telus is offering the Touch Diamond for $149. That's in Canadian dollars - and with a three-year contract, which is the norm up there. It's going for $349 with a two-year deal. Do your own extrapolating from there.
Get the Windows Central Newsletter
All the latest news, reviews, and guides for Windows and Xbox diehards.
maybe u guys can give me the skinny on tmobile......wha's the deal with them and the cheezy devices they always endorse!!!!! i'm just about sick of the below average devices and the astronomical prices they charge and the slow crawlin network......and whats with the home phone service thing..... i thought this was a mobile company (lol)......... can we get some love tmobile?
when they had the hp6315 (which was a nice device as far software in it) i went through about 29 before i got a good one! i own the wing now which is decent BUT i've had 5 wings (i should be flying high lol) but it lacks processor power and device memory.... what can i do as a tmobile customer to show them the light? on several occasions i've made suggestions to them when calling customer care about a problem i may have hadat the time and everything to no avail..... HELP!