Prepare for Snowpocalypse 2013 with these essential apps for Windows Phone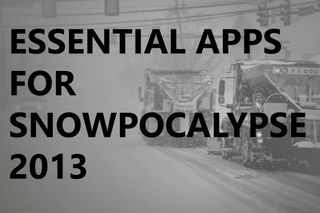 In less than 24 hours a winter storm is expected to hit the Northeast United States. Big deal right? Nope, most meteorologists are already calling this one for the record books. Mostly because it is two wild storm systems that are going to combine into one apocalyptic blizzard. While Windows Phone Central can't stop the impending snow, closed roads, and a weekend spent indoors – we certainly can help prepare you with some 'winter storm' apps.
HelpBridge
Safety is always first and that's why we've put this app from Microsoft at the top of our list. HelpBridge is an app to help keep your friends and family up to date on your situation during emergencies or disasters (check our previous coverage here). The benefit to using HelpBridge over just normal SMS, email or Facebook is simple, HelpBridge does them all at once and gives you the option to include your location. You can add people to different groups and communicate all at once – either asking for help or letting folks know you're ok. Additionally, HelpBridge lets users assist organizations regardless of where they are – you can text to give cash, donate via PayPayl, donate goods, or volunteer all from within the app. Download this and set it up before hand to keep those that matter to you up to date on your status throughout the weekend.
The app is free and you can grab it here in the Windows Phone Store, scan the QR code below, or swipe to the right within our Windows Phone Central app.
Tap for HELP!
During natural disasters (like winter storms) you'll probably need to call for help at some point. Obviously you should always dial 911 if it is an immediate emergency, sometimes things are not as urgent. You'll want Tap for HELP! during those times. Tap for HELP! helps users find common sources of non-emergency help near you. Finding the nearest police or fire department, hospital, pharmacy, etc is only a few taps away once you open the app. The benefit to using this app over manually searching is the speed at which you can get your results. Literally a few taps before you're contacting who you need.
The app is available to all versions of Windows Phone and is free in the Windows Phone Store. Grab it here, use the QR code below, or swipe right in our Windows Phone Central app.
Amazing Weather HD
If a blizzard is about to hit, you'll want to stay up to date on the weather. For that we can't recommend Amazing Weather HD enough. We'd argue it is the most beautiful weather app out on Windows Phone and provides a good deal of data to satisfy all you armchair meteorologists. Weather-wise you'll find everything you need in this app: animated weather maps, hourly weather, charts, severe weather notification and more. One caveat, right now there is no lockscreen support, but it is coming in a future update.
There are two versions out in the Windows Phone Store: free and paid ($1.99). Trust us on this one and go the paid route (at least trial it). The paid version is also the most up to date and takes advantage of all three tile sizes, HD support, etc. We're so serious about it that the QR code below points to the paid version.
Weather Radar Tile
For good measure, here is one more weather focused app. If you're the type that knows the difference between base reflectivity and composite radar you'll want Weather Radar Tile. The app allows you to pin up to 8 different tiles that all reflect a type of radar for any area you specify.
This Windows Phone 7.x and 8 app is normally $0.99, but is currently FREE for a limited time in the Windows Phone Store. Grab it here, use the QR code below, or swipe right in our Windows Phone Central app.
Netflix
Come on, you're stuck inside all weekend and have hours to kill. Fire up Netflix and watch your favorite TV show or movie. If you need a new recommendation check out House of Cards. It is a Netflix exclusive and just came out last week. We can't stop talking about it around the Windows Phone Central water cooler. Thank us later. Secret tip: long press the Netflix logo on the home screen within the app for a secret menu.
The app is free, but obviously requires a Netflix subscription that starts at $7.99 per month. You can nab it here in the Store, QR below, or swipe to the right in our Windows Phone Central app to download it.
Snes8x
One more entertainment app for when you're cooped up inside. We've covered this awesome SNES emulator when it first came out a few weeks back. It was also just updated a few days ago with some fixes to an already stellar app. Load up your favorite ROMs and relive the glory days of your childhood (or adulthood!). When we first played with it Snex8x handled every ROM with aplomb.
This awesome app for Windows Phone 8 is free in the Windows Phone Store here. Of course you can use the QR below to download and if you're in our app you know what to do.
To all our readers in the Northeast – stay safe, warm and dry this weekend! Don't forget to add your essential apps for winter storms below in the comments.
Image Source: Flickr Creative Commons
Get the Windows Central Newsletter
All the latest news, reviews, and guides for Windows and Xbox diehards.