Prepare for Snowpocalypse 2013 with these essential apps for Windows Phone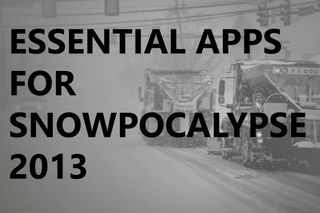 In less than 24 hours a winter storm is expected to hit the Northeast United States. Big deal right? Nope, most meteorologists are already calling this one for the record books. Mostly because it is two wild storm systems that are going to combine into one apocalyptic blizzard. While Windows Phone Central can't stop the impending snow, closed roads, and a weekend spent indoors – we certainly can help prepare you with some 'winter storm' apps.
HelpBridge
Safety is always first and that's why we've put this app from Microsoft at the top of our list. HelpBridge is an app to help keep your friends and family up to date on your situation during emergencies or disasters (check our previous coverage here). The benefit to using HelpBridge over just normal SMS, email or Facebook is simple, HelpBridge (opens in new tab) does them all at once and gives you the option to include your location. You can add people to different groups and communicate all at once – either asking for help or letting folks know you're ok. Additionally, HelpBridge lets users assist organizations regardless of where they are – you can text to give cash, donate via PayPayl, donate goods, or volunteer all from within the app. Download this and set it up before hand to keep those that matter to you up to date on your status throughout the weekend.
The app is free and you can grab it here in the Windows Phone Store, scan the QR code below, or swipe to the right within our Windows Phone Central app.
Tap for HELP!
During natural disasters (like winter storms) you'll probably need to call for help at some point. Obviously you should always dial 911 if it is an immediate emergency, sometimes things are not as urgent. You'll want Tap for HELP! during those times. Tap for HELP! helps users find common sources of non-emergency help near you. Finding the nearest police or fire department, hospital, pharmacy, etc is only a few taps away once you open the app. The benefit to using this app over manually searching is the speed at which you can get your results. Literally a few taps before you're contacting who you need.
The app is available to all versions of Windows Phone and is free in the Windows Phone Store. Grab it here, use the QR code below, or swipe right in our Windows Phone Central app.
Amazing Weather HD
If a blizzard is about to hit, you'll want to stay up to date on the weather. For that we can't recommend Amazing Weather HD enough. We'd argue it is the most beautiful weather app out on Windows Phone and provides a good deal of data to satisfy all you armchair meteorologists. Weather-wise you'll find everything you need in this app: animated weather maps, hourly weather, charts, severe weather notification and more. One caveat, right now there is no lockscreen support, but it is coming in a future update.
There are two versions out in the Windows Phone Store: free and paid ($1.99). Trust us on this one and go the paid route (at least trial it). The paid version is also the most up to date and takes advantage of all three tile sizes, HD support, etc. We're so serious about it that the QR code below points to the paid version.
Weather Radar Tile
For good measure, here is one more weather focused app. If you're the type that knows the difference between base reflectivity and composite radar you'll want Weather Radar Tile. The app allows you to pin up to 8 different tiles that all reflect a type of radar for any area you specify.
This Windows Phone 7.x and 8 app is normally $0.99, but is currently FREE for a limited time in the Windows Phone Store. Grab it here, use the QR code below, or swipe right in our Windows Phone Central app.
Netflix
Come on, you're stuck inside all weekend and have hours to kill. Fire up Netflix and watch your favorite TV show or movie. If you need a new recommendation check out House of Cards (opens in new tab). It is a Netflix exclusive and just came out last week. We can't stop talking about it around the Windows Phone Central water cooler. Thank us later. Secret tip: long press the Netflix logo on the home screen within the app for a secret menu.
The app is free, but obviously requires a Netflix subscription that starts at $7.99 per month. You can nab it here in the Store, QR below, or swipe to the right in our Windows Phone Central app to download it.
Snes8x
One more entertainment app for when you're cooped up inside. We've covered this awesome SNES emulator when it first came out a few weeks back. It was also just updated a few days ago with some fixes to an already stellar app. Load up your favorite ROMs and relive the glory days of your childhood (or adulthood!). When we first played with it Snex8x handled every ROM with aplomb.
This awesome app for Windows Phone 8 is free in the Windows Phone Store here. Of course you can use the QR below to download and if you're in our app you know what to do.
To all our readers in the Northeast – stay safe, warm and dry this weekend! Don't forget to add your essential apps for winter storms below in the comments.
Image Source: Flickr Creative Commons
Windows Central Newsletter
Get the best of Windows Central in in your inbox, every day!
By the way, one should note that Netflix is NOT available worldwide. It's limited to the USA and a few selected other countries.

That is true, but this specific article is referring to the NE United States.

Yeah man, like Judge_Daniel said, this post was mostly directed for the folks in the regional Northeast United States. Mostly because they are about to get a crap ton of snow and sucky weather - one for the history books.

Yeah I got that. But there are other countries in the World that also get stuck with snow up to their necks a couple of times a year (a few weeks ago we had Central Europe stopped because of snow storms) and those could be led to think they could apply this post to them as well. Hence my reminder ('cause Netflix is also a neat little service that people could be tempted to try to use) ;)

Have you read the first sentence? :)

Have you read what I wrote right above your comment? ;)

Though it does apply to eastern Canada as well as we are going to get hit with the same merging storms. The apps also apply except swap Tap For Help for The Weather Network's app. I'm heading out to the boonies after work to get snowed in and help a friend out on her farm--should be great fun.

yeah its already started snowing in boston. and im at work >:( i should be home sipping on some hot cocoa and playing halo 4..... God my job sucks.

Lol! At least you're employed.

I'm in Venezuela and Netflix is available as a standar app... thanks god!.... I have a Lumia 920.

More importantly charge up your phones, not going to get very far with a dead battery!

Exactly! If there are power outages, if the phone has no juice, it's gonna be useless (unless you have a backup power generator) :)

It's going to be 42 degrees C for me on Sunday... what apps will I need? :P

Here in Illinois, it went from 67F to 37F (both the daily highs) in one day. That's how I live.

wow i wish it was like that here in north carolina. Last week it went from snow on monday (25 F) to best weather we had the next 2 days (75 and windy) to snow on friday (20s with wind)...would love high 30s lol

I'm in Saskatchewan, Canada, and last week we had a warm up from a -30°C day high to a +2° day high from one day to the next.

Lmao party pooper, let the northeast enjoy their snow :) stay safe everyone

So Canada has Celsius and the U. S. Fahrenheit? Wasn't aware of that.

So that's 19.4 degrees C to 2.7 degrees C... or "A nice day" to "freaking cold"!!! :P

Suck it up :P it's been -45 lately here in WInnipeg...

El Niño / La Niña for you

I'm in Georgia, pretty blessed to have decent weather. Y'all be safe up north!

We sure got a lot of rain yesterday, though!

Boring old rain in Oregon. I want snow!!!!!

Be safe in North America! Sick ans tired of snow and darkness by niw. Spring can't come soon enough!

Waiting for the snow to hit here in nyc

I love how some countries make a big deal out of some snow, we get that every winter.

It's only a big deal if 'some snow' becomes a blizzard...which this is doing... in a major metropolitan area. This isn't some middle of nowhere location in the midwest or Alberta... Read up on it before saying silly things.

Yeah, Sam is right on that. I grew up in New England/New York and snow is a way of life, no big deal. This is a Nor'easter. A more accurate name would be 'snow hurricane'. Getting snow is one thing. Getting one to three feet of it 12 hours in another. Throw in winds gusting up to 60mph for 20 hours and now there's a good chance of power lines going down--an issue compounded by Hurricane Sandy and the recovery effort here (our infrastructure is still under repair). They've already canceled nearly 3K flights and everything closes. If people lose power and it's 10F out, it can be quite hectic (and deadly, especially for the elderly). So yeah, this is different than "just some snow" (and for the record, I'm kind of in the middle of it on Long Island).

Still don't see the problem, seems like a normal winter for us here in Sweden. This winter has been mild for us, yet we got 2 feet of snow during 24 hours with 50 mph wind speeds, just a normal snowstorm for us over here.

Check out Daniels comment above. Plus.........Compare the population of New York City to the entire country of Sweden. Then, realize that this isn't just NYC, but Boston and New Englad - which will get it worse than NYC. That's why this is a big deal for us, huge storm in an areas with astronomical populations and population densities. Some cities have higher populations than entire countries (like Sweden). Ha, no more arguing just download the apps and wish the folks there goodluck!

I forgot, 60 mph winds are faster when there's many people living where it's blowing. And 2 feet of snow is deeper too. During those conditions you might except the busses to run 5-10 minutes late and maybe a day of cancelled flights but it's hardly a reason to stockpile food and be scared of going out.

If you're trying to not look like a jerk by bragging about how much snow you get in Sweden versus NYC/Boston and that we're overreacting here after getting wrecked by Sandy, you're failing hard. Seriously. (Btw, you are aware that the population in NYC and Long Island, 8.2M + 7.5M, is nearly twice that of Sweden. Throw in New England's 14M and we're at 30M getting affected. So this storm could affect 3x your whole country in one shot--I think there's a difference).

Im not bragging about how much snow we are getting here, im saying im getting tired of people acting like it's the end of the world when it's a normal snowstorm that millions of people all over the globe experience many times a year. Enjoy the cozyness of watching a snowstorm through your window instead. But you seem to be upset by this so I won't comment anymore.

"...it's a normal snowstorm that millions of people all over the globe experience many times a year. "

The point: you're missing it. This is not "normal" for us hence why it's a big deal. Not every area/region in the world is prepared to have three feet of snow dropped on them in one shot when we have 0" of snow on the ground now and less than 6 inches total for the year. Plus as previously mentioned, this area is still recovering from a major hurricane (I know I know, you're in Sweden so hurricanes are probably no big deal either). Cut us some slack.

You're just being a contrarian in order to try and save face.

Not to mention we have had really unusually warm winters here (I'm from the Northeast as well, Boston specifically) than we had been used to. 15, 20 years ago, this would not have been a big deal (at least to us native New Englanders/Northeasterners)

If cell and internet go out, don't forget WP7s have a built in FM radio. That always comes in handy in times like this. Stay safe everyone :)

Sux for WP8 users because they took the FM radio out of Xbox music.

I live on cape cod waiting for the snow to arrive. And in reference the wp7 having a radio I'm all set I've got and using my 64 gb Zune HD still like new and registered to my Zune acct, its great my Zune acct still active along with my Xbox music acct active with same acct. So my 920 is registered to my Xbox acct Zune HD is on my Zune acct. Wish me luck everyone in supposed to get 18" to 24" YAY!.

Post some pics in the forums!

My wifes gonna shoot video with her yellow 920 of me using my snow blower and I'll upload it to my you tube acct. cowboy6201 is my YouTube page watch for it.

You missed out MetroSpec, definitely an awesome Sinclair Spectrum emulator.
Fire that one up and a copy of LaserSquad, Rebelstar raiders or Chaos and you'll probably not have time for any snow ;)

One sixth of that wrecked up the UK... How are you guys so resilient?

I have a great app but it will not fit into my WP8... a Jeep :-)

Even more important.... Nokia Drive, cause Saturday I need to wake up and drive the hour drive to the closest MS Store in NH. 1-3 feet of snow won't stop me from getting my Surface Pro

Today is the anniversary of the blizzard of '78 that was 2 yrs before I graduated high school. I've already batten down the hatches.

I have no idea how bad winter weather can be. - Signed, Canada

Sounds horrible :(
Hope all you guys in its path will be safe!!

This is a really great list. Should be edited to include at least one of the flashlight apps. Widespread power outages are expected because of the high winds in the storm and the heavy consistency of the snow. Flashlight apps will come in handy for many. I like Flashlight XT and Flashlight the best.

The Zappix App is pretty awesome too. It has menus for all your customer service info including red cross, airlines, power and internet companies and gets you right to customer service. They have a menu for snowpocalypse too. That way you don't have to waste batteries googling or trying to get the right person on the line. http://www.zappix.com/ but fingers crossed for no power outages!

i just added photo's of the Blizzard at my house in the forums under photo's here is the link
http://forums.wpcentral.com/members/cowboy620-albums104.htm

Checkout the cinegraph i created. with my lumia red 920.

http://memories.nokia.com/en/images/d7d4198c-24bd-4b85-9cac-edf344a95101
Windows Central Newsletter
Thank you for signing up to Windows Central. You will receive a verification email shortly.
There was a problem. Please refresh the page and try again.