Prison Architect will bust out on Xbox One and Xbox 360 this spring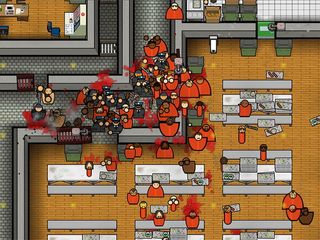 Prison Architect, one of the most popular and critically acclaimed indie PC games in recent years, is finally coming to consoles. The game will be released for the Xbox One, Xbox 360 and PlayStation 4 sometime this spring for $29.99.
The original PC game was developed by Introversion Software and was first released in an alpha version in 2012. The 1.0 version was released in October 2015 and the game has sold over 1.5 million units. The game itself has players building and maintaining a prison full of inmates The console versions are being made by developer Double Eleven:
A specific release date for the game has not been announced.
Source: Prison Architect
Windows Central Newsletter
Get the best of Windows Central in your inbox, every day!
Is it like The Escapists. Will try this and Undertale. I love indie games.

Yeah that & monico except it looks like a 5yr. Old designed this

It's a pretty fun game. The game style reminds me of Zoo tycoon.

Is this the game kid was playing in Hot Tub Time Machine!?

Tried it once but I couldn't get it to work on my pc... a problem with Ati cards. Tried every fix I could find and the latest version but still cant get it to work.
Hope it is adapted to XO control scheme well then I might be able to play it at last

Finally not Early Access? Well, then, might consider it. It looked interesting.

Strangely drawn to this, but damn that is a long wait.

If someone had mentioned this to me don't think I would believe them.. You really need a keyboard and mouse for this. But I guess its turned out ok for alot of other games on consoles

I would definitely consider this.