Prominent Swedish blogger Blondinbella releases Windows apps and they look rather good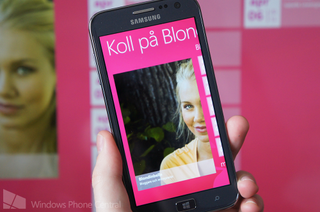 Blondinbella apps for both Windows Phone 8 and Windows 8 have been released. Should you be a fan of the popular and well-known Swedish blogger, these apps are a must have. We've previously looked at Isabella Desirée Löwengrip Rydberg and her own Nokia Lumia 920, so it's good to see apps to further support both Microsoft platforms.
So what can one do with the Blondeinbella apps and why are we even covering them? Should it be desired, consumers will be able to keep up with the daily content from the official website while on the move with Windows Phone or on a Windows tablet. Why are we covering it? Because they actually look rather good.
Sporting an identical layout for both Windows platforms, the Blondinbella apps are simple to use and get straight down to the content of the website without the chrome and weird navigations. Already sporting an iOS app, Blondinbella is slowly (but surely) moving across to a Windows focused path and it's paying off with the modern UI better rendering site content.
Tweets published by Isabella's account are also loaded inside the app, as well as a collection of videos (requiring the YouTube app for playback). There's a number of media options to get stuck in with when a number of minutes are available to get through. It'll be interesting to see what Isabella does in the future for the platform and perhaps we'll see Microsoft picking her up for some local marketing.
You may or may not follow Isabella, but the apps are pretty neat and more public support for the platform is never a negative - regardless who's doing the promoting. You can download Koll på Blondinbella for free from both the Windows Phone (Windows Phone 8 only) and Windows Stores (opens in new tab).
Source: Blondinbella; thanks, David, for the tip!
Rich Edmonds is Senior Editor of PC hardware at Windows Central, covering everything related to PC components and NAS. He's been involved in technology for more than a decade and knows a thing or two about the magic inside a PC chassis. You can follow him over on Twitter at @RichEdmonds.
Nope... She's actually one of those VERY few non-scandalous bloggers.

Not as far as I know, unless there's something I've missed :-)

"They" includes her or just the apps

Äntligen!!!! (läses med viss ironi)
Finally!!!! (not)

That's quite a bit for a negative...lol =P

Why does this blog keep on getting promoted here? There are many blogs with an app? Is this the girlfriend of someone fomr WPCentral or does someone from WPCentral have a crush on her?

I don't get it.

Maybe there's a Swedish audience who frequent this site?

She is blond and from Sweden - no words needed :)


This is very smart marketing from Nokia or MS Sweden and that is how I see this article. There are loads of teenage girls following her.

Looks like Penny from Big Bang Theory in one of the images :) great show.

I was thinking Portia de Rossi back in the Arrested Development days

Throw in a little Christina Applegate... =P

Leroy Williams III, prominent sanitation engineer and blog commenter, is also a WP8 user. Sure, many of you might not know Leroy, but he is well known on my street.
And since we're saying ANY PR is good PR... a man in Dunedin, FL, high on bath salts, ate the face and testicles of another man, then took really great pics of his insanity using his red Lumia 920. The low light photos were excellent as expected. The same man also took pics using the victim's BB10 and there isn't even a comparison. Way to go Windows Phone! High Five!
I am joking... I get focusing on publicity and celebrities... and I totally understand that the world doesn't revovle around only what I know... but a 'prominent blogger' sounds like a stretch. Or rather, if I met a person and they told me, "I'm a well know blogger", I"d probably do spit-take and then laugh in their face.
Though I also get that this is a blogger who also happens to have their own app, which kind of elevates her to unique level.

Bravo, K_lando. That was brilliant!

She' fucking stupid and an embarrasment to the swedish people.

I'd say she's the least embarassing blogger we've got in Sweden...

Few people (besides the swedish people) read swedish. I have no idea what she's saying so I can only look at the pictures and there is nothing embarrassing about that bit. You guys (or better said your girls) have a reputation and she lives up to it.

She's gorgeous. No one will care about what she says. We actually expect gorgeous girls to be deprived of a brain. So if that's the case, no one will care nor will that reflect on Sweden.
Actually, if anything, she makes me want to go to Sweden. I can't understand her but I can see her. And I like what I see a lot. If all swedish girls are like here, I would say that's an excellent invitation postcard.

Can we just keep the "there are plenty of bloggers"-comments to a minimum. As much as I hate to admit it, Blondinbella is more or less a celebrity in Sweden. Most people know who she is. And her fashion blogg is one of the biggest ones around in Sweden (400 000 unique visitors a week in 2011 apparently). So, no, she's not just some random blogger. If she is using and promoting WP, then that's a very good thing for WP in Sweden, plenty of youngsters watching her steps. Wow, never thought I'd stick up for Blondinbella...

Yeah... I cried a little... on the inside...

It's been about lack of apps for the WP-platform...
Are the next there are to many...? ;)

Zzzzzzzz never heard of this wannabe on the web. Next app to see
Windows Central Newsletter
Get the best of Windows Central in in your inbox, every day!
Thank you for signing up to Windows Central. You will receive a verification email shortly.
There was a problem. Please refresh the page and try again.