ProShot for Windows Phone 8 picks up UI refresh and more in latest update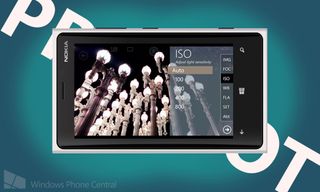 The basic camera UI for Windows Phone is simple and straightforward. That's perfectly fine for about 99% of the population, but all the hobbyist photographers might want a little more control over their smartphones camera when out and about. For those people ProShot has been a favorite app in the Windows Phone community. Today it's getting an update that shouldn't go unnoticed. Let's check out what's new with version 2.7.
ProShot for Windows Phone 8 first stumbled onto the Store back at the start of the year. It quickly became one of our top apps for photography and with continuous updates since has moved higher up our list. It's got great lens integration and a nice UI for all levels of photographers (and fauxtographers). You guys all seem to agree seeing as how ProShot beat our own app in the Next App Star contest. The latest version adds and fixes the following:
UI refresh
Added exif viewer to camera roll
Improved compatibility with low-memory devices (Lumia 520, 521, 620, 720, HTC 8S)
Updated and improved tutorial
Remapped burst, self-timer and timelapse modes to camera button
Fixed trial mode heat bug
Fixed a file name issue
""Fixed isolated storage issue (to clean up memory, please run ProShot, and then exit out of the app)""
Made native code more stable, efficient
Updated the online user manual
Many small improvements and various other bug fixes
Not a shabby list for version 2.7 of ProShot. The two biggest changes would be the slightly revamped UI and improved compatibility with low-memory devices. Folks on the Lumia 521 and other devices will be happy to see better stability and performance while using ProShot.
ProShot has a free trial that lets you play with the app, but you won't be able to save pictures. Otherwise the app costs $1.99 and if you ask us, is totally worth it. Check out the 760 reviews in the Store averaging 4.5 stars if you need further proof.
Grab ProShot for Windows Phone 8 devices here in the Store, use the QR code below, or swipe to the right in our app.
Thanks for the tip aaa6112!
Windows Central Newsletter
Get the best of Windows Central in your inbox, every day!
ProShot: unleashes the kraken
https://skydrive.live.com/?cid=2d5b842e2667b4aa&id=2D5B842E2667B4AA%2191...
Every photo at the above location shot using ProShot app.

@aaa6112

Those are the most stunning photos I've seen on a 920. Some tips please!

use a tripod and long exposure

Dude. Those are pretty sweet. I need to push into the PureView zone with my shots. I use ProShot and Fhotoroom on my photo blog http://phonetographs.wordpress.com

Hey, you're the guy who won the Nokia conversation competiton right? Please post a tutorial, most of my pics using proshot are very very noisy :(

You most definitely have to post a tutorial on taking pics & how to's of Pro Shot . I would love to make the most of my new Lumia 928. Being a novice at photography doesn't help much. Thanks.

Those shots are frightenly amazing aaa6112. Wow doesn't quite say it enough. Thanks for sharing those.

I can't tell you how jealous of your talent and eye for great photos I am. I use the same equipment and apps and I have maybe two pictures in 5000 I would show off like that.

Thanks for the kind words, everybody.
For those who are interested in getting better pics: Please follow this thread in detail. It has a ton of information. Everything Iearnt (and I'm a beginner myself) is in here: http://forums.wpcentral.com/windows-phone-apps/215564-loving-proshot-camera-app.html
Feel free to post questions and the community is very nice - it will definitely help you out.

This update introduced some bugs. 1. when focus locked, you cannot take a picture
2. you cannot exit out of focus lock to regular focus. you must completely exit app. these could be a specific phone bug. HTC 8X

Dev tweeted that a fix will be submitted tonight:
http://twitter.com/RiseUpGames/status/339565440001003520

I was have been able to get in/out of focus lock. It "locked" me in just one time, but other than that I've been good to go. (Lumia 920)

I can't wait to finally use this on the Lumia 925 when I get it. Written on HTC Titan.

Awesome Update - " Improved compatibility with low-memory devices" - My 521 will like it..

Probably one of my best apps.

ProShot and WPCentral are the best apps in the market and totally worth it .. :D

ProShot really raises the game on photography.

Thank you so much for all of your kind words! Working hard on squashing the bugs asap. Will probably have the update ready by the end of tomorrow (Wednesday).

Better UI? Let's see, previously I have rejected this app cause of UI...

I never, ever, and I mean EVER, buy apps with my own money. I've always purchased apps that were charged to the company account. I'll be buying this app with my money because the developer is awesome. How the hell did this app get beat by Wikipedia?

Don't worry Nokia will introduce something even better in one of their future updates. I'll probably buy this in the meantime, but only after the bugs are fixed.

Reviews are a regional thing. UK only has 134 reviews, still 4.5 stars though.

Love this app, but can't see any UI changes...i must be blind.

It's not a complete list, but here are most of the changes: 1) New UI show / hide animations.
2) UI slides in when app is launched
3) New focus animation (shows relevant icons / settings)
4) Banner images on the right panel add context to the menu options
5) Progress bar animation runs when camera hardware is loading
6) Redesigned timelapse icon
7) Cleaned up and rearranged settings in Mode panel (Burst, Timer, Timelapse, etc. sections in the top panel)
8) Tweaked some icon sizes and placements
9) Widened right bar for easier access (the IMG, FOC, ISO mini bar).
10) Colorized the selections on the right bar to match the selected item color (instead of just black)
11) "Saving images" queue animation no longer necessary to show during regular image capture due to changes in the back end. Makes app feel faster.
12) Italicized explanation text under titles

Sold. My first transaction for an app*
*i've had my first wp phone for just under a month, don't hate me!

I can not update... It says error c101a7d1. Tried restarting my L920, but did not work. Anyone with same issue? Or got the answer? Thanks

Can someone recommend a similar app for 7.x users?

is manual white balance still broken on the lumia 92Xs?

Unfortunately it's not supported by the hardware. We've removed the option all together on Nokia phones

yea, and like the official camera app, most of the white balance options don't work right, either.... we really need a option for proper white balance on the initial capture.

Sorry if this has been asked before. Does ProShot offer exposure (AE) lock? I'm a bit surprised this feature is missing from the official camera app on the Lumia 920...