PSA: WhatsApp notifications on Windows Phone appear to be broken for some right now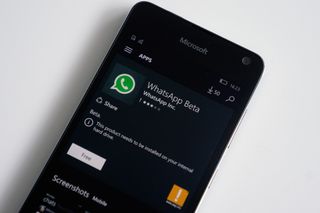 Update: This issue appears to be resolved and notifications for WhatsApp are slowly coming back online for Windows Phone 8.1 and Windows 10 Mobile handsets. Original article follows.
If you've been wondering why nobody has messaged you on WhatsApp this morning, they probably already have and you just didn't know. It appears WhatsApp on Windows Phone is suffering from an issue that has stopped all notifications coming in until you open the app, essentially making the platform useless for Windows Phone users on Windows Phone 8.1 and Windows 10 Mobile.
It's unclear what's caused the issue, but the issue itself appears to be widespread on both the production WhatsApp and WhatsApp Beta apps, making us believe it may be a server issue. It's also unclear if this is a global issue or regional one. Sending a message to someone using WhatsApp on Windows Phone right now will see that message not get delivered until they open the app, which is why Windows Phone users aren't receiving notifications.
Windows Central has been able to confirm that notifications are not working on Windows 10 Mobile using both WhatsApp and WhatsApp Beta apps in the UK, on both the Anniversary Update and Creators Update. Reinstalling the app does not appear to fix the issue. We've reached out to WhatsApp for comment, and will update this article when we know more or if the issue gets mended. In the meantime, are you still receiving notifications from WhatsApp on Windows Phone?
Windows Central Newsletter
Get the best of Windows Central in in your inbox, every day!
Zac Bowden is a Senior Editor at Windows Central. Bringing you exclusive coverage into the world of Windows on PCs, tablets, phones, and more. Also an avid collector of rare Microsoft prototype devices! Keep in touch on Twitter: @zacbowden.
Yes broken for me .. Re installed .. Not fixed

Fixed a moment ago. Until now it didn't work.

There seem to be a problem after last WA update with me

I can agree, notifications for WhatsApp aren't working

Notifications broken.
from Maldives.

same here, its broken. I dontrecieve the message until i open the map, quite frustrating really.

Hasn't it often been like this? At least for me this has happend so often. Felt like it was a problem of the app not working properly when running in the background. When it didn't work whatsapp web would also claim my phone is not connected

Had the same issue on Monday, and today, but I restarted my phone, and that seemed to fix it.

not receiving notifications ...my friends thought i am dead ! :D
-India (WhatsApp production app)

Issue here since last night (Germany on Fast Ring 950).

No I'm not receiving any msg☹

Yes. It's broken. Now I am in india

Is it not broken in the DSA? :p
D = divided..

Lets hope 🤞🏼 it'll be fix soon

Is it broken only on windows or on android also??

Only Windows. I've tested it on an Android and my wife is on iPhone and hers is fine also so just us

It's actuall on all phones. My BF has an iPhone, and my bff has an Android phone, as do I, and we all three cannot get notifications. Chicago here:)

Back to Sms for the time being. I feel like I've stepped back into the dark ages. Do people even still use text messages here in the UK? Lol

Broken for me also. South Africa.

malaysia ... whatsapp notification not working..

Works for me now @8:22 AM.

But sometimes it works fine...... Like right now......

Uneori 0.3% usage pare asa mult :)

Yes here also no notefication on whatsapp app

Same issue here in amsterdam the Netherlands. On de latest creators preview build

Zac, lowercase "P" in phone when talking about a device type, please. The title refers to Windows Phone and I was about to ask if this issue affected Windows 10 Mobile too.....based on the title. The title should have been "...broken on Windows phones right now" as the "phone" is the device type but the OSes are Windows Phone 8.1 and Windows 10 Mobile.

Same here in Ghana... Thought it was my crappy network. Let's hope it gets fixed soon

India. Yes its broken and reinstalling also dnt fix it.

I'm using 830 & after rebooting my phone .....it works fine

In westbengal,India as well :(

Broken on both production (Lumia 550) as well as WABeta (Lumia 930) ; in Malaysia. Hence consequently the Desktop WhatsApp also doesn't work

Not only Whats app appears to be broken BUT Windows Phone appears to be broken for a couple of years ... .

So much broken on iPhone is why I came to Windows Mobile.

Poland. Broken both WhatsApp Production Ring and WhatsApp Beta - Windows 10 Mobile, Anniversary Update UPDATE - fixed. Works fine.

**** off Poland, big poor country

If you say so.. I haven't noticed ¯\_(ツ)_/¯

This has been happening on and off for me... I was starting to think a dark cloud was following me every where LOL!

I really do not know whats your problem guys, but Here in Atlantis Whats App notifications on WP works flawlessly. Great Job #microsoft_atlantis

I tipped WC 3 hours ago about that. Happens on both WP8.1 and W10M (6 devices in my case). When standby the app auto closes from the multitasking, it seems. Probably because the lack of connection with the push server (?). Whatsapp web can't work with cell in standby for the same reason. My wife suffered a huge battery drainage, probably because WA is behaving crazy under these circumstances. All since this morning EU time. Reddit users say some of them have received several texts from their carriers saying they where abusively thethering a PC, while there were simple WA notifications (which they did not received, of course, until opening the app).

I've noticed that too. The app automatically closes in the background.

You receive the message but no notification. How can this be server side? Are you saying that, by design, when you receive a message WhatsApp sends a callback to the server and then the server send another call back to the client to show the notification?

Let me elaborate. You don't receive the message until you open the app. Hence the reason why you're not receiving notifications.

Thanks for the clarification!

Same here... Broken since morning
Sent from the desert(Rajasthan,india)

Also here in the wetlands of India's far east, Assam.

Same in The Netherlands. But, not only today, a few weeks.

Not anymore. I have normal notifications since yesterday evening.

Broken in the UK, as reported. Messages only when the app is opened.

In india also its happing not receive notification

Broken in kenya- east africa too.

who needs apps, apps are dead, bots will take over

Broken for me too since yesterday in the UK. Thought it was just my phone (it usually is).

Same in germany. WhatsApp Notification is broken.

Not receiving Whatsapp notifications since morning (India)

In Mexico also broken no notification

At least this bug let's us know that Windows Phone isn't dead, i mean just look at the comments here! Loads of us, hello everybody, enjoy your day 😊

Not working here either (Miami, Florida)! :/

Ok guys we get it. It's broken everywhere. You can stop with the comments now

I've already contacted WhatsApp.. Sent them a bug report email.. It'll be fixed soon. :)

UPDATE - It's been fixed already.. :D

It seems like today's update of the Beta app fixed the issue. Not entirely sure.

For me the same issue exists..

Same here on fast ring. Is it the same for iOS?

Sorry I can't tell you as I binned my iPhone when it blew up - Battery exploded. Good job it wasn't in my pocket.

Lumia 1520 in Tenerife. Same problem. Not a big user of WhatsApp but had problems for several days now.

It seems to be fixed for me now in india.

No problem at all.. May be it's fixed before i encounter it. India

Phew, not just me, I was almost going nuts yesterday restarting my phone different ways then decided I'll just sleep on it and see what happens!

glad I'm not the type to react instantly and hard reset my phone to try and fix one thing haha. As noted by many, notifications just started popping back a few moments ago!

My notifications are still deader than a headless zombie chicken lol.

Working now for me. Fast ring on Elite x3.

No notifications. The Netherlands

A few minutes ago it started to work back again for me as well, in Israel. Must be something on WhatsApp's servers...

Breaking news. It's always been broken on my phone for years.

Aaaaaaaaaand......we're back in business and working normally again. PHEW!

_work..but not get notification..WP 10..why..and where bbm..??!!

_work..but not get notification..WP 10..why..and where bbm..??!!

havent got any notification for like a month now

Global issue, not getting any notification here in Singapore as well

Done a softreset, now it is working for me.

NL950 XL DS ... WhatsApp notification has resumed to normal operation..... Jamaica

Yea, is true since morning l have never received notification from WhatsApp about incoming message on my 640 XL, in Ghana,Africa

I've noticed degraded performance with WhatsApp w/ the latest Win10Mobile FastRing 10.0.15043.0 . Seems to show Loading for 5 to 10 seconds when switching between apps. Perhaps I will need to do a full reset of the phone. But, I'll wait to see if other app or os updates arrive first.

All ok and normal with WhatsApp here in Manchester England. Lucky ol' me.

i can not verify my number it says....error swnding code bad token!! anyone with a fix???

Was broken in The Netherlands, now it's okay again.

That explains why I found a bunch of missed conversation this morning when I went to send a message. It's all back for me since then, here on the Oklahoma/Arkansas border.

Mine was broken but it's now fixed. Everyone should check their, mine got fixed

No favourites no whatsapp switched to skype but only they allow users with their nos

Well, it works correctly now

I have been facing this issue for a long time!for me resetting my phone fixed this problem but seriously why should I reset my phone every time for just to fix this issue I think uwp WhatsApp would be best way to go .....🐱💻

Hopefully they come back soon.

It still not working on my LUMIA 532, region Indonesia

Confirmed that the notification is broken. From Malaysia.

Thankfully I scrolled down. Thought it was just me and my damn phone again -.- Wish id read this yesterday!

Had this problem for months, possible since the Anniversary Update. Stopped using WhatsApp as a result, and haven't tried it recently. Will ask someone to send me a message and see what happens.

At least not for me on latest insider update 43 and and also in beta app

I had the same issues few hours after updating my WhatsApp to the latest version, but I started receiving notifications yesterday, no more issues with notification. Might be a server issue though.

I had the same issues few hours after updating my WhatsApp to the latest version, but I started receiving notifications yesterday, no more issues with notification. Might be a server issue though.

My entire whatsapp is dead, it does not load. I've been resetting the OS and uninstalling, re-installing whatsapp, it does not work. Please help

Just got a new update yesterday

Had 28feb the problem but already working fine. Lumia 950 build 14393.726 in the Netherlands.

Still not working. Updated WhatsApp last night but still don't receive notifications unless I am in the app itself (WhatsApp web also doesn't get notifications)

Whatsapp status is not working in my Lumia 535, it starts the camera directly and not giving the library or gallery option to upload the photos. Please give any suggestions.
Windows Central Newsletter
Thank you for signing up to Windows Central. You will receive a verification email shortly.
There was a problem. Please refresh the page and try again.