Bring your Lumia: Coffee Bean & Tea Leaf begin official Qi wireless-charging rollout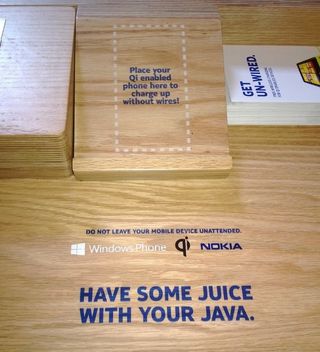 What do San Francisco Microsoft fans love more than coffee? Free wireless charging for their Nokia Lumia devices of course!
The Coffee Bean and Tea Leaf has integrated wireless charging docks into their shop tables for customers to charge any QI enabled phone. The move is an obvious promotion by Nokia (which was announced last December) as the table is plastered in their logos – not to mention the Nokia brochures sitting on the side. Despite the advertisements being for the Nokia Lumia, if you have smartphone with a wireless charging case – you can join in on the fun.
I personally think this is awesome, and hope to see wireless charging spots pop up in more international chains such as Starbucks (because what would be cooler than showing those hipster what they can't do with their phones).
That being said, who is down for some coffee? While you are at, make sure you pick up the super awesome Coffee Bean and Tea Leaf app for Windows Phone here in the Store. You can order your drink right from the app, huzzah!
Thanks to Tilo for the awesome tip and photograph!
the future is going to be amazing

Not that it does my Lumia 810 any good since I could NEVER get the wireless charging cover for it... =(

If you're in the L.A. area, they have plenty at the T-Mobile on Los Feliz Blvd, both in Cyan & Black

Umm so one day, it will be a standard in desks and tables, a Qi charging rectangle!
Just dreamin'

Wtf that's awesome charging dock everywhere

I'd rather have something useful like NFC payment support than wireless charging, which was a gimmick when palm did it in 2009

I disagree, wireless charging is not a gimmick. I, along with many others, use it perpetually.

So it was introduced four years ago and companies are still growing this capability. If people continue to use it, what point does something move from gimmick to not gimmick?
I recall that folks thought automobiles were a gimmick since many people felt horses were faster. Not suggesting the potential impact here is analogous but pointing out that virtually all innovation is seen as a gimmick. Tablets were a gimmick until Apple figured out the correct mixture of hardware/software.

Gimmick? Ha...it's my main way to charge the phone and I love it. The pad is next to my computer and that's where I put my phone down during the day. Having places to easily charge your phone during the day is NO gimmick. It's brilliant.


So is this just for the shops in San Francisco OR is it going to be coming to other cities too?

That is my question. We have those coffee shops here in Vegas. One not a mile from my office.

Get The Coffee Bean app and filter for "Wireless Charging" locations. If I remember Vegas already has a few locations.

This is awesome. Your move, Starbucks.

Starbucks already has wireless charging in Boston and other test areas. But they don't use Qi. :(

You want to take a non-Apple device in to a Starbucks? You'll be lucky if they don't burn you alive!

Can't wait to get my phone stolen!

Unfortunately, most people in San Fransico are hypocritical hippies who defend Apple with full force :P

Thank god I don't live there. Lol.

How do you order your drinks through the app? I can't seem to find it.

In the future, people are going to ask for another table because the wireless charging on this one is broken.

Any happened in Los Angeles area?

The app will show the 4 currently in Los Angeles.

Do you know where the 4 is? Really want to see that. thanks
Windows Central Newsletter
Get the best of Windows Central in in your inbox, every day!
Thank you for signing up to Windows Central. You will receive a verification email shortly.
There was a problem. Please refresh the page and try again.