Quick tip for Xbox Music on Windows Phone 8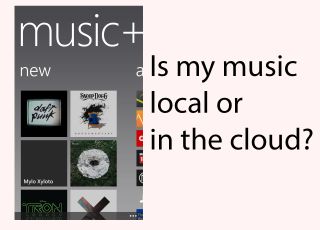 This post started as a quick 30 second tutorial on how to make your music experience a bit better on your new device running Windows Phone 8. However, it kind of morphed into a bit of a rant about one aspect of Xbox Music. So sit back and read my thoughts and criticisms about the cloud collection or jump to the end for a quick tip that could save your sanity and help your wallet.
The complaint
So, if you're anything like me most of the music you listen to on a daily basis might have recently been downloaded. Which is awesome with Windows Phone, because there is a 'new' section when you launch the music and video hub that shows your recently downloaded/added music. It started in Windows Phone 7 and can still be found in Windows Phone 8. However, you might find an album or two that is 'new' but not stored locally on the phone. You see, with the Xbox Music Cloud your playlists are synced across all your different devices. Which is great for an overall experience with Xbox Music, but can be a tad annoying in the new section on Windows Phone. There are a few reasons why it's annoying for me.
The first is that the quality of the music is dependent on your data connection. If you're on a Wi-Fi network that shouldn't be an issue and I'm sure I'll read the comments below with most of you saying you're near Wi-FI 90% of the time. That's great, but I drive a lot and rely on my cellular connection. I'd argue the experience is broken when I click on an album expecting it to play instantly but instead need to wait while it buffers.
My second complaint is that data isn't cheap. I don't want to spend my monthly allotment of data on music and easily went through a bit of my plan the first week with my Lumia 920. I can see a lot of users checking their first bill and being surprised at how much data they used up. For the record, the users I referred to in that last sentence probably isn't you. Instead its people like my mom or who may not be able to easily tell the difference between which music is stored on her phone vs. the cloud. Those of who you pay for unlimited data or are grandfathered into a plan won't be bothered by this, but I feel for those out there who are already getting shafted by carriers.
The last annoyance with this issue was referenced in the last paragraph. There is no visual indication of whether an album is stored locally or the cloud. Don't get me wrong, I like seeing an album I just downloaded on my Windows 8 PC show up on my Windows Phone, it's an overall great experience. There just needs to be a quick way to tell if I'm about to eat into my data plan and currently there isn't.
The solution for Microsoft
This is a simple suggestion that I think could help alleviate all the problems I see with it right now. Adding a visual element to an album cover can show when it's in the cloud. Here is a two second mock-up just to illustrate what I mean. The image on the right is a sample of an album that isn't on your device, but instead in your Xbox Music cloud collection. What do you think?
The solution for now
So first few days I had my Lumia 920 I was frustrated that some of the content in the new section wasn't actually on my device. I just put up with it as a new quirk of the operating system. Thankfully, this isn't the case. The super simple fix to get it to just show your local content: in the settings for 'music+video' you have an option to turn off Xbox Music cloud collection. Turn that off and you'll only see content stored on your phone. This may be a minor annoyance, but I hope the super simple fix helps some of you.
What other complaints or concerns do you have with the new Xbox Music service?
Get the Windows Central Newsletter
All the latest news, reviews, and guides for Windows and Xbox diehards.