Here is how to quickly toggle Wi-fi and Bluetooth settings in Windows 10 Mobile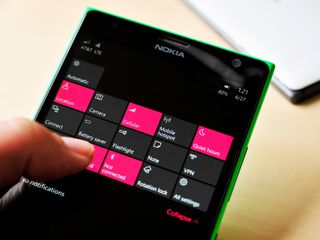 In Windows 10 Mobile, one change irked me a bit: tapping the Wi-Fi Quick Action toggled it on or off. Although I understood the rationale, the old way jumped you into Settings > Wi-Fi where you could see the list of networks. If you jump around a lot, this is a very quick tool.
However, it turns out I just didn't get the model Microsoft was going with. Reader of the site Dương T. found out how it all works:
Wi-Fi and Bluetooth Toggles
Tapping quick action toggles the state on or off e.g. Wi-Fi on or off
Press and hold sends you to the Settings menu for that task e.g. search for Bluetooth devices to pair to
This combo is the best of both worlds approach, and I am glad to see Microsoft offering this solution. It's smart.
I should also note it seems to work for some other quick actions like VPN and Connect.
My only concern is, like myself, the discovery of this feature. It is not clear how new users will know to hold and press to take advantage of the option.
Anyway, for now, if you are using Windows 10 Mobile you can enjoy this feature.
Windows Central Newsletter
Get the best of Windows Central in in your inbox, every day!
Daniel Rubino is the Editor-in-chief of Windows Central, head reviewer, podcast co-host, and analyst. He has been covering Microsoft since 2007 when this site was called WMExperts (and later Windows Phone Central). His interests include Windows, laptops, next-gen computing, and for some reason, watches. Before all this tech stuff, he worked on a Ph.D. in linguistics, watched people sleep (for medical purposes!), and ran the projectors at movie theaters because it was fun.
It really is, it would be cool to display downloading processes in the action center too (Store, Edge, etc...)

Yes, but they should change the current toast notifications. They are block like, and very bad looking, instead they should use the previous toast that has swipe to dismiss gesture and just add a down arrow to reply.

I'm sure they'll change it based on feedback. Anything can be done.

No, they shouldn't change it, I for one happen to like them.

I'm didn't install Windows 10 Mobile but the new Toast Notification can't do swipe to dismiss left/right? :o

Swipe left/right doesn't do anything in windows 10 it's really frustrating !

Yes swipe up Posted via the Windows Central App for Android

+735
Also, would love to have a toggle for switching between data connections in dual sim phones. i.e. toggling data connection between Sim1 and Sim2. Also, toggles between 2g, 3g, 4g/LTE will be highly appreciated.

Agree! Its called Action Center, not Notification Center so its got a broad definition so downloading process and any other 'actions' are relevant to put there. I hope they will bring that in the future updates. Even for desktop having downloading, file copy/moving process are helpful if you want to declutter floating windows on the desktop. This is some of the features I like about Android notification system.

Yess it was an reqd. Option .!!! And its really cool they worked upon it . Really happy for this ;)

Yes. But they have to reduce the touch and hold delay. Right now it is too long. And also it doesn't work for some toggles.

Yeah, windows touch and hold is just a hair too long, I think android's is closer to how it should be for intuitiveness.

I like this, it is smart and the best option.

Indeed, Im happy that it will just be one press and its off. Makes it faster and easier!

They have finally got this right. This thing is a mess in 8.1. Some options turn on/off on tapping. Others take you to their Settings. If you hold some for long, they take you to settings, some don't. It was irritating. Nice to see Microsoft finally bringing uniformity to the way these toggles behave.

Even android on Samsung phones toggles behave like that...

Yup.. Even on my Symbian Belle phone

Yes it does, don't know if all of the Android phones support that or if it is a Stock Android feature but people coming from Android shouldnt have a problem discovering that ;-) Posted via the Windows Central App for Android

It's not stock. As far as I remember, stock has you tap it twice quickly

Nope, stock Android behaves exactly like this.

Didn't know that. Thanks for pointing out. Super handy!!

I didn't know by holding it, it goes to the setting. That's great!

I can't send or receive messages with build. Even messaging app isn't starting. Any one has this problem?

No, text and even the actionable notifications work fine. Try hard rebooting.

Does actionable notifications work with other messaging apps??? How well does it work with the native app???

Works fine for me.. Maybe you should do a hard reset.

Yeah you should disconnect from your Gmail account if you have one already set up on your device.. This will solve the problem even if you sign into your Gmail again (says Microsoft)..

what phone are you using? I'm using a 1520 and haven't have really any issue except with my MS health app not launching, otherwise, it's pretty smooth!

The messaging app displayed "error" next to it when I first updated. Reboot via Vol - and Power fixed it.

All my tiles in the action centre are flashing and inoperable and require a soft reset to get working again except for "quite hours". L930 with current build, anybody else experiencing this issue.

I have that quiet hours flashing thing. It is supposed be that way in ask build I guess. But only that one.

I have the exact same issue on my ICON. Quiet hours always flashes, but the other icons in the action menu start flashing after a while as well.

A restart fixed that for me, but to avoid it , I pinned the settings tile on my homescreen and I haven't had that issue since. I have used it to access the connect and flashlight feature via the action center, otherwise I just launch the settings from my homescreen.

why they do not fix the issue with lumia 530? 2 build with the same problem.

I installed the recent phone preview build and it was unusuable. It was fast but everytime I tried to write something, the keyboard would show up blank. Sometimes it would show up and then I would try to type and the letters would disappear. Did anyone else experience these issues? (Lumia 920)

These builds are supposed to have issues. But a hard reset fixes most of the problems. Do make a backup first though. For reset, settings > system > about > reset your phone

Yeah, I know they are supposed to have issues. However, even efter a soft reset, I still experience the same problem. I am currently back at 8.1. I was checking to see if there was any fix for it.

Hard reset is what you should do. Soft reset just restarts the phone forcibly

Definitely recommend a hard reset every time you upgrade to a new build for best results. These builds are highly volatile, migration issues are expected (Especially since it's not anywhere near RTM, so proper migration of everything is low priority).

I don't know what device you use, but it seems as if the lower-end devices are having these issues; Lumia 830 - lower. My 1520 is running like and champ on day two of using build 10149.

It's been a long time when first build on W10M

Exactly! I'm surprised of how so many people have actually missed this. I've tipped WC about it when Build 10051 came out. But not surprisingly it didn't see the light for a reason, so I thought then it's a "meh" and not a new thing.
I miss the old WC.

I went back to 8.1, with the latest mobile update most of the local essential apps don't work like picture & SMS & Outlook even after a reset...

Many Android devices behave like that.

"My only concern is, like myself, the discovery of this feature. It is not clear how new users will know to hold and press to take advantage of the option." It's been like this on Android for some time now, so no need to worry. Anyway, this is the best implementation.

Funny thing is I have an Android phone and same problem: didn't know it could do that, lol

Oh well, now you know. ;)

http://www.youtube.com/watch?v=i-J8mNU4qmo

after update wifi not working on my lumia 520.......pls help

Hard reset is better than going back to 8.1 and it should fix most of the issues other than failure in installing the update package.
Do a hard reset before you try to roll back.

Hold Volume Down Button+Power Button to restart it. It should reboot and everything should be back to the way it should be.. You won't have to go back to 8.1. If that still doesn't work. Maybe go back to 8.1 and try the upgrade again.

I personally recommend hard resetting after each build. These are all highly experimental, so migration issues are expected. I.E: When they update system apps in new versions, you tend to end up with duplicate apps that don't play nicely together. Especially since, if you're using the TP, you SHOULD be using it on a spare device with no critical data on it: So a hard reset shouldn't be a concern. Hard reset: The builds usually work just fine (Especially the latest one ).

they need to put the quick toggle cellular data on/off back like it is in 8.1

It mysteriously disappeared on Windows 10 Mobile. They added it to Windows Phone 8.1, but it's missing in the latest TP build.

I have it on my Lumia 1020

Makes so much sense that they would make it a toggle, as all the other action center buttons are toggles. I always hated that it was a shortcut

I actually like the fact they've done this. Really annoyed me when it wouldn't take me into the settings and would only let me toggle on Bluetooth and the other way round on other things. Good move MS.

I agree. I find it annoying that 8.1 takes me to settings instead of just toggling on or off.

One thing thats irked me is whenever my cable modem down my connection settings for my router disappear from my phone

Try press and hold for every option, who knows whats inside :)

this is the same exact toggles behavior in samsung phones for very long time.. it will be familiar for many.

I don't think this has discoverability issues. In my short amount of time on the build, I noticed this as well, and I immediately thought to press and hold for more settings. It might be partly because I've thought they should and hoped they would do this, but press-and-hold is a universal gesture for more actions. I do think it would be good for them to add the zoom-in animation while holding so you know the holding is doing something, though.

That's a good idea. I also think it should do it automatically without waiting for a release.

Love to know this change.... This is absolutely smart approach

Cool cool. Cool cool cool.

Reported 10 days ago, worked in build 136 as well https://mobile.twitter.com/Cristoby/status/611261883006513153

I actully tried it because of the blinking quiet hours toggle in that build. But nothing seemed to work there. It was quite a curiosty.

What is Quiet Hours blinking for? It's doing that on my two test devices, and I don't understand.

On my phone, it blinks too, and Cortana not working.

Thanks for the information

so author didnt used android before pheww

Some people found it by themselves, but some people don't. They aren't that curious enough to find some gestures that are there. Even iPhone have so many gestures that some people don't know. I just read it in a blog.

Love this integration. Best of both worlds!

Available since 10136 my friends...

It's actually available since Build 10051 my friend...

Cheers for that Dan lad :)

Tho is a gem of a find. Like you, Daniel, it really annoyed me that I "had" to launch Settings to select a network. Make so much sense now.

The different toggling has been working in the previous, and I seem to remember the build before. There are a number toggles that work this way in WP/WM. One big one is tiles.
Hopefully when WM RTMs MS will use the new Getting Started app to relay these little nuances to consumers.

I love the idea behind the Getting Started app, give new users a leg up on how to use the OS.

This is a huge problem for Microsoft. The only product I have found, amazingly enough, where they gave tons of info on finding features and troubleshooting was the Band. Good example: In Windows 10, they have changed the link to IME for Langauges that used to appear in the Taskbar. I work on a Japanese Fujitsu laptop, and I do need to make sure the keyboard is set for Japanese - English input. When you reboot, however, it defaults to US English, which places keys such as the "@" in different locations. They moved the link to access this setting from the Taskbar. For a time, all I could think to do was call the soft keyboard, a pain on a non-touch laptop, and select the keyboard from there. Then, someplace, I saw a note pop up, perhaps on some random restart, that a Windows Key+Space would toggle the keyboard. Genius and quite convenient. But why did I spend a week searching for what I knew HAD to be there! LOL

I submitted this as feedback but first time clicking it should notify there is that option. If we didn't know this how is the average user going to?

Makes sense, a nice little pop-up that says, "Hey there! You can use this quick toggles to turn settings On/Off, or press and hold to go to the full settings menu. Click here for more information." [Link to webpage w/info]

personally as im using a tech preview i always check whats been done and i am very happy and apeiciative i dont had 1000 text popups coming up and telling me all the changes. I can check it out myself. Also for the big changes insider gives you some tasks if you wana do them.

I'm referring more to RTM when normal, average users gotta be able to figure the OS out.

Maybe should have a drop down list (On | Off | Settings icon) when tapped. More clicks but lower learning curve.

Love it it's just like my Samsung!

Love this feature! Might not be original, but appreciated nonetheless.

I discovered the press and hold feature in the first build itself, no big deal, android has it already, but good to see the handy feature in windowsphone.

I discovered the feature on my own!

I knowed this feature couple days ago. Because taping didn't work I knew that on android it needs to hold and then it send to settings, and it worked w Windows 10 so yeah

Excellent been bugging me for some time.

Nice, thanks for sharing.

Don't these toggle settings in rows in action centre look uglier than sliding settings in android phones? They cover too much space also. I hope Windows 10 mobile interface will be aesthetically improved too.

Wanna disable quite hour...who knows how

lol my mate compaliained windows 8.1 didnt do this, personally im guted but its not a too bad issue. I always swap between a 2g and 5g setting depending where in my long flat i go or what i do. I pined my wifi settign to start angd get the old method back lol, but i get why people would prefer this.

That is cool, but man... As much as I like the swipe gestures and other tap/hold features... These are things that hurt windows 8 for so many people... I love the idea and usage of a clean and intuitive interface, but a menu just works... How will people learn these features... I know windows 8 and phone try to show tips... But most people by pass this yet still complain. Now I know there are tap ans hold commands. It is very cool. I tried it on 8.1 just to see if it had been there all along... But it wasn't. I am happy to see I can get to the menu or just toggle... Currently it is not uniform.... As Daniel pointed out... Wi-Fi ans Bluetooth buttons behave differently... Thanks for the tip

Finally! This was requested in so many uservoice threads ... nad I still do not understand why they did not make it behave like this from the beginning on!

TBH, because its better design for less technical data restricted users... Albeit obnoxious design...

I suggested this (as did others I'm sure) in the insiders app. Nice to see it implemented.

A) This IS a great compromise.
B) But only for the technically inclined.
The average user will never figure this out. Most people aren't even aware of the camera quick action button for newer no-shutter Windows Phones, or even that the physical shutter button exists on older and higher end Windows Phones... Sigh...

The notification centre looks aesthetically better in this (and probably earlier) Windows 10 build. Changes I notice: 1. The "No notifications" text is smaller and same size as other texts. 2. The sentense case used for action buttons/tiles looks much better than the ALL CAPS in Windows 8.1. 3. More number of action buttons or tiles. 4. "All settings" as a tile rather than a stray text.

Sounds awesome, I don't like how Bluetooth is a toggle on 8.1, so utilizing this once 10 comes about for me will be a constant thing, thanks for the tip.

nice find...I was getting frustrated being used to the old way and then disconnecting myslef lol, I'd gone back to going through the settings, thanks for sharing!

Anybody had the error SD card has been removed and the apps grey out. It then pops up "download from store or wait until SD comes available". Ive had this a few times now along with GroupMe refusing to open, edge crashes a lot too

i can not turn wifi on . my phone is lumia 520

I want update my lumia535,with win.10.I can dis?pls.tell me!
Windows Central Newsletter
Thank you for signing up to Windows Central. You will receive a verification email shortly.
There was a problem. Please refresh the page and try again.