Banjo Kazooie rules the roost in Rare Replay for Xbox One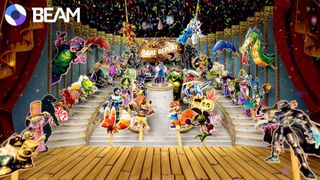 Every weekend, Windows Central livestreams an Xbox One or Steam game for 1-2 hours and gives out free games to the cool people who join us during the stream. It's like a live podcast, only you also get to watch a game while chatting with our awesome readers and viewers! We call this show Saturday Game School, because learning about new games is fun.
Tonight on Beam, we played Rare Replay, the Xbox exclusive collection of classic games from Microsoft's Rare studio. Among the included games, Banjo Kazooie is one of the most fun. Read on for impressions, contest winners, and the full video replay.
Rare Replay
This Xbox One exclusive celebrates the legacy of Microsoft's UK-based Rare studio. Since 1985, Rare has made games for a number of platforms including personal computers, NES, Nintendo 64, and Xbox consoles. The studio languished on Kinect titles for a while, but Rare Replay hopefully marks Rare's return to glory.
Rare Replay collects 30 games spanning from 1985-2008. A few of my favorites: Battletoads Arcade, the Banjo Kazooie platformers, Jetpac Refuelled, RC Pro-Am I and II, and Viva Piñata: Trouble in Paradise. Grabbed by the Ghoulies for the original Xbox has even been remastered here rather than emulated, so it looks better than ever.
As much as I love this trip through Rare's history, some of the developer's best games didn't make it into the collection. Microsoft chose the aged Conker's Bad Fur Day instead of the vastly superior remake Conker: Live and Reloaded, and the crappy NES Battletoads is here rather than the much-better Super NES sequel. And a few games like Conker's just control terribly, which could have easily been fixed for Rare Replay.
What Rare Replay really does right is teach modern gamers about the studio's history and provide incentives to play through older games. Snapshots are new optional goals that will unlock bonus content and Achievements when completed. That overall progression system will keep you hopping from game to game — even the really old ones. For the low price of thirty bucks, you're sure to find something to appreciate in Rare Replay.
We gave Rare Replay a glowing review and named it one of the Best Xbox One Games of 2015. Watch us play a selection of games from the collection, including the excellent Banjo Kazooie!
See on the Xbox Store (opens in new tab)
The Contest
We streamed Rare Replay for ~120 minutes tonight. During that time, we gave out a total of 15 game codes:
12 Rare Replay for Xbox One
3 ADR1FT for Steam (Donated by 505 Games)
See the contest winners at the end of this story.
How to watch Beam livestreams
We're now streaming on Beam, Microsoft's interactive livestreaming platform. It provides some welcome improvements over Twitch, such as a cleaner website layout, built-in stream interactivity, and extremely low latency.
You can follow our channel at Beam.pro/WindowsCentral. From there, you'll be able to watch the stream and participate in chat directly from any web browser, including the Xbox One and Windows Phone browsers.
To receive email notifications when our Beam streams go live:
First, follow our channel.
Now select your profile from the top-right corner of the screen.
Pick the Account option near the bottom of the menu.
Go to the Notifications tab.
Make sure Send me important email updates on the Beam platform is enabled. This option is labeled deceptively, but it's required for all forms of email notifications.
Click or tap the Email box next to our channel name until a check appears. That's it!
We highly recommend that you set a recurring alarm on your phone. Our weekend stream always starts at the same time (9pm Eastern/6pm Pacific), so the phone reminder can be very helpful.
Beam does not offer Xbox One or Windows Phone apps yet, so watching from the browser is the only option on Microsoft platforms. But Beam does offer apps on Android (opens in new tab) and iOS (opens in new tab). Yes, that's a strange inequity. Native Xbox and Windows 10 support is coming though, so stick with us!
Future streams
Want to know what's next for Windows Central's weekend Beam programming? We stream a different game every Saturday (and sometimes Sunday). The stream always starts at the same time: 9pm Eastern (8pm Central, 6pm Pacific, 2am GMT). Over the next few weeks, we'll be streaming the following (schedule not finalized):
January 28: Mega Man Legacy Collection from Capcom. Watch us play this collection of classic NES platformers and enter for a chance to win it on Xbox One and Steam (plus more prizes)!
February 4: Neverwinter from Perfect World Entertainment. We'll revisit this vast free to play MMO and give out more premium prizes for Xbox One and PlayStation 4!
We hope you'll tune in as often as you can! Set a recurring alarm on your phone so you'll always know when it's time for the stream to start.
Winners
It's rare to find viewers as lucky as these!
Rare Replay for Xbox One
Racxie
Br4zko
ItsJustPepeh
lKATYPERRYI
BrPalladinoDGM
1biglooser
Formologic23
WestX
IccyAsd
KingVant1q
jerryperez1977
shelbygt5252
ADR1FT for Steam
ShihTzuOnYou
Withheld
TheExtremeG
Tonight's prizes provided by Microsoft and 505 Games. Thanks also to our stream moderators for keeping the peace and giving away the prizes!
Windows Central Newsletter
Get the best of Windows Central in your inbox, every day!
Paul Acevedo is the Games Editor at Windows Central. A lifelong gamer, he has written about videogames for over 15 years and reviewed over 350 games for our site. Follow him on Twitter @PaulRAcevedo. Don't hate. Appreciate!
This collection has so many great games in it from one of the best developers from the 90's and early 2000's. I'll certainly be there.

Can someone tell me time in India and day?

8h36mins more till the stream, from the time I posted.

http://www.thetimezoneconverter.com/

Im already there in my dreams =P

It's a fun game collection. I hope you play viva pinata. 😀

Does Xbox have a Beam app yet?

Not yet, but hopefully soon.

I read that it will be included with the next big update. Some preview members are getting the update extra early, so hopefully it will be included.

Viva Pinata 2: Trouble in Paradise 2 is the best because it added online co-op to an already amazing game. You can never have too many cluckles. This collection is full of other great games too. One of the most underappreciated exclusives on Xbox One.

Sounds like fun. I'll be there to check out the cool collection of games.

Great collection of games! I wish we could see another Banjo Kazooie game but, that'll never happen :P See you all there!

If another Banjo game is what you're looking for, check out Yooka-Laylee. It is being made by the same UK team that made the first two Banjo games. Edit: It is going to be released on pretty much everything; PC, Mac, Linux, Xbox One, PS4, and Wii U.

Thanks! I've already pre ordered and waiting now :D Looks amazing! Also the Wii U version was cancelled and will probably come to Switch instead :)

Bummer on the Wii U version, I was going from their website/kickstarter. Lets hope it make the trip to the Switch. Also check out A Hat in Time for similar collect-a-thon style gaming goodness.

Awesome! Definitely going to tune in to this one.

Glad MS got Beam working with their accounts now, glad to come back and watch a stream. I forgot how bad Paul can be at hese games, haha. Terrible bear-bird.

Glad you are back too. 😀 you were right about the accounts.

Thanks to RARE, Msft, WinC, and Mods for my prize. After seeing Banjo, I am looking forward to playing it and the other games. Banjo looks like a game I'd enjoy as I never played it. Owned a NES, sNES, and N64. Loved KI too. That's to everyone for the stream!

Enjoyed the video & chat last night guys! Can't believe I won as well; wanted to get this for so long but could never justify the price as always wanted to own the physical version (coming from the person who's getting a Switch at launch...)

Was a great stream last night. Wish I could have stayed longer to enjoy the great chat! (NullVector). I didn't win, but watching the stream has put the Rare Replay on my to buy list. Can I get a link to your affiliate store again?

Glad you had fun. You can always use the Store link we put in the game impressions portion of the article. But if you want Rare Replay to specifically count as a Beam stream purchase, use this link: http://phon.es/3t3vg . We really appreciate it!

Thanks for the reply. Bookmarked the link this time around.

A year ago, I couldn't wrap my head around why my kids watched game streams. Welllll a few months back I began getting the gaming bug after a 17 year hiatus. I sat down and watched a few WC streams with my son, started reading the WC Minecraft tutorials and now I find myself enjoying gaming all over again. Thanks for the posts & streams!

If Yooka Laylee does well I'm sure we will see a new proper Banjo Kazooie 3. I still believe Rare is good. Viva Piniata was awesome. And Sea Of Thieves looks amazing. I'd like to see Rare work on a new Banjo, Battletoads and a Banjo Kazooie Racing. Like a spiritual Successor to Diddy Kong Racing. Would be amazing.