Razer Basilisk Ultimate review: A beast among wireless gaming mice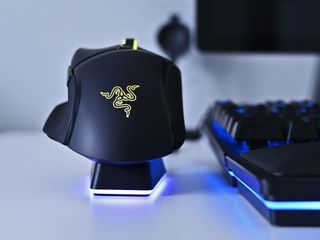 (Image credit: Windows Central)
Recently Razer launched an all-new wireless mouse, the Viper Ultimate, packed with technology that makes its performance virtually indistinguishable from that of a wired mouse.
Now comes the second act, an update to the company's flagship gaming mouse, the Basilisk. On the outside, it looks like it always did, just without a cable, but underneath it's packing the same hardware that makes the Viper Ultimate an absolute beast.
(opens in new tab)
Bottom line: The Basilisk Ultimate is a fantastic wireless mouse, but it comes at a price.
For
All new 20,000 DPI optical sensor
Ergonomic design
Onboard profiles for custom settings
Indistinguishable performance from the wired version
Adjustable scroll resistance
Against
Quite expensive
A little heavy
Battery life not the greatest
Razer Basilisk Ultimate tech specs
Razer Optical Mouse Switches for ultra-fast response
Focus+ Optical Sensor, 20,000 DPI
107g weight
Razer Hyperspeed wireless connection
Onboard DPI storage
11 Programmable Buttons
The ultimate wireless mouse
We've heaped praise on Razer's most recent new gaming mice in the Viper family. Still, while those are tailored to the most competitive gamers, the Basilisk is something with broader appeal.
For one, its ergonomic design makes it much more pleasant to use for those long days in front of the computer working, rather than gaming. The physical design hasn't changed since the original Basilisk we reviewed way back, which is a good thing, because for this type of mouse it nails it.
That means grippy parts on both sides, a huge contoured area for your thumb, and the innovative optional paddle to switch DPI on the fly when you're aiming in a shooter, that's back too. What is new is the optical switches that Razer has now brought to mice, for instant actuation.
The base of the Basilisk Ultimate is a little different, with the same pads as you find on the Viper Ultimate and a slightly redesigned layout to account for the dongle housing and the wireless charging connector.
But it's the sensor and the wireless tech that really make the Basilisk Ultimate something special, just as with the Viper Ultimate. I sat through the Razer briefing touting how Hyperspeed is claimed to be 25% faster than other wireless technology used by competing gaming mice. Honestly, it sounds impressive, but it's pretty hard to quantify in the real world. But as with the Viper Ultimate, there is no distinguishable difference in performance compared to Razer's top wired mice, which is impressive.
While there are buttons on top pre-programmed to change DPI stages, on the bottom, you'll find a button to cycle between onboard profiles. The Basilisk Ultimate has space for five, which means you're able to use it on another PC without Synapse installed.
You can have one bundled with the wireless charging dock (which you totally should) and one without that costs a bit less and will need charging over micro USB. The dock is the same as shipped with the Viper Ultimate, with Razer's promise that this single dock will be cross-compatible with a number of future products. The Chroma base not only looks pretty but changes color to indicate the charge level of the mouse.
New sensor, smart features
The sensor on the Basilisk Ultimate is the same as that found on the Viper Ultimate; the all-new hardware Razer calls Focus+. The sensor has 20,000 DPI, higher than any other Razer gaming mouse, but it's what else Focus+ does that's important.
For starters, this has the highest tracking speed and resolution accuracy yet. The smart features are perhaps what's most interesting, though. Smart tracking is a neat feature, particularly for those that move around with their mouse, allowing the Basilisk Ultimate to calibrate itself to whatever surface you're using it on. Yet another feature that no longer requires Synapse to be installed on every PC you use the mouse with.
You also get customizable landing and lift-off distances to suit your own gaming style, and motion sync sounds a little bit like Freesync or G-Sync but for a mouse. It keeps the mouse and PC in perfect sync, with the PC always receiving the latest mouse position. It's not a metric you'll physically be able to quantify, but as Razer puts it, it could be the difference between a headshot and missing entirely. That alone could sell the Basilisk Ultimate since it's targeted at the FPS players.
From a performance perspective, the Basilisk Ultimate feels essentially identical to the Viper Ultimate, that is, exceptional. I loaded up the same profile on both mice, and aside from the physical differences, you can't tell them apart. And since the Viper family is the best of the best, the Basilisk Ultimate is worth taking note of.
I've spent a good number of hours in a variety of shooters with the Basilisk Ultimate, and it feels superb. It's razor-sharp, accurate, and incredibly responsive.
A few critiques
For as good as it is, the Basilisk Ultimate does have some flaws that you may or may not care about. The first is the weight, and while it's not super heavy, it is noticeably weightier than the likes of the Viper Ultimate. If you enjoy using a light mouse, this probably won't be the one for you, indeed switching between this and the Viper has made this old man even more appreciative of the lightweight choice.
Equally, it can also be linked to the games you play. If you're playing a slower-paced, tactical shooter, then you may not feel any detriment, and it, as always, comes down to taste. But I know which of Razer's wireless mice I'll continue to use in games like Destiny 2 and Borderlands 3.
Battery life is also a little questionable. Both I and our Executive Editor, Daniel Rubino, have been using the Basilisk Ultimate, and his experiences seem to differ from my own. During gaming, I've seen around a 10% drop in battery life per two hours, which isn't horrible, but it does leave you in the position of having to charge it up quite frequently. It's easy enough to charge with the wireless dock, but if you forget after a long session, you might find yourself short when you come back. At least with the dock, you can drop it on at the end of the day and never worry.
The biggest downer to the Basilisk Ultimate, however, is the price. Make no mistake, this is Razer's flagship wireless mouse, and with that comes a hefty price. In this case, I'd wager the price increase over a regular Basilisk is probably worth it in terms of the new sensor, the smart features, and the overall performance, but it's still a lot of money to pay for a gaming mouse. It's cheaper if you don't want the wireless charging dock, but honestly, you want the wireless charging dock.
Should you buy the Razer Basilisk Ultimate?
The Basilisk Ultimate is undoubtedly worthy of its spot atop Razer's gaming mouse pyramid. Where the Viper is sleek, compact, and designed for competitive gaming of all kinds, the Basilisk is more ergonomic, which makes it better to use in daily computing life as well as in gaming.
If you're using a regular, wired Basilisk, this is a good upgrade. You get wired-level performance without the trailing cable, and that alone could seal the deal.
It is expensive, though, with the cheapest version without the dock coming in at $150. But get the one with the dock. Otherwise, you'll be plugging in the cable quite often. That's a lot to spend on a mouse, even one this good, but if you're in the market for an exceptional product, you won't be disappointed.
But make no mistake. The Razer Basilisk Ultimate is a beast.
Wireless flagship
(opens in new tab)
The gaming mouse you can also use for work

The Basilisk Ultimate is a superb wireless mouse to use for gaming or everyday purposes, so long as you're happy to pay a premium to get it.
Richard Devine is an Editor at Windows Central. A former Project Manager and long-term tech addict, he joined Mobile Nations in 2011 and has been found on Android Central and iMore as well as Windows Central. Currently you'll find him covering all manner of PC hardware and gaming, and you can follow him on Twitter and Instagram.
Windows Central Newsletter
Get the best of Windows Central in in your inbox, every day!
Thank you for signing up to Windows Central. You will receive a verification email shortly.
There was a problem. Please refresh the page and try again.