Razer announces new slim BlackWidow X mechanical keyboards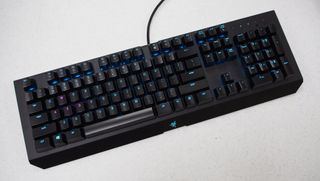 In addition to gaming notebooks like the Razer Blade and the Razer Core external graphics enclosure, Razer makes a full line of high-quality gaming accessories for PC. Their mechanical keyboard range alone offers a wide variety of features and price points. That assortment will soon double thanks to the new Razer BlackWidow X line of keyboards.
The Razer BlackWidow X keyboards feature a stripped down look thanks to the removal of the standard top keyboard cover. Each BlackWidow X will cost $10 less than its standard BlackWidow equivalent, too. Read on for all the details and our hands-on photos of the Razer BlackWidow X Chroma!
From BlackWidow to BlackWidow X
According to Razer, the BlackWidow lineup is the best-selling mechanical keyboard series in the world. The new BlackWidow X line looks to exist in parallel to the original line by offering more affordable, slimmed down versions of Razer's most popular keyboards.
The key difference from the regular BlackWidow is the new BlackWidow X line will not feature the "top cover" found on most keyboards. Typical keyboards, including the BlackWidow series, have their keys recessed into the body of the keyboard. A top cover surrounds the keys and rests above the actual bottom of the keyboard.
Without the top cover, the keys of the BlackWidow X line naturally rise above the metal base of the keyboard with nothing else surrounding them. This creates a unique look that Razer describes as clean and militaristic.
To go with that different look, the BlackWidow X series sports a different font on their keys than regular BlackWidow keyboards. This new font matches that of the Razer Blade and Razer Blade Stealth notebooks, so it's not exactly a huge departure from the standard Razer aesthetic.
More exciting than key fonts is the BlackWidow X line's unique cable management feature. Each of these keyboards features a single thin braided USB cable so that they won't offer USB pass-through. But ridges line the bottom of the keyboard that allows users to route the USB cable in three different directions. If your setup works better with the cord coming out of the left, you can do that!
Since these are more affordable versions of deluxe keyboards, they lack another bell-and-whistle: macro keys. The minor benefit of losing the extra keys is it allows for smaller keyboard footprints. People who want all the features they can get might balk at the BlackWidow X line, but users who prefer simplicity will enjoy the minimalism.
All Razer BlackWidow X keyboards come with a two-year warranty.
Choice of micro switches
The Razer BlackWidow X line features Razer's proprietary mechanical gaming switches for each key. Razer tells us that these are the world's first keyboard switches designed specifically for gaming. The switches have optimized actuation and reset points, so the time between electrical contact being made and reset will be better for games than standard Cherry MX switches. They also have greater durability, reportedly standing up to 80 million keystrokes. Active gamers hit certain keys thousands of times per day, so the increased durability ensures the longest possible life for each key.
Cherry MX switches are quite popular among mechanical keyboard enthusiasts, though, so Razer will offer Cherry MX Blue variants of certain BlackWidow X keyboards through the Razer Store. And the Cherry MX Blue BlackWidow X keyboards will cost ten dollars less than the regular BlackWidow X keyboards. That makes them some of the most affordable brand-name mechanical keyboards on the market.
BlackWidow X lineup and availability
Two BlackWidow X models are available now, with the others set to launch in April. The Chroma models feature programmable lighting for each key. And the two lowest priced models come in even-lower-priced Cherry MX Blue variants when purchased through Razer's website. The BlackWidow X lineup should be available at retailers like Amazon (opens in new tab) soon.
Razer BlackWidow X Chroma (pictured in this article's photographs)
Razer BlackWidow Tournament Edition X Chroma
Razer BlackWidow X Ultimate
Price: U.S. $99.99 / EU €119.99
Cherry MX Blue Switch: U.S. $89.99 / EU € 109.99
Razer BlackWidow X Tournament Edition
Price: U.S. $69.99 / EU €79.99
Cherry MX Blue Switch: U.S. $59.99 / EU € 69.99
Availability: http://www.razerzone.com/ – Coming soon
Stay tuned for our detailed review of the Razer BlackWidow X Chroma!
If you had to pick a Razer mechanical keyboard, would you rather get a BlackWidow X or the original BlackWidow version, PC gamers?
Paul Acevedo is the Games Editor at Windows Central. A lifelong gamer, he has written about videogames for over 15 years and reviewed over 350 games for our site. Follow him on Twitter @PaulRAcevedo. Don't hate. Appreciate!
My Corsair K65 RGB fits the bill perfectly. It sounds like Razer is creating a keyboard with the same style. Posted via the Windows Central App for Android

Corsair is the way to go. My next keyboard will be from them or ASUS depending on how their new keyboard performs. Posted via the Windows Central App for Android

Corsairs are great too, but I don't think there's any significant difference in quality between the two companies' mechanical keyboards. And I have a couple from each of them.

The keys look pretty high up, have you tested it for gaming and what effect this has being raised?

I can't comment on these Blackwidow X keyboards but the Corsair ones come with a wristrest which I think is required. I've tried using my keyboard without the wristrest and it definitely doesn't feel as comfortable and natural. I have Cherry MX Red and they feel great for gaming!

I'll be testing it soon. I really just used it briefly as it came in right before the announcement.

Didn't know ASUS was going that route.

Razer needs a Bluetooth keyboard already for us Surface Pro and Continuum folk. They had one lined up in conjunction with the Orochi but never came into production :(

Very interesting lineup, although I still play a few MMOs, so the macro keys are a must for me. I curently use the Logitech G910 Orion Spark and absolutely love it. I only wish the keys were a bit quieter, but I guess you can't have it all :-) I have been curious about the Corsair Silent MX keyboard, do you know Paul if this keyboard has silent keys?

I don't think so. The switches are optimized for performance rather than noise level. And yeah, for macro keys the regular BlackWidows would be a better option.

I figured. What I ended up doing to avoid being too loud during streams was to get a Logitech G13 gamepad, which has 22 macro keys plus 3 pages of settings, and it's quite silent, so when I'm on Twitch my voice takes over and not my keyboard.

I think all typing gets picked up by mics, though of course mechanicals are generally louder. That's why proper mute control is the best solution IMO.

That cable management system isn't unique though. Many mechanical keyboards use it. It is pretty cool. But the best idea is the Code keyboard from WASD keyboards, which is a standard micro-usb to usb A cable that can be detached, so that the cable isn't stressed at all during packing or moving.
My Das Keyboard has a super thick cable, because of USB 3.0 pass-through, but it doesn't pack very well and I'm worried about it breaking since I do move it fairly often.

I'm not crazy about these. Razer is one who bothers me with naming schemes. The 'X' would seem to indicate a step UP to me, not down. Why is the Tournament Edition above the Ultimate one? I'm totally lost when I look at their keyboards. I'm a macro key fan as well. It's hard to see many of their customer base (who play games with a lot going on) wanting to give those up. These seem like something aimed at less-intense gamers, but I kind of think these messy names will drive those folks away.

Sorry but its not even close to slim. If anyone interested in a slim mechanical keyboard, look up the cherry mx board 3.0

I had a Razer mechanical keyboard once. Ended up trading it in for a Steelseries Apex M800 and never looked back.

Waiting for the Stargazer. Sent from Windows 386

I'm looking for an aluminum keyboard (at least the top portion.) mechanical switches preferably cherry MX, rgb, and at least have number pad and volume keys. I want it to be black or in the gun metal color family and not be gaming esk designed or Corsair. Any ideas?

I prefer my circa 1940 Enigma machine. Posted from Pornhub.

I like the look and the price isn't terribly bad. I'll keep my eye on these if my G110 dies.
Windows Central Newsletter
Get the best of Windows Central in in your inbox, every day!
Thank you for signing up to Windows Central. You will receive a verification email shortly.
There was a problem. Please refresh the page and try again.